Ancient Rock Presents New Opportunity for Falcon
Rigzone Staff
|
Tuesday, September 14, 2010
Global exploration and production company Falcon Oil & Gas sees new opportunity in the ancient rock of the Beetaloo Basin in Australia's Northern Territory, where the company and its partner PetroHunter Energy have identified multiple conventional and unconventional oil and gas targets after a well re-entry marked a significant discovery.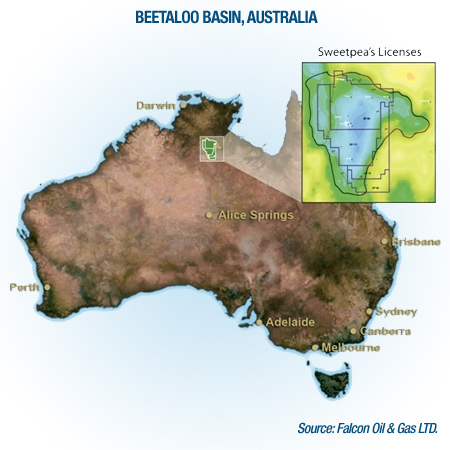 Located 310 miles southeast of Darwin, Beetaloo is one of the few remaining unexplored onshore ancient sedimentary basins in the world, and contains several thermally mature, organically rich source rocks dating to the Mesoproterozoic era, or 1.4 billion years ago, said Thomas Ahlbrandt, vice president of exploration at Falcon in Denver.
Falcon's Beetaloo project consists of four exploration permits, EP-76, 98, 99 and 117, covering approximately 7 million gross acres in the pre-Cambrian Betaloo, part of the larger MacArthur Basin.
The Beetaloo has nearly 10,000 feet of sediment and contains three active petroleum systems, including the Hayfield Mudstone, which contains oil, the Kyalla Shale, which holds oil and wet gas, and the Velkerri shale, which contains oil and gas. The basin is dominantly oil-prone, with about four times the resource volume potential of oil relative to natural gas, although both represent very large opportunities.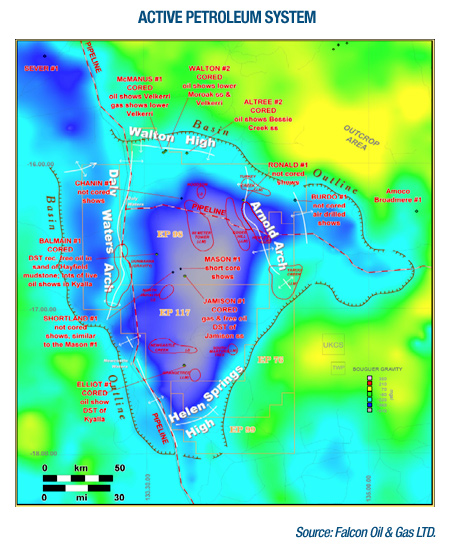 Kyalla, Velkerri and their adjacent sandstones represent the main hydrocarbon plays, with widespread shale source rock that have thicknesses up to 2,600 feet. "It's a very unique situation to have such good source rock and thermal maturity windows less than three kilometers underground," said Ahlbrandt.
Initial Exploration
Pacific Oil & Gas, a unit formed by mining company Rio Tinto, undertook initial exploration efforts at Beetaloo in the late 1980s and early 1990s after encountering gas blowouts while searching for ores similar to those found at the MacArthur River Mine. Pacific conducted seismic operations and drilled 11 shallow wells, all of which encountered numerous oil and gas shows, and recovered 35-38 degree API oil in several sandstone and shale horizons.
However, Pacific was then looking for conventional structural traps and conventional oil accumulations. Pacific concluded the findings weren't commercial because, at the time, technology was not available to drill and develop tight gas plays and shale and the infrastructure also was not in place to develop the resources.
Sweetpea Petroleum, a unit of PetroHunter, renewed the exploration program in 2004. PetroHunter acquired 435 miles of 2-D in 2006, which led to the discovery of an extensive, 109-mile long thrust belt system, the Daly Waters Arch, in the central part of the basin.
The discovery of the thrust belt, along with the additional seismic, demonstrated that this was a rift basin with a strong compressional event, completely different than the passive margin basin it was previously believed to be, Ahlbrandt said. Source rocks are richer in the rift basins as the organic material is concentrated in the rift and then rapidly buried by other sediments and preserved, Ahlbrandt said.
Thrust belts form very large conventional targets, anticlines, and thus provide a focus point for petroleum to migrate to from the adjacent source rock kitchens. An example of a rift basin is the L.A. Basin in the U.S., which is among the most prolific petroleum basins in the world.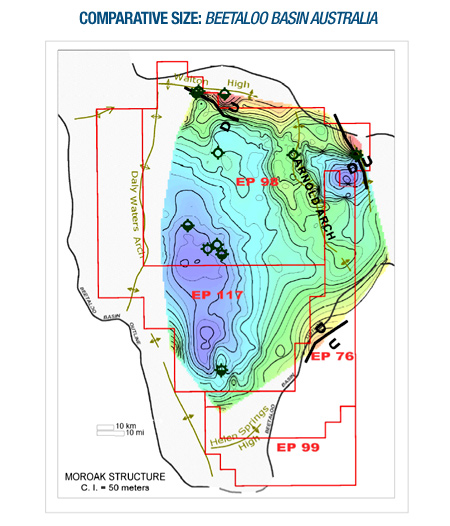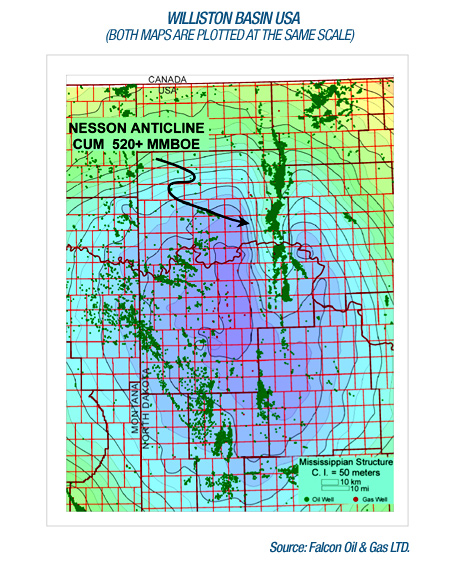 In August 2007, PetroHunter began drilling the Shenandoah No. 1 well, a 500-foot offset to the Balmain well drilled by Pacific in 1992. Cased to a depth of 5,100 feet through the Mid-Kyalla Sandstone, the well encountered numerous oil and gas shows in the well, particularly oil shows in the Hayfield Sandstone and the upper Kyalla shale. Falcon and PetroHunter deepened the Shenandoah No. 1 well to 8,900 feet in 2009. The Shenandoah 1A well encountered gas shows throughout the well, including the Lower Kyalla Shale, Moroak Sandstone and the intervening shales, and the Velkerri shale.
In May, Ryder Scott raised Falcon's Beetaloo project estimate from 192.91 billion barrels of unrisked undiscovered oil in place to 395.11 billion barrels for unconventional oil resources. Both Ryder Scott and Gustavson Associates estimated the recoverable gas resource potential of Beetaloo to be 63.9 Tcf, including 23.0 Tcf of shale gas, basin-centered gas for 39.3 Tcf and the remaining 1.6 Tcf in conventional gas accumulations.
Market Prospect
Beetaloo's location near Darwin, which is home to ConocoPhillip's liquefied natural gas (LNG) facility and export terminal, two underutilized pipelines nearby, and a highway and railway line cutting through the property, will give Beetaloo oil and gas access to market. A second LNG terminal in Darwin is anticipated, expanding the potential market for Beetaloo oil and gas.
Falcon was to re-enter and test the Shenandoah 1 well this summer, but 100-year rainstorms in Australia have made it impossible for a drilling rig to be brought onsite or for drilling suppliers to go on location as the site is underwater. The company also was seeking to raise funds for an IPO [initial public offering] in Australia and seeking a local partner for the project. This process is still underway.
"Given the scope of these early oil estimates in conjunction with the previously estimated gas resources, the property's size, and ease of access and transport, we anticipate having the ability to attract several major joint venture partners," said Marc A. Bruner, president and chief executive of Falcon.
Generated by readers, the comments included herein do not reflect the views and opinions of Rigzone. All comments are subject to editorial review. Off-topic, inappropriate or insulting comments will be removed.