Musings: The Gas Bulls of Summer Turn into Bears
by G. Allen Brooks
|
Parks Paton Hoepfl & Brown
|
Wednesday, September 01, 2010
Recently, the last of the raging bulls on natural gas prices traded in their horns for bear uniforms – and we don't mean the Monsters of the Midway variety! By throwing in the towel on gas prices for this year, these bulls-turned-bears then proceeded to claw their future gas price forecast by stating they expected $6 per thousand cubic feet (Mcf) to be the long-term average. The reality is that these bulls of summer were really merely acknowledging the power of the market as natural gas prices are about two dollars per Mcf below where they were at the start of 2010, and well below the $7.50/Mcf average gas price the bulls had forecast.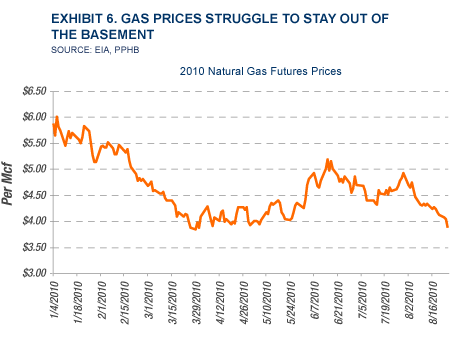 Until the spate of dismal economic news last week, futures traders and these bulls of summer had been holding out hope that gas prices would not only be supported above the psychological dangerous threshold of $4/Mcf by falling production but would rise to lofty levels by fall. Their view was based on the belief that the domestic gas market would be driven by hurricane-deprived supplies, growing industrial and electricity demand from both the recovering economy and the unseasonably hot summer, and an upcoming colder-than-normal winter. One by one these pins supporting higher natural gas prices have been removed.
The gas-directed rig count continues to hold up despite low $4/Mcf gas prices. We are finding that the rig count is driven more by the need to drill wells to secure recently purchased leases in the highly prolific gas shale formations around the country rather than react to declining profitability due to low prices and rising drilling and development costs. Hopes for higher gas prices were dashed when the fourth tropical storm of the season, Hurricane Danielle, turned up into the Atlantic Ocean rather than targeting the Gulf of Mexico and our offshore gas producing infrastructure. More tropical storms may be coming, but futures markets are tiring of the emotional rollercoaster of storm formations only to have them fade in significance. Besides, as Deutsche Bank's (DB-NYSE) chief energy economist, Adam Sieminski, points out, the importance of Gulf of Mexico supplies for the domestic gas market has been diminished by the growth of onshore gas shale production. This new and growing source of gas production is not susceptible to being shut down by storms so shortage scenarios are no longer as much a factor in futures pricing as before. Just another crutch for gas traders being kicked out from under them!
Last week's dismal housing statistics and disappointing durable goods orders amplified the prior week's lousy economic statistics strengthening the double-dip recession camp of economists. Statements by several Fed governors about the increasing risk of a double-dip recession didn't help the mood on Wall Street or in the commodity trading pits. Mixed economic data from China added to the gloomy outlook.
Another development last week was that several weather forecasting services issued updates to their forecasts for the upcoming winter season. The one we follow, Commodity Weather Group, LLC, calls for the winter of 2010-11 to be the warmest winter since 2006-07. They expect energy demand to be lower than normal for the key population centers along the East Coast extending throughout the Southeast and even into many of the Midwest population centers. They believe the best opportunity for colder temperatures, and higher energy demand, will be in the Western United States, especially the Pacific Northwest and Western Canada including Calgary. Their model suggests as much as 20% above normal snow fall in the Pacific Northwest region suggesting that hydro-electric supplies could be substantially above normal, which would hurt fossil fuel demand, most likely natural gas use.
CWG's model, driven by numerous factors, runs counter to the normal prevailing climate pattern from strong La Nina events. La Nina is associated with a significant cooling of waters in the central tropical Pacific Ocean region. Normally strong La Nina events are associated with cold winters in the Midwest and Northeast regions. This year, even though CWG expects La Nina to be quite strong, its sees other weather factors that will offset its effect and produce a warmer-than-normal winter.
What does a warmer winter mean for natural gas prices? If we look at gas demand during the winter period of October through March of each year of this decade as reflected by the amount of natural gas in storage, we can see how last winter, a colder than normal season, compared to the warmer than normal 2006-07 winter. In the exhibit below, there was more natural gas in storage at the beginning of last winter and due to warm weather and surging gas shale production supplies grew through November. Then, when the cold weather arrived in December, gas storage volumes fell rapidly despite higher gas production until reaching a bottom at the end of February.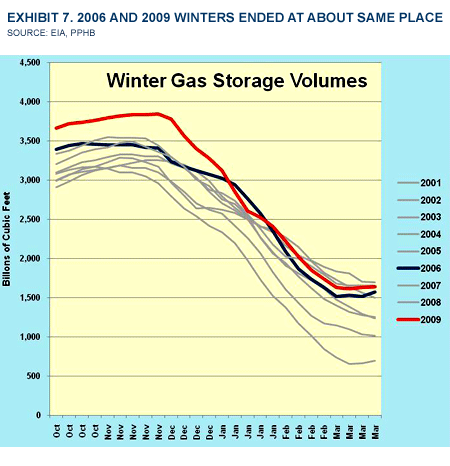 In contrast to 2009-10, gas in storage during 2006-07 peaked about mid October and then steadily declined until bottoming at the end of February. When we look at the patterns and the current storage volumes, we suspect that this winter will begin with gas storage near, or possibly higher, than where 2006-07 began despite the hotter than normal summer we have been experiencing. If the winter is warmer than 2006-07 and with continued strong gas shale production, we should expect the shape of the storage volume graph for this winter to resemble the curve for 2009. The question will be just how warm the winter is as to whether we end up with higher gas volumes in storage at the end of the winter. If we do wind up with more gas in storage than the natural gas market will be looking at prices under pressure for most of 2011. That is not an appealing scenario for natural gas producers.
Turning to gas prices during the winter of 2006-07, we find that on January 3, 2006, natural gas futures prices were $10.63, which was essentially cut in half by early July when futures traded around $5.50. Prices then rallied to just over $7 by late August only to fall back to $6.30 at January 2, 2007, in the dead of winter. By February 2007, gas prices had recovered to the upper $7 range as colder weather supported the higher price. If we experience a similar price pattern for natural gas this year and winter, then we could be looking at gas prices in the mid-$3 range at the turn of the year.
The encouraging view is that the historic price pattern suggests we might see late winter demand boosting gas prices closer to $5.50. As we write this story (August 26th) February 2011 futures prices for natural gas are only $4.55, or nearly one dollar below where they might be if the 2006-07 winter pricing pattern were to be repeated. Given the highly negative outlook for gas pricing at the present time, it is not surprising that it will likely be the winter of 2012-13 before natural gas futures prices approach the $6/Mcf level as reflected by the current futures prices. So will the bulls of summer still be disappointed despite their lowered price expectations even though they are now officially bears?