Greenland Sees Hydrocarbons as Key to Political Independence
Rigzone Staff
|
Tuesday, August 17, 2010
Greenland has stepped up its oil and natural gas exploration and production efforts in recent years to establish political independence from Denmark.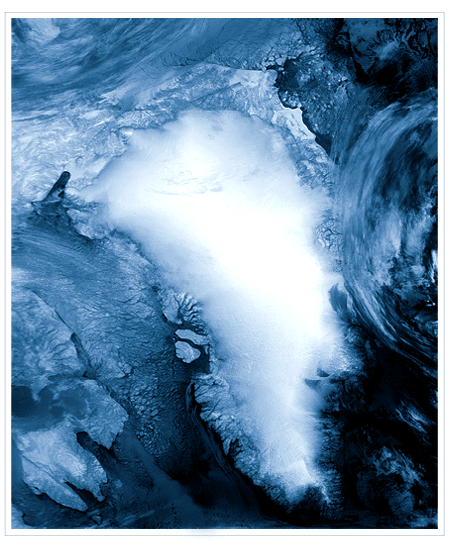 The country's economy is largely dependent on subsidies from Denmark and the fishing industry. Though part of Denmark since the 18th century, Greenland, whose population numbers around 58,000, was granted home rule in 1979, and further autonomy was granted following a referendum in November 2008. Some view this as a precursor to full independence.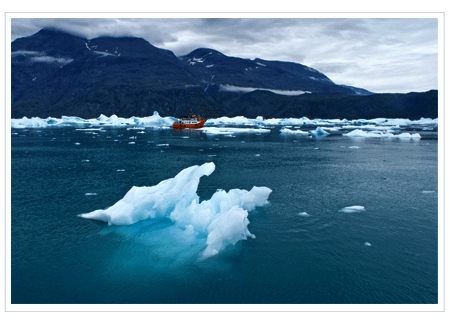 Many Greenlanders see the development of the country's mineral and hydrocarbon resources - and the income stream this could present - as a key goal in the move towards full political independence and an end to its reliance on Danish subsidies, according to Edinburgh-based Cairn Energy, which currently is drilling two wells offshore Greenland, the first drilling activity there in a decade. As a result, a number of exploration licenses have been awarded over the past five years with EnCana, ExxonMobil, Chevron, DONG, Husky Energy and Cairn among the successful bidders.
In the early 1970s, comprehensive seismic surveys were carried out offshore West Greenland due in part to rising oil prices, and almost 21,000 line kilometers (13,048 miles) of reflection seismic data were acquired. In 1975, six groups headed by Amoco, Chevron, ARCO, Mobil, Total, and Ultramar were granted licences and in the following two years, five exploratory wells were drilled. Exploration was discontinued in late 1978 after all wells were declared dry by the operators.
Re-investigations of the well data in 1997 by the Geological Survey of Denmark and Greenland (GEUS) uncovered evidence that many areas had been abandoned prematurely. Greenland oil and gas activity could pick up again as oil and gas operators worldwide set their sits on the Arctic's untapped resources, as the region is believed to be one of the major remaining sources of undiscovered hydrocarbons.
A May 2008 report by the U.S. Geological Survey (USGS) suggested that 90 billion barrels of oil, 1,669 Tcf of natural gas and 44 billion barrels of natural gas liquids may remain to be found in the Arctic, of which 84 percent is expected to occur in offshore areas. USGS also has estimated that Eastern Greenland holds an estimate 31 billion BOE; Northern Greenland holds 3.3 billion BOE; and Western Greenland/Eastern Canada contains 17 billion BOE.
In May, Greenland conducted an auction for 14 blocks in Baffin Bay offshore northwest Greenland near Canadian waters. Results will be announced this month. Greenland received 17 bids from 12 international oil companies. An auction for oil and gas exploration leases in the Greenland Sea will be held in 2012 and 2013.
Last fall, Cairn subsidiary Capricorn Greenland Exploration Ltd., and seven other companies with drilling licenses offshore Greenland helped establish the Greenland Oil Industry Association.
The organization will provide a venue for exchanging expertise with other oil and gas companies and communicating with Greenland's government on environmental and other issues. Besides Capricorn, other association founders include DONG E&P Grønland A/S, Esso Exploration Greenland Ltd, Chevron Greenland Exploration A/S, Husky Oil Operations Ltd, PA Resources AB and Nunaoil A/S.
Canada-Greenland Collaboration
Earlier this month, the National Energy Board (NEB) signed a memorandum of understanding (MOU) with the Greenland's Bureau of Minerals and Petroleum (BMP). Details of the MOU were unveiled at the Arctic Environment Minister's meeting in Greenland in June.
The MOU, based on a marine cooperative agreement between the two countries dating from 1983, call for the participants to exchange information on specific energy projects; developments in their energy markets; the energy policy context within which they operate; and their respective regulatory requirements, regulatory oversight approaches, regulatory processes, guidelines and best practices.
NEB and BMP intend to meet twice a year for information exchanges, and will maintain regular contact year-end by telephone and email. The MOU, which is not legally binding, will remain valid for five years, with the option for review and renewal every five years.
"We though this would be a great opportunity for learning about other countries' regulatory requirements and best practices," said NEB spokesperson Sarah Kiley, who noted that some NEB staff would be on site at drilling rigs Cairn has under contract off Greenland to observe.
Earlier this year, Canadian officials had express concern over Greenland's plan to allow offshore drilling near its border with Canadian waters in the Davis Strait and whether the country was prepared to deal with a potential oil spill like the BP Gulf of Mexico spill. A Cairn spokesperson said that Greenland has drilling regulations in place similar to those in Norway, which are among the most stringent in the world.
Cairn Activity
Cairn in July commenced drilling operations on the Alpha prospect (Alpha-1) and T8 exploration prospects in the Sigguk Block, approximately 108 miles (175 km) offshore Disko Island, west Greenland. Cairn's West Disko program includes two Sigguk exploration wells and the acquisition of around 2,000 kilometers (1,242 miles) of 2D seismic in Eqqua.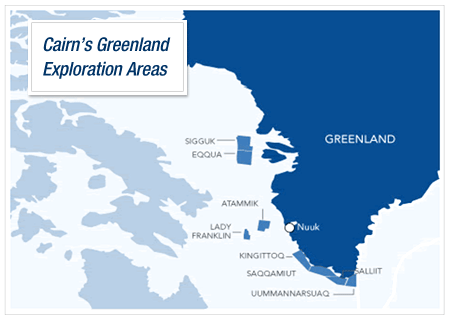 The wells are the first two drilled since Statoil drilled a well on the Fylla license offshore West Greenland in 2000. The Fylla well was plugged and abandoned after failing to encounter hydrocarbons.
Stena Offshore semisubmersible Stena Don is drilling the Alpha-1 prospect, and the drillship Stena Forth is drilling the T8 exploration prospect. The two well targets Alpha and T8 are in water depths ranging between 1,115 feet (340 m) and 1,640 feet (500 m). The well depths have an estimated target depth of 13,780 feet (4,200 m) and 10,663 feet (3250 m).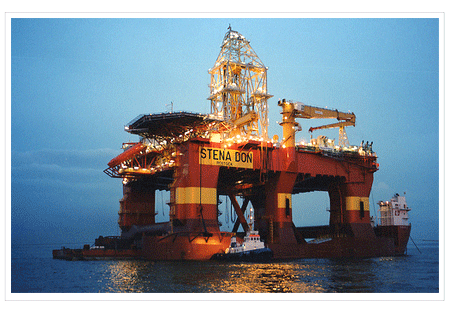 Since 2007, Cairn has secured interests in eight blocks covering approximately 72,000 square kilometers offshore west and south Greenland. In the undrilled Disko West area, a number of surveys were conducted this summer to help rank the leads and prospects and undertand the risks and uncertainties involved in planning and committing to a drilling campaign. Cairn reports that further data acquisition is likely in 2010 to finalize drilling locations, with drilling expected to begin next year.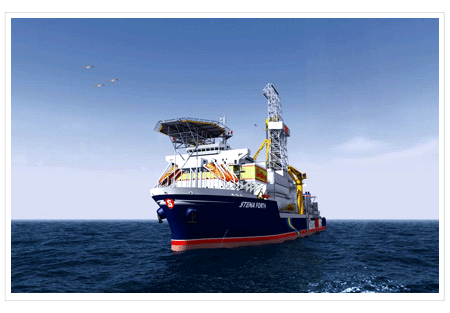 Cairn was awarded a prospecting licence offshore East Greenland in 2009 and is currently shooting 2D seismic. Cairn has operated interests offshore Greenland at Sigguk, Eqqua, Lady Franklin, Atammik, Sallit, Kingittoq, Saqqamiut, and Uummannarsuaq.
Other producers with exploration interests offshore Greenland include Husky Energy, which recently has been interpreting seismic data from its three Greenland exploration licenses. PA Resources AB on July 15 completed a seismic survey of Block 8 offshore West Greenland. The seismic survey, initiated on June 6, was completed 10 days ahead of schedule. Data processing is now underway.
Last month, TGS commenced acquisition of 15,000 km of multi-client 2D seismic data offshore Greenland in Baffin Bay.
"It is an exciting time in the life of hydrocarbon exploration in Greenland. A large number of companies pre-qualified and bid for acreage in the current Baffin Bay tender round. These companies are awaiting the award of blocks, which is expected to take place in Q3-2010. In addition, the industry is closely anticipating the results from exploration drilling that is in progress offshore southwest Greenland," stated Kjell E. Trommestad, VP & General Director, Europe for TGS.
Challenges of Arctic Offshore Activity
Oil and gas companies face high costs, high risks and lengthy lead times for development. According to the U.S. Energy Information Administration (EIA), the Arctic resource base is largely composed of natural gas and natural gas liquids, which are significantly more expensive to transport over long distances than oil. Unresolved Arctic sovereignty claims could preclude or substantially delay development of those oil and natural gas resources where economic sovereignty claims overlap, EIA noted, and protecting the Arctic environment will be costly.
Finding large Arctic oil and natural gas fields, or fields with recoverable oil and gas reserves that exceed 500 million BOE, is critical because of initial high costs necessary to pay for infrastructure, which is required to later develop the smaller oil and gas deposits, EIA. Arctic infrastructure development is sufficiently expensive that many large Arctic fields remain undeveloped.
The icy winter conditions also limit the time window in which drilling rigs can operate. The requirement for ice-resistant tankers and ice-breaker escorts adds to the cost of transporting oil and natural gas through Arctic waters.
Additional costs might be imposed on future oil and natural gas development if a warming of the Arctic region melts the permafrost and turns currently firm soils into marshes and bogs. Ironically, warmer Arctic temperatures would shrink the ocean icepack, making it easier and less costly to drill, EIA reports.
Generated by readers, the comments included herein do not reflect the views and opinions of Rigzone. All comments are subject to editorial review. Off-topic, inappropriate or insulting comments will be removed.