Analysis: Egypt's Waters Hold Significant Untapped Gas Reserves
Rigzone Staff
|
Friday, July 16, 2010
Egypt's Mediterranean waters contain significant offshore oil and gas reserves that have yet to be produced, according to a recent report by the U.S. Geological Survey (USGS). USGS estimated means of 1.8 billion barrels of recoverable oil, 223 Tcf of recoverable gas, and 6 billion barrels of natural gas liquids in the Nile Delta Basin province of the eastern Mediterranean Sea region.
USGS estimated the undiscovered oil and gas resources of the Nile Delta Basin Province as part of a program aimed at estimating the recoverable oil and gas resources of priority basins around the world. The Nile Cone assessment unit, which lies Egypt's offshore mid-water region, is by far the largest resource with an estimated mean volume of 217,313 Bcf of gas and 5,789 million bbl of natural gas liquids.
The province encompasses approximately 96,525 square miles (250,000 sq km) of the eastern Mediterranean area. While the estimates represent technically recoverable oil and gas resources, no attempt was made to estimate economically recoverable resources.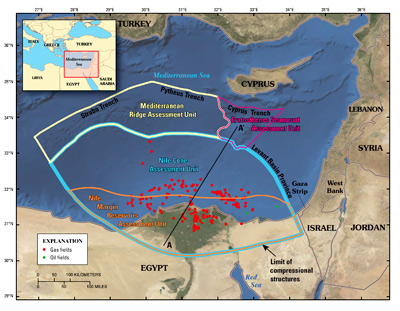 Location of Four Assessment Units in the Nile Delta Basin Province
View Full Size
Feeding Domestic Need
Egypt's need to solve its tight domestic gas supply situation after years of near or actual shortages, which has limited the country's industrial growth due a shortage of gas-fired electric power, has prompted the nation's government to change terms of production deals to promote drilling and development, said Sam Ciszuk, energy analyst with IHS Global Insight.
Starting in the mid-1990s, the Egyptian government began holding licensing rounds for exploration acreage and creating other incentives for exploration and production efforts, such as more attractive financial terms, as part of an overall strategy to revitalize its hydrocarbons industry bureaucracy. This initial push for exploration resulted in huge natural gas finds and development of liquefied natural gas (LNG) projects.
However, investment and exploration and development activity began to slow due to high costs of offshore development and limited amount of production that could be exported to global markets. In Egypt, gas production deals typically have been structured so that one-third is set aside for future generations, one-third is earmarked for export and one-third is sold to the Egyptian government for use in the domestic market. Companies hesitated to pursue deepwater exploration and production due to the low fixed prices that the Egyptian government paid for production set aside for its domestic market.
Breakthrough Deal
This scenario has started to change with the "breakthrough" deal that BP signed earlier this year with Egypt for more comprehensive price increases, Ciszuk said. BP will have full production rights in its Mediterranean North Alexandria block and guaranteed a significantly higher oil-indexed price for the gas produced for the government.
This agreement means that BP now is highly likely to move forward with development of its 4-Tcf Raven gas field, which lies 25 miles (40 km) offshore Egypt in 2,132 feet (540 m) of water, and other deposits in the block after years of standstill, Ciszuk said. The deal is "another big step" towards improving upstream investment in the Nile Delta area.
"There will naturally be a strong push by all other explorers and producers in the area to receive the same terms, with renegotiations like to ensue a few months from now, given Egypt's need to solve its tight domestic gas supply after years of near or actual shortage," Ciszuk said.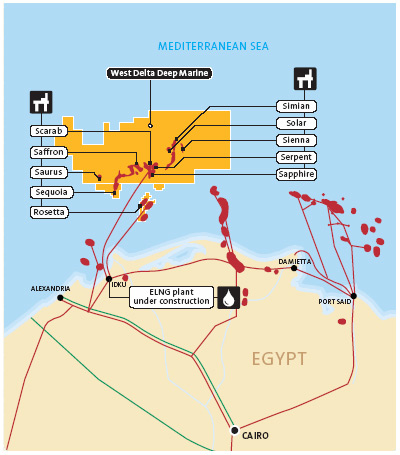 West Delta Deep Marine
Ciszuk noted that Egyptian efforts to raise gas prices for the 25 percent to 30 percent of production that has to be supplied to the domestic market are starting to make a difference, with investment again picking up after a lengthy lull in the later part of the past decade.
Burullus Gas (BG) recently indicated it would drill nine wells on its West Delta Deep Marine (WDDM) Block in Egypt's deepwater Mediterranean and construct a new subsea pipeline to onshore treatment facilities following agreements to raise the government regulated gas sale prices for the domestic supply quota, Ciszuk said. The WDDM Concession lies 56 miles (90 km) from the Nile Delta shoreline in water depths of 820 feet to 2,789 feet (250 m to 850 m).
Though prices rose a few years ago for deepwater production after BG brought a number of WDDM expansion onstream, the BP deal "on what could be called mid-depth waters seems to have potential paved the way for a reinvigoration of Egypt's whole offshore play," promising an increase in production and potential for additional LNG export capacity.
U.S. Gulf Rig Heads to Egypt
The 23-unit fleet currently operating in the Mediterranean Sea includes three jackups and three semisubmersibles currently drilling offshore Egypt, according to RigLogix. The region's rig fleet will expand with the deployment of Diamond Offshore semi Ocean Endeavor from the U.S. Gulf to Egypt with term contract ending June 30, 2011, plus option, with BG. The rig is the first to depart the Gulf due to the threat of an offshore drilling moratorium in the region. Industry sources have said that Statoil may redeploy the ultra-deepwater drillship Discoverer Americas to either West Africa or the Mediterreanean due to Gulf drilling restrictions.
Generated by readers, the comments included herein do not reflect the views and opinions of Rigzone. All comments are subject to editorial review. Off-topic, inappropriate or insulting comments will be removed.