Analysis: Looking Ahead to GOM Snap Back
Rigzone Staff
|
Wednesday, July 14, 2010
Arguments favoring a recovery in Gulf of Mexico rig activity are plentiful (once we get past the politics surrounding the oil spill) and include:
Strong reliance on production from the region. According to the EIA the Gulf of Mexico accounted for 30% of domestic crude oil production and 13% of natural gas production during 2009. With U.S. consumption at 18.7 million bbls/day for oil and natural gas totaling 22.8 Tcf last year, the Gulf of Mexico is too large a component of US energy policy to ignore – especially deepwater which accounts for approximately 80% of GOM oil production.
Operators/Drillers have vested interests in the region. Recent negotiations between operators and drillers suggests that both parties are looking to the future once the U.S. government decides how to proceed with deepwater drilling with optimism. We point to the recently renegotiated contract for Diamond Offshore's Ocean Confidence as evidence. Here, the operator is relocating the rig to W. Africa in the near-term but still left contractual terms in place to relocate the rig back to the Gulf of Mexico and resume drilling once the ban is lifted.
Oil prices are supportive of continued exploration. Commodity prices, especially oil, have been quite stable over the last twelve months with spot prices for West Texas Intermediate averaging $75 per barrel. Taking the wide assumption that finding and development costs (F & D) are somewhere between $10 to $35 per barrel; it is obvious that economics for continued sustained drilling are quite compelling.
New regulations will not be overly disadvantageous. Industry sources are suggesting that the new government regulations will not be so onerous as to discourage investment in the Gulf of Mexico. They point to the North Sea and that even with its high regulatory standards the region continues to draw investments. Parallels pointing to continued development of the Gulf of Mexico are relevant considering both are more mature fields and the new regulations for the Gulf will not likely exceed the requirements mandated in the North Sea.
Permitting activities beginning to show some hope. As evidenced by the table below, shallow water activities in the Gulf persist as operators' revisions are starting to get green lights from the Feds. Furthermore, in the last two weeks two operators (Chevron and Apache) were able to put rigs back to work and in the process renounce force majeure provisions. Thus, we view the flow of activity as improving in shallow-waters with both regulators and operators beginning to adapt to the new rules (NTLs N05 & N06) that were put in place in the wake of the oil spill. Specifically, revised permits approved since the beginning of June now equal 28 for shallow water activities.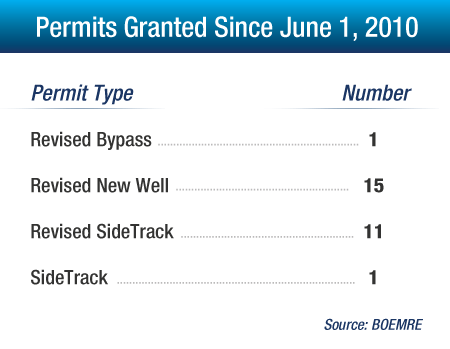 Generated by readers, the comments included herein do not reflect the views and opinions of Rigzone. All comments are subject to editorial review. Off-topic, inappropriate or insulting comments will be removed.