Analysis: Deepwater Discoveries, Production Still Critical to Reserve Base
Rigzone Staff
|
Tuesday, July 06, 2010
While the Deepwater Horizon incident has introduced a new dimension of uncertainty to the offshore oil and gas sector, deepwater oil discoveries are increasingly important to the global and U.S. reserve base, according to research compiled by IHS CERA.
The volume of new oil reserves coming from deepwater has been on an upward trend since the 1990s, and has become particularly important in recent years. From 2006 to 2009, annual world deepwater discoveries in over 600 feet of water accounted for 42 percent to 54 percent of all discoveries onshore and offshore. In 2008 alone, deepwater discoveries added 13.7 billion BOE to global reserves.
Global deepwater production capacity in 2,000 feet (610 m) of water or greater has more than tripled since 2000, according to research compiled by IHS CERA, rising from 1.5 million b/d in 2000 to more than 5 million b/d in 2009.
Projections before the April 20 blowout in the Gulf of Mexico showed deepwater production capacity had the potential to rise to 10 million b/d by 2015, a rate of expansion well above the expected average rate of global supply growth.
Deepwater Offers Larger Discoveries
Deepwater discoveries are significantly larger, on average, than new onshore discoveries. The average size of a new deepwater (600 feet or more) discovery in 2009 was about 150 million BOE compared with the onshore average of only 25 million barrels. Global deepwater production also exceeds that of any country except Saudi Arabia, Russia and the U.S.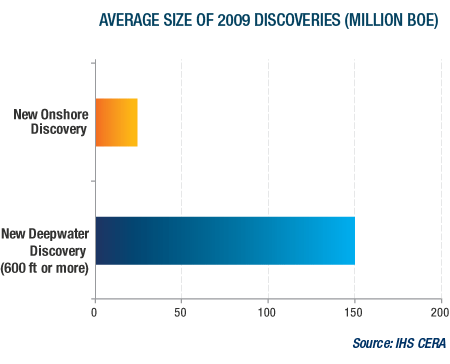 Deepwater Gulf Drives U.S. Oil Production
U.S. Gulf of Mexico deepwater projects are driving higher U.S. oil production, with U.S. Gulf production accounting for 30 percent of U.S. crude oil production in 2009, or 1.6 million b/d out of 5.3 million b/d. This 2.6 million b/d of Gulf supply was the result of a 33 percent, or 399,000 b/d, increase in output from 2008.
Most of the production increase was due to new production from five deepwater fields - Tahiti, Dorado, King South, Thunder Hawk, and Atlantis North Flank. Total U.S. oil production recorded year-on-year growth in 2009 for the first time since 1991. U.S. Gulf production also has contributed to the drop in U.S oil imports, with incremental growth last year in the Gulf offsetting about four percent of average daily imports.
Natural gas production in the Gulf represented 10 percent of total U.S. gas production in 2009, with production increasing in 2009 from 2008. The increase was the first after seven years of substantial declines and due to the start-up of the Independence Hub, a production facility in 8,000 feet of water that has 1 Bcf/d of production capacity.
Generated by readers, the comments included herein do not reflect the views and opinions of Rigzone. All comments are subject to editorial review. Off-topic, inappropriate or insulting comments will be removed.