Analysis: Mainland Seeks Untapped Potential of Haynesville Shale
Rigzone Staff
|
Friday, July 02, 2010
The development of potentially large U.S. onshore shale gas reserves continues, and is not only attracting large exploration and production (E&P) companies such as ExxonMobil and Reliance. Houston-based Mainland Resources, an independent E&P company founded in 2008 to capitalize on the wave of shale play development in the Gulf Coast, has been active in the past year. (Read: Mainland Resources Sees Bright Future in Haynesville Natural Gas ).
The company presently is developing the natural gas potential of leases in the northern Louisiana Haynesville Shale play and is exploring the potential for further extensions of the Haynesville shale in Mississippi.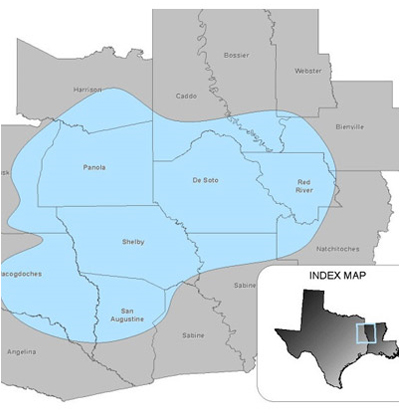 Haynesville Shale
Mainland expects to begin drilling next month the Burkley-Phillips No. 1 well to test what it believes is an undiscovered Haynesville shale structure at the Buena Vista prospect in Jefferson County near Natchez, Mississippi. Mainland will drill the well using a RAPAD Drilling rig to 22,000 feet, or a depth efficient to test the Haynesville formation. Estimated cost of drilling the Burkley-Phillips No. 1 well at Buena Vista is approximately $13.5 million. Drilling is expected to start around July 10.
According to the Louisiana Department of Natural Resources, the Haynesville formation is a layer of sedimentary rock more than 10,000 feet below the surface of the Earth in the area of northwestern Louisiana, southwestern Arkansas and eastern Texas, with some of the formation stretching well across the northern central portion of the Louisiana.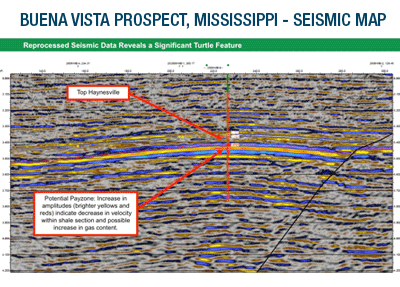 The formation was once considered too costly to explore, but rising energy costs and newer technology and processes changed this situation. In 2008, the Haynesville shale made headlines after Chesapeake Energy reported it had made a significant Haynesville shale gas discovery in northwest Louisiana, leading to a rush of activity as energy exploration companies began to lease property in north Louisiana for possible drilling and production. The most active areas have been Caddo, Bienville, Bossier, DeSoto, Red River and Webster Parishes of Louisiana plus adjacent areas in southwest Arkansas and east Texas.
"We are now well positioned to verify unconventional shale gas potential of what we believe is a further extension in Eastern Louisiana and Western Mississippi," said Mike Newport, president and CEO of Mainland. "We will also have the potential to evaluate potential conventional oil and gas bearing zones with the same wellbore. This would be a giant asset to Mainland if proven successful. We consider this opportunity to have very large potential and to be a relatively low-risk exploration well with incredible upside."
Mainland has leased more than 17,000 acres in the Buena Vista prospect area. Mainland will start with one well on a 1,280 are unit and then come back and start an infill drilling program that could potentially have over 200 wells. The company will use a vertical well because of the vertical thickness of the formation, which will be cheaper than drilling a horizontal well.
Mainland is offsetting a well drilled by Chevron in 1981, which encountered a deep seated structure but never encountered the Jurassic Smackover Formation, a prolific formation in the Gulf Coast region deeper than Haynesville shale. Due to extreme pressures, Chevron had to drill up to 19 pounds of mud into the well and drill it as a controlled blowout well to 2,500 feet. Management elected to shut down the well due to fears the well would collapse.
"Back then, nobody had the expertise or knowledge or fracturing technology to drill shale," said Newport. The company believes that a large undetected structure of 15,000 to 20,000 acres could exist in the area. The structure is already high fractured, so no horizontal drilling is needed.
Newport considers the project a lookalike to Leor Energy's Robertson County, Texas Deep Bossier project, which includes the prolific Amoruso gas field. A subsidiary of EnCana Corp. acquired interests in this project in 2007. A consultant who completed vertical wells on that project will design a completion frac for Mainland's project.
Mainland first began pursuing development of Hosston/Cotton Valley shale in acreage that formed part of the East Holly Field in northwest Louisiana, a region where a number of shale gas discoveries in the Haynesville, Hosston, Bossier and Cotton Valley formations had been made. In July 2008, Mainland formed a joint development agreement with Petrohawk Resources to development Haynesville shale on Mainland's properties. Haynesville wells to date and have successively brought wells on-line with a 100 percent success rate.
In the first quarter of 2010, Mainland negotiated the sale of the Haynesville portion of their assets in DeSoto Parish, La. for just over $27 million to Exco Resources Co. to fund drilling at the Buena Vista project, drilling of three development wells at the East Holly Field of the Cotton Valley/Hosston zones, where Mainland still owns 100 percent of production, and to retire debt to Guggenheim Partners LLC.
Mainland plans to begin new well development drilling at the East Holly Field by the second quarter of 2010. Mainland is looking at additional projects to bring oil into its production mix to cope with lower gas prices.