Analysis: U.S. Shale Gas Could Play Large Role in Future Production
Rigzone Staff
|
Monday, June 28, 2010
U.S. onshore shale natural gas could potentially become a large portion of future U.S. gas production with an assumed 347 Tcf of technically recoverable shale gas, provided that significant growth occurs in future U.S. gas demand, according to the U.S. Energy Information Administration's (EIA) Annual Energy Outlook for 2010.
A few years ago, most analysts anticipated a growing U.S. reliance on imported sources of gas, and significant investments were being made in regasification facilities for imports of liquefied natural gas, EIA said. That outlook has changed as a wave of exploration and production companies over the past five years have sought to explore for and produce U.S. shale gas, which has been touted as a clean-burning, secure energy source that can meet future U.S. energy demand.
Overall, U.S. natural gas production is expected to grow from 20.6 Tcf 2008 to 23.3 Tcf in 2035. With technology improvements and rising gas prices, gas production from shale formations is expected to grow to 6 Tcf in 2035, more than offsetting declines in other production and representing the largest contributor to production growth. Shale gas is expected to provide 24 percent of total U.S. gas production in 2035, according to the EIA.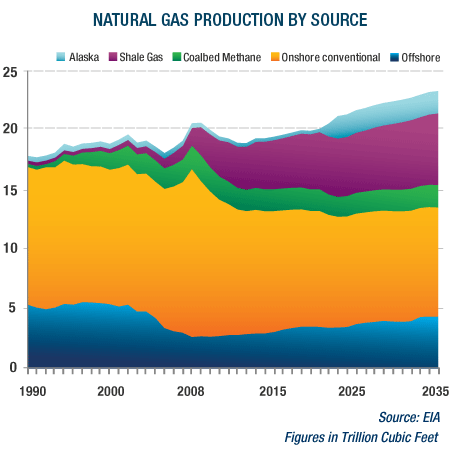 Improvements in hydraulic fracturing techniques and technology helped make this wave possible, as did healthy gas prices, which were trading as high as US$10/Mcf, said Charles Swanson, Houston office managing partner for Ernst & Young LLP's Americas Oil & Gas Center.
The wave of U.S. shale development was spurred by ideas from Mitchell Energy founder George Mitchell that the combination of existing horizontal drilling and fracturing technology could be utilized to explore for and develop U.S. natural gas shale plays.
While U.S. shale gas production increases, total onshore gas production declines slightly in the Gulf Coast region, by 27 percent in the Midcontinent region, and by nine percent in the Southwest from 2008 through 2035. Total gas production in the Rocky Mountain region is expected to increase by eight percent, largely from tight sands formations, while West Coast regional production will see the largest decline of 63 percent; no shale gas or coalbed methane is produced in this region.
Major US Shale Plays
The true potential of U.S shale gas resource remains uncertain, however, as estimates vary and experience continues to provide new information on the seven shale plays in the U.S., which include the Antrim, Barnett, Devonian, Fayetteville, Woodford, Haynesville, and Marcellus plays. Growth in gas production from shale formations will offset declines in other supply sources nationwide, and is expected to grow significantly in the Northeast, Gulf Coast and Midcontinent regions.
The Antrim shale play, a formation of the Upper Devonian age found in Michian and parts of Ohio and Indiana, has produced gas since the 1940s, but was not active until the 1980s. Drilling activity picked up significantly in the 1990s; to date, the shale has produced over 2.5 Tcf from over 9,000 wells.
Prior to 2000, low production gas wells were completed in the Marcellus shale, which is found in New York, Pennsylvania and other states that are part of the Appalachian Basin. Several companies that successfully drilled the Barnett shale play near Fort Worth, Texas, several companies are applying this technology and experience to drill the Marcellus shale. While initial drilling costs are higher, horizontal wells being drilled here are producing at twice the rate of vertical wells and at a slightly lower overall cost.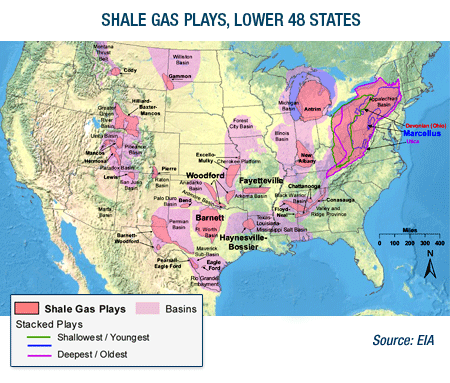 Devon Energy, which acquired Mitchell Energy, would later successfully drill the Barnett shale play around Fort Worth, Texas, thanks to advances in fracturing technology, a process in which a mixture of water and sand is injected into a formation at high pressure to fracture the formation and release gas trapped inside.
In 2008, the Haynesville shale made headlines after Chesapeake Energy reported it had made a significant Haynesville shale gas discovery in northwest Louisiana, leading to a rush of activity as energy exploration companies began to lease property in north Louisiana for possible drilling and production. The formation was once considered too costly to explore, but rising energy costs and newer technology and processes changed this situation.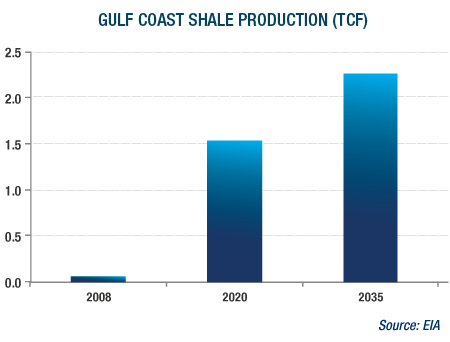 The Haynesville play is expected to become a major contributor in the Gulf Coast region, and shale gas production here compensates for nearly 91 percent of the decline in other gas production. Other shale plays found in this region include Eagle Ford, which has become active due to its oil-gas mix, and Barnett shale play.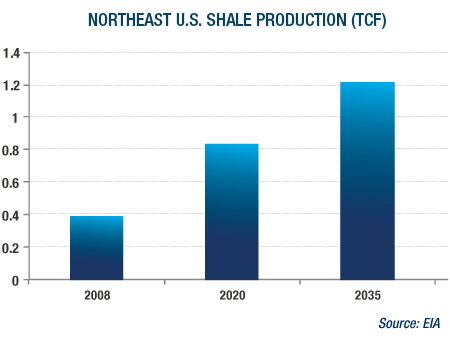 Although production from the Antrim shale has started declining, and development in parts of the Marcellus shale has been inhibited somewhat by limitations on the issuance of drilling permits, shale gas production in the Northeast region will more than triple from 2008 to 2035, EIA said.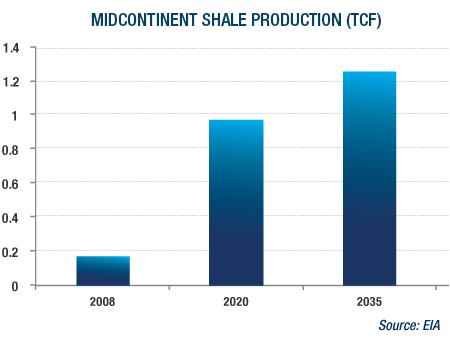 Production from the Fayetteville and Woodford shale offsets approximately 57 of the decline of other gas production in the Midcontinent region. Fayetteville shale, a black organic-rich rock of Mississippian age, is found primarily in northern Arkansas and adjacent states. Woodford shale is a Mississipian age rock found primarily in Oklahoma.
Generated by readers, the comments included herein do not reflect the views and opinions of Rigzone. All comments are subject to editorial review. Off-topic, inappropriate or insulting comments will be removed.