Analysis - BP's Success Continues Despite Tragedy
Rigzone Staff
|
Friday, May 21, 2010
BP, one of six supermajors, is the third largest oil company in the world. The company is also the leading operator in the deepwater GOM, producing over 400,000 b/d from operated fields including Thunder Horse, Atlantis, and Mad Dog, and holds interests in non-operated fields including Mars and Ursa. BP also holds the largest number of leases in the deepwater GOM with more than 650 leases in waters deeper than 1,250 ft.
BP produced 4 MMboe/d in 2009, an increase of 4% on 2008, and its 17th consecutive year of increasing reserves. BP intends to start up a total of 42 new major projects between 2010 and 2015, which are expected to contribute about 1 MMbbl in total production by 2015, more than offsetting the decline from currently producing fields.
The supermajor also announced its Q1 2010 replacement cost profit was $5,598 million, compared with $2,387 million a year ago, which is an increase of 135%. Full year replacement cost profit for 2009 was $14 billion, down 45% on the record full year profit of 2008, mainly reflecting the weaker market environment of lower average oil and gas prices and depressed refining margins.
Exploration successes, including the ultra-deepwater Tiber discovery, confirmation of the Mad Dog South extension in the GOM, and three additional discoveries in Block 31 off Angola contributed to BP's profitable year.
However, BP reported that production for Q1 2010 was 4,010 Mboe/d, which was broadly flat compared to Q1 2009, reflecting continued strong operational performance. The company previously stated that it expects production in 2010 to be slightly lower than in 2009 due to oil prices and its impact of PSAs and OPEC quota restrictions. BP also indicted in its quarterly report that Q2 2010 is expected to experience a normal seasonal turnaround effect of about 100 Mboe/d. These turnaround activities are planned for some of BP's higher-margin areas including the North Sea and the Gulf of Mexico. This will impact costs and margins as well as volumes.
Production, according to Group chief executive Tony Hayward, is expected to pick up again in 2011.
There's no telling what impact the April 20, 2010, blow-out in the Gulf of Mexico will have on BP's future numbers.
BP had contracted the Deepwater Horizon semisubmersible from Transcoean to drill in the GOM. The rig caught fire in April and sank. The semisubmersible had been drilling at the Macondo well site in Mississippi Canyon Block 252 in about 5,000 ft of water.
BP was temporarily abandoning the Macondo Prospect as a producer at the time of the incident with the intent on tying it back to existing infrastructure in the area. BP had drilled the well to just over 18,000 ft and cased and cemented it prior to the blow-out that killed 11.
According to RigLogix, the Deepwater Horizon, an RBS-8D-designed dynamically-positioned semisubmersible, was rated to work in water depths up to 10,000 ft and had a rated drilling depth capacity of 30,000 ft. The rig was under a long-term contract to BP through September 2013 at a dayrate in the low $500s. The Deepwater Horizon was built in Ulsan, South Korea by Hyundai Heavy Industries at a cost of approximately $365 million and entered service in 2001.
Exploration and production success
As previously mentioned, offshore exploration and production successes contributed significantly to BP's numbers in 2009. BP brought seven major projects onstream in 2009, including three projects that came online ahead of schedule.
In the GOM, BP ramped up production at Thunder Horse to more than 300,000 boe/d. Thunder Horse is now the largest single producing field in the GOM, bumping up GOM production from 240,000 boe/d in 2007 to more than 400,000 boe/d in 2009.
BP also started production at Dorado and King South in May 2009, and Atlantis Phase 2 in Q4 2009.
Dorado and King South are both subsea tiebacks to the existing Marlin TLP.
Dorado comprises three new subsea wells about two miles from the Marlin TLP. BP operates Dorado with a 75% working interest and partner Shell holds 25% interest. King South is a single subsea well about 18 mi from the Marlin TLP and is 100% owned and operated by BP.
Dorado uses dual completion technology to produce from five Miocene zones, and King South is produced through the existing King subsea pump.
"By bringing new resources onstream from areas close to the existing Marlin TLP, BP has re-established plateau oil production at Marlin a decade after first production. This demonstrates the potential to apply the latest technology to leverage our existing infrastructure and maximize recovery," said Andy Inglis, BP's Chief Executive of Exploration & Production.
BP also started up the Tangguh LNG project in 2009. According to the supermajor, Tangguh is more than 3,000 km east of the Indonesian capital Jakarta, hundreds of miles from the nearest major city, and accessible only by air or sea. The first LNG was shipped just over four years after project sanction. The project will export about 7.6 million tonnes of LNG per year.
The unmanned Savonette LNG platform offshore Trinidad & Tobago started production in 2009 as well. Its produced gas supplies Atlantic LNG's liquefaction plant.
The final two projects that came onstream last year were onshore. TNK-BP started production in Russia in the northern hub of Kamennoye and in the Urna and Ust-Tegus fields in the Uvat area.
As mentioned previously, BP also reported three further discoveries in the ultra deepwater Block 31 off Angola and a significant exploration success with the Tiber oil discovery, drilled by the Deepwater Horizon, which is one of the deepest oil and gas discovery drilled to date. BP said the Tiber discovery likely contains more than 3 Bbbl. Tiber is operated by BP with a 62% working interest with co-owners Petrobras 20% and ConocoPhillips 18%.
Current Rig Fleet
BP currently has 10 rigs under contract - one jackup, one drillship, and eight semisubmersibles. Three are in the North Sea, three are in the GOM, and one each in the Caspian, Mediterranean, off West Africa, and off Trinidad & Tobago. BP also has two newbuild drillships under contract as well the Deep Ocean Ascension and the Deep Ocean Clarion. The Deep Ocean Ascension was delivered in February 2010 and is expected to start work in Q3 2010 and the Deep Ocean Clarion is due to be delivered in Q3 2010 and due to start work in Q1 2011 both in the GOM.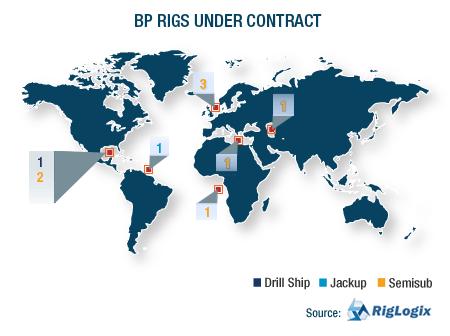 Of the supermajors, Shell leads the rig count with 20 jackups, semisubmersibles, and drillships currently contracted and deployed. Chevron and Total each have 19 rigs, Statoil has 15, ExxonMobil has 10, and ConocoPhillips has 6 rigs contracted in the field.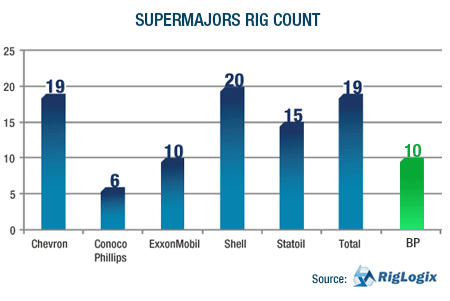 Supermajors are known for their large profits, but National Oil Companies currently contract a greater number of rigs than the supermajors. Petrobras has 51 rigs currently contracted, which includes rigs that are owned and operated by Petrobras. That's only seven fewer rigs contracted by the top three supermajors combined. Pemex, ONGC and Saudi Aramco are also currently employing more rigs than BP with 29, 34 and 21 respectively. These numbers include rigs that are owned and operated by the NOCs.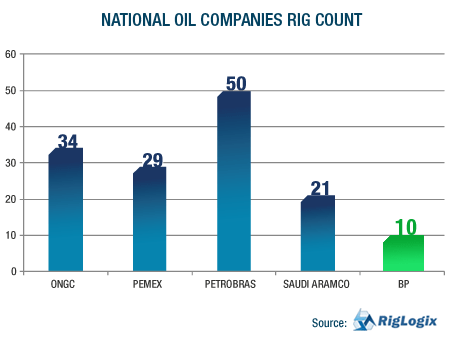 With an average dayrate in the low-$440s for its floater fleet, BP is paying about a 11% premium to the worldwide floater average in the high-$390s. The dayrate for the single jackup that BP operates is in the low-$110s, which is roughly in line with the dayrate for the worldwide jackup fleet average in the mid-$110s.
Looking at rig utilization since 2000, BP has averaged about 19 rigs (jackups, semisubmersibles, drillships). In 2010, BP has about 11 contracted rigs in the field at a time. Looking at contracts already in place for the last half of the year, the average number of rigs BP has contracted is 11. However, this number will likely increase as contracts are renewed and jackups are not typically contracted too far in advance.
BP's largest contract in terms of dayrate is currently the GSF Development Driller II, which is owned by Transocean. The semisubmersible started drilling a relief well on May 4 at the Macondo Prospect, which was discussed above. The relief well is estimated to cost $100 million. The GSF Development Driller II is working with its sister ship, the GSF Development Driller III. The relief well, in 5,000 ft of water, could take up to 3 months to reach 13,000 ft below the seabed and seal the leak. The Discoverer Enterprise is also on location providing support.
Activites
BP reported two major projects started up in Q1 2010. The major participated in the start-up of Great White in the GOM. The field came online in late March 2010. Great White is produced back to the Perdido Development, the world's deepest offshore drilling and production facility in 8,000 ft of water. The Perdido host spar is jointly owned by Shell (35%), Chevron (37.5%), and BP (27.5%).
BP also started production onshore Canada. The Noel project started exporting and selling gas earlier this year.
BP also announced that it will buy 10 exploration blocks in Brazil, an interest in the ACG development in the Caspian Sea offshore Azerbaijan, and a "major portfolio of deepwater exploration acreage and prospects" in the US GOM from Devon Energy. In return, BP has agreed to sell a 50% stake in the Kirby oil sands in Alberta, Canada and form a 50/50 joint venture in the development of Kirby.
In addition, BP acquired Total's 15.7% stake in Valhall and its 25% interest in Hod. Both fields are in the southern part of the Norwegian continental shelf.
Follow BP and its projects worldwide by visiting SubseaIQ, or follow the developments, contracts and initiatives of the rigs through RigLogix.
RELATED COMPANIES