NOAA Expands Gulf Fishing Ban
Rigzone Staff
|
Friday, May 07, 2010
The National Oceanic and Atmospheric Administration (NOAA) announced Friday afternoon that it has modified and expanded the boundaries of the closed fishing area in the Gulf of Mexico to better reflect the current location of the BP oil spill. Also, the agency is extending the fishing restriction until May 17.
According to NOAA, the closed area now represents slightly less than 4.5 percent of Gulf of Mexico federal waters. The original closure boundaries, which took effect last Sunday, encompassed less than three percent. The agency pointed out that the vast majority of Gulf waters has not been affected by the oil spill, leaving many areas available for fishing and tourism activities.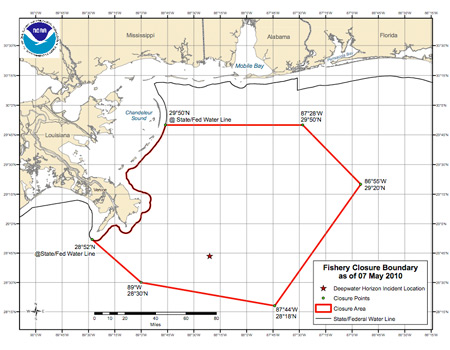 NOAA stated that agency administrator Jane Lubchenco and her staff will continue to meet with fishermen in the oil-affected area to listen to their concerns and share with them what NOAA scientists have learned so far about how the oil might be affecting their potential seafood catch.
"NOAA stands shoulder to shoulder with Gulf coast fishermen and their families during these challenging times," Lubchenco said. "NOAA scientists are on the ground in the area of the oil spill taking water and seafood samples in an effort to ensure the safety of the seafood and fishing activities."
In addition, NOAA offered assurances that the federal and state governments have strong systems in place to test and monitor seafood safety and to prohibit harvesting from affected areas and keep oiled products out of the marketplace. NOAA's Fisheries unit, the U.S. Food and Drug Administration, and the states are collaborating to ensure seafood safety by assessing whether seafood is tainted or contaminated to levels that pose a risk to human health.
According to NOAA, there are 3.2 million recreational fishermen in the Gulf of Mexico region who took 24 million fishing trips in 2008. Commercial fishermen in the Gulf harvested more than 1 billion pounds of finfish and shellfish in 2008.
NOAA is working with state governors to evaluate the need to declare a fisheries disaster. The states of Louisiana and Mississippi have requested a federal fisheries disaster be declared.
Lubchenco and U.S. Commerce Secretary Gary Locke on Thursday traveled to the Gulf to see cleanup efforts first hand and talk directly with state and local officials and area business leaders. NOAA fisheries representatives in the region will be meeting with fishermen this week. BP will be hiring fishermen to help clean up from the spill and deploy boom in the Gulf of Mexico. Interested fishermen should call 425-745-8017.
NOAA concluded that it will continue to evaluate the need for fisheries closures based on the evolving nature of the spill and will re-open closed areas as appropriate. Also, the agency will re-evaluate the closure areas as new information that would change the boundaries of these closed areas becomes available.