Analysis: E&P Success Continues off Atlantic Canada
Rigzone Staff
|
Friday, April 30, 2010
Offshore Canada's Atlantic coast has proven to be a very oil rich region. The first well drilled offshore was in 1943. The Island Development Company drilled the Hillsborough #1 well 13 km from Prince Edward Island in 8 m of water. The well reached 4,478 m. Two years later the well was dry and abandoned, and a series of non-commercial wells followed.
NOVA SCOTIA
Shell drilled the C-67 well off Nova Scotia in 1967. The major stopped drilling that well when it hit gas-bearing Cretaceous rocks with high pressures.
Shell and Mobil continued exploring on the Scotian shelf into the early 1980s. The majors experienced blowouts at two separate discovery wells. The Vinland semisubmersible drilled Shell's Uniacke G-72, which took over a week to bring under control; whereas Mobil's West Venture well took 8 months to shut in.
Nevertheless, Shell and Mobil continued to make discoveries in the region. Shell drilled the Onandaga E-84 well in 1969, and Mobil drilled the D-42 Cohasset well in 1973 and the Venture field in 1979.
Despite disappointments along the way, ExxonMobil and partners Shell, Esso, Pengrowth Energy Trust, and Mosbacher Operating Ltd. found success off Nova Scotia
Cohasset turned out to be the first commercial offshore Canadian discovery. Initially, Mobil thought the well was marginal, but in December 1985 Petro-Canada drilled the Cohasset A-52 step-out well, which was southwest of Mobil's 1973 discovery well. Petro-Canada's well tested oil at a combined rate of 38,918 b/d from six zones.
Shell got in on the action drilling a discovery well at Panuke, which was about 8 km southwest of Cohasset. Shortly after, Petro-Canada drilled a delineation well that tested oil at 69,188 b/d for six days. While both Cohasset and Panuke were marginal, together they were deemed commercial. The wells were produced from 1992 to 1999.
Despite disappointments along the way, ExxonMobil and partners Shell, Esso, Pengrowth Energy Trust, and Mosbacher Operating Ltd. found success off Nova Scotia. The Sable Offshore Project is the largest construction project ever undertaken in Nova Scotia. The project produces about 80 MMb/d and 20,000 b/d of gas.
The Sable Offshore Project is divided into two tiers of offshore development. The first tier was completed in December 1999 and involved the development of the Thebaud, North Triumph, and Venture fields, as well as the construction of three offshore platforms, an onshore gas plant, and an onshore fractionation plant. First gas was produced on Dec. 31, 1999. Alma, the first Tier II platform came onstream in 4Q 2003, while production from South Venture, the second Tier II field, began late in 2004.
NEWFOUNDLAND AND LABRADOR
First drilled in 1971, Labrador is known for its bitter cold temperatures and icebergs that make exploration and production in this area hazardous. Drilling ceased in this area in the early 1980s for more favorable conditions in the southern waters off Newfoundland.
Exploration began on the Grand Banks (Avalon and Jeanne d'Arc basins) in 1966 with no success. Ten years later, Hibernia was discovered. Today Hibernia is owned by ExxonMobil Canada (33.125%), Chevron Canada Resources (26.875%), Petro-Canada (20%), Canada Hibernia Holding Corporation (8.5%), Murphy Oil (6.5%), and StatoilHydro Canada Ltd. (5%).
The Hibernia field began producing on Nov. 17, 1997. The field is 315 km east of St. John's in 80 m of water. It is the fifth largest field ever discovered in Canada. The field produces from two reservoirs of early Cretaceous age – the Hiberbia and Ben Nevis-Avalon reservoirs, which are 3,700 m and 2,400 m, respectively.
Because the Hibernia platform is in relatively shallow water - just 80 m deep - the odds of a large iceberg ever hitting the platform are extremely low. But the Hibernia platform was designed to withstand the impact of a one-million tonne iceberg with no damage, and can withstand contact with a six million tonne iceberg, estimated to be the largest that can drift into that water depth and only expected once in 10,000 years, with repairable damage.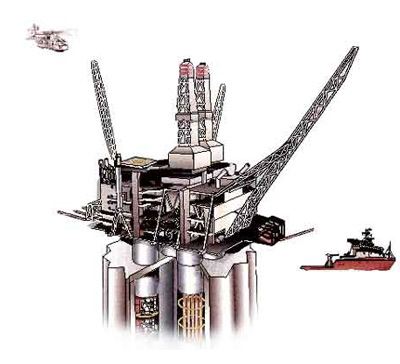 Hibernia Platform
Two other discoveries made in the 1980s – the Terra Nova and White Rose fields – came online in 2002 and 2005, respectively.
Terra Nova
Petro-Canada drilled the Terra Nova discovery well, K-08, in 1984. An additional eight wells were drilled in the following years, proving the field to be the second largest yet discovered off Canada's Atlantic coast.
The field is approximately 350 km east southeast of St. John's and 35 km southeast of the Hibernia oil field in 19 - 100 m of water. The Canada-Newfoundland Offshore Petroleum Board (C-NOPB) estimated recoverable oil reserves in the field at about 400 MMbbl at the time of discovery. The oil is light, sweet crude, similar to Hibernia oil.
Petro-Canada operates the project and owns 29% interest, ExxonMobil owns 22%, Husky Oil owns 17.5%, StatoilHydro owns 15%, Murphy Oil owns 12%, Mosbacher Operating owns 3.5%, and Chevron Canada owns the remaining 1%.
The field is divided into three major structural blocks -- the Garden, the East Flank, and the Far East. The K-08 exploration well and five of the eight delineation wells (K-07, C-09, I-97, H-99, and E-79) were drilled into the Graben and East Flank, identifying five major and two minor oil bearing sands within the structure.
The field is produced through a FPSO that is moored in 312 ft of water. It measures 958 ft long and 150 ft wide. The vessel can produce up to 150,000 b/d and has a storage capacity of 960,000 bbl. The Terra Nova field is in an area that is exposed to icebergs. Thus the FPSO was designed to withstand up to 98 ft waves and 100 hour winds, and is equipped with one of the largest disconnectable turret mooring systems in the world. The FPSO is double hulled and was built with 3,307 tons of extra steel to protect the vessel from icebergs.
Terra Nova came online on Jan. 20, 2002.
White Rose
White Rose was discovered in 1988 and came online on Nov. 12, 2005. The SeaRose FPSO handles the production from the field. Just like the Terra Nova FPSO, the SeaRose is capable of moving off location if threatened by an iceberg. The FPSO produces about 140,000 b/d and shuttle tankers transport the oil to shore.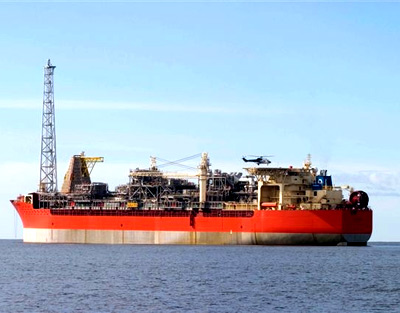 SeaRose FPSO
White Rose is the third oil development off Canada's East Coast. It is in the Jeanne d'Arc Basin, 350 km east of St. John's. White Rose also has three satellite fields – North Amethyst, South White Rose Extension, and West White Rose Extension.
Development drilling started and installation of subsea infrastructure got underway for the North Amethyst portion of the White Rose Extensions in mid-2009. The project is on schedule to deliver first oil in 2Q 2010.
The West White Rose development is divided into two stages. Stage 1 was approved in the (2Q) 2009 and development drilling and subsea installation of this stage will take place in 2010, with first oil expected in late 2010 or early 2011. Results of Stage 1, combined with ongoing evaluation, will help define the scope of Stage 2.
The South White Rose extension received government approval in September 2007. It is estimated to contain about 24 MMbbl. The partners in the West White Rose Extension filed an application for development in 2008. They are planning an additional delineation well to further define this field.
Husky Energy owns 68.875% of the White Rose development and is the operator. Suncor Energy retains a 16.125% working interest, and Nalcor Energy holds the remaining 5.00% (Government of Newfoundland & Labrador).
RIGS
Rowan Gorilla III
| | |
| --- | --- |
| Rig Name: | Rowan Gorilla III |
| Rig Manager: | Rowan |
| Rig Type: | Jackup |
| Max WD: | 450 ft. |
| Status: | Drilling |
| Region: | N. America - Canadian Atlantic |
| Location: | Marcoh D41 |
| Operator: | Encana |
| Status Code: | W-D |
| Day Rate | $285, 000 |
Stena Carron
| | |
| --- | --- |
| Rig Name: | Stena Carron |
| Rig Manager: | Stena Drilling |
| Rig Type: | Drillship |
| Max WD: | 10,000 ft. |
| Status: | Waiting on Loc |
| Region: | N. America - Canadian Atlantic |
| Location: | St. John's |
| Operator: | Chevron |
| Status Code: | W-OM |
| Day Rate | $525,000 |
GSF Grand Banks
| | |
| --- | --- |
| Rig Name: | GSF Grand Banks |
| Rig Manager: | Transocean Ltd. |
| Rig Type: | Semisub |
| Max WD: | 1,500 ft. |
| Status: | Drilling |
| Region: | N. America - Canadian Atlantic |
| Location: | North Amethyst G-25 2 |
| Operator: | Husky |
| Status Code: | W-D |
| Day Rate | $353,000 |
Henry Goodrich
Rig Name:
Henry Goodrich
Rig Manager:
Transocean Ltd.
Rig Type:
Semisub
Max WD:
5,000 ft.
Status:
Modification
Region:
N. America - Canadian Atlantic
Location:
--------
-----
Operator:
Statoil
Status Code:
NW-C
Day Rate
$381,000
Four rigs are currently contracted to work in the Atlantic off Canada – one jackup, one drillship, and two semisubmersibles.
The Rowan Gorilla III jackup is drilling in the Deep Panuke field for Encana. The contract started in November 2009 and runs through September 2010 at a rate in the mid-$280s.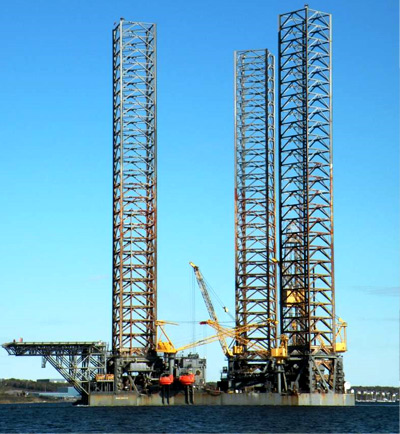 Rowan Gorilla III Jackup
Stena Drilling's Stena Carron drillship is currently drilling for ConocoPhilips under a farm-out agreement with Chevron. ConocoPhilips is expected to use the rig through April 2010, but Chevron's contract runs through November 2011 at a rate in the mid-$520s. Chevron will take the rig back to drill its Lona O-55 exploration well in the Orphan Basin.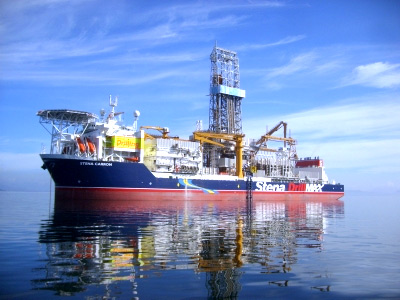 Stena Carron
The two semisubmersibles are both Transocean rigs. In March Husky exercised both one-year options for the GSF Grand Banks and the rig is now contracted through January 2013. It is currently contracted at a dayrate in the mid $350s and is working at the North Amethyst field. The Henry Goodrich is under contract with Statoil at a dayrate in the low $380s. However, the rig is currently working for Husky under a rig sharing agreement on its White Rose field.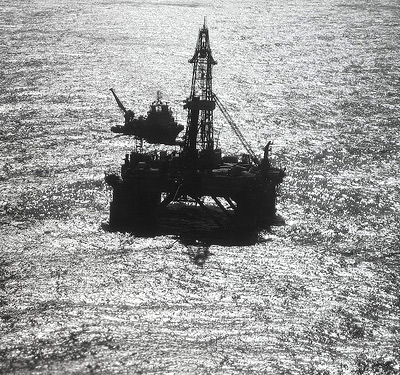 GSF Grand Banks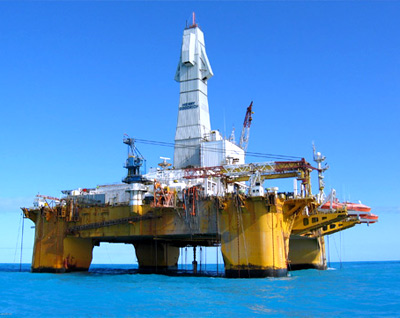 Henry Goodrich
Follow projects off Canada's Atlantic coast by visiting SubseaIQ, or follow the developments, contracts and initiatives of the rigs through RigLogix.