Musings: Interesting Highlights of E&P Survey about Near Future
by G. Allen Brooks
|
Parks Paton Hoepfl & Brown
|
Tuesday, April 27, 2010
We recently saw the results of a survey of E&P professionals and energy industry financial and consulting advisors about trends for 2010. The survey was conducted by The Oil Council, a new global organization of E&P and financial executives dealing with the upstream business. Results of the survey were presented in the organization's monthly magazine, Drillers and Dealers.
Most respondents believe the peak will be $95, although a not insignificant number believe $110 could be the top
In light of where crude oil prices have traded this year, it was not a huge surprise to see quite optimistic projections of where survey respondents felt oil prices might peak this year. Current oil prices have already exceeded the lowest peak target of $80 a barrel. Most respondents believe the peak will be $95, although a not insignificant number believe $110 could be the top. A much smaller group believes crude oil prices may peak at $125 a barrel, although there didn't appear to be any respondents who think we may reach the lofty neighborhood of $147 a barrel that marked the 2008 peak.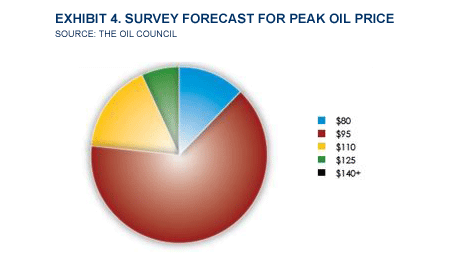 When it comes to estimating the average crude oil price for the year, the numbers were more modest and suggest we might even be looking at lower prices in the future. As the numbers suggest, a small group of survey respondents think we could average $50-60 a barrel, which would require a sharp fall in current oil prices and an extended period of prices below $50. Through April 16th, oil prices have averaged $79.85 a barrel so far this year. If oil prices stay at about the current price of $85 a barrel for the balance of 2010, we would average about $83 for the full year. It is interesting to note that if oil prices immediately jumped to $95 a barrel, we still would not break the $90 price threshold, averaging only about $89.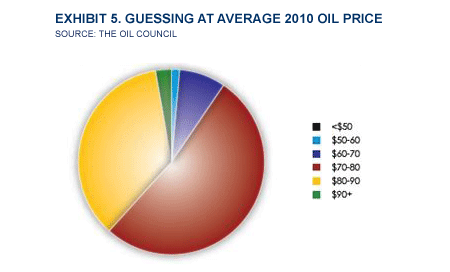 This positive outlook for oil prices suggests potential inflation and thus investors' bearish view of bonds and the value of the U.S. dollar
Given the relatively optimistic outlook held by the industry, it was not surprising to see survey respondents being optimistic about the outlook for oil and oil service stocks. At the same time, this positive outlook for oil prices suggests potential inflation and thus investors' bearish view of bonds and the value of the U.S. dollar. Investors were surprisingly uncertain about the outlook for Canada's oil sands, which probably reflects the impact of environmental concerns, the lower quality oil produced and possible operating cost inflation. On the other hand, investors seem pretty optimistic about Iraq's potential to become a major international oil province.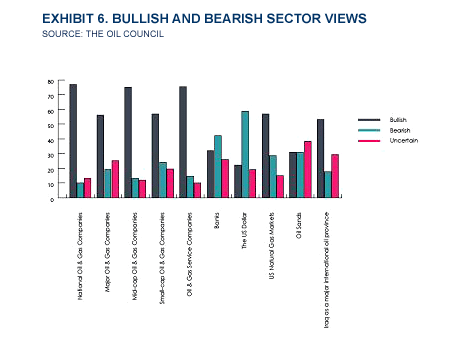 Even though investors are positive about Iraq's potential, the industry is much more optimistic about the exploration attractiveness of West Africa, and almost as optimistic about East Africa's potential as that of the Middle East where Iraq is located. The least attractive areas include North America, Southeast Asia and the North Sea -- all of which are relatively mature basins with high finding and development costs. It is also interesting that Russia and the CIS are rated fairly attractive for E&P returns by the survey respondents.
In response to a question about what forces may have the greatest impact on oil company prospects this year, the category of government and regulators was the top one cited. The second major force identified was national oil companies, meaning issues such as access to reserves and prospects along with increased competition in the purchase of oil and gas reserves and companies is a problem for private companies. It was interesting that many of the scapegoats accused of creating high oil prices -- OPEC, traders and speculators, banks and financiers and the USA consumer -- are expected to only minimally impact oil markets this year. We tend to agree with the survey results for the most important disruptive forces at work in the global oil market today.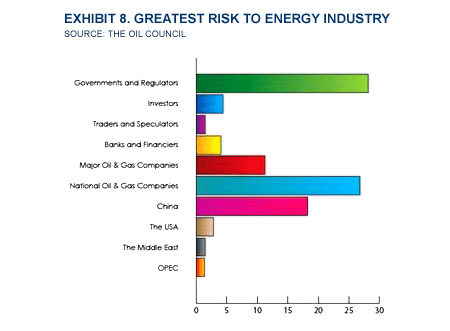 One of the interesting questions about today's oil and gas market is where the capital will come from in order for the industry to develop sufficient new reserves and production to meet growing world oil consumption. According to survey respondents, equity capital markets will be the principle source of industry capital followed by joint ventures, farm-ins, concessions, etc. These results seem consistent with what has been happening in the industry since the second half of 2009 and so far this year. Depending on equity markets for investment funds means companies will continue promising industry-better reserve and production growth as investors seldom pay for earnings growth merely coming through commodity price appreciation. The fact the oil industry is looking to industry partners to be the second most important source of new capital could mean that capital markets are not as receptive to providing money as we have been thinking. This may be more for natural gas and especially gas shale investments. Additionally, the industry's willingness to fund fellow E&P company projects may slow or even stop because all the good prospects are funded and/or low commodity prices make prospects uneconomic.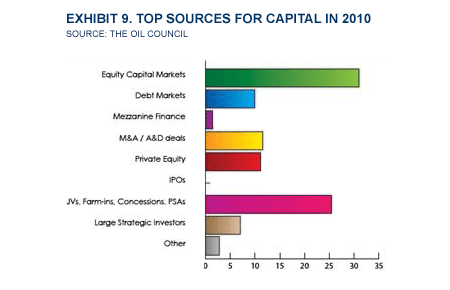 While there were few revelations in the survey's results, the responses to these key questions confirm our views of industry activity and trends. Commodity prices are up, industry prospects appear to be improving, and there has been, and seems likely to continue to be adequate capital for exploration and development work. As a result, we are not surprised investors are bidding up the share prices of E & P and oilfield service companies.