Analysis: Vantage Drilling on Pace for a Profitable Year
Rigzone Staff
|
Monday, April 19, 2010
Vantage Drilling Company is an offshore drilling contractor focused on providing ultra-deepwater offshore drilling and high-specification shallow water drilling solutions. Through direct ownership interests or supervision and management arrangements, Vantage offers the offshore exploration and development industry a series of newly built mobile offshore drilling units (several of which are still under construction).
In May 2007, Vantage raised approximately $276 million in its initial public offering. Relative to its peers, Vantage is new to the offshore drilling scene, but the company is managed by an experienced management team that has held high profile roles at variety of established drillers and oil service companies, most notably Pride International and Transocean. In fact, Paul Bragg, the Chief Executive Officer of Vantage, was formerly the chief executive at Pride International.
In August 2007, Vantage signed a definitive share purchase agreement to acquire all of the shares of common stock of Offshore Group Investments Ltd. (OGIL), a Cayman Islands registered company and wholly owned subsidiary of F3 Fund. F3 Fund was affiliated with TMT Global. Four Baker Marine Pacific Class 375 ultra-premium jackup drilling rigs were being constructed in Singapore at the time of purchase for delivery and sale to OGIL. Under the terms of the share purchase agreement, Vantage changed its headquarters from Delaware to the Cayman Islands.
Drillships
As part of the aforementioned transaction, Vantage assumed $517 million in payments owed under certain contracts for the construction and delivery of the four jackup rigs and acquired an option to purchase an ultra-deepwater drillship, the Platinum Explorer, which was under construction. Shortly thereafter Vantage exercised its option to acquire the Platinum Explorer and a second ultra-deepwater drillship, the Titanium Explorer, which later changed its name to the DragonQuest. Vantage now owns a 45% interest in Mandarin, the entity that owns the Platinum Explorer, and has entered into a construction supervision and operational management agreement for the DragonQuest, which is wholly-owned by an affiliate of F3 Capital.
Daewoo Shipbuilding & Marine Engineering Co. Ltd. is building both of the above mentioned drillships at its shipyard in Korea. The Platinum Explorer and the DragonQuest have dynamic positioning (DP) systems with a hull design offering a variable deck load of approximately 20,000 metric tons and measuring 781 ft long and 137 ft wide. They are designed for drilling in up to 12,000 ft of water to 40,000 ft TVD, and will have off-line tubular stand building capabilities.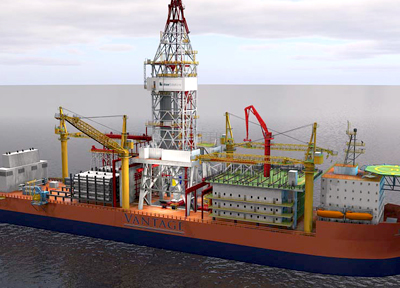 PLATINUM EXPLORER
The Platinum Explorer already has a contract in place. Oil and Natural Gas Co. (ONGC) awarded the drillship a 5-year contract following its shipyard construction. The rig will move to India in Q4 2010 for a dayrate in the high $500s.
Likewise, the DragonQuest secured an 8-year contract from a subsidiary of Petroleo Brasileiro S.A (Petrobras). The DragonQuest, upon completion of construction, is expected to mobilize in Q3 2011 to the US GOM, but Petrobras may re-locate and utilize the DragonQuest in other areas around the globe. The dayrate is in the mid $500s.
Vantage also has the Cobalt Explorer under construction at the Daewoo Shipyard. Like the DragonQuest, Vantage is responsible for construction supervision and operational management of the Cobalt Explorer, which is wholly owned by an affiliate of F3 Capital. The rig is a DSME ultra-deepwater drillship with DP-3. The Cobalt Explorer will be capable of drilling down to 40,000 ft in up to 12,000 ft of water. Daewoo started construction on the rig in November 2008, but construction currently is on hold as the owner of the unit has negotiated a deferral of construction agreement with the shipyard. As such, Vanage has suspended all construction and management activity in connection with this rig.
Jackups
The first of Vantage's four ultra-premium jackup rigs was completed late 2008. Vantage announced that its Emerald Driller was awarded a two year contract to operate in Thailand. The jackup started its contract in February 2009 at a rate in the $170s.
Soon after, its sister jackup, the Sapphire Driller, was awarded a drilling contract in West Africa, which started up in August 2009 following its construction completion and commissioning in Singapore and mobilization. Currently the Sapphire Driller is under contract off Gabon at a rate in the $110s.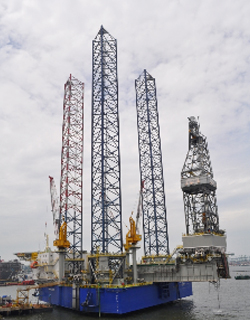 SAPPHIRE DRILLER
The Aquamarine Driller jackup, part of the original four-rig acquisition deal with OGIL, was completed in September 2009. The jackup rig, like its sister rigs, was built based on PPL's proprietary Pacific Class 375 design. The Pacific Class 375 jackup rig is an independent leg, cantilever jackup with a drilling depth of 30,000 ft and is capable of operating in water depth up to 375 ft.
The Aquamarine Driller secured its first contract offshore Pakistan. The rigs is currently contracted to work off the Philippines through June 2010 at a rate in the $120s.
PPL Shipyard then delivered the fourth rig to Vantage Drilling in Q4 2009. The Topaz Driller secured its first contract in January 2010 for work that commenced in March following the mobilization to Vietnam from Singapore. The Topaz Driller is involved in a drilling program in Southeast Asia consisting of three wells plus an option well. The anticipated duration of the first three wells is seven months at a rate in the $120s.
Semisubmersibles
In addition, Vantage is managing the construction and operation of two semisubmersibles, both of which are at the Jurong Shipyard in Singapore. The SeaDragon I (formerly known as the Oban B) and the SeaDragon (SDO) II are Moss Maritime full dynamically positioned (DP-3) semisubmersible drilling units.
According to the management and operation agreements, Vantage is entitled to receive $5 million/year/unit while the semisubmersibles are under construction. Once the semisubmersibles are operating, Vantage will receive a fixed fee per day and a performance fee based on the operational performance of the units.
The semisubmersibles are being built for water depth ratings of 10,000 ft and maximum drilling depth of 30,000 ft. According to Vantage, the rigs' ability to operate even in harsh environment gives them the multi-region flexibility to operate worldwide as compared to their peers.
The SeaDragon I's 6-column bare deck hull, built in a Russian yard, arrived at Jurong Shipyard in early June 2009. Jurong currently is outfitting, furnishing, equipping, testing, and completing the bare-deck hull into an ultra-deepwater semisubmersible drilling rig.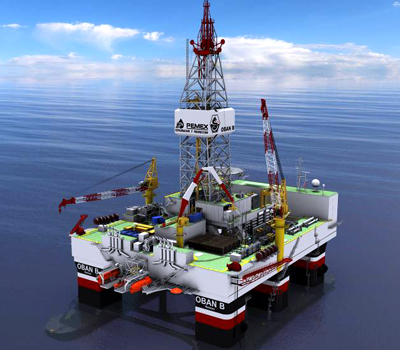 SEADRAGON I
The SeaDragon I is scheduled for delivery in December 2010. The semisubmersible already has a contract in place. After leaving the shipyard it will move to Mexico to work for Pemex through February 2016 at about $500,000/day.
The SeaDragon II will be ready for service in October 2011. The semisubmersible is not yet contracted.
Future
Vantage recently reported a net loss of $4.3 million for Q4 2009, compared to a net loss of $43.5 million in Q4 2008. And the company's net income for 2009 was $8.8 million, compared to a net loss of $47 million in 2008.
According to Paul Bragg, President and CEO, Vantage "took a giant stride in 2009 and thereafter, as we deployed all four of our new jackup rigs. Our first deepwater rig, Platinum Explorer, is on track for an on-time delivery in November 2010."
Previous risks greatly diminished in 2009 as the jackup construction was completed and the rigs were contracted.
Follow Vantage and the developments, contracts and initiatives of its rigs through RigLogix.
RELATED COMPANIES