Analysis: Nigeria Tendering Process Goes Electronic
Rigzone Staff
|
Friday, April 02, 2010
Although Nigeria has been a volatile region characterized by unrest in recent years, the country is still one of the largest oil producers in the world. The Nigerian economy is closely tied to the oil sector, and the country's oil industry officials have encouraged local content inclusion. In 2009, Nigeria was the 8th largest OPEC oil producer, averaging approximately 1.8 MMb/d during the year.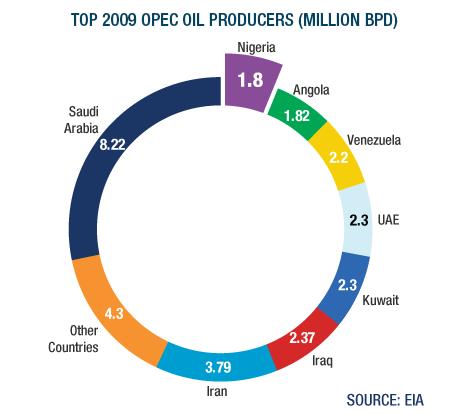 Much of the oil and gas activity in the country is centered on the Niger River Delta area where security has been a problem for the oil industry in recent years. General unrest in the country has resulted in its oil output declining almost 35% from peak levels in the 2004/2005 timeframe. Although Nigeria has faced its share of challenges, some 36 Bbl of proven oil reserves in the country are attractive to International Oil Companies (IOCs), and there is a robust local market for contract drilling and oil services. Some key exploration and development players working on projects in Nigeria include Shell, ExxonMobil, Chevron, ConocoPhillips, Total, ENI/Agip, and Addax Petroleum.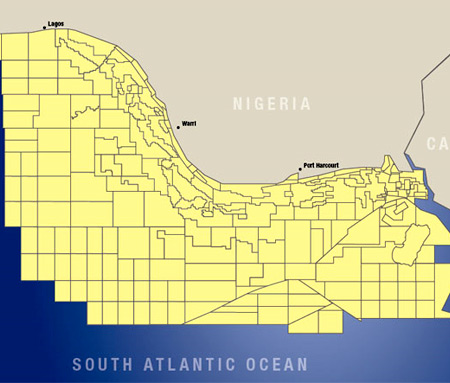 Notable early- to mid-stage offshore field developments in Nigeria include the Greater Ebok-Okwok Complex, Akepo, and Egina. High profile producing projects include Agbami, Usan, and Erha.
Nigerian National Petroleum Corp. (NNPC) was created to provide oversight and regulation for the Nigerian oil industry in 1977. The lion's share of the projects in the region are structured as joint venture arrangements with NNPC taking a majority stake, and IOCs acting as operators with a minority stake.
Drilling Activity
Drilling contractors with a presence in Nigeria include Transocean, Noble, Seadrill, Stena, Seawolf, and Frontier Drilling. Currently, 10 jackups, three deepwater semisubmersibles, and three drillships are in Nigeria, and all but one jackup are contracted. Pride and ENSCO have worked jackups in Nigeria in the past, but neither of these US contractors has had a rig deployed there in several years.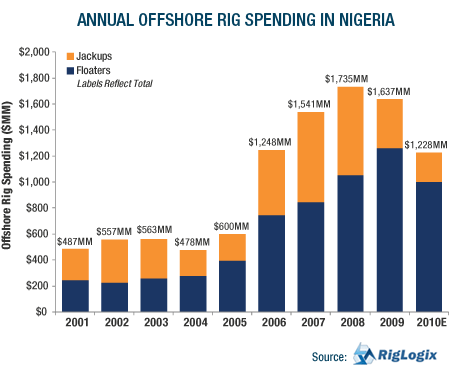 As shown above, Nigerian offshore rig spending totaled nearly $1.7 BN in 2009 and more than $6 BN over the past four years. With offshore rig dayrates rising in most global offshore rig markets from 2004-2008, spending in Nigeria has been on the rise. Like many other markets around the globe, the Nigerian rig market was adversely impacted by the global downturn in 2009. However, over $1.2 BN in offshore rig spending is already booked for 2010, reflecting a 25% decline from 2009 levels if no additional contracts are signed this year.
With the cost of offshore drilling rigs understood to constitute about half the cost of a typical Nigerian drilling program, the figures above help provide perspective on the opportunity Nigeria offers both oil service companies and drillers alike. If the 2x rig cost rule of thumb holds, Nigerian drilling programs alone present a 2010 revenue opportunity of over $2.5 billion for oil service and drilling companies.
Changes Are Afoot in Nigerian Tendering System
Currently, a conventional tender process is in place in the Nigerian oil service/drilling market, which includes a pre-qualification stage, a technical evaluation stage, and a commercial stage. In January 2010, Nigeria's conventional bid process formally changed with respect to the pre-qualification stage. Discussed in more detail below, the pre-qualification stage was modified to require pre-registration in a re-worked online system for all suppliers prior to bid submission.
NNPC created an online electronic center in 2005 to stream-line the contracting process within the Nigerian oil and gas industry. This online tendering site is intended to simplify supplier selection, as well as the contract approval process and the procurement process between IOCs and NNPC.
Through the last several years, the Nigerian Petroleum Exchange (NipeX), a virtual community that links buyers and suppliers, has increasingly played a role in the tender process. Now the site is the hub of Nigerian tendering.
Starting on January 1, 2010, all tenders within the National Petroleum Investment and Management Services (NAPIMS) must be processed through the NipeX portal. Manual submissions of contracting documents for approval will no longer be accepted nor will manual submissions of suppliers' bids. All contracting documents must go through the NipeX portal. Thus, all suppliers of goods and services in the Nigerian oil and gas industry must register to be eligible to participate in new opportunities.
NipeX is essentially updating the pre-qualification stage of the three-step tendering process with the online registration, application, and processing system; the rest of the bidding process will remain intact. Only registered and pre-qualified companies can submit rigs or services for a job. The registration fee is $200, and a brief application (pdf) must be completed.
The Joint Qualification System (JQS) identifies pre-qualified suppliers in NipeX based on certain criteria. To qualify, the NipeX Joint Qualification System (NJQS) team must first audit the company, in part to ensure Nigerian content. A prequalification audit conducted by NAPIMS and Achilles (NipeX) includes a mandatory visit to the supplier's site or facility. If the audit is successful, the company is qualified for up to two years. Suppliers cannot register and become qualified after the tender starts, thus it is important to register early to avoid missing out on future requirements.
Service Contractor Implications
Those who qualified under the first batch of audits nearly two years ago are granted an automatic waver even though their certificates are due to expire. Those certificates are considered valid until the next round of NJQS audits begin. At that time, they must seek re-qualification. Suppliers who do not meet the requirements for a specific service can reschedule a new date for a follow-up audit to be conducted.
All IOCs have forwarded a list of their incumbent suppliers and technically qualified bidders to NipeX, but thus far NipeX has granted automatic waivers into NJQS to about 50% of these suppliers. Although many incumbents with contracts in the region have been granted waivers, registration in the system is required to participate in tenders. These companies must complete an application and pay the registration fee. It is understood that some incumbent companies have yet to apply for qualification, which if not completed would preclude them from participation in upcoming tenders.
Industry sources indicate that only a handful of international drilling contractors are currently registered. The oil service and drilling bidding landscape may potentially be slightly less competitive in the short term until everyone registers.
New entrants will still have to establish a local presence before registering and pre-qualifying to bid. Nigerian establishment is required to qualify, and there are several ways to achieve this mandate. Noble and Transocean have established themselves in Nigeria through the creation of local subsidiaries. Noble has even put the ownership of one of their rigs against a local subsidiary.
Another approach is to partner with a local company. For example, Seadrill has an agreement in place with Petrolog, a Nigerian company. Petrolog is Seadrill's official representative in Nigeria, and all Nigerian contracts are assigned to Petrolog. In exchange for this service, Petrolog takes a percentage of the dayrate generated by Seadrill's Nigerian rig contracts.
Benefits of the Process Change
Qualified buyers are given a User ID to access the NipeX portal to process a tender. User IDs are unique to a specific NAPIMS department and unit. They also determine the NAPIMS approval flow of documents.
Buyers will benefit from a more effective tendering process with lower administrative costs, better collaboration between buyers and suppliers, faster decisions and approvals from NAPIMS, competitive pricing, and improved compliance.
Much like the previous tender process, buyers are still required to publish adverts. Newspaper adverts will direct all interested suppliers to the NipeX portal where they will be encouraged to register with NJQS.
Once in the system, buyers and contractors can create a shopping cart, submit ITT and evaluation criteria documents for NAPIMS' approval, publicize approved ITT documents to qualified bidders, and open and evaluate bidder's tender submissions.
Through NipeX, suppliers will see lower processing costs and have access to more opportunities. Likewise, NNPC will also see a lower processing cost, be able to accelerate first oil, facilitate the Nigerian content program, and benefit from an efficient purchasing process and increased transparency.
It is understood that the new NipeX tendering system has not been widely recognized by oil service contractors. In short, unregistered companies who want to work in Nigeria should soon register or they risk missing out on opportunities to work in this hydrocarbon rich area.
More information on the system can be found on the NJQS website or the NipeX website.