Analysis: U.S. to Reap Fruits of Deepwater Labor
Rigzone Staff
|
Friday, March 26, 2010
The Gulf of Mexico is expected to increase oil production over the next several years, largely due to ultra-deepwater field development. The MMS believes oil production could reach 1.8 MMb/d up from 1.3 MMb/d in 2008, but gas production is expected to decline over the next four years.
"The Gulf of Mexico is one of the single largest suppliers of oil and gas to the US market," explained MMS GOM Regional Director, Lars Herbst. "With continued interest and activity in deepwater areas of the Gulf of Mexico, we anticipate that oil production will continue to be strong with a large portion of production coming from projects in deeper water depths."
In the last 10 years, significant discoveries have been made in the ultra-deep waters of the GOM. In 2009 operators announced 14 deepwater discoveries, 11 of which are in 3,000 ft of water or more. In the timeline below, we lay out some of the key deepwater discoveries addressed later in this report.
While these discoveries are encouraging, the offshore energy industry had to confront and overcome technological challenges related to water depth, currents, temperatures, and transportation to shore. Through innovative technologies, producing these ultra-deepwater fields has become a reality.
Three of the hottest areas of the GOM are in ultra-deepwater -- Alaminos Canyon, Keathley Canyon, and Walker Ridge.
ALAMINOS CANYON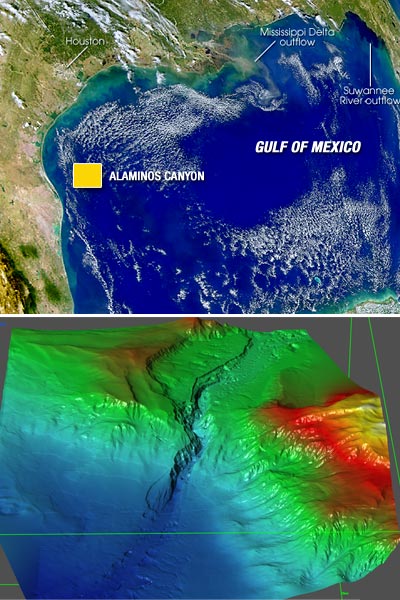 Map: Alaminos Canyon
Hoover-Diana
Alaminos Canyon is home to the Hoover-Diana project. Made up of the Diana South, Hoover, Madison, and Marshall fields in 4,800 ft of water, the $1.1 billion project came online in May 2000.
The fields were developed through the world's largest Deep Draft Caisson Vessel (DDCV). The 83-story tall DDCV is nearly 150 ft in diameter, and it incorporates both drilling and production facilities. Twelve anchor lines, each extending 7,100 ft from the hull, secure the facility to the sea floor. The 105-ft long, 275-ton mooring piles were the largest for an oil and gas platform anywhere in the world at the time of installation.
The Diana field is about 15 miles from the hub, and the Marshall and Madison fields, which came online in 2002, are about seven miles from the facility.
Production at Hoover Diana averages more than 80,000 b/d of oil and 200 MMcf/d of gas. ExxonMobil is the operator with a 66.7% interest in the project, while BP holds the remaining 33.3%.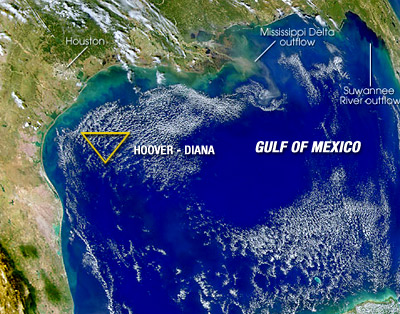 Map: Hoover-Diana Field Map
Perdido Project
Alaminos Canyon is also home to the Silvertip, Great White, and Tobago fields, which are being jointly developed as the Perdido project. Perdido is due online later this year.
Silvertip is in Alaminos Canyon Block 815 in 9,200 ft of water. The discovery well was drilled to 14,788 ft TD. Shell operates the field with 40% interest, and Chevron owns the field with 60% interest.
Great White is in Alaminos Canyon Blocks 812, 813, 814, 857, 900 and 901. The Deepwater Nautilus semisubmersible drilled the discovery well in 2002 to 19,907 ft TVD. Shell is the operator of Great White with 33.34% interest with Chevron and BP hold 33.3% each.
Tobago is in Alaminos Canyon Block 859 in 9,600 ft of water. It is the deepest subsea completion to date, surpassing Silvertip's record. The discovery well was drilled to 18,510 ft TD. Shell operates the field with 32.5% with Chevron 57.5% and Nexen 10%.
The three fields were developed via a spar in Alaminos Canyon Block 857. The spar was installed in August 2008 in 7,817 ft of water using nine chain and polyester rope mooring lines about 2 mi long. It was designed to produce 100,000 b/d and 200 MMcf/d.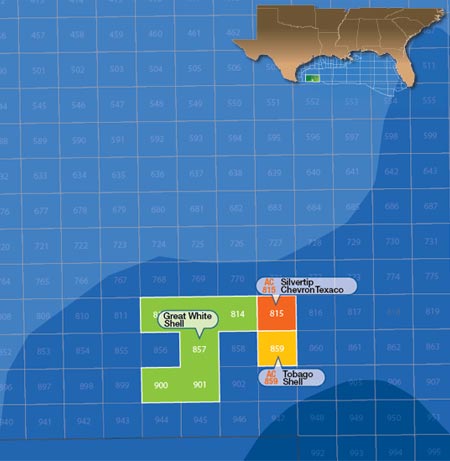 The project set several world records including the deepest oil development, deepest drilling and production platform, and the deepest subsea well.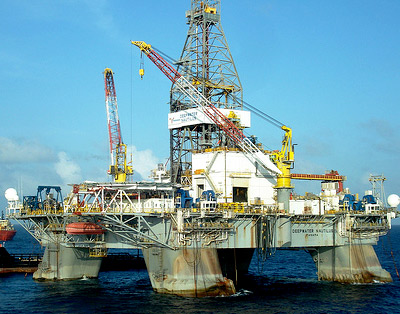 Deepwater Nautilus
The Perdido Hub is expected to begin producing in the first half of 2010, and all wells are scheduled to come online by 2016.
Shell operates the spar with a 35% share with BP 27.5% and Chevron 37.5%.
Gotcha
Also in Alaminos Canyon, the Gotcha field is on Block 856 in 7,600 ft of water. Total, which operates the field with 70% interest along with Nexen (30%), drilled the discovery well in April 2006. The Stena Tay semisubmersible drilled the well to 14,600 ft TD, and the well encountered approximately 290 ft of pay in two oil-bearing zones.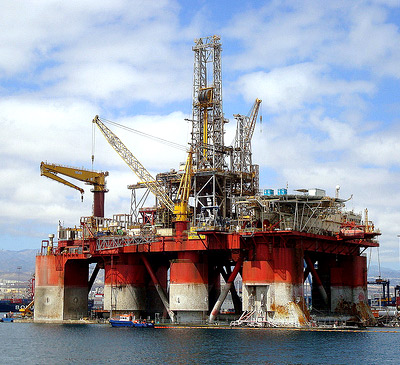 Stena Tay
The Stena Tay drilled a second well in July 2006, which encountered 85 ft of oil pay in the main objective.
The field is currently under development and production could start in 2010.
KEATHLEY CANYON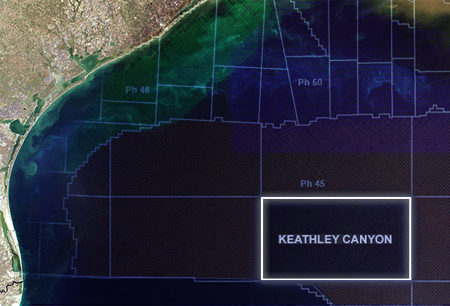 Kaskida
BP hit it big in mid-2006 with the Kaskida field on Keathley Canyon Block 292.
Transocean's Deepwater Horizon semisubmersible drilled the well to 32,500 ft in 5,860 ft of water and encountered 800 net ft of hydrocarbon-bearing sands.
In November 2009, BP confirmed that an appraisal well drilled to test a western extension of the Kaskida field confirmed oil in a Lower Tertiary reservoir five miles west of the Kaskida discovery well.
The West Sirius semisubmersible drilled the appraisal well on Block 291 to 32,500 ft TD in 5,675 ft of water.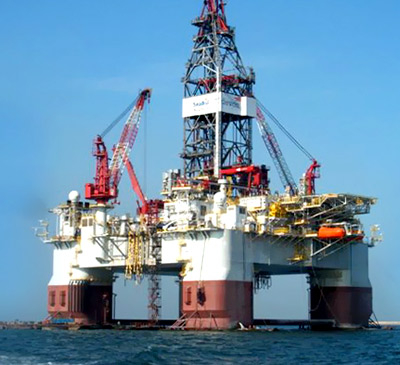 West Sirius
Appraisal activities continued with a wide azimuth towed streamer seismic acquisition survey in early 2010, and BP will run a well test in 2011.
Buckskin
Chevron hit it big in Keathley Canyon in 2009. The major drilled the Buckskin No. 1 discovery well on Block 872 in February 2009 and found more than 300 ft of net pay. The Stena DrillMAX drilled the well in 6,920 ft of water to 29,404 ft.
Chevron operates the field with a 67.5% working interest, while Repsol holds 12.5% and Maersk has 20%.
Chevron is conducting more tests on the data gathered from the discovery well, and additional work will be needed to determine the extent and commercial viability of the discovery.
In March 2010, Chevron announced that Transocean's Discoverer Inspiration will start drilling deepwater GOM exploration prospects and then develop existing discoveries such as Jack, St. Malo, and Buckskin. Chevron will operate the Deepwater Inspiration under a five-year contract with Transocean.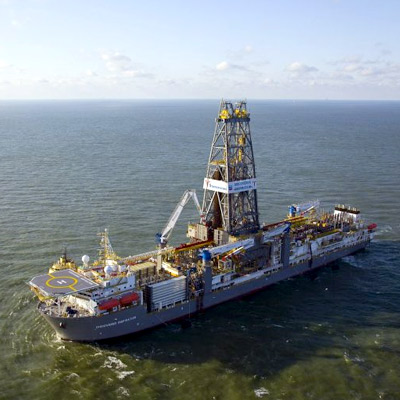 Discoverer Inspiration
Tiber
Three years after its Kaskida discovery, BP made a giant oil discovery at its Tiber prospect in September 2009. The well, located in Keathley Canyon Block 102, is in 4,132 ft of water.
Transocean's Deepwater Horizon semisubmersible drilled the well to 35,055 ft TD, making it one of the deepest wells ever drilled. The rig found oil in multiple Lower Tertiary reservoirs. Appraisal will be required to determine the size and commerciality of the discovery.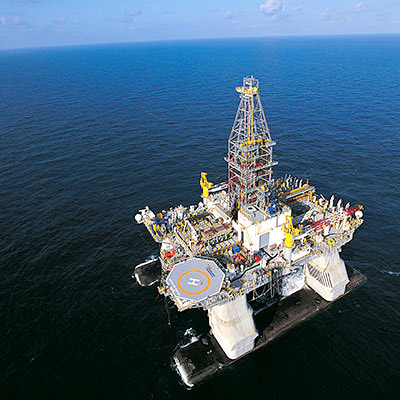 Discoverer Inspiration
BP operates Tiber with a 62% working interest with co-owners Petrobras 20% and ConocoPhillips 18%.
Lucius Field
Anadarko announced a discovery on the Lucius field in December 2009 in Keathley Canyon Block 875. The well encountered more than 200 ft of net pay in subsalt Pliocene and Miocene sands.
The Ensco 8500 semisubmersible drilled the Lucius discovery to approximately 20,000 ft TD in about 7,100 ft of water. The semisubmersible drilled the up-dip sidetrack appraisal well in January 2010 and encountered 600 net ft of high quality oil pay with additional gas-condensate pay. The appraisal well is about 3,200 ft south of the discovery well.
Anadarko operates the Lucius well with a 50% working interest. Co-owners in the discovery include Plains Exploration & Production Co. with a 33.33% working interest and Mariner Energy Inc. with 16.67% working interest.
Anadarko plans additional appraisal drilling on the Lucius field in 2010.
WALKER RIDGE
Cascade/Chinook
The Cascade and Chinook fields are due onstream in mid-2010. The two gas and condensate fields will be tied back to the Chinook FPSO in the Chinook field in Walker Ridge Blocks 469 and 206. The fields are on the outer continental shelf in about 8,200 ft of water.
BHP first drilled the Chinook field in 2000, but did not drill deep enough. BHP went back in 2003 and drilled down to 27,652 ft where it was successful.
Today Petrobras operates Chinook with 66% interest, and Total has 33% interest.
Cascade is in Walker Ridge Blocks 205, 206, 249, and 250. The C.R. Luigs drillship drilled the discovery well in 8,200 ft of water. Several wells from the Cascade field will tie back to the FPSO on the Chinook field.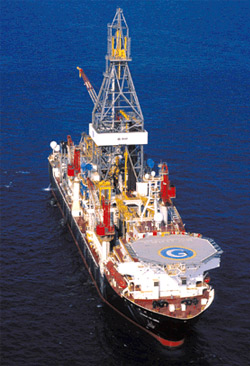 GSF CR Luigs
The company will bring online two wells in Cascade and one in Chinook in the first phase of the project. It is unknown what the second phase plan is as of yet.
This project has commanded a good deal of attention because it will employ the first FPSO in the GOM in the deepest waters to date. Shuttle tankers will transport oil to the Gulf Coast where it will be exported through pipelines.
The FPSO has a storage capacity of 500,000 bbl and a maximum production rate of 80,000 b/d and 460,000 MMcf/d.
Following Devon's recent push to exit offshore, Petrobras exercised its option to acquire Devon's share in Cascade, and as such, the Brazilian NOC will wholly own and operate the field.
Jack/St. Malo
Unocal announced the St. Malo discovery in October 2003 on Walker Ridge Block 678. The discovery well encountered more than 450 net ft of oil pay over a gross hydrocarbon column of 1,400 ft, indicating that St. Malo was a major hydrocarbon accumulation.
Transocean's Discoverer Spirit drillship drilled the discovery well to 29,066 ft in 6,900 ft of water.
The Discoverer Spirit also drilled the appraisal well in July 2004 and encountered more than 400 net ft of oil pay at 28,903 ft in 7,036 ft of water.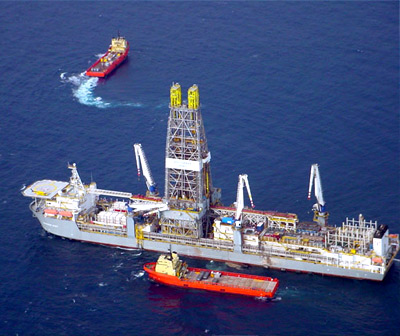 Discoverer Spirit
ChevronTexaco made the deepwater discovery at the Jack prospect in July 2004. Jack is in Walker Ridge Block 759.
Transocean's Discoverer Deep Seas drilled the Jack #1 well to 29,000 TD in 7,000 ft of water. The well encountered more than 350 ft of net pay oil sands. The Jack #2 well was drilled in Q2 2006 to 28,175 ft in 7,000 ft of water. During the test, the well sustained a flow rate of more than 6,000 b/d with the test representing approximately 40% of the total net pay measured in the Jack #2 well.
During an October 2009 earnings conference call, Chevron said it will make a final decision for its Jack/St. Malo project in late 2010. However, in January 2010, Chevron awarded Cameron a contract to supply subsea production systems for the Jack and St. Malo field development. The project will include twelve 15,000 psi subsea trees, production control systems, four manifolds and associated connection systems, engineering, and project management services. Deliveries are set to begin in Q3 2011 and continue through Q2 2013. Earlier in 2009, the major forecasted Jack/St. Malo's peak capacity at 120,000 to 150,000 boe/d. The project is estimated to contain recoverable reserves of more than 500 MMbbl.
In August 2005, Unocal merged with Chevron, which owns 50% working interest in Jack with partners Statoil and Maersk. With Devon's offshore exit, Maersk and Statoil have both recently moved to increase their stakes in the project.
Big Foot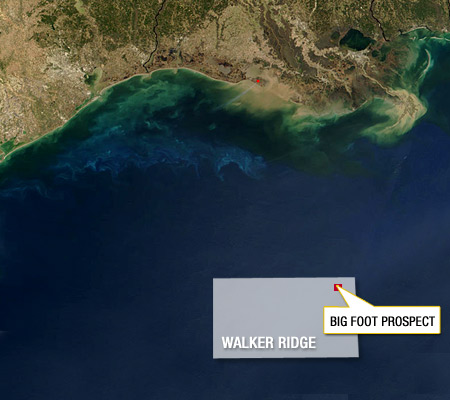 Chevron made another big discovery in late 2005 at the Big Foot field in Walker Ridge Block 29. The Big Foot #2 well was drilled to 25,127 ft in 5,000 ft of water and encountered about 300 ft of net oil pay.
Chevron drilled the Big Foot Well #2 Sidetrack 3 in July 2006. It reached 24,434 TVD and encountered the same pay intervals as the discovery well.
An appraisal well was drilled in January 2008. The ENSCO 7500 drilled the Big Foot #3 Sidetrack 2 and confirmed the previously announced pay intervals. The appraisal well reached 25,114 ft TMD.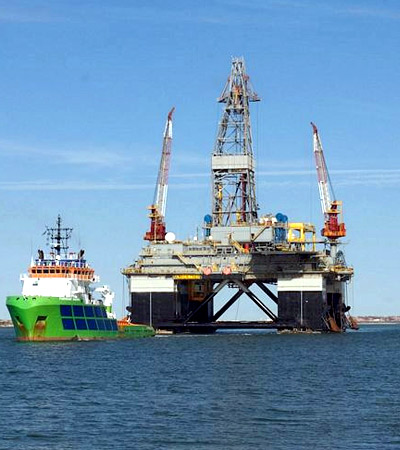 ENSCO 7500
In December 2009, Chevron announced its plans for an Extended Tension Leg Platform (ETLP) on its Big Foot development. The official project has not yet been sanctioned, but Chevron is expected to announce it in Q4 2010 after completion of the FEED process. First oil is expected in 2013.
Chevron operates the field with 60% interest with its partners Statoil GoM 27.5% and Marubeni Oil & Gas (USA) Inc 12.5%.
Stones
Shell E&P first identified hydrocarbons on the Stones prospect in May 2005. Transocean's Deepwater Horizon drilled the well to 28,560 TVD in 9,576 ft of water on Walker Ridge Block 508.
At the time of the discovery, Shell said further drilling would be necessary to determine the extent of the commerciality of the discovery.
It wasn't until May 2008 that Eni drilled a second successful exploration well and announced the discovery. The Stones-3 exploration well, which was drilled 1.6 km north of the Stones-1 discovery, reached 29,400 ft TD and encountered multiple oil-bearing sands.
Shell operates the field with a 35% interest with partners Marathon 25%, Petrobras 25%, and Eni 15%.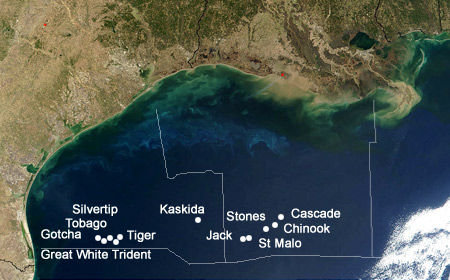 Recent GOM Lease Sale Results Foreshadow More Activity Ahead
The Central GOM Lease Sale 213 held recently fetched almost a billion dollars in high bids, about 35% more than the 2009 sale. Deep and ultra-deepwater prospects drew significant interest from operators, a sign that further investments in exploration and development in this offshore area will be made in the years ahead.
Statistically speaking, ultra-deepwater bidding in the 2010 lease sale showed a nice uptick from 2009 levels. Bidding was particularly strong for acreage in the Keathley Canyon area, likely fueled by the recent Tiber and Lucius successes. Ultra-deepwater (>2,000m) average high bids per block increased about 20%, and the number of blocks receiving bids was up about 33% from the 2009 sale. The chart below shows the sum of high bids for deepwater and ultra-deepwater tracts (>1,600m water depths).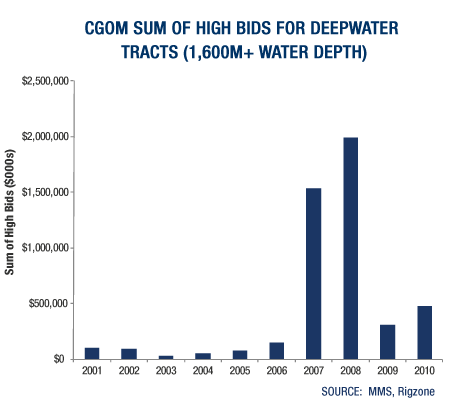 Follow ultra-deepwater GOM E&P and field development activities through GOMExplorer and RigLogix.