Analysis: Zeroing in on Angola's Block 17
Rigzone Staff
|
Friday, March 19, 2010
Angola recently surpassed Nigeria as the largest crude oil producing country in Africa, and production is expected to continue growing as new offshore projects come online.
Although more conservative estimates have recently pegged Angola's proven oil reserves at around 10 Bbbls, according to the Angolan oil minister, Angola's total reserve number is around 13 Bbbls.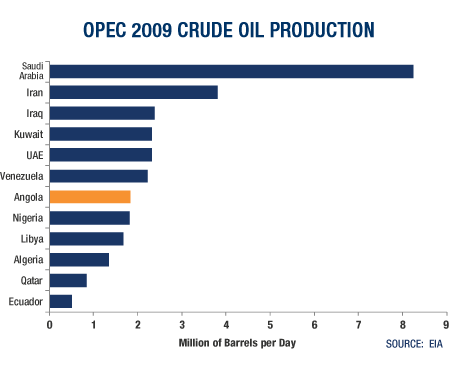 As for natural gas, Angola does produce gas along with its oil, but it is often vented or flared. This will likely begin to change as the country plans to capture and market natural gas for domestic usage and for LNG exports by 2012.
A 30 year civil war in Angola, which ended in 2002, pushed oil and gas exploration offshore, which is where it largely remains today.
One of the most prolific offshore areas is Block 17, which Total operates with a 40% share with Sonangol as the concession holder and ExxonMobil, BP, and Statoil as shareholders. Fifteen fields have been discovered on the block and four production projects are currently underway, including Girassol, Dalia, Pazflor, and CLOV.
Girassol
The Girassol field was the first to come online in December 2001. Girassol is in approximately 4,600 ft of water. The GIR-1 exploration well discovered the Girassol oil field at 8,202 TVD in April 1996. The well tested at a rate of 12,500 b/d at 32 degrees API. The Jim Cunningham semisubmersible drilled two appraisal wells, which proved the field commercially significant.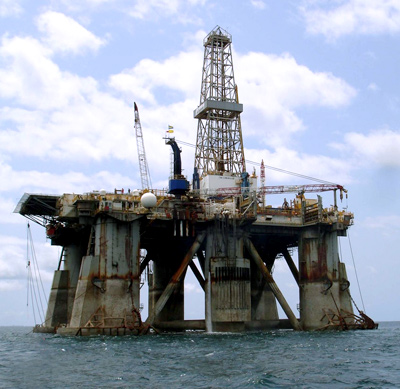 Jim Cunningham
The Girassol field was one of the first large deepwater development offshore West Africa. The field is developed with 32 subsea wells tied to an FPSO including 18 production wells, 12 water injection wells, and two gas injection wells. There are 145 km of lines and subsea cables that run across the ocean floor, including 45 km of flowlines, 33 km of water and gas injection lines, and 77 km of control cable or umbilicals.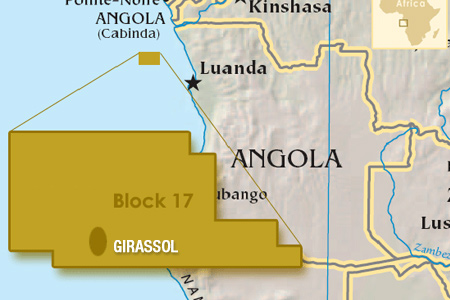 Girassol Map
The Girassol FPSO was the world's largest at the time of its construction and installation. It has a storage capacity of 2 MMbbl and a processing capacity of 250,000 b/d. It is spread moored on location by 16 suction anchors.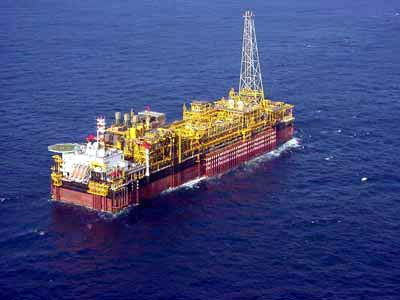 Girassol FPSO
Jasmim
Girassol's satellite fields include Jasmim and Rosa. Jasmim was discovered in April 2000 using R&B Falcon's Jim Cunningham semisubmersible, which is now owned by Transocean. The well flowed at a test rate of approximately 11,000 b/d. Jasmim is about 4 mi from Girassol in approximately 4,200 ft of water.
The Jasmim field was developed with eight subsea wells tied back to the Girassol FPSO. It came online in December 2003 and increased production on the Girassol FPSO to 230,000 b/d.
Rosa
The Rosa field was discovered in 1998 in about 4,400 ft of water. Rosa was brought online in June 2007 as the second satellite field tied back nine miles to the Girassol FPSO.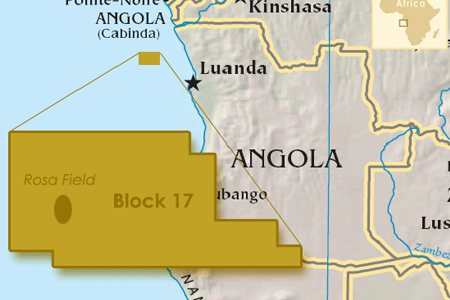 Rosa Field, Angola Block 17
Rosa's field development includes 25 wells, including 11 water injection wells and 14 production wells. Adding Rosa production to the Girassol FPSO required 5,600 additional tons of structure and equipment to be installed on the FPSO. Once Rosa came online, the Girassol FPSO produced 250,000 b/d.
Dalia
Total discovered the Dalia field in 1997 in 4,900 ft of water, and Dalia has since become one of the world's largest deepwater oil developments. Total drilled/will drill the 71 Dalia wells, which are estimated to hold about 1 Bbbl of recoverable reserves. The subsea production system consists of 37 production wells, 31 water injection wells, and three gas injection wells, which are tied back to the Dalia FPSO.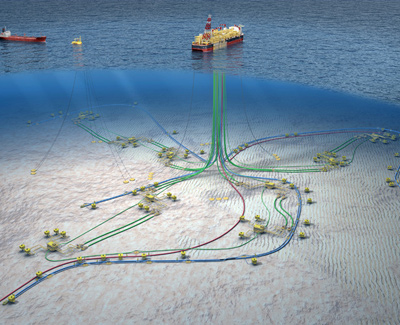 Dalia
The Dalia FPSO is one of the largest FPSO vessels built. It is capable of processing up to 240,000 b/d and can store up to 2 MMbbl.
Total brought the field online in December 2006.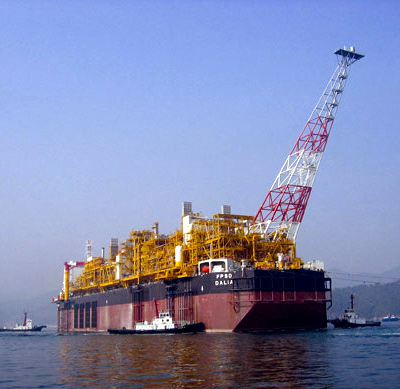 Dalia FPSO
Pazflor
In August 2000, Total made another discovery on Block 17. The Pazflor project includes four fields - Perpetua, Zinia, Acacia, and Hortensia. Perpetua was the first of the Pazflor cluster to be discovered and the 10th field overall on Block 17. It sits in about 2,600 ft of water, and the exploration well had a flow rate of 8,740 b/d of 20 degree API.
In December 2002, Total made the Zinia discovery in 2,356 ft of water. It tested at 3,650 b/d. The Acacia and Hortensia discoveries were made in 2002 and 2003 in 3,379 ft and 2,723 ft of water, respectively. The last two discoveries made the Pazflor project commercially viable. The Acacia-1 discovery well tested 13,712 b/d from two zones and Horensia-1 tested at 5,092 b/d.
The fields will be developed through subsea production lines and risers to an FPSO. Subsea development includes 25 production wells, 22 water injection wells, two gas injection wells, and West Africa's first subsea gas/liquid separation system. The wells will target two different reservoirs. Heavier oil will be recovered from Miocene reservoirs in 1,969 - 2,953 ft of water and a lighter oil from Oligocene reservoirs in 3,281 - 3,937 ft of water. Facilities are scheduled for installation this year, and production will commence in 2011.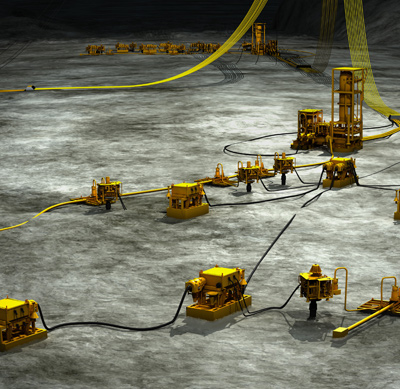 Pazflor Subsea Development
The Pazflor FPSO will have a processing capacity of 200,000 b/d and 150 MMcf/d and a storage capacity of 1.9 MMbbl.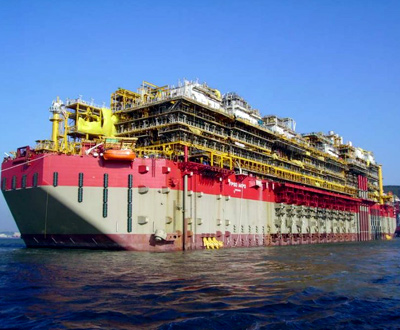 Pazflor FPSO
CLOV
The fourth major field cluster on Block 17 is expected to come online in 2011. The CLOV project gets its name from its four fields - the Cravo, Lirio, Orquidea, and Violeta fields.
Singularly, the fields would not be commercial. But with the successful drilling of the Orquidea-2 appraisal well in October 2006, Total was able to confirm and expand the potential of its Orquidea discovery. Orquidea's drilling success confirmed the commerciality of a fourth production zone in Block 17.
Located approximately 2 km from the Orquidea-1 discovery well in 1,165 m of water, Orquidea-2 identified and confirmed the Miocene objectives encountered by Orquidea-1 and also identified deeper Oligocene reservoir levels. The Oligocene and Miocene objectives are both oil-bearing.
Basic engineering for CLOV was launched in 2008 and field development started in 2009. Development includes 40 subsea wells tied back to an FPSO. Together, the CLOV fields and Pazflor will add more than 500,000 b/d to Block 17 production.
Gardenia
Adding to its success in the area, Total recently announced a new Block 17 discovery. In October 2009, Total announced the Gardenia discovery on Block 17/06 in 3,205 ft of water. The well discovered hydrocarbon reservoirs, both in the Miocene and the Oligocene. On the Miocene interval, the well produced 4,000 b/d of 25 degree API oil during tests.
Total serves as the operator and holds a 30% interest; Sonangol holds 30%; SSI Seventenn holds 27.5%; ACREP holds 5%; Falcon Oil holds 5%; and Partex Oil holds the remaining 2.5% interest.
The operator continued to appraise the area through 2009.
Follow Total and Block 17 activities by visiting SubseaIQ or through RigLogix.