Land Rig Review: Newbuild and Earnings Highlights
by Joseph Triepke
|
Rigzone
|
Thursday, March 11, 2010

Please note this report is based on land rig data as of 2/26/2010.
Land Rig Fleet Investment Trends
Increased land drilling activity and rising dayrates in the years prior to the 2008/2009 downturn fueled a material construction cycle, and from 2005 to 2009, the land rig fleet grew by more than 1,000 rigs on a net basis. 231 new land rigs were constructed in 2009 alone according to NOV Downhole's 56th Annual Rig Census. Many of these new rigs were sponsored by term contracts signed by operators in late-2007/early-2008 when rig availability was limited.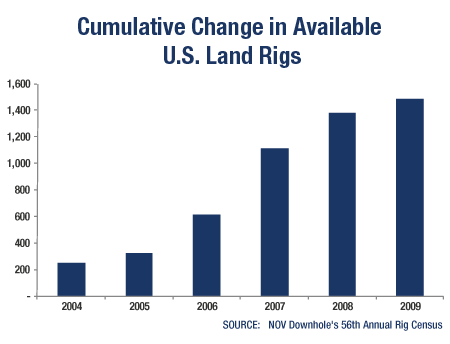 While supply additions in 2010 and 2011 will clearly not mirror the elevated levels seen in the 2005-2009 time frame, newbuilds are being constructed as the market recovers. Although only a few incremental newbuild plans have been announced recently, previously announced newbuild programs continue to unfold. Several contractors are putting money to work resuming sponsored rig construction projects that were deferred during the downturn.
Much of the land rig construction underway today is built-for purpose geared, supported by contracts in place prior to the commencement of rig construction. Although there are some pockets of speculative building and indications of interest from operators in newbuilds, dayrates generally remain at levels that challenge the economics of speculative newbuild endeavors. Some contractors, such as Pioneer Drilling, anticipate that pricing could justify new construction by late-2010 or early-2011.
In the table below, we highlight remaining 2010 rig construction efforts for some of the large publicly traded drilling contractors. The newbuild plans we have tracked comprise over 30 new land rigs, most of which are likely headed to unconventional resource plays upon completion. The majority of these high spec newbuilds are already contracted.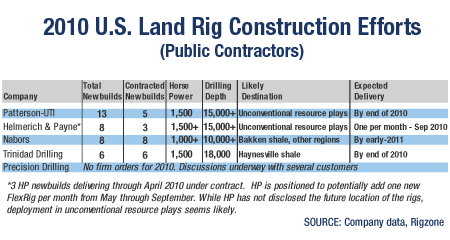 Patterson-UTI has already taken delivery of two newbuilds this year and has 13 more expected to deliver over the course of the year at a cost of $230 million. Nine of these rigs had previously been deferred, and five are under term contracts (1-3 years) that were signed over the last quarter. In addition, the company has earmarked another $130 million to install top drives on existing units and make other upgrades. Patterson estimates that 110-120 top drive-equipped rigs will be spread across its marketed fleet of 356 rigs (assuming no additional retirements) by year-end. With Patterson's top drive-equipped rigs virtually fully utilized today, the investment seems worthwhile.
Helmerich & Payne believes it is well positioned to roll out one new rig per month through the end of 3Q 2010. The newbuilds delivering through April are supported by contracts already in place. Helmerich & Payne had several customers request delivery delays during the downturn for some of its contracted newbuilds, however some of these units have become active sooner than expected as rig demand strengthened.
Nabors Industries recently signed contracts to support the construction of four new land rigs. The contracts have five-year terms for deployment in the Bakken shale. Including these rigs, the company has eight rigs under construction, all of which are contracted.
Trinidad Drilling recently resumed the construction of six new 1,500 horsepower rigs that were put on hold in 2009 due to the downturn and will invest $60 million to complete the units. These built-for-purpose rigs have fiveyear contracts in place for work in the Haynesville shale that will commence as they deliver throughout 2010.
Unit Drilling has delivered one newbuild rig this year (which was postponed during 2009), but doesn't have plans for further newbuilds this year. The company is instead focusing on several major refurbishments this year.
If the rig count recovery continues and dayrates improve further, the land rig construction front could become more interesting later this year or in early-2011.
Highlights from Land Driller Earnings Season
With virtually all drilling contractors benefiting from the recovery during 4Q09, commentary primarily focused on increasing rig counts, pricing improvements and expectations for the trajectory of the recovery going forward. Unconventional resource plays continue to take center stage, a trend that disproportionately benefits the industry's high spec / newly constructed rig fleet.
The pockets of spot market dayrate increases we noted in our last quarterly update have become much more widespread over the last 90 days. Several contractors, including Nabors and Patterson-UTI, noted increases across their fleets. Specifically, Nabors' high spec rigs have seen dayrates improve by almost 40% from the bottom and some of its lower spec rigs are benefiting from improvement as well. Despite the rig surplus in conventional markets, Patterson-UTI has actually seen some modest improvement in markets like the Permian Basin (+$250-$750/day). The contractor also noted that pricing improvements for higher spec rigs has been more significant.
With some drillers expecting reported results to bottom in 1Q10, 4Q09 revenue/rig day and margin/rig day trended modestly lower for the contractors we track (which account for about 37% of the U.S. land rig market). Essentially, the buffer against the downturn provided by term contract backlog continues to wear off, and rigs have gone back to work at lower dayrates. As a group, the contractors we track reported revenue/rig day down about 5% and margin/rig day down about 9% quarter-over-quarter.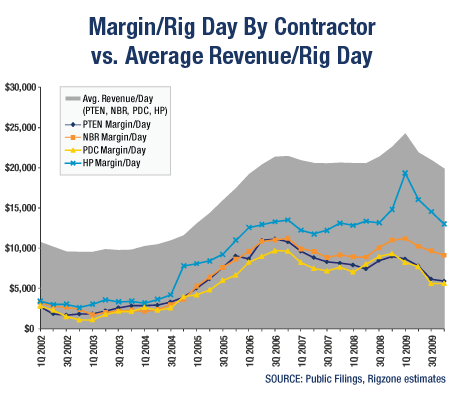 From 3Q09 to present, Patterson-UTI has recaptured a significant amount of market share, while other contractors we track have put rigs back to work at about the same pace as the broader U.S. rig market. Patterson-UTI's market share was more adversely impacted by the downturn than most of its peers (market share halved from 14% to 7%). However, the company has recovered nicely in the upcycle, and in 1Q09, Patterson's market share has returned to around 10%.