Land Rig Review: Land Rig Utilization Trends
by Joseph Triepke
|
Rigzone
|
Tuesday, March 09, 2010

Please note this report is based on land rig data as of 2/26/2010.
Land Rig Utilization Rising, but There's Room for Improvement
Although the recent land rig hiring spree has gone a long way towards improving utilization, total land rig utilization still has room for improvement. With the 2005-2009 construction cycle helping to increase available land rig supply by over 1,000 net units, a rig surplus remains despite the ongoing recovery. It is also worth noting that today's hottest onshore plays require higher spec rigs, thus some of the more marginal capacity has been left out of the recovery in demand and overall supply should be discounted to some extent due to legacy equipment.
"Utilization for higher spec rigs is tracking above the overall average as operators continue to high-grade their contracted rig fleets given the focus on shale and horizontal drilling."
With NOV Downhole's 56th Annual Rig Census tallying up 2,971 available U.S. land rigs, industry-wide utilization was measured at around 39% for 2009, a low not seen in over 20 years. While total utilization is still thought to be tracking near 50% today, marketed utilization is tracking higher (likely around the 65-75% range) as a significant portion of the land rig fleet is not actively marketed.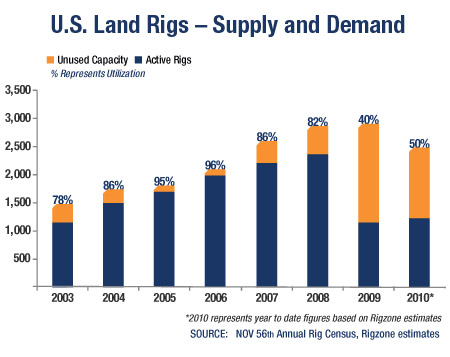 In addition to further rig count increases, utilization could also get a boost as contractors continue to rationalize their fleets, permanently removing some older, marginal rigs from service. NOV's Rig Census estimates that 164 U.S. rigs were removed from service in 2009, up from 59 in 2008. While it is tough to measure accurately in real-time, it is likely that rig attrition will outpace rig additions in the Lower 48 in 1H 2010, however we would note that some of the larger contractors are still delivering newbuilds this year (see Land Rig Fleet Investment Trends section below). During 4Q 2009, Patterson- UTI retired 21 rigs from its fleet, all but one of which were <1,000 horsepower units, and more retirements are likely for Patterson this year. Also during the quarter, Precision decommissioned 12 of its less efficient, U.S.-based rigs.
It is clear that utilization for higher spec rigs is tracking above the overall average as operators position their contracted rig fleets to focus on shale and horizontal drilling. Contractors with higher spec fleets continue to report higher than average utilization levels.
The graph below shows the trend towards high spec capacity, using rigs with depth ratings of 20,000' or more as a proxy. Today, roughly 19% of the land rig count is comprised of rigs capable of drilling 20,000+ ft. depths compared to just 14% near the peak of activity in mid-2008. Admittedly, many high spec rigs are excluded from this sample, but the trend is evident.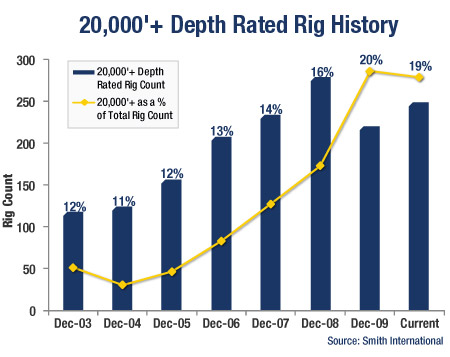 While it varies depending on the play, the rigs most in demand today are either 1,000 HP units or 1,500+ HP units. Either way, 1,000 HP is clearly a definitive cutoff point for the rigs most desired by operators in the current drilling environment. Sources indicate that in the Woodford, Marcellus and Eagleford shales, the ideal rig is a 1,000 HP unit, while the ideal horsepower requirement for the Bakken and Haynesville shales is 1,500 HP.