Land Rig Review: Rebound Predicated on Oil/Horizontal Drilling
by Joseph Triepke
|
Rigzone
|
Monday, March 08, 2010

Please note this report is based on land rig data as of 2/26/2010.
As we have documented in recent reports on the land rig market, several key demand trends, including higher demand for oil and horizontal directed drilling, have been particularly evident in the rebound. These trends continue to define the rig count recovery from the bottom, but rising natural gas activity is worth monitoring.
Oil Activity Key To Recovery
Oil driven activity has accounted for the lion's share of the rig count gains in the recovery. Today, there are 456 rigs drilling for oil, which is the highest level in over a decade. The oil rig count is up 149% from the bottom, compared to a 32% recovery for the natural gas rig count.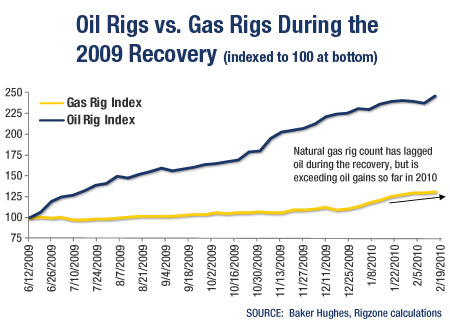 With 1/3rd of the rig count targeting crude oil prospects, oil drilling accounts for a larger portion of the rig count today than at any other time in over a decade. That being said, the natural gas rig count has picked up some steam so far in 2010 due to demand for rigs in the gas shale plays.
Natural Gas Activity Plays Some Catch Up in Early-2010
Although oil directed activity has grabbed all the headlines in this recovery, the recent trend higher in the natural gas rig count should be monitored. So far this year, the oil rig count is only up 10%, whereas the natural gas rig count is up about 21%. As such, the natural gas weighting bottomed in late-December just under 64% and has risen modestly to just over 66% so far this year.
While natural gas inventory remains a concern, historical comparisons are getting easier and a cold start to 2010 has resulted in healthier storage levels. In fact, over the first two months of 2010, more gas has been withdrawn from storage (1,423 Bcf) than in the comparable periods over the past 15 years. U.S. natural gas inventory currently stands at 1,737 Bcf, 3% below year ago levels and only 1% above the five-year average.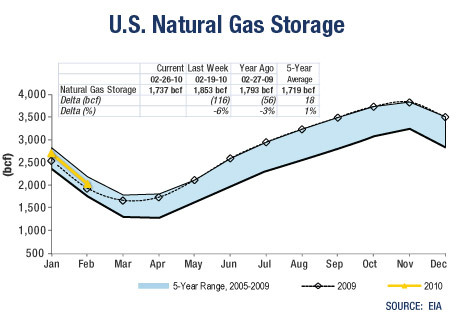 Horizontal Paradigm Shift
Given the focus on unconventional resource plays, it is not surprising that horizontal drilling continues to outpace vertical drilling. Advances in horizontal drilling methodologies/ technology have led to some of the most successful onshore wells in U.S. history. Today, about 2/3rds of the U.S. rig count is non-vertical, and close to 50% of the rig count is drilling horizontal wells. So far this year, the horizontal rig count has increased 115 units to 679, which is an all-time high.