Analysis: Nabors Remains Strong Despite Hard Economic Times
Rigzone Staff
|
Friday, March 05, 2010
Nabors Industries traces its corporate lineage back into the early 20th century and was incorporated in the 1970s under a different name. Current management assumed the helm in 1987, and through merger and acquisitions as well as modern rig construction, the company has become the world's largest provider of contract drilling services for exploration and development of oil, gas, and geothermal wells.
In the late-1980s, Nabors was focused on contract land drilling on the North Slope of Alaska, Western Canada, and in the Rocky Mountains. Over the years, Nabors has expanded its contract land drilling services into most major oil and gas producing regions of the world. In addition, Nabors broadened its oil and gas contract drilling services to include offshore drilling and well servicing operations.
In recent years, Nabors has expanded into information technology, drilling systems, engineering, transportation, construction, maintenance, well logging, and other support services in selected domestic and international markets.
Today, Nabors is the largest land drilling contractor in the world by rig fleet size and has about 542 land rigs and 730 land workover and well service rigs in North America. The company conducts oil, gas, and geothermal operations in the US, Canada, South America, Mexico, the Caribbean, the Middle East, the Far East, Russia, and Africa.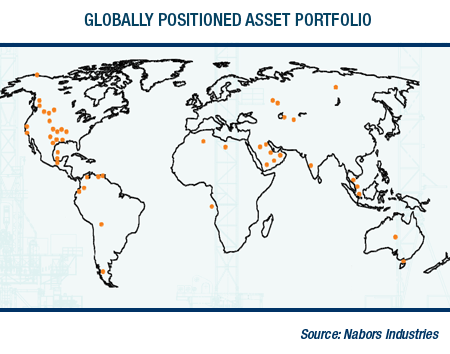 According to Eugene Isenberg, Nabors' Chief Executive Officer, the company is performing 100% of Shell's land drilling in the US and Canada and about 80% of BP's drilling work in the Lower 48. Isenberg also says that Nabors has had success with a highly sensitive, highly technical Point Thomson Project in Alaska for Exxon and has been selected by Exxon for Papua New Guinea LNG project work.
Canada has been Nabors' worst performing unit financially as of late, but Isenberg is optimistic. He says a significant part of the future of Canada drilling is going to be the British Columbia shales, where Nabors expects its market share to rise.
In the international market, Nabors has the broadest and deepest infrastructure of any contract driller in the world. Isenberg says "although 2009 was disappointing, this unit [international] had a compound annual growth rate of 27% per year between 2000 and 2008, and I am pretty confident that we'll get back pretty quickly to significant levels of growth for the next 10 years."
Isenberg says Alaska results will decline this year despite its successful AC drilling unit in Alaska working for Pioneer. Nabors expects to add several more big coil tubing units in the region in the near future.
Fleet
Nabors' US land rig fleet includes roughly 160 land rigs working across the country in states including Alaska, Louisiana, North Dakota, and Texas.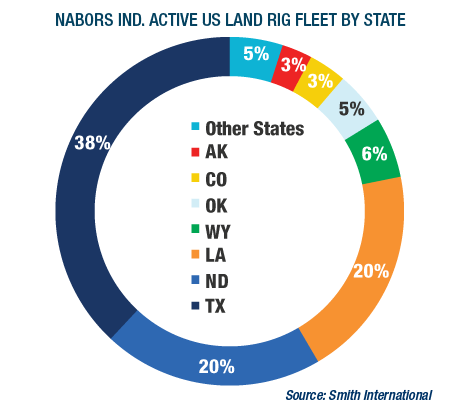 The fleet is understood to be contracted out to almost 50 different operators. Of these, EOG Resources has contracted the most rigs (high-teens) and Devon Energy, Shell, and Petrohawk each have about 10-15 contracted.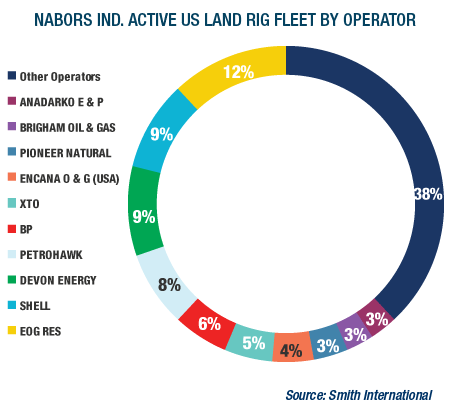 In the Continental US, Nabors is benefiting from strong high-spec rig demand, and the company's PACE rigs are 100% utilized. With operators positioning their contracted rig fleets to focus on shale acreage and horizontal drilling, high-end AC and SCR rigs are being deployed faster than mechanical rigs. Nabors currently accounts for roughly 13% of the US land rig market.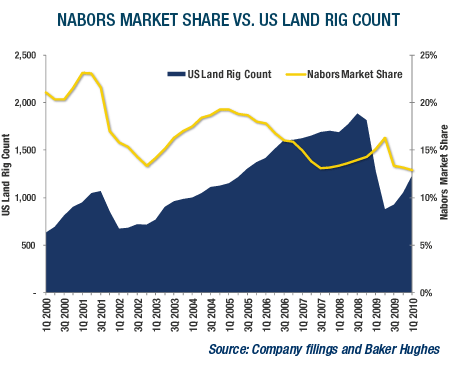 Offshore, Nabors has 16 total jackups (including nine workover units), of which nine are in the US Gulf and seven are in international waters according to data from RigLogix, Rigzone's premium offshore rig data service. The jackup fleet is made up of rigs capable of working in waters from 90 – 300 ft. The contracted jackups are working in the Persian Gulf.
Outside of jackups, Nabors also has self-contained platform rigs and inland barge rigs working offshore. The company said it is actively marketing 40 platform rigs and three barge rigs this year.
Weathering Tough Times
Nabors was quite profitable through 2007, but has been notably affected by the financial crisis. In the last 12-18 months, dayrates and utilization have tumbled; thus, earnings have been adversely impacted. Due to the financial crisis, E&P operators were reluctant to lock-in future drilling activities in 2009, and the industry-wide land rig count hit a low of 823 in the US.
During 2009, Nabors reduced its headcount by nearly one-third, however the company still employs over 18,000 people. For context, Nabors' headcount is only about 15% lower than that of the largest offshore driller, Transocean, and in 2008, Nabors actually had more employees than Transocean.
However, the company is poised to rebound this year as rig demand is increasing across most of its markets . Nabors' guidance calls for a rising rig count in 2010. In late-2009 and early-2010, Nabors, like many of its competitors, has been putting rigs back into the field at an impressive clip. In Q4 2009, the company reactivated 20 rigs and more are expected to go back to work through 2010. In addition, Nabors recently signed contracts to support the construction of four new land rigs. The contracts have five-year terms for deployment in the Bakken shale. Including these rigs, the company has eight rigs under construction, all of which are contracted. Nabors has about 160 active rigs today, compared to a low of 124 in Q309, and is expected to increase that number through the end of the year.
Several contractors, including Nabors, have recently noted dayrate increases across their land rig fleets. Specifically, Nabors' high spec rigs have seen dayrates improve by almost 40% from the bottom and some of its lower spec rigs are benefiting from improvement in pricing as well.
Nabors' Future May Hold Asset Sales
Looking ahead, Nabors has recently discussed the possible divestiture of its E&P assets, which management believes could be valued at more than $2 billion. At least some portion of the assets could be monetized as soon as sometime in the next quarter or two.
Even though Isenberg believes that energy prices are on their way back up, he also says the company will be looking to sell some assets to raise cash. Isenberg said that its Columbia leases could be the first to be sold, as early as the end of the summer. He also said properties in British Columbia, Canada, are attracting potential buyers to liquefy gas and transport it to Asia.
"I can't really believe we would have anything less than three-quarters of $1 billion in market value for [assets in British Columbia]," said Isenberg.