Analysis: Tullow Poised for Significant Year
Rigzone Staff
|
Friday, February 19, 2010
Tullow Oil plc is one of the largest independent oil and gas exploration and production companies in Europe. It operates in Europe, Africa, South Asia, and South America. Founded in Ireland in 1985, the group first became active in South Asia in 1990, in the UK gas market in 2001, and acquired its first assets in South America through the Hardman acquisition. With aggressive exploration program lined up for Tullow and its partners, the company is likely to be a regular in the news in the months ahead.
In 2007 Tullow discovered the Jubilee field off Ghana. This major oil and gas field is estimated to contain about 1.2 Bboe of recoverable reserves. Located on both the Deepwater Tano and West Cape Three Points fields, Jubilee is in roughly 3,600 ft of water. Tullow operates the field with 49.5% interest.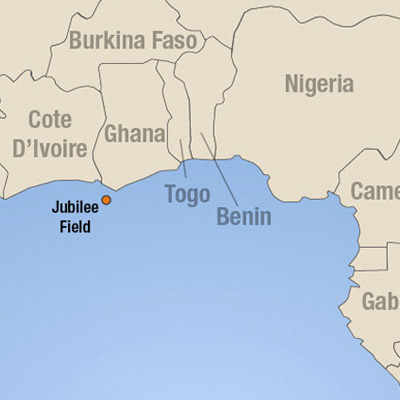 Jubilee Field
The first phase of the Jubilee field is expected to come online later this year. The fields will be tied back to an FPSO, which will be moored in 3,609 ft of water and will be capable of processing more than 120,000 b/d and 160 MMcf/d.
Tullow reports that its first half of 2009 production was approximately 59,300 boe/d. Though Tullow continued to deliver major exploration success in Ghana and Uganda, overall financial results for the first half of 2009 were down from the first half of 2008, but the decline was expected.
Shown below, the company's revenue mix is heavily weighted towards West Africa.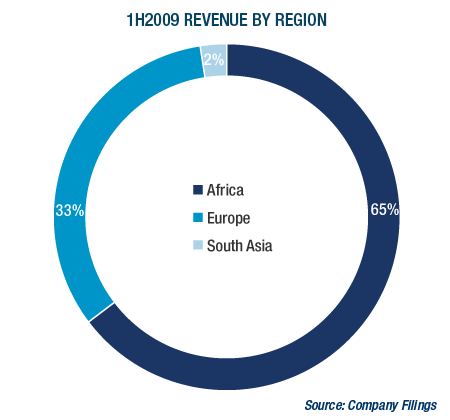 The company made a decision to focus 2009 capital investment primarily on Ghana and Uganda that resulted in a 16% decrease in production and a 25% reduction in average price realizations. After steady revenue growth from 2004 through 2008, Tullow's top line for the full year 2009 is expected to be a bit lower (much like rest of the industry), but analysts forecast revenue to rise modelty in 2010. In 2011, significant top-line expansion is forecast for Tullow.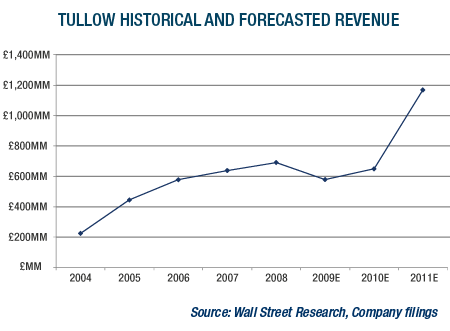 2009's focus off Ghana paid off with one of Tullow's greatest successes, Tweneboa. Located only 16 mi from the Jubilee field in the Deepwater Tano license on Block 2, the Tweneboa-1 discovery well is in 3,766 ft of water. The Eirik Raude semisubmersible drilled the discovery well to 11,788 ft, and the well encountered 69 ft of net pay of a highly pressured light hydrocarbon accumulation.
About two weeks later, the well was deepened to 12,920 ft and encountered 13 ft of highly pressured oil bearing sands as well as an over-pressured zone, which limited further progress. The accumulation contained oil measuring 26 degrees API.
The Atwood Hunter semisubmersible, contracted by Kosmos Energy, drilled the second Tweneboa appraisal well to 12,664 ft in 4,334 ft of water and found 105 ft of net hydrocarbon pay. The find was comprised of a 56 ft oil bearing zone below a 49 ft gas condensate bearing zone in a gross interval of 502 ft.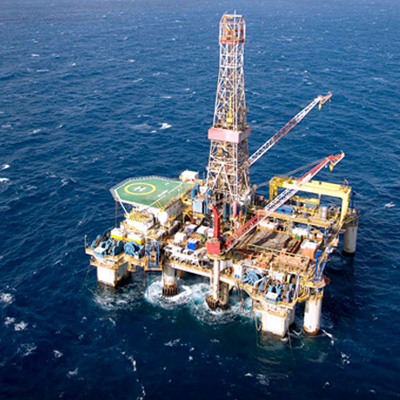 Atwood Hunter
The second Tweneboa well results indicate a highly prospective and extensive turbidite fan system, thus additional drilling will be needed to evaluate the prospect. The appraisal well will be deepened to test further exploration potential under the Tweneboa field. The field then will be suspended awaiting future appraisal and development operations.
The Tweneboa-2 appraisal well established Tweneboa as a major oil and gas-condensate field. Combined, the two Tweneboa wells are expected to have a hydrocarbon column of at least 1,148 ft.
Tullow Oil operates the field with 49.95% with partners Kosmos Energy 18%, Ghana National Petroleum Corp. 10% and Sabre Oil and Gas (4.05%).
Eirik Raude
The only offshore rig Tullow currently has under contract is the Eirik Raude ultra-deepwater semisubmersible, which is contracted into late-2012.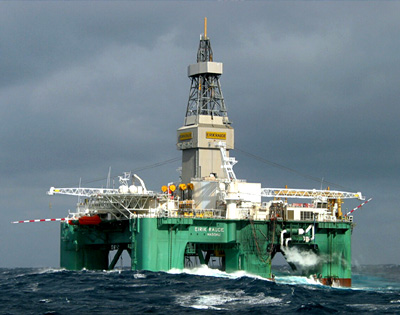 Eirik Raude
Tullow's contract with the Eirik Raude started in late 2008 at a rate in the low-to mid- $600s, when the rig drilled the Mahagany-3 appraisal discovery. In late-2011, the dayrate will move to the low-$400s through late-2012. In November 2012, Tullow has an option for another year at the same dayrate in the low-$400s.
Mahogany-3 is in the West Cape Three Points license offshore Ghana, the well intersected significant light oil columns in Jubilee as well as a deeper exploration target. About 33 m of net pay were penetrated.
Mahogany-3 appraised the Jubilee field away from the strong seismic amplitudes that had been the main targets. Test results showed that the reservoir contains 16 m of high quality stacked oil bearing sandstones, which confirmed a significant extension of the Jubilee field to the southeast.
Also, the rig drilled Mahogany Deep, which was identified on 3D seismic, but had not yet been tested. The well encountered 17 m of good quality oil bearing reservoir sandstones at levels significantly deeper than the oil water contacts previously intersected on the Jubilee field.
The Eirik Raude drilled the well to 4,028 m in 1,236 m of water. Following the conclusion of activities on Mahogany-3, the rig moved to the Tweneboa-1 exploration well.
Today the semisubmersible remains off Ghana, drilling the development wells for Phase 1 of the Jubilee Field.
The Eirik Raude is owned by Ocean Rig ASA. It is rated for a water depth of up to 10,000 ft and a drilling depth of up to 30,000 ft.
Follow Tullow and its projects worldwide by visiting SubseaIQ, or follow the developments, contracts and initiatives of the rigs through RigLogix.
For More Information on the Offshore Rig Fleet:
RigLogix can provide the information that you need about the offshore rig fleet, whether you need utilization and industry trends or detailed reports on future rig contracts. Subscribing to RigLogix will allow you to access dozens of prebuilt reports and build your own custom reports using hundreds of available data columns. For more information about a RigLogix subscription, visit
www.riglogix.com
.