Analysis: Seahawk Preys on the GOM Shelf
Rigzone Staff
|
Friday, February 12, 2010
Seahawk Drilling owns and operates 20 jackups in the US and Mexican Gulf of Mexico. The contractor, which was created in a spin-off from Pride International last year, provides drilling services to the oil and natural gas exploration industry in water depths of up to 300 ft and drilling depths of up to 25,000 ft.
In an effort to concentrate its business in the deepwater markets, Pride considered a variety of options for the divestiture of its shallow water fleet, and in late-2008, plans for a spin-off were formalized. In August 2009, Pride's Board of Directors approved the spin-off of its 20 mat-supported jackups, and Seahawk was created shortly thereafter.
As an independent drilling contractor, Seahawk caters primarily to the small- and mid-sized independent oil and gas companies active on the US GOM shelf. In fact, Seahawk's only customer outside the US is PEMEX.
Given the nature of its fleet, Seahawk's focus is in the shallow waters of the GOM where jackups dominate. Once the bread-and-butter of the GOM, oil and gas reserves on the shelf have been significantly developed, and today's discovery sizes tend to be smaller in this mature offshore area.
Over past the decade, the US jackup market has reflected the shallow water GOM decline in prospectivity. In fact, total US GOM jackup supply today is roughly half of 2001 levels at just 79 jackups, compared to over 150 units in 2001. Today, the GOM jackup market represents 10-15% of the global market compared to 40-45% back in 2001.
Much of the decline in jackup activity in the US GOM has been due to relatively more attractive opportunities for jackups in international waters, which lured rigs away from the GOM in pursuit of longer-term contracts and higher dayrates. While premium, independent legged jackups bid aggressively for work overseas, mat-supported units have largely remained in the GOM, restrained from departure by the fact that they are only functional in areas with an even seabed.
With the US GOM jackup market hit harder than most other offshore rig market in the 2008/2009 downturn, Seahawk has cut costs to survive the slump. While the GOM jackup market has begun to recover from recent lows, the improvement so far has yet to return Seahawk's fleet to a strong level of utilization.
There is no question that the US GOM remains oversupplied with jackups, particularly in the mat-supported jackup sector where only 19 of the 53 units in the region are contracted. However, unlike jackup contractors with premium fleets active in the international jackup market, Seahawk does not face any real threat from the 52 newbuild jackups on order as none of these units are mat-supported, and few, if any, are likely to bid for work against Seahawk's fleet. Rather, the key variable for Seahawk will be the direction of natural gas prices, which play a primary role in driving jackup demand on the shelf. It is also worth noting that nearly half of the mat-supported units in the US are cold stacked, meaning that effective utilization stands around 73% compared to a meager 36% total utilization for these units.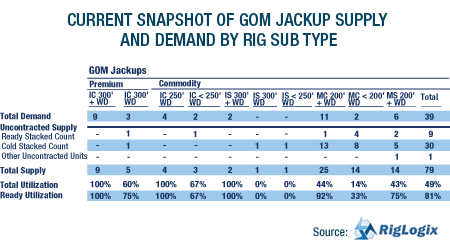 Seahawk's Fleet
Seahawk's jackups are all mat-supported rigs, which generally are able to position themselves on the worksite more quickly and move on and off location more easily than independent-leg rigs.
According to RigLogix data, 14 of its jackups have a cantilever design, which allows the drilling platform to extend out from the hull to perform drilling and workover operations over a preexisting platform or structure. Six of Seahawk's rigs feature a slot-type design, in which drilling operations take place through a slot in the hull.
Of Seahawk's 20 rigs, only eight are currently contracted, nine are cold stacked, two are ready stacked, and one is undergoing inspection. Arena and Mariner each have contracted two jackups, and Energy XXI, Apache, Walter O&G, and Hilcorp Energy each have one rig under contract.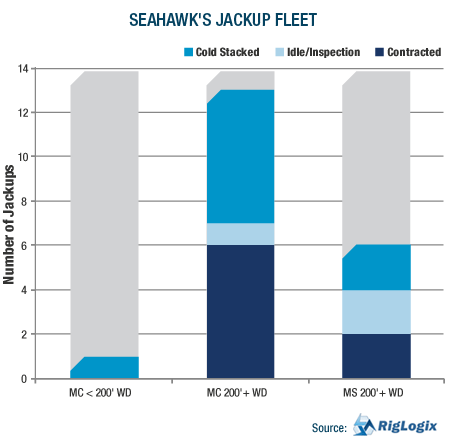 Seahawk just brought the Seahawk 2500 out of cold stack and is undergoing preparations to return the unit to work. The rig should be available mid to late February. The 250 ft MS jackup had been cold stacked since March 2009. The Seahawk 2001 has a 1+1 well contract with Energy XXI in the mid-$30s. The firm well is expected to take approximately 45 days. The Energy XXI contract, originally assigned to the Seahawk 2500, was switched to the Seahawk 2001 due to technical issues.
The Seahawk 3000 had been drilling for PEMEX in Mexican waters from mid-2003 through early February 2010, but the jackup has moved to US waters to work for Hilcorp Energy through May 2010. The Seahawk 3000 is commanding the highest dayrate of all of Seahawk's contracted rigs. Averaging a rate in the mid $50s, the Bethlehem JU-300 MS Mat Cantilever rig can drill in up to 300 ft of water down to 25,000 ft. In comparison, the Rowan Gorilla II, a much higher spec rig, is commanding the highest dayrate in the GOM in the low-$190s.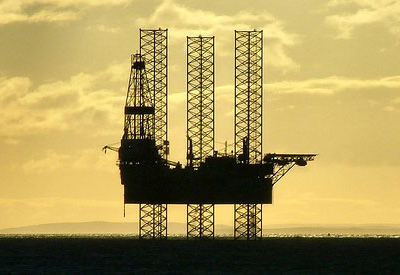 Seahawk 3000
Just a few weeks ago, the Seahawk 2505, a 250 ft MS jackup, made its way back from Mexico. Upon arrival in US waters, Seahawk started an evaluation of the rig with an eye toward marketing the rig this summer.
Examining supply, Seahawk's fleet is the second largest US GOM jackup fleet with 27% of the <300 ft rigs in the region behind Hercules Offshore with 31%. However, looking specifically at mat-supported rigs, Seahawk leads the market with 37% of supply and Hercules has 35% of supply. Thus, with just over 70% of supply in the hands of just two contractors, the GOM mat-supported jackup market is highly consolidated. Smaller players include Nabors, Spartan Offshore, and Diamond Offshore. Looking at mat-supported rig demand, Hercules and Seahawk each have 42% market share while Spartan Offshore has the remaining 16%.
GOM Jackup Market
Across all jackup subtypes, there are 39 jackups currently contracted in the US GOM. Hercules has 10, Seahawk has eight, Rowan has seven, ENSCO has six, and Diamond Offshore and Spartan have four each.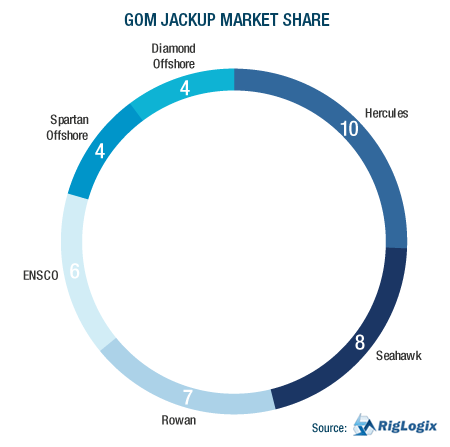 In late January, the Hercules 200 went back to work and Rowan's Ralph Coffman commenced drilling operations, pushing the working jackup rig count in the region back up into the low-30s from a low in the mid-teens in August 2009. A further seven jackups in the region are contracted for work scheduled to begin in the near future. Although GOM jackup utilization remains repressed with total utilization at 49% and marketed utilization at 81%, the rig count has more than doubled off the bottom last August. With several GOM jackups like the Seahawk 2600 and the Hercules 150 recently scoring work that will keep them busy into Q210 or beyond, backlog currently averages about 97 days/contracted rig. Rowan has the highest average backlog per contracted GOM jackup at 163 days while Seahawk's fleet averages 72 days.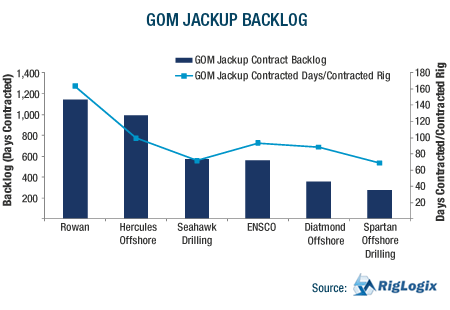 The average age of a jackup contracted in the GOM is about 27 years old. Seahawk's contracted fleet is slightly older at an average of 30 years old and is commanding an average dayrate of $37,500/day compared to the GOM average of $61,000/day. Compared to Hercules' rigs, which are about 32 years old with an average dayrate of $32,000/day, Seahawk's average dayrate is slightly higher. However, Seahawk's average dayrate is much lower than Rowan's average dayrate of $148,000/day for a fleet that is much younger (17 years old) and higher spec.
Overall, GOM jackups are at a 40% utilization rate this month. Hercules' utilization rate is right on target this month at 41%; and the premium fleets of Rowan and ENSCO are far above the average at 75% and 71%, respectively. However, Seahawk is below the average at 30% utilization.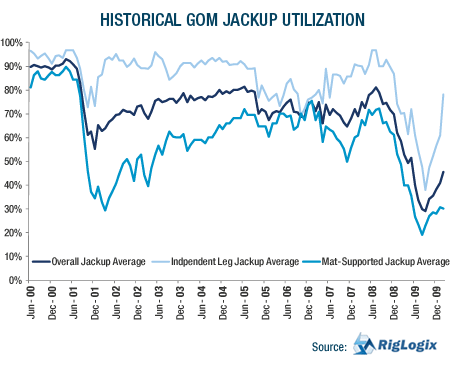 Future
Seahawk is currently focused on the Gulf of Mexico shelf, and the company is one of only three drilling contractors that own 20+ rigs but don't own any floating rigs. Rowan and Hercules Offshore are the others.
According to Randall D. Stilley, president and CEO of Seahawk Drilling, "Seahawk likes the shallow water market, and we seem to be one of the few companies exclusively focused on the jackup market. Our focus is on returns, and at the present time we believe the jackup market will provide better investment opportunities for Seahawk."
Seahawk is not committed exclusively to the GOM. In the future, Stilley sees the company expanding into international waters through the potential acquisition of assets in a particular region. However, Stilley says that "Seahawk's best returns will likely come from putting our idle rigs back to work, and reactivating our rigs that are currently cold stacked."
Follow Seahawk and its projects worldwide by visiting SubseaIQ, or follow the developments, contracts and initiatives of the rigs through RigLogix.