Analysis: Major Offshore Project Start-Ups to Watch in 2010
Rigzone Staff
|
Friday, January 29, 2010
As we look at the year ahead, OPEC is predicting a world crude demand of at least 85.1 MMb/d. Specifically, the cartel's forecast calls for world oil demand to grow modestly (by about 0.8 MMb/d) this year, a view they have maintained since late-2009. Though there is no shortage of oil supply, the following projects, due to come onstream in 2010, can only help in supplying this demand.
Australia
Pluto LNG Project
Pluto is a fast developing LNG project off Western Australia. The Pluto LNG Project will incorporate gas production from the Pluto and Xena fields in the Carnarvon Basin when it comes online in Q4 2010.
The Atwood Eagle semisubmersible drilled the Pluto-1 discovery well in April 2005 on permit WA-350-P and license WA-34-L. The massive gas find is expected to hold 4.4 Tcf of recoverable dry gas reserves.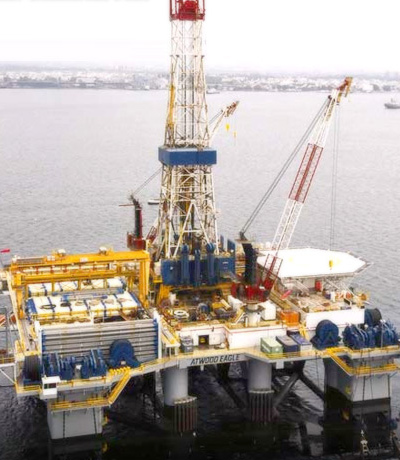 Atwood Eagle
Likewise, the Xena-1ST1 exploration well, drilled by the Jack Bates semisubmersible, is also on WA-350-P and WA-34-L. It was drilled in September 2006. In Q1 2008, the Ocean Bounty semisubmersible drilled two appraisal wells on the Xena field, Xena-2 and Xena-3, which confirmed the field and established the presence of gas-saturated sands in another fault block. Xena is estimated to contain 600 Bcf of recoverable dry gas.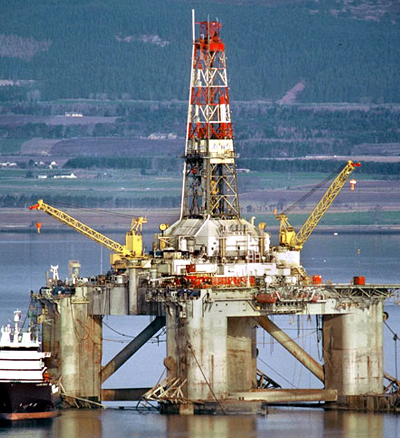 Jack Bates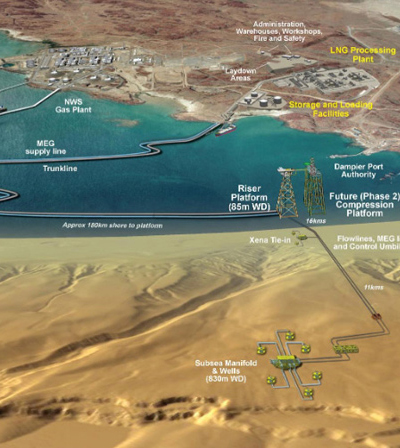 Pluto LNG Project
Five subsea wells in 2,723 ft of water will be tied back to the Pluto platform, which is in 279 ft of water. The riser and gas export platform is remotely operated and has a capacity to transfer 1.6 Bcf/d of natural gas.
A 112 mi, 36-in diameter flowline will transfer the gas from the platform to the LNG facility onshore.
Woodside Petroleum operates the Pluto project with 90% interest. Partners include Kanasi Electric and Tokyo Gas each with a 5% interest.
Pyrenees Project
Pluto will be joined by the Pyrenees Project, which is expected to come online the first half of 2010. Pyrenees is in 558 to 820 ft of water in WA-12-R in the Exmouth Sub-Basin offshore Western Australia.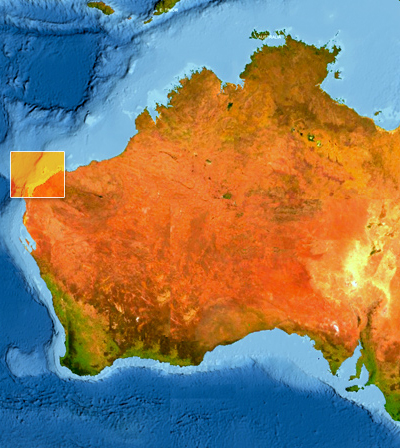 Exmouth Sub-Basin
The project will include the Ravensworth, Crosby, and Stickle fields.
The Ravensworth-1 exploration well, drilled in July 2003, was the first well drilled in the area. The Sedco 703 semisubmersible drilled several Ravensworth wells in about 690 ft water. Crosby, about 1.25 mi east of Ravensworth, was discovered in 2003 in about 650 ft of water. The Stickle field, about 3 mi east of Ravensworth and 1.7 mi east of Crosby, was discovered in 2004. The Atwood Eagle semisubmersible drilled the Stickle discovery well in 635 ft of water. Together, the fields are expected to have recoverable oil reserves between 80 and 120 MMbbl.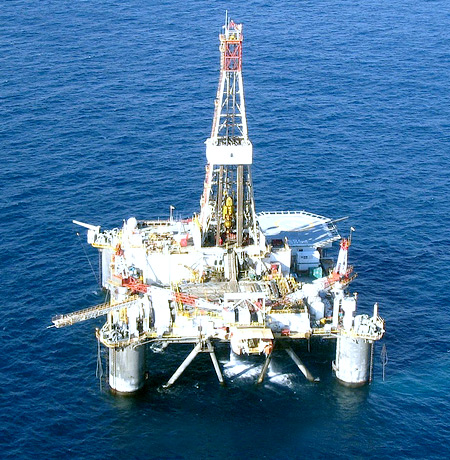 Sedco 703
The three fields - 13 subsea wells - will be tied back to a double-hulled FPSO moored in 656 ft of water. Formerly a Suezmax oil tanker, the FPSO, named the Pyrenees Venture, is being converted by MODEC in China. Oil will be exported via shuttle tankers.
BHP Billiton operates Pyrenees with 71.43% interest and partners with Apache, which holds a 28.57% interest.
Van Gogh Project
Nearly a year late, the Van Gogh project is expected to come onstream early this year. Located in the Exmouth Sub-Basin, Van Gogh is in 1,247 ft of water. The project will include the Van Gogh and the Theo fields, discovered in 2003 and 2006, respectively.
A total of 13 wells - 10 production, two water-injection, and one gas-injection-- will be tied back to an FPSO. The FPSO is a converted oil tanker, the MT Kudam. The FPSO will be renamed the Ningaloo Vision and will process, store and offload crude.
Production was initially scheduled to start in March 2009; however a fire aboard the Ningaloo Vision in the Keppel Shipyard in Singapore pushed back the start-up date to early 2010.
Van Gogh is expected to produce about 20,000 b/d.
Apache operates the project with 52.5% interest with Inpex holding the remaining 47.5% interest.
Gulf of Mexico
Cascade and Chinook
The Cascade and Chinook fields are due onstream in Q1 2010. The two gas and condensate fields will be tied back to the Chinook FPSO in the Chinook field in Walker Ridge Blocks 469 and 206. The fields are on the outer continental shelf in about 8,200 ft of water.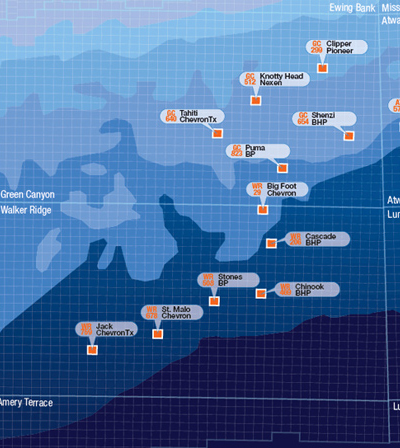 Walker Ridge & Green Canyon
BHP first drilled the Chinook field in 2000, but did not drill deep enough. BHP went back in 2003 and drilled down to 27,652 ft where it was successful.
Petrobras operates Chinook with 66% interest and Total has 33% interest.
Cascade is in Walker Ridge blocks 205, 206, 249, and 250. The C.R. Luigs drillship drilled the discovery well in 8,200 ft of water. Several wells from the Cascade field will tie back to the FPSO on the Chinook field.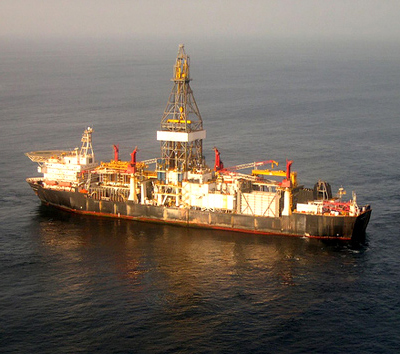 GSF CR Luigs
Devon Energy has operated the Cascade field with 50% interest. Petrobras holds the remaining 50% interest. However, in accordance with Devon's planned exit from offshore activity, the operator entered an agreement to sell its interest in Cascade to Maersk late last year. As such, Petrobras recently exercised its preferential right to buy out Devon's stake, and the deal, which is expected to close within two months, will result in the Brazilian NOC wholly owning and operating the field.
This project has grabbed a lot of attention because it will employ the first FPSO in the GOM in the deepest waters to date. Shuttle tankers will transport oil to the Gulf Coast where it will be exported through pipelines.
The FPSO has a storage capacity of 500,000 bbl and a maximum production rate of 80,000 bop/d and 460,000 MMcf/d.
Perdido Project
Also due to start producing early this year is the Perdido Project in Alaminos Canyon Block 857. The Perdido Hub is SPAR, which will produce the oil and gas from three fields - Great While, Silvertip, and Tobago.
Located in the Perdido fold belt, the spar was installed in August 2008 in 7,817 ft of water using nine chain and polyester rope mooring lines about 2 mi long.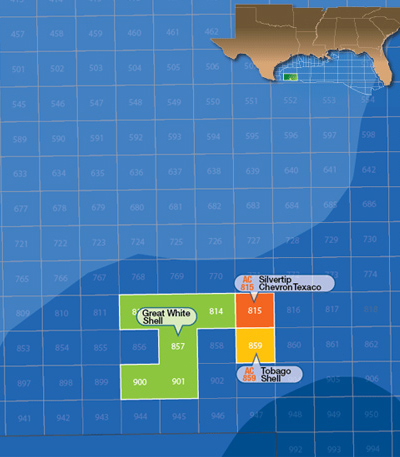 Perdido Project
The project has set several world records including the deepest oil development, deepest drilling and production platform, and the deepest subsea well.
Great White is in Alaminos Canyon Blocks 812, 813, 814, 857, 900 and 901. The Deepwater Nautilus semisubmersible drilled the discovery well in 2002 to 19,907 ft TVD. Shell is the operator of Great White with 33.34% interest with Chevron and BP with 33.3% each.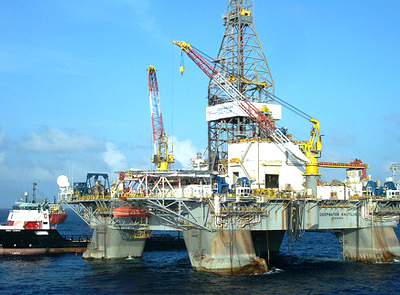 Deepwater Nautilus
Silvertip is in Alaminos Canyon Block 815 in 9,200 ft of water. The discovery well was drilled to 14,788 ft TD. Shell operates the field with 40% interest, and Chevron owns the field with 60% interest.
Tobago is is Alaminos Canyon Block 859 in 9,600 ft of water. It is the deepest subsea completion to date, surpassing Silvertip's record. The discovery well was drilled to 18,510 ft TD. Shell operates the field with 32.5% with Chevron 57.5% and Nexen 10%.
The Perdido Hub will begin producing in early 2010, and all wells are expected to come online by 2016. The SPAR is designed to produce 100,000 b/d and 200 MMcf/d.
Shell operates the spar with a 35% share with BP 27.5% and Chevron 37.5%.
Telemark Project
Another production hub will come online in the GOM this year. In early 2010, the Telemark Project will start producing from the Mirage and Morgus fields in the Central GOM to the ATP Titan Hub. Later, in Phase 2, the Telemark field will be brought online.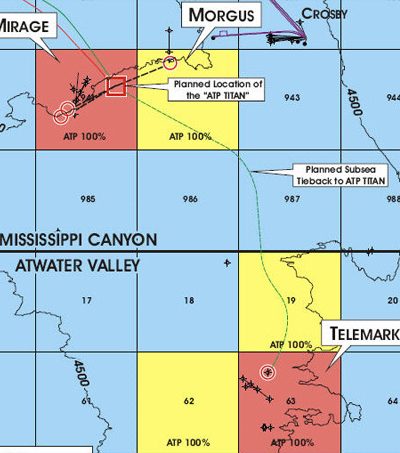 The Greater Telemark Area
The Mirage field is in Mississippi Canyon Block 941 in 3,800 ft of water and the Morgus field is in Mississippi Canyon Block 942 in 4,304 ft of water. Combined, the fields hold about 190 Bcf.
Mirage is operated by ATP with a 25% interest; StatoilHydro owns the remaining 75% interest. Morgus is operated by ATP, but StatoilHydro owns 100% of the interest.
Phase 2 of the project solely focused on the Telemark field, which is in Atwater Valley Block 63 in 4,300 ft of water. The Mirage and Morgus fields are about 7 mi north of Telemark.
Initial production plans called for Telemark to have its own production hub; however, ATP, the field owner decided to tie it back to the ATP Titan.
ATP owns Telemark with 97% interest; BHP Billiton holds 1% interest, Chevron holds 1% interest, and Eni holds the remaining 1% interest.
The production hub is a MinDOC 3, which has vertical columns arranged in a triangular shape and connected to pontoons. It looks like a semisubmersible; however, the hub behaves like a spar in terms of stability and dynamic response to waves. The facility has a capacity of 25 Mb/d and 60 MMcf/d.
In Phase 1, the ATP Titan will be moored at the Miage and Morgus fields to finished drilling three wells and serve as the production facility for the life of the field. It will then move to the Telemark field to recover its remaining reserves.
It is possible that the Oasis field, which is 100% owned and operated by APT on Mississippi Canyon Block 943 will be tied-back to the platform as well.
North Sea
Babbage Field
The Babbage gas field, on Block 48/2 in the Southern North Sea, is expected to come online in Q2 2010. First discovered in 1988, the well flowed at a low rate and was plugged and abandoned. But in 2006, an appraisal well drilled to 11,000 ft TVD flowed at 11 MMcf/d and a flow test estimated 390 Bcf of gas-in-place.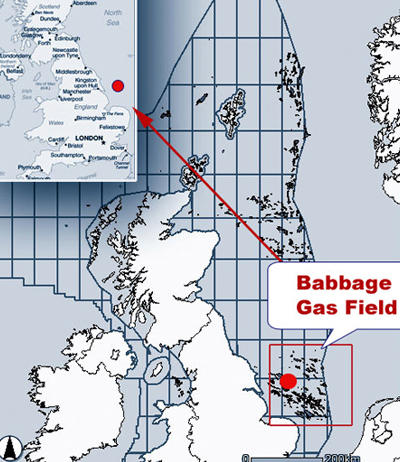 Babbage Gas Field
The Babbage platform is in 42 m of water and will receive gas from five subsea wells, which will be drilled in two phases this year. The field is expected to produce more than 5 Bcf., which will be transported to shore via pipeline.
E.ON Ruhrgas serves as the operator and holds a 47% interest; Dana Petroleum holds 40% interest; and Centrica Resources holds the remaining 13% interest.
Gjoa Field
In the Norwegian North Sea, the Gjoa field is expected to come online in Q3 2010. The field, which is on Blocks 35/9 and 36/7, is the largest field development project on the Norwegian Continental Shelf with estimated reserves of 82 MMbbl and 1.4 Tcf.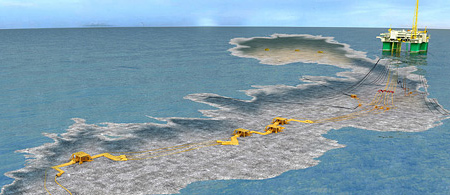 Gjoa Field Development
Discovered in 1989, it took almost 20 years for the licensees to agree on a field development plan. Gjoa is being developed by a semisubmersible production platform tied-back to five subsea templates.
Production is expected to commence in September 2010 and recovered hydrocarbons will be transported to shore in existing pipelines.
In addition, two satellite developments, Vega and Vega South, will be tied back to the platform.
Vega, on Blocks 35/8 and 35/11, includes the Camilla, Belinda, and Fram B discoveries made in the early 1980s. Vega is in 1,247 ft of water and has estimated recoverable reserves of 636 Bcf and 26 MMbbl. Vega will be developed via two subsea templates tied-back to the Gjoa semisubmersible platform.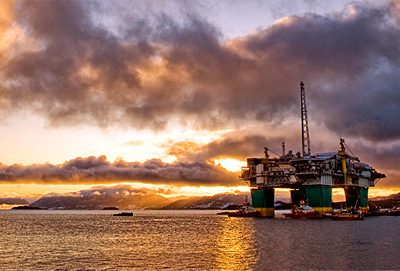 Gjoa Platform
Vega South is a gas and condensate field discovered in 1987. The satellite field is on Block 35/9 and will first be tied back to Vega and then to the Gjoa platform. Production from Vega and Vega South is expected to start in October 2010.
It is also possible that the licensees will tie-in the Aurora field (PL195).
Statoil is operator during the development phase of the Gjoa field. The plan is for the platform and the field to be handed over in October 2010, to GDF Suez E&P Norge AS, who will be operator during the production phase. Gjoa will be GDF Suez's first operatorship for a field in operation.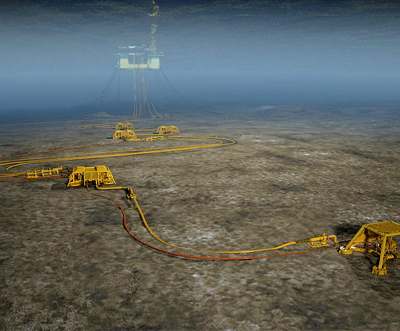 Gjoa
West Africa
Ebok Field
The Ebok oil field on Block OML 67 offshore Nigeria is expected to come onstream in early 2010.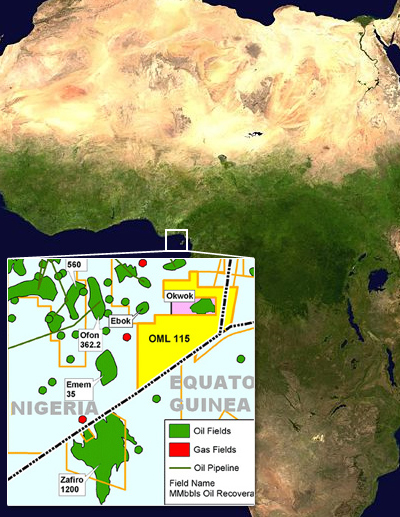 Ebok
The discovery well was drilled in 135 ft of water back in 1968. Within a couple of years, two more appraisal wells were drilled; however no development plans were made.
In 2007 Oriental Energy acquired a 100% interest in the field from the Nigerian National Petroleum Corp and Mobil. Oriental Energy then farmed out a 40% interest to Afren. The new partners leased the Transocean Trident IV jackup to drill the fourth appraisal well, which tested at 1,544 b/d and was estimated to contain between 52-106 MMbbl.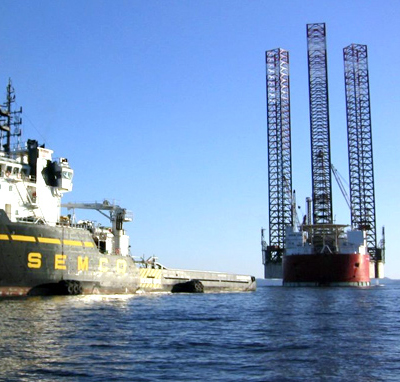 Trident IV
The approved development plan calls for installing an early production system on Ebok to produce 15,000 to 25,000 b/d from at least five horizontal production wells and one water injection well tied back to an FPSO. Once online, a second development phase to drill eight more wells would commence. The second phase is expected to increase the field's production to 50,000 b/d by the end of 2010.
Jubilee Field
One of West Africa's biggest oil finds, the Jubilee field, is expected to start production sometime this year. The field straddles two licenses, Deepwater Tano and West Cape Three Points in about 3,600 ft of water and is estimated to contain recoverable reserves if 1.2 Bboe.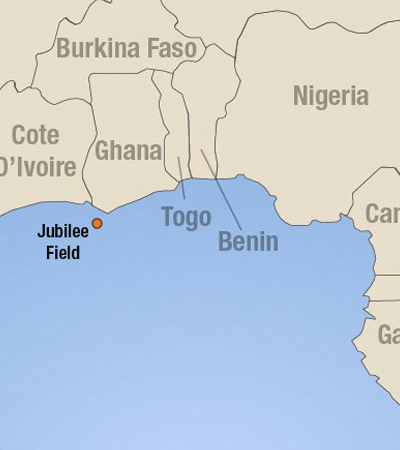 Jubilee Field
Anadarko made the discovery off Ghana in 2007 with the first well, Mahogany-1 on the Tano License, in 4,331 ft of water. The well contained a gross hydrocarbon column of about 866 ft. The Hyedua-1 well was the second to be drilled. It confirmed 1,184 ft of a hydrocarbon column. After the wells were drilled, they were renamed Jubilee.
In 2009, the Eirik Raude semisubmersible drilled a third well, the Magogany-3, on the West Cape Three Points License and encountered 52 feet (16 meters) of high quality stacked oil-bearing sands in 4,055 ft of water. The partners leased the Blackford Dolphin semisubmersible to drill a fourth well, the Hyedua-2 in the Tano license. Flow tests showed production flowing at 16,750 b/d and 21 MMcf/d.
Eirik Raude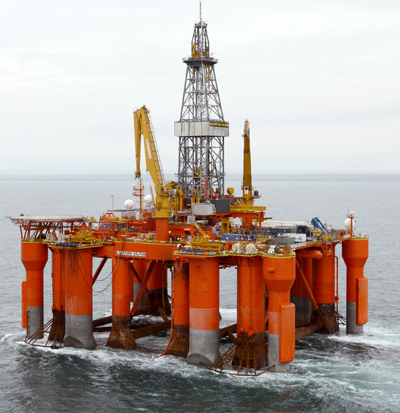 Blackford Dolphin
Jubilee will be developed in several phases due to the large amounts of oil discovered. Phase 1 will tie back 17 subsea fields - nine oil producers, five water injection wells and three gas injection wells - to the Kwame Nkrumah MV21 FPSO. The FPSO will be moored in 3,609 ft of water and will be capable of processing more than 120,000 b/d and 160 MMcf/d. Phase 1 development will produce in about 300 MMbbl.
The Jubilee Field and the Tano license is operated by Tullow Oil 49.5% with partners Kosmos Energy 18%, Anadarko Petroleum 18%, Sabre Oil & Gas 4.05%, and the Ghana National Petroleum Corp. 10%.
The West Cape Three Points license is operated by Kosmos Energy 30.88% with partners Tullow Oil 22.9%, Anadarko Petroleum 30.87%, the E.O. Group 3.5%, Sabre Oil & Gas 1.85%, and the Ghana National Petroleum Corp. 10%.
Follow these and other development projects as they come onstream by visiting SubseaIQ.com.