Analysis: 2009 Top Discoveries
Rigzone Staff
|
Friday, January 22, 2010
Looking back at 2009, crude oil prices rebounded nicely from the 2008 rollercoaster of record highs and devastating lows. The recovery, which primarily occurred in the last three quarters of the year, made it one of the strongest years for crude oil since 1973 on a percentage gain basis. Crude oil gained about 75% in 2009, and natural gas ended the year flat compared to 2008.
However, 2009 will also be remembered for its significant offshore oil and gas discoveries worldwide. Of the 10 top discoveries for the year, two were made in the GOM, two were found off Australia, and one each off Brazil, China, Israel, the UK, Venezuela, and West Africa.
Gulf of Mexico
Buckskin
Chevron kicked off the year with a major oil discovery at the Buckskin prospect in Keathley Canyon Block 872 in the deepwater GOM. The block is about 44 mi west of Chevron's 2004 Jack discovery, which also is in the lower tertiary.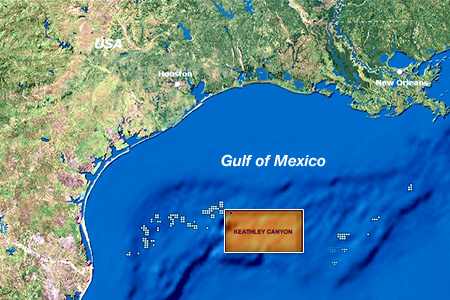 Keathley Canyon Block
The Stena DrillMax drillship drilled the Buckskin No. 1 discovery well in 6,920 ft of water to 29,404 ft and encountered more than 300 ft of net pay.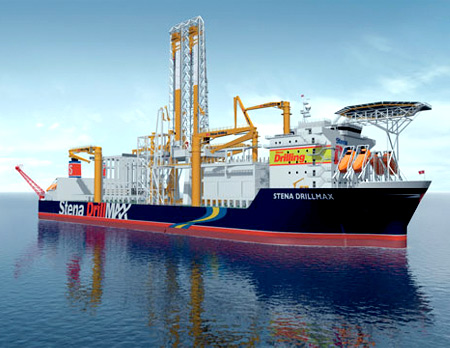 Stena DrillMax
After the discovery, Chevron made plans to drill four wells in the Keathley Canyon area from September 2009 through Q2 2011 to evaluate the discovery.
Chevron operates the field with a 67.5% working interest, while Repsol holds 12.5% and Maersk 20%.
Tiber
In September, BP also made a huge discovery in Keathley Canyon at its Tiber Prospect on Block 102. Transocean's Deepwater Horizon semisubmersible drilled the Tiber well in 4,132 ft of water to 35,055 ft TD, which was the deepest well ever drilled to date. Oil was found in multiple Lower Tertiary reservoirs, where the major made the Kaskida discovery in 2006.
BP said the Tiber discovery likely contains more than 3 Bbbl of oil. Though exciting, it could take BP up to seven years to bring the well online, and additional appraisal wells are likely.
Tiber is operated by BP with a 62% percent working interest with co-owners Petrobras 20% and ConocoPhillips 18%.
Australia
Poseidon
The Karoon Gas Joint Venture made a significant discovery WA-315-P in the Browse Basin offshore Western Australia. The JV announced that it had struck a 200 m gas column in the Poseidon-1 well, which is over 100 m below the trap crest of the Poseidon structure with a gross gas column of over 430 m. The area of the structure was initially said to be around 280 sq km, but is undergoing re-mapping.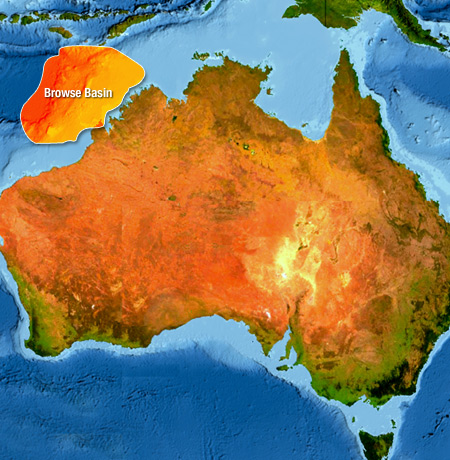 Browse Basin
The Sedco 703 semisubmersible drilled Poseidon-1, which is operated by ConocoPhillips. Poseidon-1 is the first well in a multi- well drilling program in the Browse Basin permits WA-314-P, WA-315-P, and WA-398-P.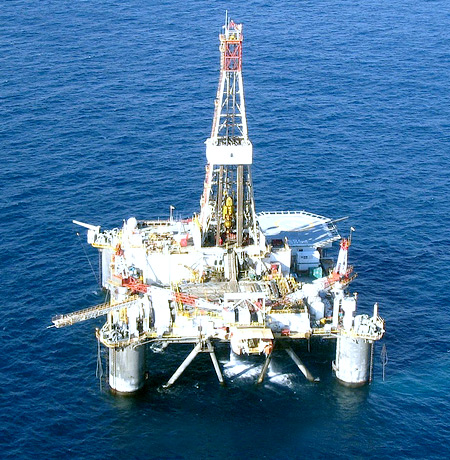 Sedco 703
WA-314-P and WA-315-P are owned by Karoon Gas Australia Ltd. 49% and ConocoPhillips 51%. WA-398-P is owned by ConocoPhillips 60% and Karoon Gas Australia Ltd 40%.
Poseidon is near Inpex Holding's Ichthys field, which is expected to have an initial capacity to produce more than 8 MMt/yr of LNG, approximately 1.6 MMt/yr of LPG, and 100,000 b/d of condensate at peak. Thus, some believe Karoon and ConocoPhillips could have struck one of Australia's biggest gas resources. And Karoon CEO Robert Hosking stated that the discovery could contain as much as Woodside Petroleum's first North West Shelf discovery, which supplies Australia's biggest LNG export terminal.
Poseidon-1 was plugged and abandoned due to a mechanical failure while attempting to retrieve a lining hanger setting tool. The well was plugged above planned test intervals, thus the planned production tests could not be run.
In late May 2009, Jim Mulva, ConocoPhillips Chief Executive and Chairman, said the trend area in which the JV has its permits contained at least 16-20 tcf of gas.
Furthermore, a ConocoPhillips spokesman said, "While we are encouraged by the results of our discovery, Poseidon is a large, complex feature that will require a series of appraisal wells to determine both size and commerciality."
The second well drilled, Kontiki-1, was unsuccessful. The JV drilled the Poseidon-2 with the Transocean Legend semisubmersible in December, and recent indications are that the results from the well are inconclusive. The JV will drill at least two more wells, Lion-1 and Kronos-1.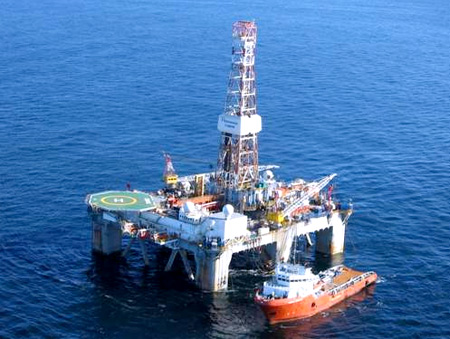 Transocean Legend
Greater Pluto Project / Martell
Woodside made a discovery in the Greater Pluto Area in Western Australia's Carnarvon Basin. The Martell-1 exploration well in permit WA-404-P indicated a gross gas column of about 110 m in good quality reservoir sandstones.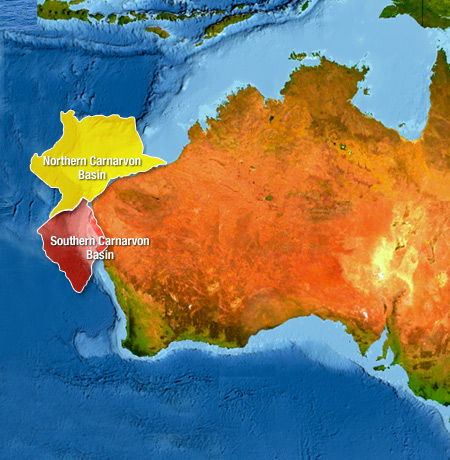 Carnarvon Basin
The Martell-1 well is about 290 km from Karratha and 100 km northwest of the Pluto field in about 1,290 m of water. The Atwood Eagle semisubmersible drilled the Martell exploration well as part of a wider exploration campaign for Pluto Train 2. The Pluto LNG Project is one of the fastest developing LNG projects from discovery of the gas field in 2005 to the production of first gas, which is expected in late 2010.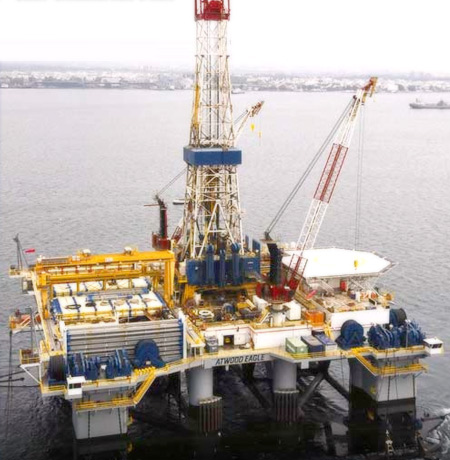 Atwood Eagle
The Pluto LNG Project will process gas from the Pluto and Xena gas fields. The Pluto gas field is estimated to contain a total dry gas recoverable reserve volume of 4.4 Tcf. Xena is a smaller gas field with an estimated dry gas recoverable reserve volume of 0.6 Tcf.
Woodside is operator of WA-404-P and has a 50% equity interest. Hess Exploration (Carnarvon) Pty Ltd. has the remaining 50% equity
Brazil
Abare West
Petrobras made a discovery at its Abare West well in September. The well is in the Santos Basin pre-salt BM-S-9 concession area in ultra-deepwater off Brazil. Abare West is in 2,163 m of water and was proved via oil, natural gas, and carbon gas content sampling via a cable test carried out in reservoirs at 5,000 m deep. Analyses are being carried out with the samples that were recovered. The number of recoverable barrels is still unknown.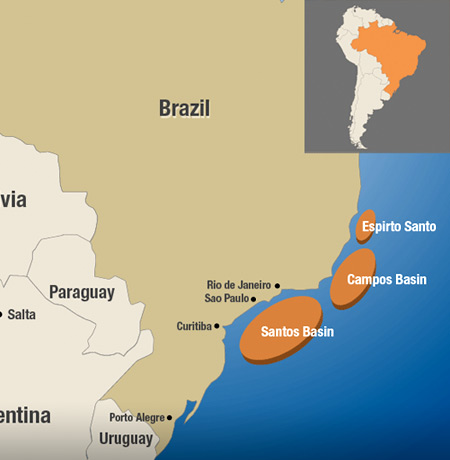 Santos Basin, Campos Basin, Espirito Santo
However, the outlook from the partners is optimistic. Petrobras CEO Jose Sergio Gabrielli said in August that the company will increase its oil reserves by 21 Bbbl in the next few years, from 14 Bbbl to 35 Bbbl by 2013. And BG Group (a 30% partner in the well) Chief Executive Frank Chapman said, "It is clear that the Santos Basin pre-salt will make a very material contribution to the production and cash flow of BG Group for many years to come."
The partners plan to develop several wells in the area, including the Iguacu discovery well, which was drilled in April 2009, and the Carioca discovery well, which was announced in September 2007. Abare West is approximately 30 km from the Iguacu discovery and 40 km from the Carioca discovery and 50 km to the west of the Guara discovery, which was discovered in June 2008. Guara has estimated recoverable reserves of 1.1 - 2 Bboe.
The Petrobras-led consortium will install production facilities on Guara. Produced hydrocarbons will flow through a 120,000 b/d FPSO, with first production expected in 2012.
Petrobras operates the Abare West well with 45% with partners BG Group 30% and Repsol 25%.
China
Liwan 3-1
In February, Husky Energy announced that it made a major gas discovery offshore China. The Liwan 3-1 field is on Block 29/26 in the South China Sea.
The West Hercules semisubmersible came out of the shipyard and started drilling the appraisal well in late 2008 in 1,345 m of water in the Pearl River Mouth Basin. The Liwan appraisal well was drilled to a 3,887 m TVD.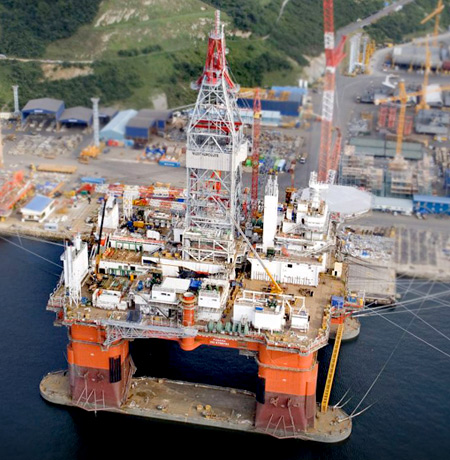 West Hercules
The well flowed at an equipment restricted rate of 53 MMcf/d, which could be about 150 MMcf/d. The Liwan 3-1-2 appraisal well, which was logged, encountered 36 m of net gas pay over the main reservoir zone.
Husky is the operator and signed the production sharing agreement with China National Offshore Oil Corporation (CNOOC) for Block 29/26 in August 2004. CNOOC has the right to participate in the development for up to 51% working interest.
Israel
Tamar
In January 2009, Noble Energy made a natural gas discovery at the Tamar prospect in the Matan License, offshore Israel. The Atwood Hunter semisubmersible drilled the Tamar No. 1 well in 5,500 ft of water to 16,076 ft TD, where it encountered more than 460 ft of net pay in three high-quality reservoirs.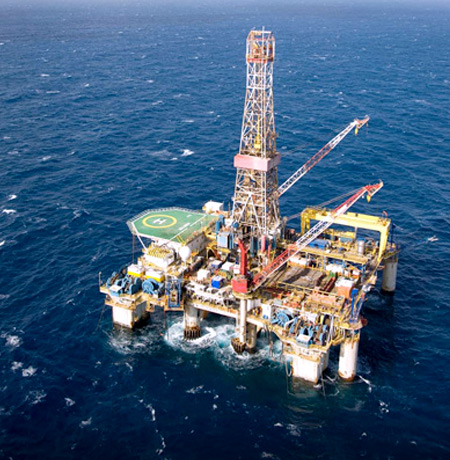 Atwood Hunter
Initial testing yielded a flow rate of 30 MMcf/d of natural gas, but was limited by testing equipment available on the rig. Performance modeling indicated the well could achieve a production rate of over 150 MMcf/d.
After analysis of all the post-drill and production test data, the estimated gross mean resource potential of Tamar was increased to 5 Tcf.
The Atwood Hunter also drilled the Tamar-2 appraisal, which also encountered gas, and the Dalit-1 well, also offshore Israel in the Michal License, which encountered gas.
Noble Energy operates the well with a 36% working interest with partners Isramco Negev 2 with 28.75%, Delek Drilling 15.625%, Avner Oil Exploration 15.625%, and Dor Gas Exploration 4%.
UK
Carna
Venture Production completed drilling its Carna exploration gas well in March.
The ENSCO 92 jackup drilled to 11,500 ft TMD and encountered a gas column of 1490 ft TVD and net pay of 127 ft TVD. The well tested at a gross rate of 9 MMcf/d on a 48/64th choke from a vertical well penetrating the Carboniferous formation.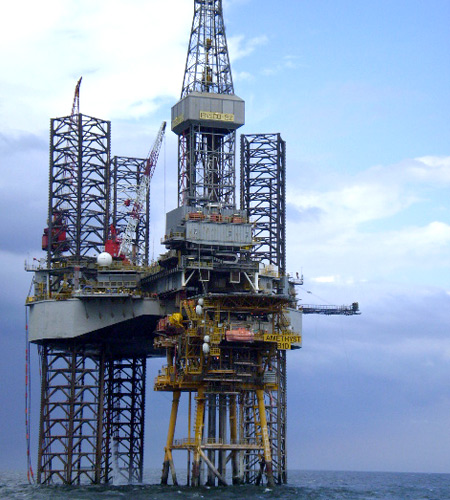 ENSCO 92 Jackup
Carna has an estimated net gas in place ranging from 95 to 185 Bcf. However, there are five other potential follow-on prospects in the surrounding Greater Carna Area, which are expected to contain an additional net gas in place ranging from 104 Bcf to 390 Bcf, but, as yet, remain undrilled.
Venture Production operates the well with 56% interest.
Venezuela
Perla
Repsol YPF SA made a giant gas discovery in shallow waters of the Gulf of Venezuela in September. The Perla field is on the Cardon IV block in the Gulf of Venezuela, and contains a reserve potential of more than 6 Tcf. Further appraisal wells will be drilled to define the field. Perla is the largest gas discovery in Venezuela and may be one of the world's largest natural gas discoveries.
The ENSCO 68 jackup encountered a hydrocarbon column of 240 m (775 ft). Production tests revealed high quality gas with a capacity of 600,000 cm/d and 500 b/d of condensate. Normalized gas production is expected to increase to over 1 MMcm/d per well. Repsol is now drilling an appraisal well, Perla 2X.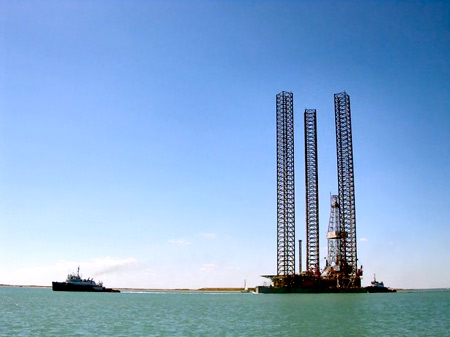 ENSCO 68 Jackup
A Joint Operating Company equally shared by Eni and Repsol operates the Cardón IV block. Petróleos de Venezuela S.A. owns a 35% back-in right in the development phase and, if exercised, Eni and Repsol will each hold a 32.5% interest in the project.
West Africa
Tweneboa & Sankofa
Two discoveries in 2009 are likely to be tied back to Ghana's Jubilee field, one of West Africa's biggest oil fields, which is estimated to contain recoverable reserves of 1.2 Bboe. Jubilee is being developed via an FPSO. First production is expected in late 2010.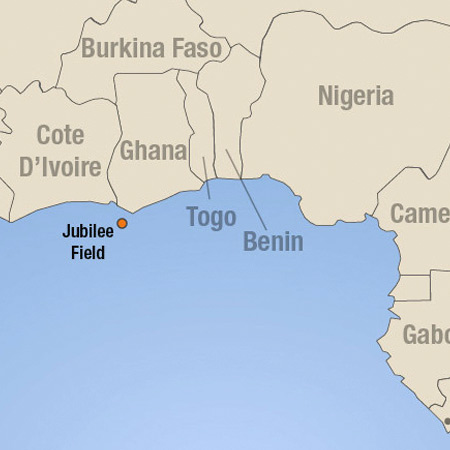 Jubilee Field
Jubilee is located on two licenses, Deepwater Tano and West Cape Three Points.
The first of two additional discoveries in the area, Tweneboa, is in the Deepwater Tano License, 16 miles west of Jubilee. The discovery, which was drilled by the Eirik Raude semisbumersbile in March 2009, is in 3,766 ft of water.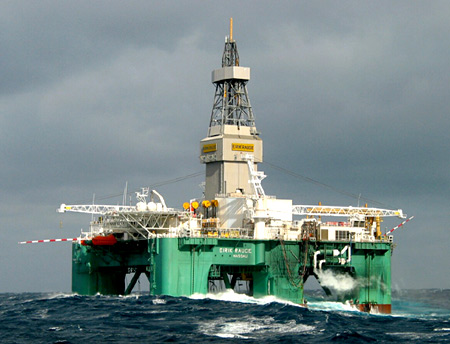 Eirik Raude
Initially the well, Tweneboa-1, was drilled to 11,788 ft TD and encountered 69 ft of net pay; however it was later deepened to 12,920 ft and found 13 ft of highly pressured oil bearing sands at 26 degrees API. Tullow, the operator, plans to further explore the area, and just this week announced that the Tweneboa-2 exploratory appraisal well intersected a significant combined hydrocarbon column, which indicates the presence of a highly prospective and extensive turbidite fan system that will be evaluated with additional drilling.
Tullow holds a 49.95% interest with Kosmos Energy 18%, Anadarko 18%, Sabre Oil & Gas 4.05%, and the Ghana National Petroleum Corp. 10%.
Discovered in September, the Sankofa oil and gas field is in 2,841 ft of water in the Cape Three Points Block. It is 24 mi east of the Jubilee field and contains the same reservoir sands as Jubilee, confirming the prospectivity of the Upper Cretaceous reservoir sands found in the block.
The Blackford Dolphin semisubmersible drilled the Sankofa well to 10,085 ft TD and encountered a net hydrocarbon column of 118 ft with 108 ft of gas and 10 ft of oil.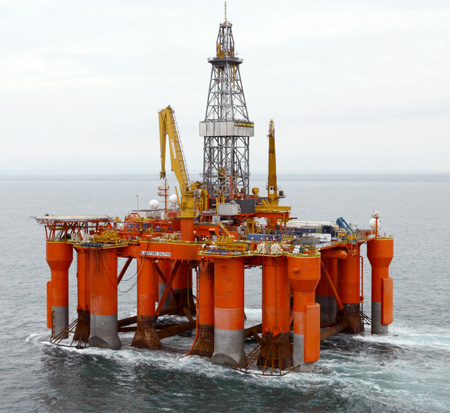 Blackford Dolphin
Vitol operates the discovery with a 90% interest and GNPC holds the remaining 10%.
Follow these discoveries as they come onstream at SubseaIQ.com.