Analysis: 2010 Land Rig Market Outlook
by Joseph Triepke
|
Rigzone
|
Thursday, January 14, 2010

With 2009 in the books, we are providing thoughts and forecasts for the land rig market in the year ahead. This is the sixth and final installment in a series of articles that review the 2009 and preview the 2010 jackup, floater and land rig markets.
With oil prices recently hovering in the $70-$85 range and North American E&P capex expected to rise from 2009 levels next year, the rig count recovery that began in the second half of 2009 appears poised to carry forward into the New Year. As discussed in further detail below, we forecast the U.S. land rig count to rise throughout 2010, exiting the year near 1,385 rigs (compared to 1,167 today). Notable land rig market dynamics to monitor in the New Year include the ongoing secular shift toward horizontal drilling (which has already marginalized some lower spec supply), the rig supply overhang facing the Lower 48 market and uncertainty over the ultimate impact the shale plays will have on natural gas supply/demand fundamentals. In the sections below, we preview what 2010 has in store for the land rig markets in the U.S. as well as some select international regions.
Context for the 2010 Land Rig Market
As the new decade gets underway, the total U.S. land rig count remains about 30% below levels a year ago. However, contrary to the downward trend a year ago, the rig count is moving higher as 2010 begins. Notable differences in the granularity of the rig count relative to prior years include the heavier weightings of oil directed drilling and horizontal drilling in the active rig fleet. In terms of results reported by the large drilling contractors we monitor, utilization stands out as the biggest negative relative to a year ago. Reported margin and dayrate figures remain close to year ago levels, on average, supported by term contracts and the mix shift toward higher spec rigs in the active fleet as utilization has declined.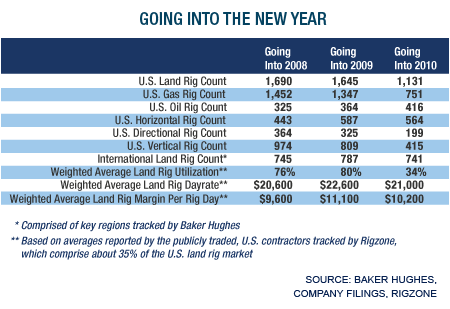 The graph below shows the roller coaster land rig market participants have been riding lately - a long climb beginning in 2003, a seemingly vertical drop off in 2008-2009 and now another rise fueled by shale activity and higher crude oil prices (more details can be found in our 2009 Land Rig Market Review). While more thrills may be in store, proprietary forecasts prepared by our RigOutlook modeling team forecast the U.S. land rig count to trend gradually higher going forward. The graph below reflects both the historical rig count and our latest projections for the total U.S. land rig count in 2010. Additional forecasts and more details on our expectations for the U.S. rig count in 2010 are provided later in this report.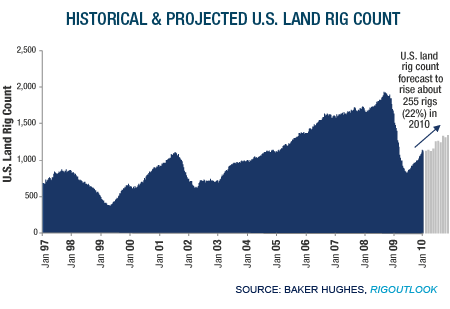 The production impact from a potential ramp up in rig count and more shale activity should be monitored in 2010, although production declines will likely continue to show up in reported production statistics due to reduced drilling activity over the last 18 months. In fact, the EIA expects a 3% decline in 2010 U.S. natural gas production due to steep declines from initial production for recently drilled wells and the lagged effect of lower drilling activity levels in 2009.
E&P Prospects Looking Rosier as 2010 Gets Underway
Exploration and production companies are starting the year with several advantages working in their favor including lower service/drilling costs, drilling efficiency gains, a rebound in commodity prices and a smattering of borrowing base increases. After sharply curtailing investment plans in 2009 on the heels of the credit crunch and economic collapse, a sense of renewed optimism among E&P companies has surfaced during 2010 budgeting season.
Plans to increase land rig counts in 2010 have been enunciated by E&P company after E&P company. Multiple E&P management teams have discussed strategies to lock in oil service and drilling costs in the late-2009 to early-2010 time frame to ensure that they will be able to operate with lower cost structures throughout the year. While this is unlikely to have a big impact on drilling rig dayrates near-term given the amount of idle capacity yet to be absorbed, it is likely to help tighten the market and result in improving utilization for land rigs over the course of the year.
North American E&P Budget Increases Bode Well for Activity Levels
Given the direct ramifications of E&P capital expenditure programs on rig count and demand for other oil services, we have undertaken a study to evaluate the direction of E&P spending plans for 2010. Specifically, we have focused our efforts on about 30 E&P companies active in the Lower 48 land market. When possible, the portion of capital budgets allocated to U.S. exploration activities targeting onshore prospects has been isolated. Flushed out in more detail below, the punch-line of our capital budget evaluation is an expected 10% year-over-year increase in E&P spending plans targeting North American land plays.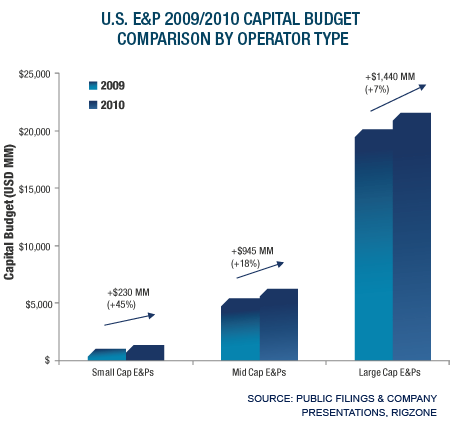 For the sample of about 30 E&P companies we considered, planned 2010 U.S. spending totals $28.6 billion, compared to $26.0 billion in 2009. Not surprisingly, the biggest increase in spending plans was found for the small cap independents (+45%), followed by the mid cap independents (+18%) and finally the larger E&P companies (+7%). Less than five of the companies we evaluated plan to materially decrease their 2010 budgets (by 5% or more), and roughly half plan to expand their budgets by 20% or more. The chart below lays out the estimated percentage change in planned budgets from 2009 to 2010 for each company we evaluated.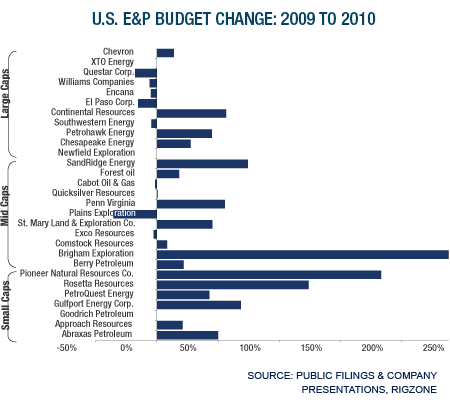 Many of the companies in our study appear to be basing their capital spending budgets on oil prices under $80 and natural gas prices at or under $6.00, which implies some upside to planned spending levels if commodity prices rise above these levels for a significant portion of 2010. Furthermore, while most of these companies are planning to spend within cash flow, we are impressed with the level of reinvestment indicated by our budget study.
Study Constituents Comprise Over One-Third of the U.S. Land Rig Market
While there are many E&P companies involved in plays in the Lower 48, we believe our sample provides a good cross section of operators in the land rig market as the companies we studied currently account for more than one-third of the total land rig count. Shown below is the number of land rigs deployed by the companies in our study today as well as near the peak and bottom of the market. This universe of E&P companies still has about 25% fewer rigs contracted today than near the peak of the market, but the rig count for these companies has already recovered about 35% from the bottom.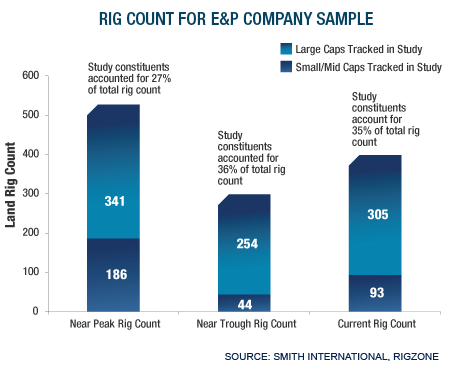 Enhanced Drilling Efficiency and Lower Service Costs Support Budget Increases
While the commodity price rebound and the fact that 2009 budgets were slashed certainly explains a portion of the 2010 budget increases, we believe the extent to which drilling/completion costs have declined and drilling efficiency gains are also key factors in the budget and planned rig count increases at this stage in the cycle. Quite simply, better well economics and higher returns are attracting more investment dollars from E&P companies.
One mid cap independent E&P company recently noted that its cost for a completed well in the Piceance Basin is currently tracking around $1.7 million, which is down 20% from the cost to complete a similar well a year ago of around $2.1 million. In the Williston Basin, operators have noted that drilling and completion costs are down about 35-45% relative to year ago levels. It is worth noting that these cost reductions are due to a combination of a reduction in drilling/completion days as well as the deflation in service/drilling costs.
A general consensus seems to be developing among E&P companies that well costs are not going to trend lower indefinitely and are currently approaching a floor. Thus, it seems that many operators, especially those with undeveloped shale acreage, are accelerating their drilling programs for 2010.
2010 RigOutlook for the Land Rig Fleet
With the momentum of 2009 rig count increases carrying into 2010, we expect the U.S. land rig count to rise gradually for the rest of the year. According to proprietary forecasts prepared by our RigOutlook modeling team, 2010 U.S. land rig demand is expected to average nearly 20% above the 2009 average, at around 1,230 units for the year. On the international front, the land rig count is forecast to average 710 units for the year, which is roughly in line with the 2009 average.
Our team's predictive land rig model passed the test of forecasting the most recent downturn in the Lower 48 land rig market. In fact, the model forecasted a peak in August 2008 (actual peak was in September), was off on the peak rig count by less than 5% and included a significant decline, although the actual decline was even deeper than our forecast.
On the international front, a diffusion of shale drilling technologies from the U.S. to international markets appears to be underway with unconventional gas being targeted in Eastern Europe, Canada and several other regions - a trend that is likely to drive demand increases for high spec rigs abroad.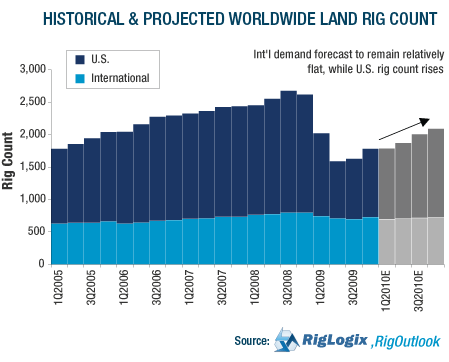 Drawn from the most recent edition of the RigOutlook Worldwide Land Rig Demand report, the charts below provide our expectations for land rig demand in 2010 for several key international markets. Interestingly, the rig counts in the Middle East and Latin America bottomed in late summer 2009, about two to three months after the other regions - a typical pattern that has played out in historical cycles. Canada remains a highly seasonal market, and we foresee the historical pattern of spring breakup followed by increased drilling activity in the latter part of the year playing out again in 2010.
When reviewing these graphs, please note that the blue line shows the actual number of rigs contracted. For dates in the past, the red line indicates the demand that was modeled using the RigOutlook mathematical model. For our 2010 forecast, the black line indicates a "bullish case" level of demand that might result in the event of oil shortages or supply interruptions that could drive demand above expectations. The green line presents a "bearish case" level of demand that could result if the economic recovery falls short of expectations. The orange line indicates the level of demand that we expect to see over the next year.