Analysis: Rowan's Premium Jackup Fleet to Grow in 2010
Rigzone Staff
|
Monday, December 28, 2009
Rowan Companies, founded in 1923, provides contract drilling services worldwide. Its high-specification, premium jackup rigs are used for exploratory and development drilling, and some are capable of drilling up to 35,000 ft in water depths up to 550 ft. Though offshore drilling is Rowans dominant segment, the company also owns 32 land rigs and owns and operates a manufacturing division, LeTourneau Technologies, Inc. (LTI), that produces equipment for the drilling, mining, and timber industries. In fact, LTI built the first jackup in 1955 and has designed or built more than 200 rigs since, including the company's fleet.
Today Rowan owns 23 jackup rigs (excluding five newbuilds), of which 16 are contracted and seven are ready stacked. Rowan also has five jackups under construction, which are uncontracted and have deliveries staggered through early-2012. Five of Rowans jackups are working in the US Gulf of Mexico, five are drilling in the Persian Gulf, two are working in the North Sea, and the company has one each working in the Red Sea, Canadian Atlantic, off West Africa and off Mexico.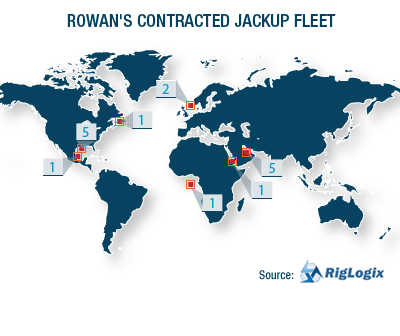 Rowans fleet includes 25 cantilever jackups (including the five rigs under construction), which can extend a portion of the substructure containing drilling equipment drawworks, derrick and related drilling equipment -- over the fixed production platforms. This allows the jackup to perform drilling operations with minimum interruption to production. The remaining three rigs are conventional jackups with skid-base technology. Thus, the rig floor equipment can be skidded out over the top of the fixed platform.
Rowans jackups are classified by the company based on their capabilities. The company has four Super 116E jackups under construction. These are enhanced versions of the 116-C, of which Rowan has seven in its fleet. The Super 116-C expands on its predecessor, the Super 116. Rowan has one conventional 116 jackup in its fleet. The basic 116-C design is capable of exploring, drilling and workovers in moderate storm locations in up to 350 ft of water.
The company also has three 240-C jackups (one of which is still under construction), which is LeTourneaus latest jackup design; four 225-C class jackups, which are Tarzan Class units; one 224-C jackup, which is a Super Gorilla XL design; three 219-C jackups, which is an enhanced version of the Super Gorilla class unit; three 200-C jackups, which is a Gorilla class unit designed for extreme hostile environments; and two conventional 84 class jackups. The Ralph Coffman, a 240-C jackup delivered in late December, is the latest addition to Rowan's fleet.
Of Rowans 23 jackups (excluding the five newbuilds), it has three rigs built before 1979, 10 rigs in the 21-30 year-old range, and ten rigs less than 20 years old, which averages out to be about 18 years old for the entire jackup fleet. Comparatively, the worldwide jackup fleet is about 24 years old. Looking specifically at other drilling contractors with large jackup fleets, Rowan has one of the youngest fleet ages and one of the highest concentrations of jackups delivered within the last 10 years. In the chart below, we present the average jackup fleet age for some of the major jackup contractors with at least 10 jackups in operation. Rowan places third, only falling behind the smaller fleets of Maersk and Aban. It is also worth noting that nearly 40% of Rowan's jackups were delivered within the last 10 years, a far higher percentage than the other large US jackup contractors.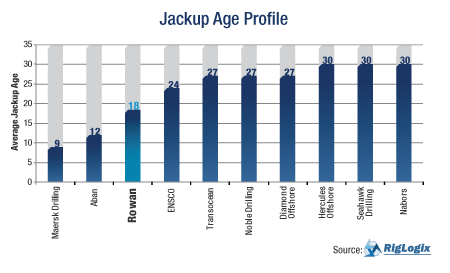 Furthermore, reviewing the same sample of jackup contractors described above, Rowan has one of the highest concentrations of premium jackups (350+ ft. water depth) and some of the highest spec units in existence. Excluding newbuilds, 70% of Rowan's jackups are capable of drilling in 350 ft of water or more.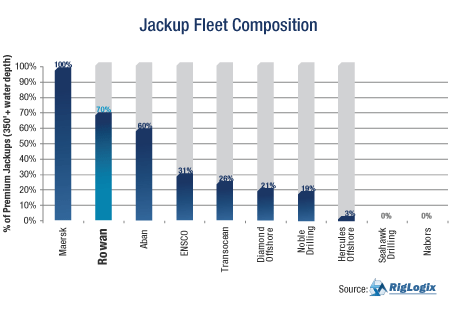 Rowan is currently averaging a dayrate in the high-$180s for its jackup fleet, which is more than the worldwide average dayrate in the low-$130s. The highest dayrate being earned by a Rowan jackup is in the mid-$370s for the Rowan Gorilla VI, which is the highest dayrate being earned by any jackup in the world today. Rowan's jackup utilization currently stands in line with the industry average at 70%; whereas in the first three months of the year, Rowan's jackup fleet was fully utilized. As the chart below shows, Rowan's fleet has historically maintained a high level of utilization and has enjoyed significant dayrate increases since 2005.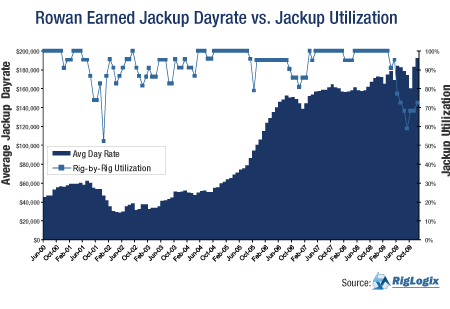 As discussed on the company's Q3 2009 conference call, Rowan has an optimistic outlook for the global jackup market, particularly in the Middle East, the North Sea and the Gulf of Mexico going into 2010. As evidence, the company disclosed that it had 19 active tenders for 23 rigs and was expecting another group of tenders for as many as 30 rigs for work in 2010. Furthermore, operators have discussed long-term contracts usually a sign of the bottom, as operators would push for shorter terms if they anticipated further dayrate declines. For a more detailed discussion of 2010 prospects for the global jackup market, please refer to Rigzone's 2010 Jackup Market Outlook.
However, the downturn in jackup demand is showing up in sequential comparisons for reported results as Rowan reported net income of $78.4 million in Q3 2009 (including a $17 million tax benefit), compared to $114.1 million in Q3 2008 and $96.6 million in Q2 2009. Rowans drilling operations generated revenues of $258.4 million in Q3 2009, down by 28% from Q3 2008 and down by 19% from Q2 2009 due primarily to lower rig utilization.
According to Matt Ralls, Rowan's recently appointed president and CEO, the companys Q3 2009 drilling and manufacturing results benefitted from contract backlog. He says excess rig supply should continue to put pressure on dayrates, but the company believes global demand for jackups and land rigs bottomed during Q3 2009. In addition, while many drilling tenders remain highly competitive, Rowan is seeing an increase in demand for high spec jackups for drilling projects. The company is encouraged by increased contracting activity in the North America land and jackup drilling markets, and optimistic regarding the multiple inquiries for our Super Gorilla Class rigs, especially in the North Sea.
Looking ahead, Rowan has several contracts due to expire in the next six months. In January 2010, the Rowan Paris and the Cecil Provine are due off contract. Also due off contract early in 2010 are the Gilbert Rowe (March), the Bob Palmer (May) and Rowan Gorilla VII (May).
As mentioned above, Rowan has seen an increase in tender activity globally as 2009 draws to a close. The Bob Palmer was recently being bid on multi-year contracts outside of the Gulf of Mexico, namely in the North Sea. But in late December, the high-spec jackup received a contract from El Paso, which will keep the unit in the U.S. Gulf of Mexico through May 2010 at a dayrate in the low-$100s. It remains to be seen if the unit will depart the Gulf of Mexico later in 2010.
Newbuilds
According to RigLogix, 58 newbuild jackups worldwide are scheduled to be delivered over the next two years. However, delays and cancellations for some of these units are likely given the speculative nature of some of the rigs on order and questionable financing for some of the more marginal contractors behind some of the orders.
Rowan is no stranger to newbuild rig cancellations. Though its fleet is due to grow by five jackups, earlier in 2009, the company had put two of those newbuilds on hold.
The Joe Douglas is a 240-C class jackup capable of drilling in up to 400 ft of water and down to depths of 35,000 ft. Earlier in 2009, Rowan had halted construction of the Joe Douglas due to concerns over the turmoil in the credit markets and the downturn in jackup drilling markets, Ralls, said. Based on improvements in the credit markets and our confidence in our liquidity outlook through 2010, (Rowan) elected to resume construction (in June 2009). The 240-C class rigs cost $165-$200 million to construct. Delivery is expected in Q3 2011.
LeTourneau designed the 240-C to be a significant upgrade of the original 116-C class, which was the workhorse of the global drilling industry since its introduction in the late 1970s. The 240-C class rigs have 2.5 million pounds of hookload, an 80 ft cantilever reach, and 491 ft of leg length.
The Ralph Coffman, a 240-C class newbuild, was delivered in late-December. McMoRan is scheduled to start its two-year contract with the Ralph Coffman in Q12010.
Rowan began construction of the Rowan Mississippi, sister rig to the Joe Douglas and the Ralph Coffman and the first 240C class rig, in 2007. The rig started its current contract with McMoRan in late 2008. McMoRan is using the rig to drill ultra-deep gas wells on the Gulf of Mexico shelf. The Rowan Mississippi has drilled the Ammazzo prospect and is currently sidetracking the Davy Jones prospect and will likely be used at Blackbeard.
Rowan also has four EXL rigs under construction. In late 2007, Rowan signed construction contracts with Keppel for four enhanced LeTourneau Super 116E class jack-up rigs. According to Rowan, the EXL will be capable of drilling high-pr ssure/high-temperature and extended-reach wells in jack-up markets throughout the world, and will be equipped with a hook-load capacity of 2 million pounds, 70 ft of cantilever reach, 477 ft of leg length, and the mud pumping horsepower to drill up to 35,000 ft. The company's first three EXL rigs are scheduled for delivery in Q2, Q3 and Q4 2010.
The fourth EXL jackup will be delivered Q1 2012 after a brief construction break in early 2009. Similar to the Joe Douglas, Rowan had suspended construction of the fourth EXL jackup, due to liquidity concerns and a weakening jack-up drilling market. But in Q3 2009, Rowan decided to resume construction of the rig based on positive changes to its liquidity outlook through 2010.
We are confident that there will be an increase in demand for very capable, high-specification jack-ups for deep, difficult wells going forward. Further, we believe the recovery outlook in global oil demand and a potential re-tightening of rig markets will have gained momentum by the time this rig is delivered in 2012," said Ralls.
Follow Rowan and its jackups worldwide by visiting SubseaIQ, or through RigLogix.