Analysis: 2009 Floater Rig Market Review
by Joseph Triepke
|
Rigzone
|
Thursday, December 17, 2009

As 2009 draws to a close and 2010 approaches, we are taking a look at the year behind us in the rig market and providing thoughts and forecasts for the offshore and onshore rig market in the year ahead. This is the third installment in a series of articles which will review 2009 and preview 2010 for the jackup, floater and land rig markets.
After drilling contractors posted record levels of earnings in the upcycle from 2004-2008, 2009 marked the beginning of an earnings descent likely to continue over the next year or two for many drilling contractors. When E&P spending and activity levels were curtailed in 2009, rig utilization and leading edge dayrates followed. For the drilling markets, 2009 was in many respects a transition period as market participants adjusted to a new reality defined by lower commodity prices, rig demand, dayrates and utilization. In the second half of 2009, some positive developments have emerged in most rig markets as crude oil prices have recovered materially off their lows, and the broader economy appears to have stabilized.
In the report below, we review 2009 for the floating rig market. Throughout the report, we refer to midwater, deepwater and ultra-deepwater floaters. To clarify, we define midwater floaters as semisubmersibles and drillships capable of operating in water depths less than 4,000 feet, deepwater as semisubmersibles and drillships with water depths of 4,000 feet to 6,999 feet and ultra-deepwater as those units with a water depth capability of 7,000 feet or more.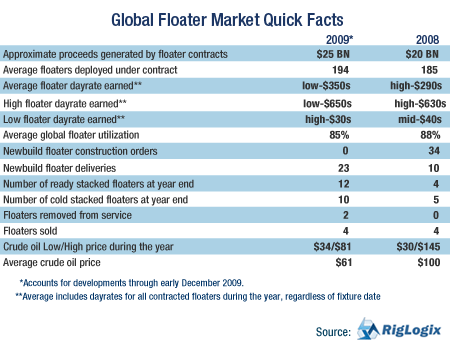 2009 Floater Market Review
Although the industry-wide downturn is not yet evident in many common measures of floating rig market strength, the downturn of 2008/2009 certainly marred 2009, which on paper is arguably the strongest year on record for the floating rig market. The 2008/2009 period exemplifies the floating rig market's resiliency to cyclical downturns in the near-term.
As the chart below shows, the worldwide floater rig count actually increased by almost 5% in 2009. This increase was largely due to a "carry forward" of strength from contracting activity prior to the peak of the upcycle in 2008. In fact, the only floater class that has actually sustained a rig count decline since the price of crude oil peaked and fell is the midwater segment, which is characterized by virtually no newbuild activity and shorter contract durations. In contrast, the deepwater and ultra-deepwater rig counts have increased since crude oil peaked, due to limited near-term availability, a significant backlog of long-term contracts and newbuilds delivered under contracts signed in the upcycle. As the year concludes, utilization for midwater floaters stands at 78%, below 91% for both deepwater and ultra-deepwater floaters.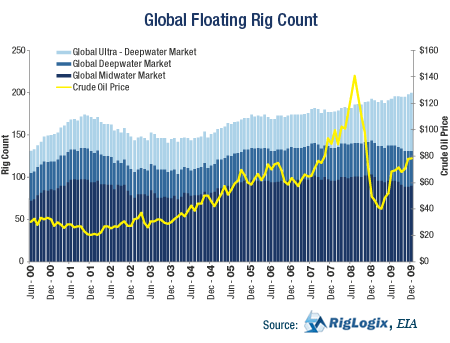 Although leading edge floater dayrates have dropped well below 2008 highs in 2009 (see discussion below), earned dayrates paint a picture of strength similar to rig count trends. In fact, earned dayrates continued to increase for the floating rig fleet throughout the year, and the deepwater and ultra-deepwater fleets are likely to post additional earned dayrate gains through 2011 as new contracts start up and newbuild rigs deliver to commence contracts already fixed.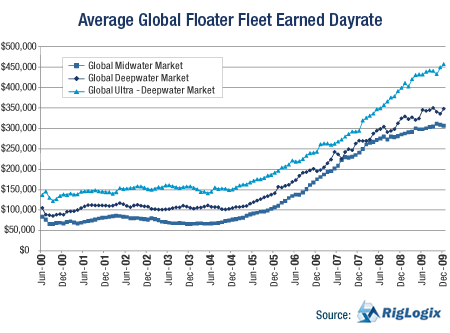 In 2009, the number of farmed out floater contracts has increased significantly as operators have sought to cut expenses by subletting slots of costly contracted time for ultra-deepwater floaters. In effect, increased levels of subletting cannibalize apparent near-term demand as operators become contractors by releasing contracted units into competition with available units. The chart below depicts the number of farmed out floater contracts we have identified over the course of this decade for the floater fleet, showing the large increase in ultra-deepwater subletting activity since mid-2008. This trend is particularly negative for deepwater units as the ultra-deepwater units being farmed out are likely to compete for work that might ordinarily be completed with deepwater units. Currently, two of the six ultra-deepwater semis currently farmed out are sixth generation units.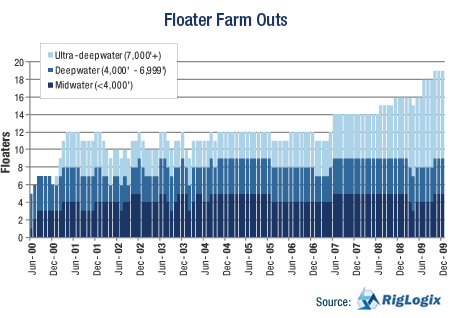 One differentiating factor worth noting between the jackup and floater markets in 2009 was the volume differential in cold stacking activity. While cold stackings have likely aided in the recent stabilization of the jackup market (see our recent 2009 Jackup Market Review article for more details), aggressive cold stacking has not been observed in the floating rig fleet largely due to the fact that utilization has held up well for floaters to date. In 2009, global floater utilization only declined from 89% to 85%, compared to a decline of 17% in total utilization for jackups. While the number of jackups cold stacked in 2009 (41) significantly exceeded the number of jackups delivered (24), only five incremental floaters were cold stacked. It is worth noting that all 10 of the floaters cold stacked today are midwater units, which is the only floater class to have suffered material utilization declines in 2009. Like utilization changes, cold stacking of floaters tends to track behind the cold stacking of jackups as well. As shown below, in reaction to the 2001/2002 downturn, the number of cold stacked floaters did not begin to accelerate until late 2002, about a year after jackups were aggressively cold stacked.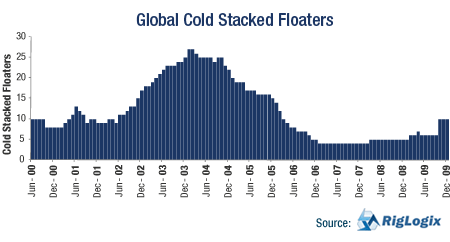 Leading Edge Dayrate Trends
Although every rig contract signed has its own defining factors that determine dayrate (such as rig specs, region, specific operator requirements and duration), comparing the dayrates of fixtures for floaters with similar water depths over time provides perspective on real-time pricing trends (or leading edge dayrates) in the floater market. In the sections below, we look back on some recent 2009 contract awards by floater type and compare these to a handful of fixtures signed near the peak of the market (including some awards for newbuilds).
Midwater Fixtures*
Late-2009 Sample
Desire Petroleum finalized a four-well contract for the Ocean Guardian in early-October 2009 (LOI awarded in September) at a dayrate in the mid-$240s for work offshore South America.
CNOOC and PTTEP signed short-term contracts for the Actinia in early-November 2009 at a dayrate in the mid-$200s for work offshore Southeast Asia.
Petrofac signed a short-term contract extension for the Transocean John Shaw in early-December 2009 at a dayrate in the low-$250s for work in the North Sea.
Near Peak Sample
Maersk Oil signed an 18-month contract for the D/S Deep Venture in late-August 2008 at a dayrate in the mid-$490s for work offshore West Africa.
Shell signed a two-year contract for the Sedco 704 in early-September 2008 at a dayrate in the low-$420s for work in the North Sea.


*Excludes midwater fixtures signed in the Norwegian sector of the North Sea - a closed market that has commanded a 20-60% dayrate premium to the global midwater average over the past three years.
Deepwater Fixtures
Late-2009 Sample
Noble Energy signed a one-year contract for the Pride South Pacific in late-July at a dayrate in the low-$320s for work offshore Equatorial Guinea.
OGX signed a one-year contract for the Ocean Star in mid-October 2009 at a dayrate in the low-$340s for work offshore Brazil. In connection with this award, Diamond agreed to a dayrate concession for the Ocean Quest, also contracted with OGX.
Marathon signed a 120-day contract extension for the Noble Paul Romano in late-October 2009 at dayrate in the mid-$370s for work in the U.S. GOM.
Near Peak Sample
Kosmos Energy and Noble Energy awarded over thee years of term to the Atwood Hunter in late-June 2008 at a dayrate ranging from the high-$530s to the mid-$540s for work offshore West Africa.
Noble Energy awarded a two-year contract to the Noble Paul Romano in September 2008 at dayrate in the mid-$600s for work in the U.S. GOM. The contract was later transferred to the Noble Clyde Boudreaux.
Ultra-Deepwater Fixtures
Late-2009 Sample
Petrobras agreed to a three-year term for the Cajun Express in late-July 2009 at a dayrate in the low-$510s for work offshore Brazil.
Noble Energy signed a 455-day contract for the Sedco Express in late-August 2009 at a dayrate in the high-$520s for work in the Mediterranean Sea.
BP signed a three-year contract extension for the Deepwater Horizon in late-September 2009 at a dayrate in the high-$490s for work in the U.S. GOM.
Near Peak Sample
Tullow awarded a three-year term to the Eirik Raude in early-February 2008 at a dayrate in the mid-$630s for work offshore West Africa.
Petrobras awarded six-year terms to the newbuilds West Eminence, West Orion and West Taurus in early-April 2008 at dayrates from the mid-$610s to the high-$640s (inclusive of bonus potential) for work offshore Brazil.
While 2009 was a banner year for the floating rig fleet in terms of "reported results", more uncertainty exists for floaters over the next several years given the number of rigs, including recently delivered newbuilds, rolling off of legacy contracts signed in the 2006-2008 upcycle. In our next installment in this series, we will preview what 2010 has in store for the global floater fleet and provide forecasts for activity and dayrate levels in the new year.
For More Information on the Offshore Rig Fleet:
RigLogix can provide the information that you need about the offshore rig fleet, whether you need utilization and industry trends or detailed reports on future rig contracts. Subscribing to RigLogix will allow you to access dozens of prebuilt reports and build your own custom reports using hundreds of available data columns. For more information about a RigLogix subscription, visit
www.riglogix.com
.