Analysis: 2009 Jackup Market Review
by Joseph Triepke
|
Rigzone
|
Friday, December 11, 2009

As 2009 draws to a close and 2010 approaches, we are taking a look at the year behind us in the rig market and providing thoughts and forecasts for the offshore and onshore rig market in the year ahead. This is the first installment in a series of articles which will review 2009 and preview 2010 for the jackup, floater and land rig markets.
After drilling contractors posted record levels of earnings in the upcycle from 2004-2008, 2009 marked the beginning of an earnings descent likely to continue over the next year or two for many drilling contractors. When E&P spending was curtailed in 2009, rig utilization was quick to follow and leading edge rig dayrates deflated. For the drilling markets, 2009 was in many respects a transition period as market participants adjusted to a new reality defined by lower commodity prices, rig demand, dayrates and utilization. In the second half of 2009, some positive developments have emerged in most rig markets as crude oil prices have recovered materially off their lows, and the broader economy appears to have stabilized.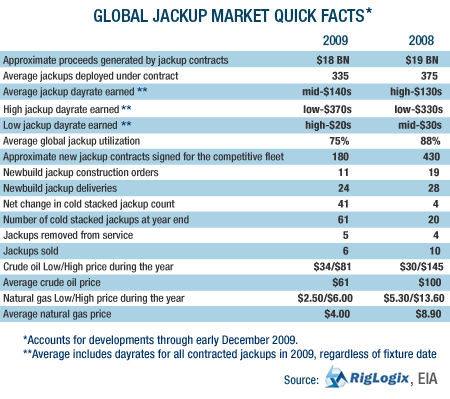 With oil prices recently stabilizing in the $70-$80 range and some E&P spending budgets likely to modestly rise from 2009 levels next year, many offshore rig markets around the globe appear likely to either experience stabilization or stage some sort of recovery in 2010. In the section below, we review key developments during 2009 for the jackup rig market.
2009 Jackup Market Review
As 2009 draws to a close, signs of stabilization have emerged in the worldwide jackup market. The stabilization, which has come sooner than many industry observers expected, has been largely due to the fact that crude oil prices have more than doubled from the bottom in March 2009. Although leading edge dayrates are well below year ago levels, some rigs have gone back to work, and new contracts or extensions are being secured for others as contracts expire. The result has been fewer additional idle jackups than earlier this year, and the decline in the global jackup rig count has tapered off as some degree of stability has returned.
As the graph below shows, the worldwide jackup rig count began to plummet about five months after the price of crude oil began its sharp descent. About seven months after crude oil prices bottomed, the jackup rig count began to stabilize. The jackup rig count has been moderately stable in the second half of 2009, finding support in the 315-325 range. The contracted jackup count remains well below the peak of just over 380 units in August 2008.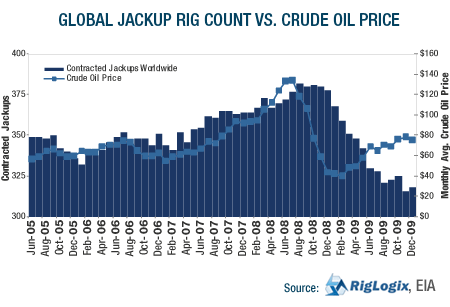 In response to the virtual nonexistence of jackup demand earlier this year, drilling contractors aggressively cold stacked jackups in 2009. While much of the cold stacking activity has occurred in the U.S. GOM (roughly half of all cold stacked jackups are currently located in this region), contractors have sidelined rigs in jackup markets worldwide in response to the downturn. The most pro-active cold stacker, Transocean, currently has just over 20 jackups, or about 1/3rd of its jackup fleet, cold stacked across the globe.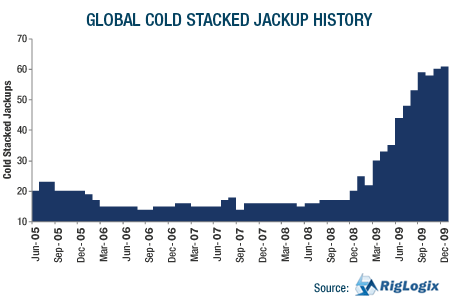 This willingness to remove supply from the marketable fleet by cold stacking jackups has played a role in the apparent pricing equilibrium that has developed in late-2009. Unless conditions improve more than expected near term, we believe many of the rigs cold stacked in 2009 are likely to remain out of service well into the next decade.
While jackup fixtures signed in 2009 have lowered the dayrate bar significantly, jackup market dayrates appear to have generally stabilized along with the rig count as the year draws to a close. Although every rig contract signed has its own defining factors that determine dayrate (like rig specs, specific operator requirements and duration), comparing the dayrates of fixtures for similar jackup sub types over time provides perspective on trends in real-time (or leading edge) pricing for new contracts. In the chart below, we plot dayrates by fixture date for premium jackups contracts outside of the GOM meeting our criteria. The chart demonstrates the dayrate decline from peak levels seen in mid-2008 as well as the ongoing stabilization in leading edge dayrates (in the $90-$120k range for premium international jackups).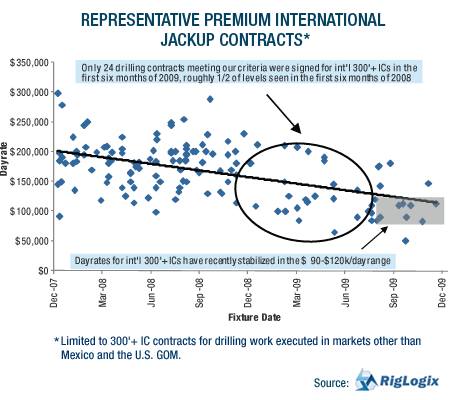 Also evident in this chart is the scant number of jackup contracts signed in early 2009. The slack in contracting activity coincided with a decline in total jackup fleet utilization from approximately 86% near the end of 2008 to around 73% by mid-2009. It is worth noting that in the first half of 2009, crude oil prices averaged $52, compared to $72 for 2H2009, which bodes well for 2010 and helps explain the recent stabilization.
As we would be remiss to overlook the jackup markets in the GOM and Mexico, the chart below presents the number of new fixtures executed in these markets by quarter since 2008. A similar trend to that observed in other regional markets is evident in the GOM as contracting activity collapsed beginning in late-2008, bottomed in 1H2009 and has subsequently stabilized.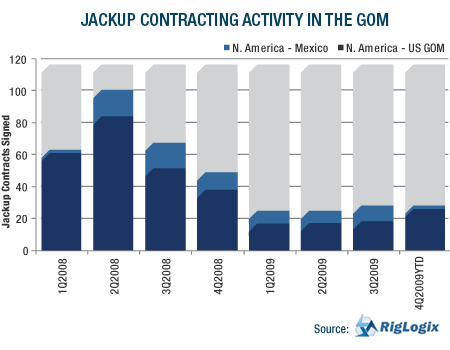 While 2009 was challenging period for the global jackup market to say the least, the last several months of the year have set a more positive tone going into the new year. In our next installment in this series, we will preview what 2010 has in store for the global jackup fleet and provide forecasts for activity and dayrate levels in the new year.
For More Information on the Offshore Rig Fleet:
RigLogix can provide the information that you need about the offshore rig fleet, whether you need utilization and industry trends or detailed reports on future rig contracts. Subscribing to RigLogix will allow you to access dozens of prebuilt reports and build your own custom reports using hundreds of available data columns. For more information about a RigLogix subscription, visit
www.riglogix.com
.