Analysis: Chevron Steadily Grows Profits
Rigzone Staff
|
Friday, December 04, 2009
As one of six supermajors, Chevron Corp. is the second-largest US oil company by market value, the largest private producer of oil in Kazakhstan and the top oil and natural gas producer in Thailand. The company produces nearly half of Indonesia's crude oil and is the top leaseholder in the US Gulf of Mexico.
In 2008, Chevron added approximately 1.34 Bboe to its proved reserve portfolio. During the year, the company produced on average 2.53 MMboe/d from more than 20 different countries around the world.
More recently, Chevron reported Q3 2009 earnings of $3.83 billion, compared with $7.89 billion in Q3 2008. For the first nine months of 2009, earnings were $7.41 billion, down 61% from $19.04 billion in the first nine months of 2008.
For 3Q2009, Chevron's global net oil-equivalent production was 2.70 MMboe/d, above 2.44 MMboe/d in 2008 primarily due to multiple project startups. As for U.S. production, the supermajor reported a net oil-equivalent production of 745,000 boe/d for Q3 2009, which was up 98,000 boe/d, or about 15%, from a year earlier. The increase in production was primarily associated with start-up of the Blind Faith Field in late 2008 and the Tahiti Field in Q2 2009, along with the restoration of volumes that were offline in September 2008 due to hurricanes in the Gulf of Mexico. The net liquids component of production was up 24% to 509,000 b/d in Q3 2009, while net natural-gas production of 1.42 Bcf/d was down about 1% from a year ago.
Chevron is expected to continue its investments in major projects as well as increase its capital spending in 2010. Today's oil prices have bounced back to $77/barrel from a $34 low in February and appear to have stabilized in the $75-$80 range for now. A forecasted increase in oil demand and a positive outlook for long term oil prices should support Chevron's capital spending plan to grow production.
Just last week, however, Chevron confirmed that it is seeking partners for the multibillion-dollar Ganal-Rapak deep sea gas project off Indonesia's East Kalimantan province. It's been reported that Chevron is seeking to reduce its 80% stake to mitigate risk in the venture, which could cost about $8.5 billion to develop.
The East Kalimantan concession includes the Ganal Block that covers the Gehem and Gendalo gas fields and the Rapak Block that includes the Ranggas gas field. Production from the blocks is expected to start in 2016.
Italy's Eni S.p.A. holds the remaining 20% interest in the project. Indonesia state-owned PT Pertamina has said it is interested in acquiring a 10% interest.
Exploration Success
Since 2002, Chevron has added about 1 Bboe/year through its exploration program. According to Chevron, its major capital projects around the world are strategically located in regions with strong upstream growth potential. Production numbers are certain to grow through the end of the year and into 2010 as Chevron builds on its recent achievements.
In September 2008, Chevron's affiliate, Tengizchevroil, finished its expansion of the Tengiz Field in Kazakhstan that doubled production capacity from one of the world's largest fields. The company's crude production capacity is now 540,000 b/d.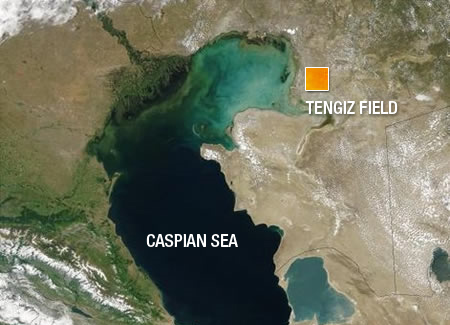 Tengiz Field Caspian
"Our upstream major capital projects continue their strong performance. Offshore Nigeria, our Agbami project, reached nameplate capacity of 250,000 b/d in August 2009," said Dave O'Reilly, Chevron Chairman and CEO. "This was over four months ahead of schedule. Production efficiency to date has been excellent, and volumes are steady at these target rates."
In June, Chevron announced first production at the Frade Field off Brazil, one of largest deepwater heavy-oil projects in the world. The estimated $3 billion project is expected to achieve peak production of 90,000 b/d in 2011.
Closer to home, the previously mentioned Blind Faith Project is estimated to contain more than 100 MMboe. At the end of 2008, the facility's total production capacity was 62,000 b/d and 50 MMcf. Also the Tahiti Field, which is believed to be one of the Gulf of Mexico's largest deepwater discoveries, has potential recoverable volumes of about 450 MMboe. First oil was achieved in May 2009. Daily production is expected to ramp up to125,000 bbl and 70 MMcf before the end of the year.
In July, the company announced that its subsidiary, Cabinda Gulf Oil Company Ltd. (CABGOC), started oil production from the Mafumeira Norte project off of Angola. The project's 14 wells are expected reach maximum total production of 30,000 bbl and 30 Mmcf/d in 2011. Also offshore Angola, CABGOC started production at the Tombua-Landana project in September. The $3.8 billion development is expected to achieve peak production of 100,000 b/d in 2011. Recoverable resources for the two fields are estimated at 350 MMbbl.
"Tombua-Landana is one of seven major projects coming online this year in which Chevron's share of the investment is over $200 million. An additional six projects are scheduled to come onstream in 2010," said George Kirkland, executive vice president, Global Upstream and Gas, Chevron.
"Over the past five quarters, we have delivered six significant operated projects. Combined they represent a gross investment of over $25 billion with projected total peak production in excess of 900,000 boe/d," said Pat Yarrington - Chevron - VP & CFO.
Current Rig Fleet
Chevron currently employs 15 jackups, semisubmersibles and drillships worldwide. Of these, eight are jackups, six are semisubmersibles, and one is a drillship. Chevron has six rigs deployed off West Africa, and four in the GOM. Other regions include Australia, the North Sea, Southeast Asia, and Brazil.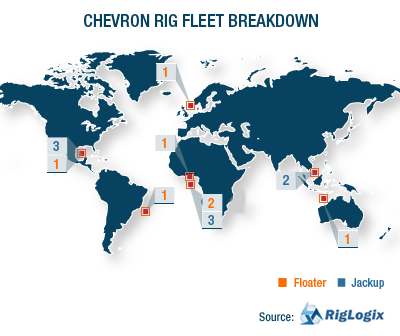 Of the supermajors, Shell leads the rig count with 20 currently contracted and deployed. Chevron and Total each have 15 rigs, BP has 11 rigs, ExxonMobil has 9 rigs, and ConocoPhillips has 7 rigs contracted in the field.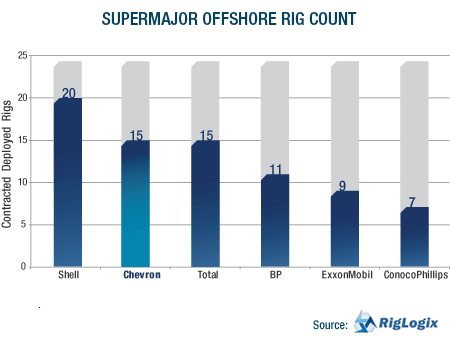 While supermajors have made the headlines with large profits in recent months, the large National Oil Companies currently account for a larger portion of the offshore rig count than the supermajors. Petrobras has 48 rigs currently contracted and deployed. That's roughly equivalent to the number of rigs contracted by the top three supermajors combined. Pemex, ONGC and Saudi Aramco are also currently employing more rigs than the top supermajors with 34, 37 and 21 respectively.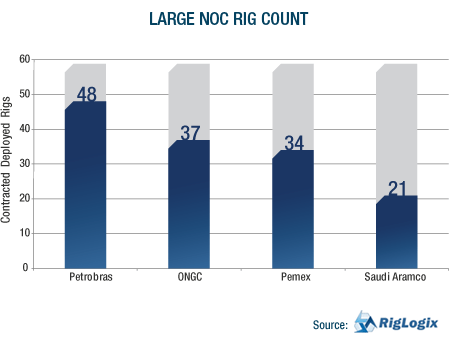 With an average dayrate around $430,000 for its floater fleet (semisubmersibles and drillships), Chevron is paying about a 15% premium to the worldwide floater average of approximately $370,000/day. That said, we would note that Chevron's fleet is deepwater and ultra-deepwater centric with five of its seven floaters capable of working in at least 5,000 feet of water. Chevron's focus on deepwater has driven the company's average dayrate above the industry average in recent years. As for its jackup fleet, Chevron is paying an average of about $130,000/day, which is roughly in line with the worldwide jackup fleet average of about $135,000/day.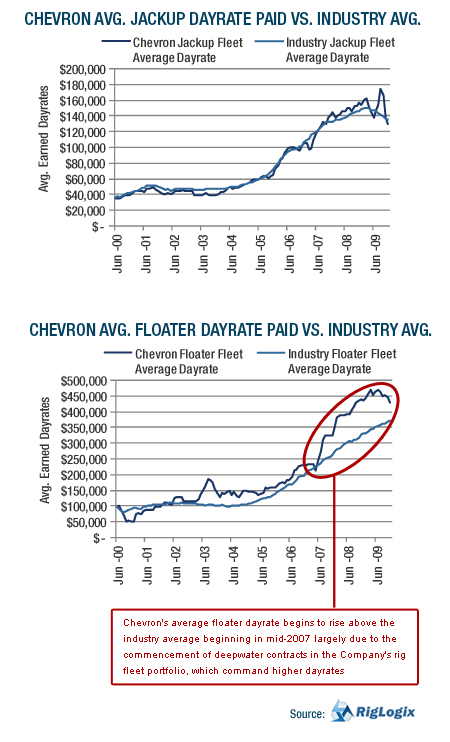 Looking at rig utilization, the average number of rigs Chevron has contracted since 2000 (including those held by acquired entities) has averaged about 25 units (jackups, drillships and semisubs). Generally speaking Chevron's rig count has trended lower this decade as the company has reduced its jackup activity levels (today Chevron contracts about 50% fewer jackups than it did in 2002). That said, the number of floating rigs the supermajor has deployed has grown and now comprises about half of its total fleet compared to just a fifth earlier this decade. Over 2H2009, Chevron has generally had 15-17 contracted rigs in the field at any given time. According to contracts already in place, the average number of deployed units for 2010 and 2011 is 15 and 12 respectively -- backlog largely secured by long term floater contracts. These totals will likely increase over the next 12-24 months as Chevron renews contracts rolling off or issues requirements for additional rig capacity. Just this week, Chevron renewed a jackup contract for an additional year.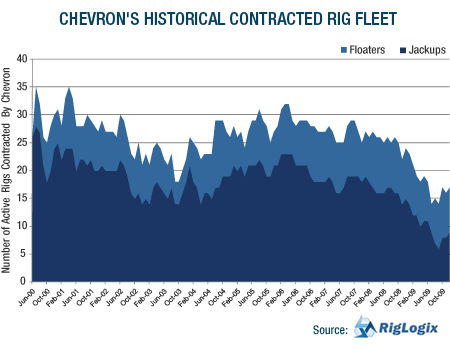 Currently, Chevron's largest contract is for the ENSCO 7500 semisubmersible, which is drilling off Australia at Satyr-1 for $550,000/day. The contract started in early-April and is due to continue through September 2010. Options could extend the contract for up to two years at a mutually agreeable dayrate if Chevron decides to exercise them.
Chevron's biggest jackup contract (until recently) was for Transocean's Trident XIV, which has been drilling off Angola at $195,000/day. The contract started in early-June and was initially scheduled to continue through May 2010. Just this week, Transocean announced that this rig received a one-year extension from Chevron, which will keep the rig contracted through May 2011. Because of the extension, Transocean agreed to retroactively lower the dayrate from July 2009 through the end of the extended term to a dayrate of $147,000.
Future Strength
The Gorgon project is expected to make a large impact on Chevron's 2010 capital budget. Already, the company is reaping its benefits. According to Pat Yarrington, Chevron VP & CFO, Q3 2009 "upstream earnings benefited from roughly $400 million of Gorgon-related asset sales and tax items."
The Gorgon natural gas project offshore Western Australia was announced in September 2009. It is currently estimated to cost AU$43 billion (US$37 billion) for the first phase of development. First gas is planned for 2014.
Gorgon is estimated to contain more than 40 tcf of gas and have an economic life of at least 40 years. The project's scope includes a three-train, 15 million-metric-ton-per-year LNG facility and a domestic gas plant.
Another major LNG project offshore Australia -- Wheatstone -- was announced in March. The facility will be located on the northwest coast of mainland Australia and have initial capacity of at least one 5 million-ton-per-annum LNG production train with expansion capacity for additional production trains. The facility will also provide commercial domestic gas to the local market.
Discovered in 2004, Wheatstone is located 90 miles offshore in the Carnarvon Basin in 650 feet of water. The initial phase of the development will tap an estimated 4.5 tcf of natural gas resources located within the WA-253-P and WA-17-R permits
"The project will provide an infrastructure foundation for commercializing the Wheatstone resource, and enable the development of Chevron's additional significant natural gas resources offshore northwest Australia," said Roy Krzywosinski, managing director, Chevron Australia. "Prospective natural gas development opportunities include additional LNG, domestic natural gas, and gas-to-liquids."
"We are very, very pleased with the progress at Wheatstone," Dave O'Reilly, chevron Chairman and CEO said during the Q3 2009 conference call. "Not only on the supply side where we have made this arrangement now with Apache and KUFPEC to augment the supply and have them participate obviously in the first two trains at Wheatstone. But the good news is we are finding tremendous interest in the gas itself from the market. You will continue to see progress in this area as we move the project along during the coming months and next year."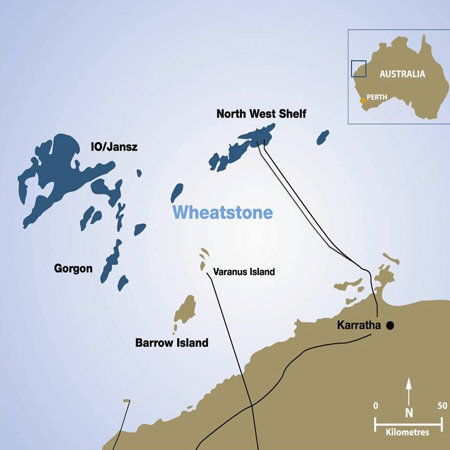 Wheatstone LNG Project
Looking ahead at exploration drilling, Chevron only has one contract -- Transcoean's Sedneth 701 semisbumersible -- due to conclude at the end of 2009 with no options for renewal. In addition, there are two jackup rigs (ENSCO 82 and Rowan Gorilla VII) due off contract in the first half of 2010.
Transocean's newbuild Discoverer Inspiration drillship is poised to start a long-term contract for Chevron early next year. The rig is currently enroute to the Gulf of Mexico. The Discoverer Inspiration is the third of five new Transocean Enhanced Enterprise-Class ultra-deepwater drillships delivered in 2009 and 2010. The Discoverer Inspiration's sister drillships include the Discoverer Clear Leader, Discoverer Americas, Discoverer India and Discoverer Luanda. The units are enhanced versions of the company's Enterprise-class drillships.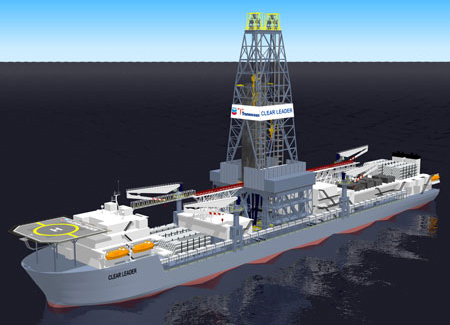 Discoverer Clear Leader
Also due to start a new contract is the Hercules 350 jackup. The jackup is currently in the Port of Pascagoula undergoing precautionary inspection following Hurricane Ida. It will start working for Chevron at Main Pass 144 BA7, ST-1 in the Gulf of Mexico in early-December 2009 through June 2010 at $50,000/day.
RELATED COMPANIES