Analysis: Seadrill Positions Itself for Future Deepwater Growth
Rigzone Staff
|
Wednesday, November 25, 2009
Analysis: Seadrill Positions Itself for Future Deepwater Growth
Seadrill Ltd., an offshore drilling company, was founded in May 2005 and promptly established itself as an industry consolidator with the acquisition of Odfjell in July 2005. By September 2006, Seadrill bought controlling stakes in Smedvig and Eastern Drilling. Seadrill's initial offshore fleet consisted of three jackups, two FPSOs, four newbuild jackups, and two newbuild semisubmersibles.

Today, Seadrill, the most active consolidator and rig builder in the offshore rig industry over the last five years, manages a fleet of 41 rigs, 30 of which are contracted, two of which are ready stacked and nine of which remain under construction. The contracted fleet consists of 16 rigs in Southeast Asia comprised of 11 tender rigs, one semisubmersible, and four jackups. Seadrill also has five rigs contracted in the North Sea -- three semisubmersibles, one drillship and one jackup. Three rigs (two semisubmersibles, one drillship) are working off Brazil, two each off of Australia (two jackups) and West Africa (one tender and one jackup), and one semisubmersible each in the GOM and the Far East.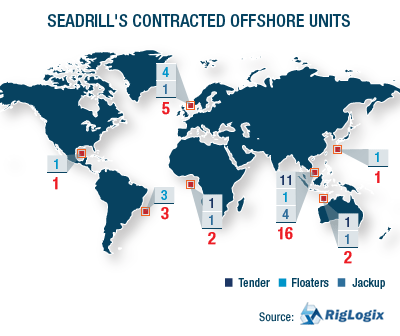 Seadrill's fleet has grown exponentially due to the aggressive newbuild program it embarked on in 2005. The newly formed company ordered several rigs that year, including the West Sirius, West Taurus, West Hercules, West Atlas, West Triton, West Ceres, West Prospero, and the T10. The newbuild orders continued in 2006 with the West Ariel, West Aquarius, and T11 among others. Seadrill ordered yet more rigs in 2007 as several of its original newbuilds were being delivered. Those ordered included the West Gemini, West Orion, and the West Berani II. Last year the rig orders continued with the West Capicorn, West Berani III, and four jackups.
In March 2009, Samsung Heavy Industries delivered the last of the original eight deepwater rig newbuilds that Seadrill contracted in 2005 and 2006. The West Eminence, an ultra-deepwater semisubmersible, is chartered to Petrobras under a six-year contract for operations in the Santos Basin off Rio de Janeiro.
Alf C Thorkildsen, Chief Executive Officer, said, "This concludes the first phase of developing Seadrill into a truly global offshore deepwater drilling contractor. The second phase of the deepwater newbuilding projects consists of further three rigs that are scheduled to be delivered between April 2010 and December 2011 of which one has a six-year contract with Petrobras."
The West Gemini drillship and the West Orion semisubmersible are due to be delivered in Q2 2010 and the West Capricorn semisubmersible is due Q4 2011. Of these rigs, the West Gemini and the West Capricorn have yet to secure their first contracts.
Deepwater Fleet
Including newbuilds, Seadrill owns 14 floaters -- 10 semisubmersibles and four drillships. Of these rigs, all but one are deepwater capable (5,000 ft water depth or more) and most are considered ultra-deepwater units. The oldest floater, and only floater in Seadrill's fleet not constructed this decade, was built back in 1986. Two floaters were delivered in 2000, six were delivered in 2008, two in 2009, and as mentioned, two are expected in 2010 and one by 2011. Thus, of the 11 finished rigs, the average dayrate of Seadrill's fleet is $525,000 and the average age of its fleet is about 5 years old, compared to the worldwide average of 22 years old.
As shown below, the existing worldwide floating rig fleet was mostly constructed in the 1970s and 1980s, although we would note that quite a few rigs have had major upgrades/overhauls that have increased the effective generation of those rigs. The chart shows the large number of floaters that deliver over the next several years, specifically 75 rigs, three of which belong to Seadrill. In fact, adjusting for these newbuild deliveries, the average floater age for the industry would be 6 years younger at 16 years old and Seadrill's would be 1.5 years younger at 3.5 years old.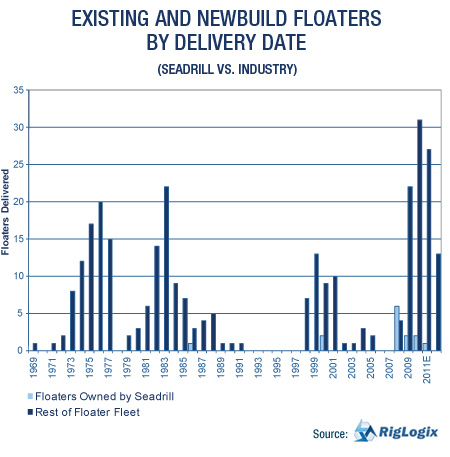 According to Seadrill's Q3 2009 report, management believes that the long-term deepwater market drivers are intact as global basins mature and decline rates steepen. Exploration for larger reserves continues in more challenging deepwater markets. Increased capex budgets from the oil majors and national oil companies coupled with high oil prices over the last several years have been a big driver for the floater market, and near term availability has been extremely scarce. All of this equates to a strong backlog of contracts for ultra-deepwater rigs.
Looking specifically at Seadrill's deepwater rigs, the company owns 10 existing units and three newbuilds (excluding tender rigs), and the existing units are 100% contracted, mostly under contracts extending beyond 2011.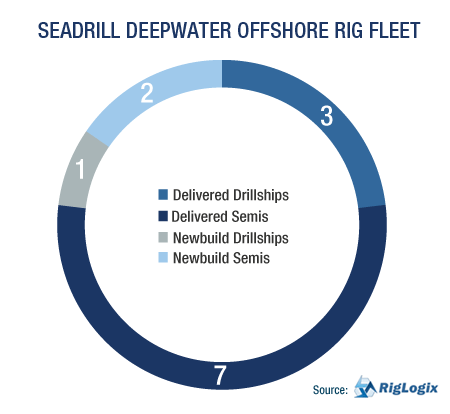 According to Seadrill's Q3 2009 report, the average contract length for the company's deepwater rigs is 38 months. The company has been discussing the extension of some of its existing long-term contracts. As the available deepwater supply in 2010 for drillships and semisubmersible drilling rigs remains limited, Seadrill believes that upcoming contracts for individual ultra-deepwater units will come with favorable dayrates as well.
The Samsung yard in South Korea is building the West Gemini drillship, which is capable of drilling in up to 10,000 ft of water and down to 35,000 ft. The West Gemini is expected to be completed June, 30, 2010, and does not yet have a contract. That said, Seadrill has indicated that specific discussions with prospective customers regarding possible employment of this unit are underway.
The West Capricorn semisubmersible is at the Jurong Shipyard until Dec. 31, 2011, and is also available. The deepwater semisubmersible is capable of drilling in up to 10,000 ft of water and down to 35,000 ft. Seadrill has had general discussions with prospective customers for this rig.
Jackup Fleet
Seadrill's jackup fleet consists of 10 total rigs, three of which are still being built with no contracts. The two oldest jackups were completed in 1984 and 1986, and a third was constructed in 1992. But the majority of the jackup fleet is new, with two built in 2007, two more in 2008, and three expected to be delivered in 2010. Thus, the total age of Seadrill's jackup fleet is about 10 years old (or 7 years old adjusted for the newbuilds), compared to the worldwide average of 24 years old. Seadrill's average jackup dayrate is $183,500 with an average contract length of six months.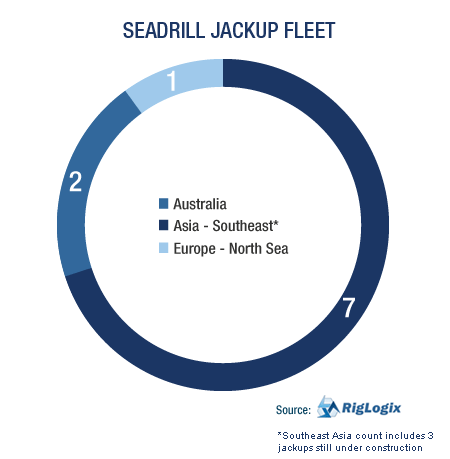 Seadrill has recently secured short-term work for several of its jackups that had been stacked. The majority of its jackup fleet is on short-term contracts that expire in 2010.
Much like some of its jackup peers, Seadrill is seeing an uptick in inquiries and some stabilization in demand in the jackup market. In the company's Q3 2009 report, Seadrill said "The demand side seems to respond positively to the favorable development in oil prices and the number of prospects for new contracts has improved significantly over the last few months for both short-term and long-term employment."
In June 2008, the company entered into agreements with KFELS and PPL Shipyard in Singapore for the construction of the jackups to be delivered in 2010. Recently, PPL Shipyard exercised an option to assume ownership of one of the jackups the yard was constructing for Seadrill, the West Elara. Of the remaining three jackups under construction controlled by Seadrill, the company has an option to not take delivery of one unit, West Juno.
The two units to be built at KFELS will be based on the KFELS Mod V B design. The rated water depth is 400 ft and drilling depth is 30,000 ft. Deliveries are scheduled in June and November 2010, and the total contract price for the two units is approximately $420 million. These jackups are the fifth and sixth jackup orders that Seadrill has placed with KFELS.
PPL Shipyard is building the third jackup based on the Baker Marine Pacific Class 375 Deep Drilling design. The rated water depth is 375 ft and drilling depth is 30,000 ft. Delivery is scheduled for July 2010.
One Seadrill jackup has made headlines recently. In August 2009, PTTEP Australasia experienced an uncontrolled leak in the Montara development in the Timor Sea where Seadrill's West Atlas was working on an adjacent well. The 69 personnel onboard the rig were evacuated safely. However, on November 1, the gas from the Montara platform ignited and the fire engulfed the drilling tower cantilevered over the wellhead platform. Seadrill's West Triton jackup drilled a relief well for PTTEPA 2 km away from the leak.
The leak did not emanate from the West Atlas, and the cause of the leak is unknown but under investigation. However, the damage from the fire could result in a constructive total loss of the West Atlas.
Tender Rig Fleet
Sea Drill's total tender fleet consists of 17 units, including 3 newbuilds. Tender rigs are typically focused on developmental work as opposed to exploratory work. Thus, the longer term nature of the tender rig market is typically less sensitive to hydrocarbon price fluctuations than the jackup market. That said, even Seadrill's tender fleet was not immune from the recent downturn. The number of contracted active tender rigs in Seadrill's fleet today is 12 compared to 14 a year ago. However, inquiries for the tender rig fleet have increased in recent weeks, and Seadrill sees some good opportunities for their tender fleet going forward.
A closer look at the available deepwater rigs reveals that the T-12 Seadrill Improved Super Class Self Erecting tender rig is currently under construction at the MMHE Shipyard without a contract. The rig is expected to be completed by March 31, 2010. The T-12 is capable of working in up to 6,500 ft of water and drilling down to 30,000 ft.
The other uncontracted tender rig under construction is the West Berani III. Keppel Shipyard in Singapore is building the Keppel Fels SSDT 3600E for Seadrill. The rigs will be capable of working in up to 6,500 ft of water and drilling down to 30,000 ft. It is expected to be ready for service on Jan. 1, 2011.
Also available is the West Menang tender rig. The rig, which is capable of drilling in up to 6,500 ft of water and down to 30,000 ft, is currently ready stacked in Walvis Bay, Naminia.
Future Prospects for Seadrill
The fleet Seadrill has assembled is one of the most modern with an average age of almost 20 years younger than its competitors.
The contract backlog Seadrill has been able to secure over the last several years includes some of the highest dayrates the offshore drilling industry has ever witnessed for several of their ultra-deepwater floaters. In fact, Seadrill's backlog is among the best in class for the offshore drillers with over $270 million in contracted revenue backlog per rig (or about $380 million per rig excluding the tender units). Furthermore, Seadrill has relatively low counterparty risk associated with their $11 billion revenue backlog as the lion's share of their contract portfolio is with established operators like majors and NOCs.
As the chart below shows, the high level of revenue generated by Seadrill's offshore contracts in 2009 is poised to continue through 2011, even if the contractor doesn't sign up any more rig contracts. In fact, we estimate that the company's current revenue backlog (including the tender fleet) of $11 billion is almost two times the amount of revenues the company's offshore rig contracts have generated since inception.
Thus, Seadrill management has positioned the company nicely for further long-term growth, and given this fact as well as the history of Seadrill's management and ownership, this offshore driller will likely continue to be one of the more dynamic offshore drilling companies in terms of its strategy.
As stated in the company's Q3 2009 quarterly report, "We continue to be optimistic on the long-term market outlook for offshore drilling units, in particular for the ultra-deepwater segment. We have decided to focus the future growth of our company on modern deepwater operations."
Record crude oil prices and tight deep and ultra-deep rig availability pushed leading-edge dayrates for this class over $600,000 near the peak of the cycle, and dayrates have held up well relative to the jackup market during the downturn due to limited near term availability. It is no wonder why Seadrill is focusing on expanding its deepwater business.
As part of Seadrill's growth and development plan, it has invested in other offshore drilling companies including Pride Intl., Scorpion Offshore Ltd., and SapuraCrest Bhd. Some speculate that Seadrill is seeking a merger with one of these companies to compete with Transocean, the world's largest drilling company, for deep and ultra-deep drilling opportunities. In its Q3 2009 quarterly report, Seadrill also mentions the possibility of forming a separate and larger stand-alone jackup company.
On Scorpion Offshore's recent conference call, the jackup company, which is approximately 40% controlled by Seadrill, stated that it is interested in consolidation -- either acquiring or being acquired -- and would like to create a high spec jackup company. With this view paralleling Seadrill's stated objectives, some speculate that Seadrill will ultimately acquire Scorpion and subsequently spin off their jackups into a stand-alone entity.
Seadrill also outlined three strategic directions the company can take in the future. The company will focus on growth through closer integration with the companies in its strategic portfolio. If this fails, the company will consider divesting these holdings and use the proceeds to pursue acquisitions of distressed assets, and it will continue to develop the existing core of Seadrill's assets.
Seadrill is also seeking a primary listing on the New York Stock Exchange to increase trading liquidity and broaden investor interest. The company plans to file for the listing in November and hopes to be awarded the listing in Q1 2010. With a US listing, Seadrill's access to capital would likely be enhanced, opening up additional strategic options for the company.
As Seadrill's capital commitments to newbuild construction wind down with the delivery of three deepwater units, three tender rigs, and three jackups, look for the company to repay debt, pay dividends or pursue opportunities to invest in deepwater assets or make acquisitions.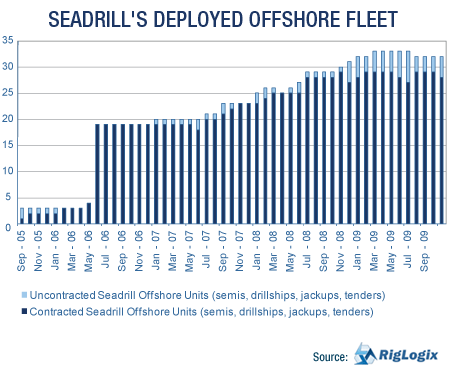 Seadrill's fleet has grown significantly over the last four years.
Follow Seadrill and its projects worldwide by visiting SubseaIQ, or follow the developments, contracts and initiatives of the rigs through RigLogix.
RELATED COMPANIES