Land Rig Count Recovery Continues: Land Driller Earnings Season Insights
Rigzone Staff
|
Monday, November 23, 2009
Optimistic Onshore Driller Conference Calls Reveal Some Positive Indications
The latest round of quarterly conference calls for the large publicly traded onshore drillers concluded last week with Helmerich & Payne's report. The recovery was visible in reported numbers, guidance and commentary. Most management teams were positive on the strength of land rig demand in shale plays like the Haynesville and Marcellus and are seeing increased inquiry levels in multiple markets.
Although pricing leverage still lies with operators given the idle capacity on the sidelines, some contractors like Patterson-UTI noted that dayrates have actually crept up in some cases and Helmerich & Payne noted that dayrates have stabilized. Additionally, Patterson-UTI has recently been able to secure additional term contracts for some of its newbuild rigs, and the contractor noted that the spot market for available rigs has returned.
Reported Daily Rig Revenue and Margin Still Trending Lower
Given the backlog of term contracts secured near the top of the cycle, lump sum termination payments and the stacking of marginal rigs, reported land drilling margin per rig day and revenue per rig day have remained somewhat buffered from the spot market collapse. As such, these metrics generally do not provide a good real-time read on land rig market price declines. However, as the chart below shows, margin per rig day, which represents the daily cash flow a land rig generates for its owner, has declined in each of the last two quarters for the public drilling contractors we track. We would note that in some spot markets, margin per rig day has recently been reported as low as $1,500-$2,500 per day, which is similar to 2003-2004 levels. As their backlog of term contracts begins roll off over the next several quarters, some of these drillers will likely continue to report lower revenue/rig day and margin/rig day.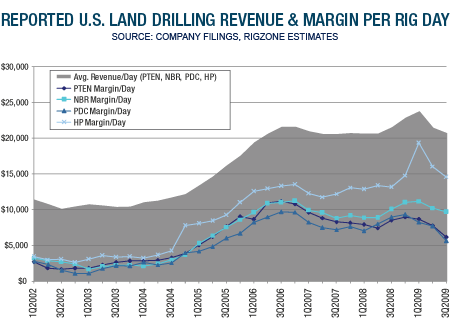 Market Share Shifts Favor High Spec Rigs
For the publicly traded contractors we track, the downturn has resulted in market share changes as those contractors with more term contracts and a concentration of higher spec units have generally outperformed their peers in this category. As shown below, Helmerich & Payne has been able to snag a nice market share increase as term contracts and shale drilling demand for their rigs has helped the company maintain a relatively high level of utilization. The ideal horsepower requirement for growing shale plays like the Woodford, the Marcellus, and the Eagleford is at least 1,000, and the ideal horsepower requirement for the Bakken shale and the Haynesville shale is 1,500. Thus, Helmerich & Payne's investment in their high spec rig fleet through their proprietary Flex rig design (recently constructed, high horsepower units) is paying off. Pioneer Drilling, which also owns a fleet weighted towards higher horsepower rigs, has maintained its market share well in the downturn. As these contractors gained or maintained, Nabors Industries and Patterson-UTI have given up some ground, although Patterson has benefited disproportionately as the rig count has recovered so far. Patterson had 88 rigs working in the U.S. in October, up from the low 60s this summer.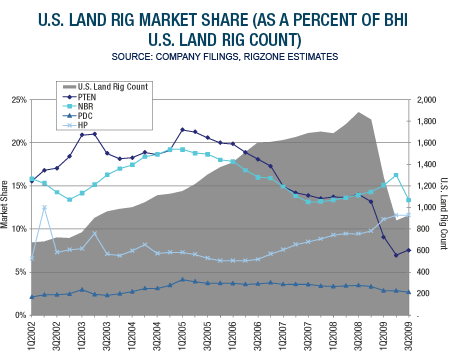 Devon Betting On Land
Last week, Devon announced plans to exit its offshore and international operations in order to focus solely on its core North American land operations. With the sale expected to yield proceeds between $4.5-$7.5 billion, over $2 billion of the sale price is earmarked for onshore spending over the next two years. After spending about 30% of its 2009 capital expenditure program on offshore projects in the GOM and internationally, which together only account for only about 11% of the Devon's production, the independent is going after the low hanging fruit it sees in its onshore prospects and exiting longer-term, higher risk offshore prospects.
Given Devon's shale assets in the Barnett, Haynesville, and Woodford (Cana and Arkoma), drilling contractors like Helmerich & Payne and Nabors with higher spec rigs in or near those regions and a good working relationship with Devon are the likely beneficiaries of the strategic shift. A breakdown of Devon's contracted U.S. rig fleet compared to year ago levels is shown below, and it is worth noting that, like the rest of the industry, Devon's rig count is currently well below year ago levels (23 today vs. 79 a year ago). In contrast to Devon's rig count in other regions, the operator has actually put more rigs to work in Oklahoma over the last twelve months as Devon focused on its Woodford prospects.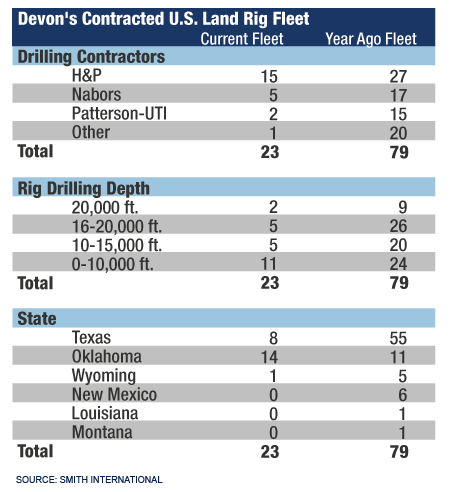 Detailed forecasts of land rig demand can be found in the RigOutlook reports, brought to you by Rigzone.