Land Rig Count Recovery Continues: Oil Fuels Rebound
Rigzone Staff
|
Monday, November 23, 2009
Land Rig Count On The Rise
After bottoming in early June at 823 rigs, the Lower 48 land rig count has been creeping steadily higher, adding an average of 10 rigs per week, and now stands about 29% (241 rigs) above the nadir. While the recovery certainly gives drilling contractors something to be thankful for this season, the industry still has a good amount of idle capacity to deal with considering that the land rig count peaked at 1,938 rigs about 15 months ago. Although quite a few of the rigs stacked during the downturn may never return to the field, simply taking the peak rig count as a proxy for available supply implies that industry wide utilization remains below 60%.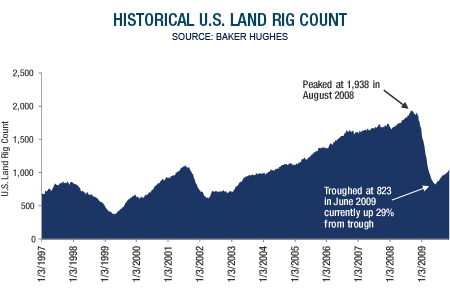 The Return of Oil Rigs Is Behind The Land Rig Count Gains
With crude oil prices rallying 80% year-to-date while natural gas prices are still down for the year, operators have focused their drilling efforts on oil rich plays. A closer look at the land drilling recovery bears out this observation, as just over 80% of the rig count gains since the June bottom have been oil driven. It is worth noting that the drift in rig count mix towards oil has been somewhat exacerbated by the lack of any recovery to date for the offshore rig count, which contributes to the total BHI rig count and is largely gas oriented. Over the last 10 years, the BHI offshore rig count has averaged around 100 rigs, but this count stands at 36 rigs today and has actually fallen further since the overall rig count bottomed in June. The oil-weighted recovery is evident in the chart below, which indexes each of the oil and gas rig counts to 100 in June when the rig count bottomed.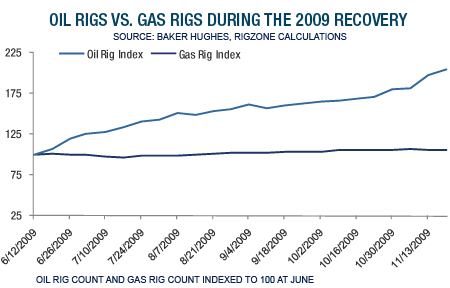 Currently, for every U.S. rig drilling for oil there are only two rigs drilling for natural gas, well below the average this decade of five natural gas rigs to each oil rig. In fact, the last time the ratio was as low as current levels was in mid-1998. Of course, the widely touted 10:1 crude oil to natural gas price ratio has also broken free of historical norms, surging into the 20s in September and standing in the mid-teens today.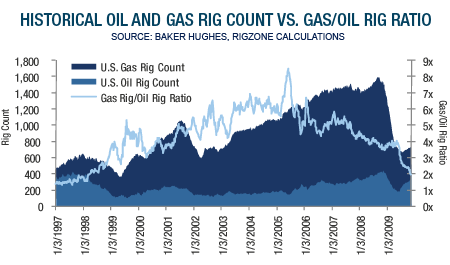 The mix shift towards oil appears likely to hold and possibly strengthen near-term given a variety of factors including 1.) better crude oil price performance (and arguably fundamentals) relative to natural gas, 2.) only a modest gas production response to the rig count decline thus far (although production declines lag drilling activity declines and are likely to materialize in the coming months) and 3.) shallow decline rates observed in growing gas shale plays like the Marcellus and the Haynesville.
Detailed forecasts of land rig demand can be found in the RigOutlook reports, brought to you by Rigzone.
RELATED COMPANIES