Analysis: Offshore BOP Companies Play It Safe
Rigzone Staff
|
Friday, November 20, 2009
One of the first pieces of safety equipment designed for oil and gas production, the blowout preventer (BOP) is a large valve at the top of a well that can be closed if the drilling crew loses control of oil or natural gas while drilling or performing a work over. If these fluids manage to enter the wellbore, they may threaten the safety of the rig and crew.
The BOP is designed to either close an open wellbore, seal around tubular components in the well, or cut through drillpipe. The crew can then increase the drilling mud density until it is safe to open the BOP, and drilling operations can resume. BOPs are tested regularly to ensure safety of the crew, rig, and wellbore.
Types of BOP
Early oilfield discoveries were allowed to blow out until pressure reduced enough to cap. This resulted in loss of valuable product as well as loss of life. In 1922, James Smither Abercrombie and Harry S Cameron invented the ram BOP in Humble, TX. Their invention sealed off a well using a sharp horizontal motion. The first ram BOP was controlled manually, and quickly became an industry standard. Early BOP designs could withstand pressures up to 3,000 psi. Today's average BOP can withstand 15,000 psi in water depths up to 10,000 ft.
Another type of BOP is an annular BOP, also known as a spherical BOP. Granville Sloan Know invented the annular BOP in 1946. Know designed a semicircle-shaped piece of rubber reinforced with steel to close around the drill string as it moves up and in. This fluid motion reduces stress and friction between the BOP and the seal; thus the BOP requires less maintenance and has a longer field life. Know also designed his BOP to operate at a lower pressure, which reduces the number of hydraulic accumulators and the cost and complexity of the operation.
Cameron and Know's inventions were huge milestones in oil and gas production but when exploration moved offshore, the BOP needed a makeover. "There is a major difference in land and jackup BOPs compared to those working offshore, explains Erving Schneider, Director of Marketing, Cameron. "Jackup BOPs stay dry on deck. However, deepwater BOPS have to work on the seafloor. To do that, you need a riser and electronics to operate it."
While the basic concept of the BOP structure is the same, subsea BOPs have an added locking mechanism, which allows the crew to close it hydraulically. Land and jackup BOPs have a manual lock, Schneider explained.
Deepwater subsea control systems remotely power seabed BOP valves and monitor the chokes and gauges in the system. Surface transmissions flow through hydraulic lines or electric umbilicals to the Central Control Manifold. This connects to separate manifolds on each well and transmits the signal to and from the blowout preventers, hydraulic connectors, and valves of the BOP.
Hydraulic power fluid, which flows to the BOP stack components, comes from a surface pump or actuator unit through an umbilical, a separate hose, or a rigid conduit connected with the riser joints. Of course, these subsea controls are duplicated to ensure redundancy. And due to the remote location of subsurface systems, they are called on to operate reliably for longer working periods than surface systems.
The subsea control system must react quickly to the surface commands. The minimum requirement for BOPs to close is 45 seconds or less. Annular BOPs must close within 60 seconds.
Market Share
There are currently 10 BOP manufacturers with BOPs working offshore. According to information gathered by premium rig data service RigLogix, Cameron leads the pack with approximately 422 BOPs working on offshore rigs, Hydril has about 272, and Shaffer rounds out the top three with 248.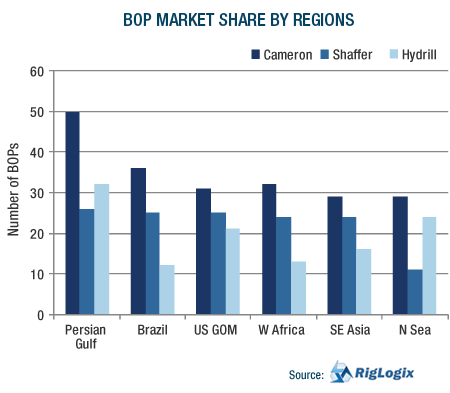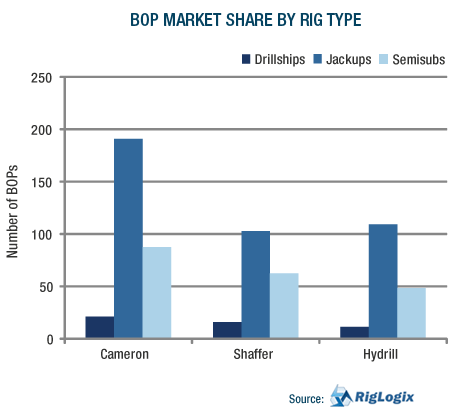 Working With Rig Managers
Though BOPs are a necessary piece of safety equipment, one of the largest rig fleet managers, Transocean, recently pointed its finger at BOPs onboard its rigs as the source of lower drilling revenues for Q2 2009. Transocean reported an EPS of $2.79, which was below the consensus of $3.03, due to a variety of revenue and cost factors, some of which were related to BOP issues.
Steven Newman of Transocean addressed the issue during an earnings conference call a few months ago. "The deepwater segment of the fleet, which is the 4,500 - 7,500 ft segment, 16 rigs in that fleet was the largest underperformer in Q2. We had a couple of human error incidents on drill floors on a couple of those rigs, and we had a handful of BOP problems; nothing that I would characterize as systemic or quarter specific. We did a deep dive on each one of those incidents. We've identified the root causes. We are going back to address them in our management system so they don't happen again. They were anomalies."
At the time of the report, Newman remarked that none of the BOP issues should impact Q3. He said, "All of the BOP incidents that occurred in Q2 have been resolved, and we'll continue to keep our eye closely on the performance of our subsea equipment."
Newman said the age of the rig fleet had nothing to do with the BOP problems. "The BOP problems we had were a combination of modern generation and older systems. A couple of human error issues we had were really completely unrelated to the age of the rigs those guys were working on."
Though Transocean posted a slight decrease in revenue for Q3 2009, Newman was accurate in stating that the BOP issues were resolved. Transocean reported a net income of $710 million for Q3 2009. Revenues for the quarter were $2.823 billion compared to $3.192 billion for Q3 2008.
Cameron Leads The Pack
Schneider believes the reason Cameron has the lion's share of the BOP market is because "the company invented the first BOP and was the only company to supply it for so many years. Operators worldwide just kept with tradition throughout the years," he said.
The company recently announced its Q3 2009 net income of $124.9 million, compared with net income of $163.0 million for Q3 2008. The Q3 2009 results include a pretax charge of $5.9 million, for severance related costs.
Total revenues were $1,231.8 million for the quarter, down 18% from 2008's $1,504.7 million, while income before income taxes was $168.6 million, down 30% from the $242.2 million of a year ago.
Just last year, the company bagged an enormous subsea order, which almost doubled the orders from 2007. Third quarter 2008 orders totaled $2,611.8 million, up 97% from $1,329 million in 2007. Orders received during Q3 2009 totaled $1,343.0 million, up from the levels Q1 and Q2 2009. Cameron's total Q3 2009 orders exceeded revenues during the quarter for the first time since Q3 2008, driving an increase in the company's total backlog, which totals $5.12 billion, up from the $5.02 billion level at the end of Q2 2009.
To continue its offshore success, Cameron unveiled the world's first 18 3/4in. 20,000 psi working pressure blowout preventer at the Offshore Technology Conference (OTC) in May 2009. The 18 3/4in. 20,000 psi working pressure EVO blowout preventer was designed to meet the challenges of higher pressures and higher temperatures.
According to Schneider, the new 20,000 psi EVO BOP just finished qualification tests and Cameron is officially quoting on it now.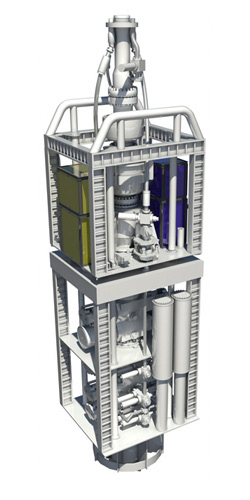 The Evo
However, the company's U BOP is the most widely used ram-type BOP for land, platform, and subsea applications worldwide and offers the widest range of sizes of any Cameron ram-type BOP. The rams in the U BOP are pressure-energized, which means that wellbore pressure acts on the rams to increase the sealing force and maintain the seal in case of hydraulic pressure loss.