Analysis: Eni Exploration Pays Off
Rigzone Staff
|
Friday, November 13, 2009
Eni is the national oil company (NOC) of Italy. The Italian Government owns a 30% share in the company, of which 20% is held through the state treasury and 10% is held through the Cassa depositi e prestiti.
According to Eni, oil and natural gas production in 2008 averaged 1,797 kboe/d, which was an increase of 61 kboe/d, or 3.5%, from the previous year. Acquisitions as well as production ramp-up contributed to Eni's 2008 numbers.
Eni estimates net proved reserves as of Dec. 31, 2008 were 6.6 Bboe, up 3.6% from 2007. In 2008, exploration expenditures amounted to $2,880 million (€1,918 million), up 15.6% from 2007. According to Eni, the NOC drilled 111 new exploratory wells, of which 58.4 represented Eni's share, and had 21 exploratory wells in progress at year end. The overall commercial success rate was 36.5% (43.4% net to Eni).
The NOC made a net profit of $23.26 billion (€8.83 billion) in 2008. Thus far in 2009, Eni reports a net profit of $4.12 billion (€2.74 billion) with oil and natural gas production around 1,756 kboe/d.
Offshore rigs
Currently Eni has 10 rigs under contract -- one drillship, four jackups, and five semisubmersibles -- working in the Mediterranean Sea, off Brazil, off West Africa, in the North Sea, and in the Gulf of Mexico. These 10 rigs are contracted from six different rig managers. Transocean and Saipem each have three rigs, and Japan Drilling, ENSCO, Diamond Offshore, and Crosco Integrated each have one rig under contract with Eni.
Currently there are five rigs -- four jackups and one semisubmersible -- working in less than 1,000 ft of water. Two of these rigs will come off contract in Q1 2010, two more come off contract in Q2 2011, and one will come off contract in Q2 2013.
Three semisubmersibles are working in midwater range water depths (1,000 to 4,000 ft). These rigs have longer contracts than the shallow water fleet. The first is due off contract in Q2 2011, another is due off contract in Q4 2012, and the last one is contracted through Q4 2014.
Only one semisubmersible is working in deepwater (4,000-7,000 ft). Transocean's M G Hulme Jr., a 3rd generation semisubmersible, has a term contract due to terminate in December 2009. The MG Hulme Jr. is commanding the highest dayrate of any rig in Eni's active fleet. Eni has been drilling with the semisubmersible since Nov. 15, 2007, and will continue until Dec. 31, 2009, at $430,000/day. The rig will then move off Cameroon from Jan. 1, 2010 to July 31, 2010 when Gazprom will drill with the rig off Libya from Aug. 1, 2010 to July 31, 2011, at $495,000/day.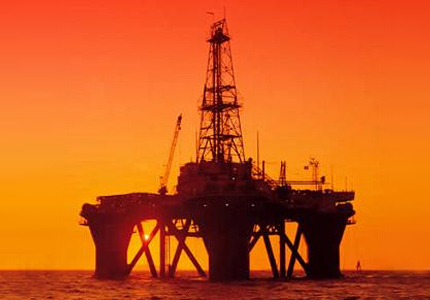 M G Hulme Jr.
The only drillship Eni currently has deployed is the Saipem 10000, which is drilling in waters over 7,000 ft deep. It started its drilling contract off Nigeria for Eni on Aug. 23, 2009 at $356,000/day. The contract will terminate in Q3 2012. However, the Deepwater Pathfinder, an ultra-deepwater drillship, was contracted by ENI in 2008 for a start date in February 2010. The rig is contracted through 2015 at a dayrate of $650,000. This contract carries the highest dayrate on record that Eni has agreed to pay.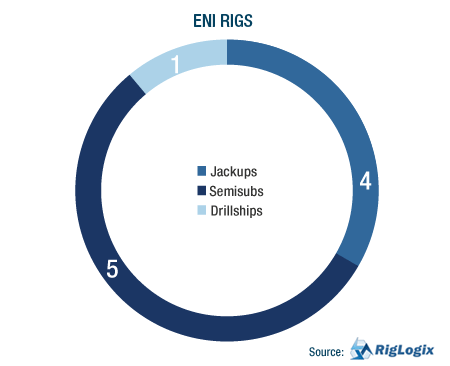 While Eni's contracted fleet has grown nicely over the last decade, the NOC has been relatively quiet on the contracting front so far this year, contracting only one semisubmersible and two jackups. In 2008, the NOC signed five contracts -- one drillship contract and four jackup contracts.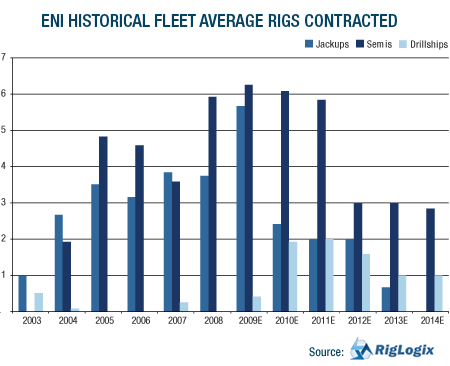 Currently, of Eni's four working jackups, Japan Drilling's HAKURYU-10 is commanding the highest rate at $195,000/day. In fact, this is the highest dayrate that Eni has agreed to pay for a jackup, as it was signed near the top of the current cycle early in 2008. The jackup is drilling in the Mediterranean off Tunisia at Maamoura under a term contract that started Oct. 10, 2008. Eni's contract terminates on Dec. 7, 2009, at which point the HAKURYU-10 will begin working for UTE ACS Cobra Castor.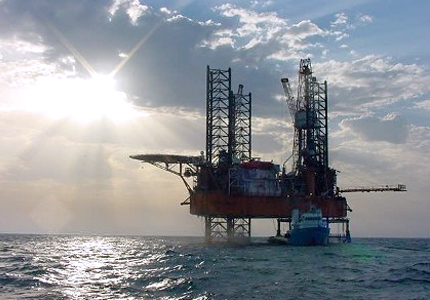 Hakuryu-10
As Eni's rig fleet has grown, the average dayrate for their fleet has escalated as the rig market heated up during the 2002-2008 cycle. In fact, in 2004, the company's average dayrate was only approximately $50,000 for its jackup contracts, $70,000 for its semisubmersible contracts, and $205,000 for its drillship contracts. In 2009 those averages are roughly $185,000 for Eni's jackups, $350,000 for its semisubmersibles, and $355,000 for its drillship. Looking ahead, the averages increase further as its legacy contracts expire and new contracts signed near the peak of the market last year commence. Assuming no further contract signings, which while unlikely, provides good context for dayrate escalation, Eni's average dayrates in 2013 will be $137,000 for jackups, $465,500 for semisubmersibles, and $650,000 for its drillship.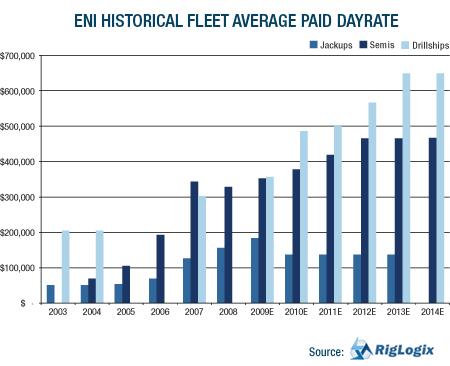 Along with rig count increases and higher dayrates, offshore rig spending has followed. In 2003, we estimate that Eni only spent about $49 million on offshore rigs (semisubmersibles, drillships, and jackups). In 2009, over a billion dollars will be spent, and Eni is already contracted to spend another five billion or so from 2010 through 2014.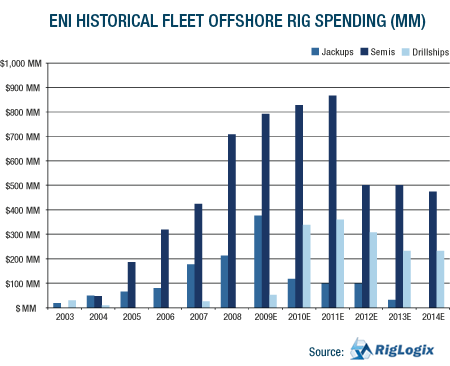 Upcoming Rig Contract Commencements
Two contracts are due to start before the end of the year. Eni will start drilling in the GOM with Transocean's Marianas semisubmersible Dec. 2, 2009. The NOC has contracted the rig for two years at $565,000/day. The Marianas is currently working at the Macondo Field at Mississippi Canyon Block 252 No. 1 for BP at $446,000/day.
Eni will drill off Pakistan with Vantage Energy Services' Aquamarine Driller jackup starting on Dec. 11, 2009 through Jan. 31, 2010. The rig is currently ready stacked.
The first contract beginning in 2010 is for Transocean's GSF Key Manhattan jackup. The contract commences on Feb. 1, 2010, at $137,000/day. The GSF Manhattan will drill off Italy for two years. The jackup is currently undergoing modification in Croatia at the Nauta Lamjana Shipyard. The shipyard is upgrading the rig's steel, repairing the cantilever and derrick, and replacing the hull piping systems. The rig will also get a new paint job before it starts working for Eni.
Just two weeks later, Eni will start the $650,000/day contract for Transocean's Deepwater Pathfinder. The drillship will drill for Eni in the GOM until Feb. 3, 2015. Currently the Deepwater Pathfinder is working for KNOC and Addax for $600,000/day off Sao Tome and Principe at Lemba 1X. The drillship then will work for Lukoil from Dec. 1, 2009 to Feb. 15, 2010 for $630,000 off Cote d'Ivoire before Eni starts its contract.
2009 Successes
Eni made several discoveries recently. The NOC finished 2008 strong with a high pressure high temperature gas and condensate discovery in the Culzean prospect in the UK North Sea. The Culzean discovery is in block 22/25a (license P111) in 92 m of water. It encountered a promising gas condensate column in reservoirs of Middle Jurassic to Triassic age.
In February 2009, Eni reported that the ENSCO 8500 semisubmersible made a discovery in the GOM. The exploration well Heidelberg-1 is in Green Canyon Block 859. The well was drilled in 5,340 ft of water and drilled down to 30,062 ft. It encountered more than 200 ft of net hydrocarbon-bearing sand.
Eni had further success in April off Indonesia in the Kutei Basin. Transocean's Jack Bates semisubmersible drilled an exploration well on the Jangkrik structure in the Muara Bakau block Kutei Basin east of Kalimantan. The Jack Bates drilled the Jangkrik discovery in 400 m of water.
Eni drilled a discovery well with the ENSCO 68 jackup in October at its Perla field off Venezuela in shallow water. The exploratory well is in the Cardon IV block in the Gulf of Venezuela. The field has a reserve potential higher than 6 tcf. The Perla 1X well encountered a hydrocarbon column of 240 m.
During the production test, the well produced high quality gas with a capacity of 600,000 cm/d and 500 b/d of condensate. Normalized gas production per well is expected to increase to over 1 MMcm/d.
Eni also started production from a number of fields in 2009. Production at Thunder Hawk in Mississippi Canyon Block 734 in the GOM started in July. The field was discovered in 2004 and has been developed through three subsea wells tied back to a semisubmersible production unit with production capacity of 45,000 b/d and 70 MMcf/d.
In August, Eni started up subsea gas production in the North Bardawil field, within the North Bardawil Concession in the Mediterranean Sea off of Egypt. The expected maximum production rate is 2.7 MMscm/d.
The project consists of two subsea wells drilled by the Scarabeo-4 semisubmersible, the installation of 24 km of sea line in 110 m to 350 m of water, and the tie back to the existing production platform Barboni.
Production at the Tombua-Landana project off Angola started on September 9. The field is in 366 m of water in block 14. Peak production from the fields is expected to be over 100,000 b/d in 2011 and recoverable resources are estimated at about 350 MMbbl.
Eni started production from the Blacktip gas field in September. Located in the southern Bonaparte Gulf, offshore Northern Territory, Australia, the field will deliver gas to the Northern Territory's Power Water Corporation (PWC) for the next 25 years, with supply rising to 18,000 boe/d over the life of the contract. Blacktip holds an estimated 933 Bscf and 5.7 MMbbl.
In 2001, Blacktip was discovered by the Blacktip-1 well, which flowed at a rate of 89 MMcf/d principally from the Permian interval. The Transocean jackup drilled the discovery well in 164 ft (50 m) of water. Shortly after the discovery, the field was further explored and deemed commercially viable. Eni wholly owns and operates the field.
Most recently, Eni started production from PY-1 Field off India's southern Tamilnadu province in October. Gas production is estimated to reach 1.4 MMcm/d. Eni has been operating off India since 2005.
Follow Eni and its projects worldwide by visiting SubseaIQ, or follow the developments, contracts and initiatives of the rigs through RigLogix.
RELATED COMPANIES