Analysis: SE Asia Rig Market Challenged, But Construction Continues
Rigzone Staff
|
Friday, November 06, 2009
Southeast Asia Offshore Background and Drilling Activity Assessment
Southeast Asia is rich with hydrocarbon resources. The region is made up of Brunei, Burma, Cambodia, Timor-Leste, Indonesia, Laos, Malaysia, Papua New Guinea, Philippines, Singapore, Thailand, and Vietnam.
According to Shell, the Indonesia oil industry and what subsequently became Royal Dutch Shell are closely connected. Shell discovered commercial quantities of crude oil in Sumatra just over 100 yrs ago.
Offshore drilling in Southeast Asia took off after World War II when drilling in the Gulf of Mexico proved successful. The offshore region is made up of relatively shallow water; thus there is a large number of jackups working there. Shell was the first to bring a drilling rig to the region and the first to discover oil off of Brunei in 1958.
Today there are about 25 operators active in Southeast Asia with 46 rigs (jackups, semis and drillships) currently contracted. Forty one of the contracted rigs are drilling, and five are waiting on location or in shipyards. In addition to the rigs that are contracted in the region, there are eight cold stacked units, nine ready stacked units, and one unit in the shipyard without a contract for a total supply of 64 rigs. Thus, total utilization in the region is 72% and ready utilization is 84%. While indications are that jackup market fundamentals have begun to stabilize, contracting conditions have been challenging as the collapse in crude oil prices and E&P spending have pressured both utilization and dayrates in the region.
Southeast Asia only has eight semisubmersibles actively drilling in its waters (one other is contracted but not currently working). Four are off Malaysia, two are off Vietnam, one is off the Philippines, and another is off Myanmar. However, the drilling jackup count is significantly higher at 31 (four others are contracted but not currently working). Malaysia has the highest jackup count at twelve, followed by Vietnam with seven, Thailand with five, Indonesia with four, Brunei Darussalam with two, and East Timor with one. There are also two drillships working in the region. One is off Malaysia and the other is off Vietnam.
Along with the rest of the industry, spending on offshore rigs in Southeast Asia has increased significantly over the last several years but may have peaked for now as leading edge dayrates and utilization have declined in the region alongside the global offshore rig market slowdown. In fact, through October 2009, operators have already spent approximately $2.8 billion on offshore rig contracts (semis, drillships and jackups) compared to $3.4 billion in all of 2008. Assuming similar spending to October levels for the rest of the year, rig spending for all of 2009 will be roughly equal to spending in 2008 in the region but is likely to trend lower through 2011 as rigs re-price at lower dayrates. Broken down by rig type, the $2.8 billion spent so far in 2009 is comprised of approximately $1.9 billion for jackups, $785.0 million for semis and $119.4 million for drillships.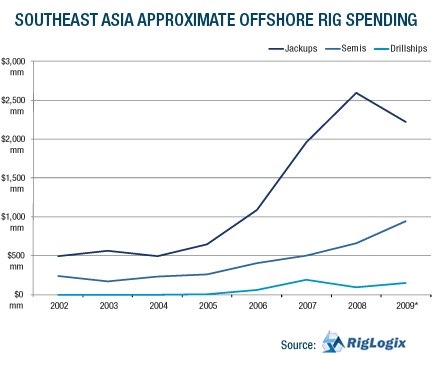 Rig Construction Boom
Hosting shipyards for established rig builders like Keppel, Jurong (a subsidiary of Sembcorp Marine) and PPL, Asia is a hotbed for new rig construction. A total of 38 rigs -- 17 semisubmersibles, 18 jackups, and 3 drillships -- are under construction in Southeast Asia, and 69 more are under construction in the Far East. South Korea is building 38 rigs, Singapore is constructing 34 rigs, China has 31 rigs under construction, and four other newbuild projects are scattered across shipyards in Vietnam, Indonesia, and Malaysia.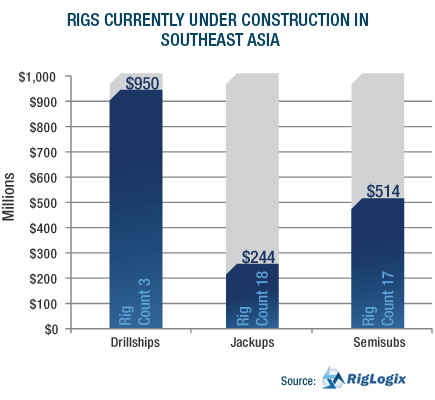 Although the current rig construction cycle has clearly peaked, and the number of rigs under construction is likely to decline over the next several years, the Southeast Asia economy has enjoyed stimulus created by one of the largest rig construction cycles the offshore rig industry has ever seen. The value of the orders for the 38 rigs under construction in Southeast Asia today exceeds $14 billion, a good portion of which will filter into local economies in the form of wages. The chart below shows historical and expected rig deliveries from 2007-2012.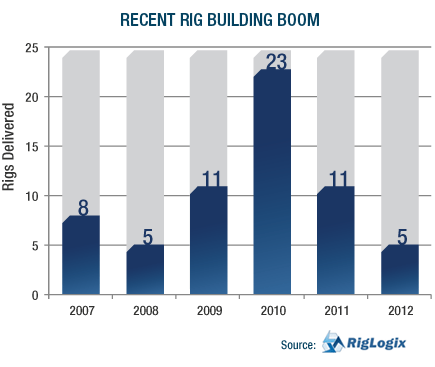 Recently and Soon to be Delivered Rigs
One of the newest jackups in the region is the Petrojack IV, which was delivered late last year. It is the fourth deep-drilling offshore jackup rig ordered at Sembcorp Marine's subsidiary Jurong Shipyard by Larsen Oil & Gas' subsidiary PetroJack ASA (PetroJack). It was deployed in the Gulf of Thailand in January for a five-year charter with PTTEP.
Built based on the group's Pacific Class 375 design, Petrojack IV is designed to drill high-pressure and high-temperature wells of up to 30,000 ft while operating in 375 ft of water. The rig can accommodate 120 men.
Petrojack IV is the fourth unit of a series of four jackup rigs PetroJack ASA originally ordered. The company subsequently sold the first and third units to Maersk Contractors. Its sister rig unit Petrojack II was successfully delivered to PetroJack in March 2008 and is currently managed by Saipem and operating in Saudi Arabia under a four-year charter with Saudi Aramco.
In addition, there are six new rigs either recently completed or near completion in Southeast Asia.
One of these is Queiroz Galvao Perfuracioes' Gold Star semisubmersible, which cost $270 million to construct and will work for Petrobras off Brazil. Keppel FELS delivered the rig six days ahead of schedule on October 27 to QGOG. Gold Star is the world's first DSSTM 38 deepwater semisubmersible drilling rig. Presently under construction at Keppel FELS, QGOG's second DSSTM 38 unit, Alpha Star, is scheduled for delivery in mid-2011.
Keppel Shipyard is also busy constructing PV Drilling's PV Drilling III jackup, which cost $220 million to build. The Keppel FELS KFELS B Class Independent Leg Cantilever jackup has been under construction since March 5, 2008, and will be ready for service no later than Dec. 31, 2009. The rig is rated for 400 ft of water and is capable of drilling down to 30,000 ft. The PV Drilling III is already contracted to VietSovPetro off Vietnam. The two-year contract will start Jan. 1, 2010.
Coming in at a cost of just over $200 million, Egyptian Drilling's unnamed jackup is under construction at PPL Shipyard in Singapore. The jackup is a Baker Marine Services BMC Pacific Class 375 Independent Leg Cantilever. It will be capable of working in up to 375 ft of water and drilling down to 30,000 ft. PPL Shipyard started construction on the jackup on Sept. 5, 2007, and expects to deliver the rig no later than Dec. 31, 2009.
PPL Shipyard also constructed Vantage Drilling's Topaz Driller jackup. The $198 million jackup was delivered October 31 and is ready stacked. The Baker Marine Services BMC Marine Pacific Class 375 Independent Leg Cantilever can work in 375 ft of water and drill down to 30,000 ft.
In just a few weeks, Drydocks World Graha is expected to deliver the $160 million Naga 2 jackup to UMW Petropipe/Standard Drilling on Nov. 30, 2009. The Naga 2 is capable of working in up to 350 ft of water and drilling down to 30,000 ft. The jackup has been under construction since March 2006 and has not yet been contracted.
Saipem took delivery of its latest newbuild, the Perro Negro 8 jackup, on October 31. The $154 million jackup is capable of working in up to 350 ft of water and drilling down to 30,000 ft. Drydocks World Graha started constructing the rig in October 2006. It is currently ready stacked.
Southeast Asia Contracting Activity
Over the course of 2009, 47 different rigs will have worked off Southeast Asia. This number is down from last year when the total reached about 60. Looking ahead, the number of rigs contracted in 2010 decreases from a high of 39 in January to a low of 24 in December, assuming no extensions or additional contracts are signed. However, Southeast Asia has a high number of jackups working in the region, which are typically not contracted far in advance.
Earlier this week, Japan Drilling's HAKUYU-5 semisubmersible came off contract. BP had been using the rig on block 05.2 off Vietnam since Oct. 6, 2009, at $275,000/day. The rig will work for Premier until Dec. 21, 2009, at the same rate.
Also due off contract soon is Maersk Drilling's Maersk Completer jackup. The jackup has been working for Shell at Iron Duke off Brunei Darussalam since Nov. 16, 2008, at $190,000/day. The contract terminates on November 7; however Shell has another contract for the Maersk Completer starting Nov. 8, 2009, through Nov. 7, 2011, at an undisclosed dayrate.
The PV Drilling I jackup started a new contract earlier this week for Phu Quay. The rig will work off Vietnam from November 1 until Dec. 15, 2009, for an undisclosed dayrate. Its sister rig, the PV Drilling II jackup, started a new contract on October 21 for Bach Dang. The jackup will work off Vietnam for $135,000/day until Nov. 30, 2009.
Transocean's Actinia semisubmersible also started a contract earlier this week. The rig started drilling off Myanmar for CNOOC on November 2. The $206,000/day contract is good through Dec. 1, 200, when PTTEP will drill off Myanmar at the same dayrate through April 1, 2010. However, PTTEP has an option to extend the contract through May 2010 at the same dayrate.
Also due to come on contract is the Songa Mercur semisubmersible. The rig will work for Oilex off East Timor starting November 26. The $280,000/day contract terminates on Jan. 14, 2010.
The last rig to come on contract off Southeast Asia this year will be Atwood Oceanics Vicksburg jackup. The rig will work for NuCoastal off of Thailand starting December 2 through March 1, 2010, at $90,000/day.
West Aquarius
The rig commanding the highest dayrate is Seadrill's West Aquarius. ExxonMobil is drilling with the semisubmersible off the Philippines at $529,500/day. The contract commenced in February 2009 and will terminate on Feb. 28, 2013.
Seadrill took delivery of its newbuild on January 18 of this year, just one month before the West Aquarius started its contract with ExxonMobil. The West Aquarius is a sixth generation, high specification, deepwater semisubmersible drilling unit. The rig has a high load carrying capacity, an efficient drilling floor layout with improved safety and working environment measures. West Aquarius can run parallel drilling operations and is designed with a dynamic positioning system and a water depth capacity up to 3,000 m.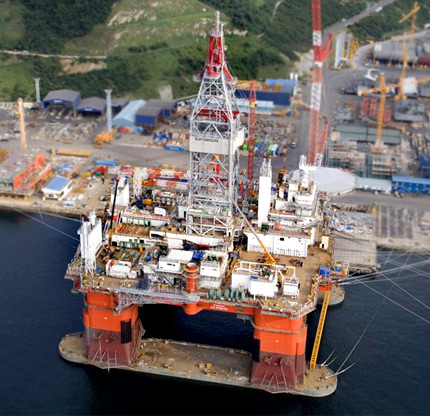 West Aquarius
Follow projects off Southeast Asia by visiting SubseaIQ, or follow the developments, contracts and initiatives of the rigs through RigLogix.
RELATED COMPANIES