Analysis: ENSCO -- Expanding Into Deeper Waters
Rigzone Staff
|
Friday, October 30, 2009
ENSCO International Inc. provides offshore contract drilling services. The company owns and operates 51 drilling rigs, including 42 jackups, three existing semisubmersibles, five more semisubmersibles under construction, and one barge. ENSCO's rigs are in Asia Pacific, Europe/Africa, and North and South America. Some of the company's primary competitors in the offshore drilling market include Diamond Offshore, Noble Corp., Pride Intl., Rowan Co., and Transocean.
Hit hard by the industry-wide downturn, ENSCO has 33 of its 46 existing rigs (excluding the five semisbumersibles under construction) currently contracted (72% utilization), compared to 44 of 46 (96% utilization) a year ago. Of its uncontracted rig fleet, one drill barge and two jackups are cold stacked, and 10 jackups are ready stacked.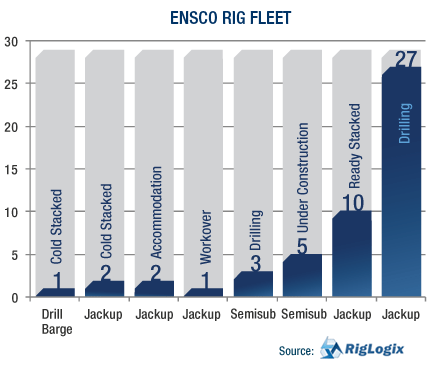 Historically a pure play jackup company, the company embarked in a $3 billion, 7-rig ultra-deepwater fleet expansion program with its proprietary ENSCO 8500 Series design in 2005. The 8500 series rigs are ultra-deepwater semisubmersibles, capable of drilling in water depths up to 8,500 ft. Remaining capital expenditures associated with the newbuild program total less than $1.4 billion, which will be spent over the next 3.5 years. When the remaining five rigs still under construction are completed, they will join the ENSCO 7500, ENSCO 8500, and ENSCO 8501 for a total of eight ultra-deepwater semisubmersibles. They will also give the company a more balanced fleet profile.
Ultra-deepwater Semisubmersibles
Revenues associated with the existing ultra-deepwater units ENSCO has on the water only comprised about 15% of the company's Q32009 revenue. However, some quick math implies that the ultra-deepwater fleet, once fully deployed, is destined to become a much larger component of ENSCO's top line. In fact, assuming that the fully delivered ultra-deepwater fleet operates at 90% utilization and earns the currently contracted average dayrate (~$450,000), ultra-deepwater revenue on a full year run rate would comprise about 45% of the company's revenue (using Q32009 jackup revenue as a going run rate for the jackup fleet). While this exercise (shown below) is rather simplistic as it assumes jackup conditions remain static from Q32009, it provides some quantitative context for the impact that ENSCO's entry into ultra-deepwater will have on the company's operations going forward.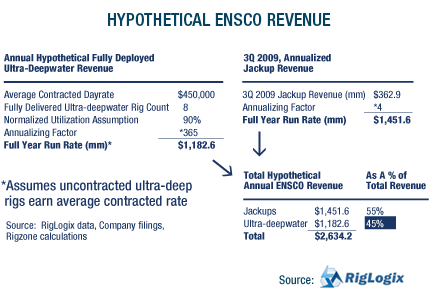 Aided by limited near term rig availability, ultra-deepwater semisubmersible dayrates have held up better than dayrates for other asset classes, but have declined during the first nine months of 2009 as compared to record-high dayrates achieved during 2008. According to ENSCO, and validated by data in the RigLogix database, this decline has been partially due to the abundance of sublet slots made available by operators. Despite the recent increase in farm-out activity, ENSCO anticipates continued high utilization of the worldwide ultra-deepwater semisubmersible rig fleet for the foreseeable future. As crude oil prices escalated from 2004-2008 and more ultra-deepwater projects became economical for E&P companies, operators scrambling to lock in ultra-deepwater rigs agreed to long term contracts (typically between three and seven years in length), and the resulting backlog will likely help support utilization for ultra-deepwater assets over the next several years. Dayrates for the remainder of 2009 and beyond, the company says, will depend in large part on the length and magnitude of the current global economic crisis and on expectations of future oil and natural gas prices.
Looking in the rearview mirror, the contracts ENSCO has landed for its 8500 Series units follow the rise of ultra-deepwater dayrates that likely peaked (at least for the foreseeable future) in 2008.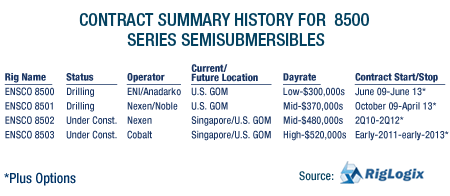 Recent ultra-deepwater fixtures have commanded rates in the $450,000-$500,000 range; however contracting activity has been light this year due to the limited availability noted above. Although ENSCO has recently stated that discussions are underway with multiple operators for its three uncontracted units, the fact that these units remain uncontracted and are scheduled to deliver in 2011 and 2012, a period that will be characterized by more ultra-deepwater availability, represents a material risk for the company.
Two of ENSCO's five ultra-deepwater semisubmersibles still under construction are already under contract. ENSCO 8502 and ENSCO 8503 are scheduled for delivery in Q1 and Q4 2010, each with two-year contracts in the GOM. Nexen Petroleum has a two-year contract for the ENSCO 8502 starting in April 2010 at $485,000/day, and Cobalt International Energy has a two-year contract for the ENSCO 8503 starting February 2011 at $528,000/day. ENSCO 8504 is scheduled for delivery in 2011 and ENSCO 8505 and ENSCO 8506 are scheduled for delivery in 2012. Keppel FELS Ltd. is the builder of the ENSCO 8500 Series seven-rig fleet.
ENSCO 8501 recently started its rig-sharing contract with Nexen Petroleum and Noble Energy in the GOM on Oct. 16, 2009. The contract, which runs through April 2013, has a dayrate of $375,000 and options could extend the contract into 2017.
A couple weeks ago, Chairman, President and CEO Dan Rabun commented, "We have achieved another important milestone with ENSCO 8501 commencing operations. ENSCO already has invested more than half of the $3 billion committed to the ENSCO 8500 Series newbuild program, and we are well on our way toward having the world's largest fleet of ultra-deepwater semisubmersibles capable of drilling in water depths of 7,500 ft or deeper." Mr. Rabun added, "We now have three ultra-deepwater semisubmersibles in our active fleet to complement our premium jackups around the globe."
Anadarko has contracted the ENSCO 8500 from June 2009 through June 2013 to drill at a dayrate near $300,000/day. And Chevron is drilling with the ENSCO 7500 from April 2009 through September 2010 at $550,000/day.
According to the company, the ENSCO 8500 Series of ultra-deepwater semisubmersibles was developed to address the drilling requirements for virtually every deepwater field around the world. The design includes a 35,000 ft nominal rated drilling depth, 2 MM lbs of hoisting capacity, 8,000 tons of variable deck load, and an open layout suited for subsea completion activities. Improved visibility from the open deck configuration also enhances safety. Furthermore, the uniform design of the series offers ENSCO a variety of operational efficiencies including reduced training costs, lower repair and maintenance expense, and equipment and supply savings as equipment and spares can be swapped between the rigs as needed.
Senior Vice President Carey Lowe stated, "Recent major discoveries in the ultra-deepwater golden triangle of the Gulf of Mexico, Brazil, and West Africa highlight the growing need for ultra-deepwater drilling. ENSCO 8500 Series semisubmersibles are suited to drill in these regions, as well as Australia, Southeast Asia, and many other ultra-deepwater markets."
Jackups
ENSCO's 42-rig premium jackup fleet is the world's third largest jackup fleet. Nine new jackup rigs have been added over the past decade and more than $1.3 billion was invested to upgrade the capability and extend the service life of the jackup fleet.
Of the 42 jackups, 27 are drilling, two are providing accommodation, one is performing a workover, 10 are ready stacked, and two were recently cold stacked due to the pervasive weakness that has impacted most jackup markets worldwide.
ENSCO's jackups are dispersed across most major jackup markets around the globe. Nine are in the Persian Gulf, eight are working off Southeast Asia, seven each are in the North Sea and in the GOM, five are off Mexico, two are in the Mediterranean, and one each is off East Europe, Australia, South Asia, and Venezuela.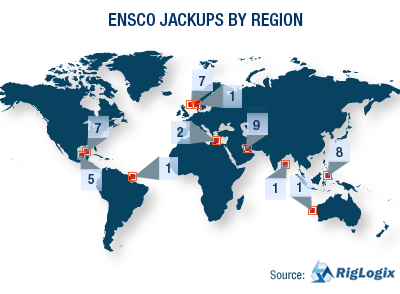 Several of these jackups are coming off contract soon. The ENSCO 71 had been drilling in the North Sea for Maersk Oil since August 2008. It came off a $200,000/day contract on October 24 and is now ready stacked.
On October 29, the ENSCO 107 completed its $185,000/day drilling contract for OMV off Australia. The rig had been working for OMV since September 2009; however, the ENSCO 107 has several more contracts scheduled through July 8, 2010.
The ENSCO 51 was scheduled to come off a 45-day drilling contract for Pertamina on October 31, but completed its contract early. The jackup was drilling off of Southeast Asia at $85,000/day. It is now ready stacked. Also due off contract on October 31 is the ENSCO 87 jackup. It has been performing workover operations for Proserv since Sept. 1, 2009. The jackup is working in the GOM at $50,000/day. Proserv has been carrying out P&A operations on behalf of St. Mary Land & Exploration. The VR281 platform was damaged during Hurricane Ike.
ENSCO itself suffered damages from Hurricane Ike. The company lost the ENSCO 74. The independent leg jackup is submerged 24 ft under water, 70 mi southeast of Galveston Island. The ENSCO 74 was displaced from South Marsh Island Block 149 during Hurricane Ike.
The ENSCO 92 commands the highest dayrate in Ensco's jackup fleet at $215,000/day. The rig has been working for BHP Billiton since August 2009, and is due off contract on Nov. 10, 2009. It is currently drilling for a consortium of operators including EOG, Challenger, Venture, BHP and HRL/Centrica. The group contract expires in April 2010.
ConocoPhillips is currently paying the second highest dayrate for the ENSCO 104. The $210,000/day drilling contract started on March 20, 2009, and terminates in January 2010.
ENSCO's contract portfolio, especially those fixtures signed near the top of the cycle in 2008, has paid off. As of Sept. 30, 2009, the company reported over $1 billion in cash (enough to pay off about 70% of its remaining newbuild capex) and less than $270 million in debt. Furthermore, Wall Street Consensus estimates have ENSCO generating around $7 in cash flow per share this year and $6 in cash flow per share next year.
RELATED COMPANIES