Analysis: Pickup in U.S. Jackup Market Not Yet in the Numbers
by Joseph Triepke
|
Rigzone
|
Tuesday, October 27, 2009
After hints at a pickup in domestic jackup demand were dropped on several offshore driller conference calls held last week, it is worth taking a closer look at drilling permit applications and drilling plan requests as these datapoints have historically had a high level of correlation to contracting activity in the U.S. Gulf of Mexico (GOM) jackup market.
With front month natural gas prices about 80% above the September low and an uneventful hurricane season behind us, the contracted jackup count in the GOM has climbed modestly since mid-October to reach 22 rigs today (from the mid- to high-teens over the last several months). The current count remains well below the 2008 average of 60 jackups and returning to anything close to full utilization seems unlikely anytime soon. But with dayrates back to levels not seen since 2004-2005 for most jackup classes and anecdotal evidence of increased inquires and longer contract terms being discussed, a modest pickup in activity levels going into year-end and 2010 seems logical.
Historically, the GOM jackup count has had a high level of correlation to new drilling permits filed several months before -- simple linear regression yields an R2 of 0.9 over the last nine years. Operators must file a drilling permit and receive approval from the U.S. Minerals Management Service (MMS) before deploying rigs in the region, and these filings have been a good indicator of an operator's commitment to deploy a drilling unit in the past. Thus, it stands to reason that the rig count will ultimately respond to material shifts in the direction of permitting requests.
In the chart below, we highlight data gleaned from GOMExplorer, Rigzone's premium web-based reporting system for the GOM oil and gas industry, which shows historical GOM jackup demand versus a rolling three month average of shallow water drilling permit requests received by the MMS. This analysis does not include modification permits, which also contribute to jackup demand (like the Bob Palmer's recent contract award from LLOG), although to a much lesser extent than drilling permits.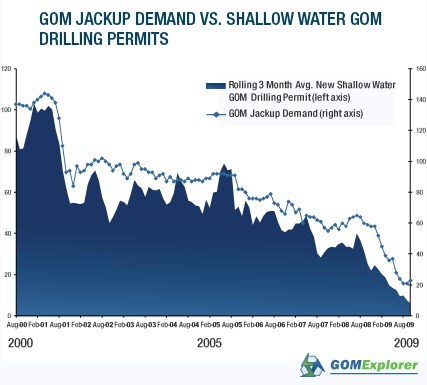 While shallow water permitting activity has been light in September and October, one potential bright spot is a modest pickup in operator plans involving shallow water drilling activity for late 2009 and early 2010. Specifically, drilling and completion plans for three wells have been filed recently with start dates later this year and in early 2010.
Clearly, it is too early to form an argument from recent plan and permitting data to support anecdotal evidence of a possible pick up in demand. However, with contractors like Diamond Offshore and Ensco International mentioning increased inquiries and longer term contract discussions on conference calls last week, both plan and permitting activity should be carefully monitored to help gauge the direction of the GOM jackup market next year. This will likely become more relevant as E&P companies finalize their capex budgets and drilling plans going into year-end and begin to act on them next year.
Also worth watching this week will be market commentary from the management team of GOM focused driller, Hercules Offshore, on their upcoming conference call. The call will be held:
October 28, 2009 at 10:00 a.m. CDT (11:00 a.m. EDT).
Dial 866-788-0547 and refer to confirmation code 58884642.
RELATED COMPANIES