ONGC Remains Strong in India Market
Rigzone Staff
|
Friday, October 23, 2009
ONGC is the only fully-integrated petroleum company in India. The company has had tremendous success offshore India. In fact, ONGC has made more than 350 oil and gas discoveries since its inception in 1956, and 117 since 1983. Today, ONGC contributes around 77% of India's crude oil production and 81% of India's natural gas production from 26 sedimentary basins off India. The operator produces approximately 30% of India's crude oil requirement and owns and operates more than 11,000 km of pipelines in India.
However, recent success for the operator has been more difficult to achieve. ONGC posted a decline in quarterly profits over the summer. The National Oil Company is required to partially subsidize fuel sales to state-run retailers. These retailers must sell fuel according to the government's below-market prices. The record high oil prices seen in 2008 have fallen about 96% from last year, and in the first half of 2009, crude oil prices averaged only about half of 2008 levels. Furthermore, ONGC's crude oil production fell 4.5% to 6.12 million metric tonnes.
But things are looking brighter for India's biggest oil explorer. Crude oil prices have recovered nearly 80% year-to-date, and this month, a weakening US dollar helped push crude oil prices above the $80/barrel mark for the first time in a year, although prices still remain about 45% below the record high level set in 2008. ONGC has said it is committed to increase domestic oil and gas production to offset the natural decline it's seen in the last five years at its existing oil and gas fields. The commitment has paid off. ONGC has made seven new oil and gas discoveries this year.
One of these discoveries could be the company's first significant find since Mumbai High. ONCG found gas at the Krishna Godavari (K-G) basin off the Andhra coast, which is said to have an estimated reserve of 10 tcf.
According to R.S. Sharma, ONGC chairman and managing director, the company is investing around $10 billion in developing new oil and gas fields as well as increasing output from declining ones, like Mumbai High.
Existing crude oil and gas production is around 25.4 million tonnes and 62 MMscm/d. Looking to the future, Sharma expects "by 2012-13, ONGC's crude oil production will go up to 29 million tonnes while its natural gas production will peak up to 72 MMscm/d."
Current Rig Fleet
ONGC is by far the most active operator off South Asia with 37 rigs deployed under contract. ONGC not only operates its own rigs, but also rigs of 11 other managers. Coming in a distant second is Reliance Industries with three contracted rigs currently working in the region. And three other operators each have one rig working offshore India- BG, Gujarat State Petroleum, and Hindustan Oil Exploration Co.
Of ONGC's 37 rigs, jackups comprise the lion's share of the fleet at 31 units, followed by five drillships and one semisubmersible. All rigs but one jackup are performing drilling operations. While only two of the six floating rigs currently deployed by ONGC are capable of drilling in ultra-deepwater (7,000 ft + water depth), the NOC has contracted several more ultra-deepwater, newbuild floaters which are expected to deliver next year.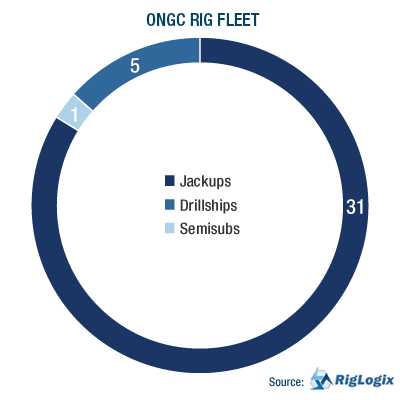 Looking back over the last year, from October 2008 to today, ONCG has a contract with 12 rigs managers for 34 rigs. However, that number will change from today through October 2010 to 32 rigs with the same 12 rig managers.
Not surprising, of the known dayrates, ONGC leads with the largest contract of the five operators active in the region. Transocean's Dirubhai Deepwater KG1 drillship is contracted by ONGC under a farm out arrangement with Reliance Industries for $495,000/day through Dec. 31, 2009 Beginning Jan. 1, 2010, -the rig will earn $510,000/day with ONGC as the farm out arrangement continues through July 25, 2013.
The Dirubhai Deepwater KG1 is a double hulled dynamically positioned drillship, capable of operating in moderate environments and water depths up to 10,000 ft. Samsung completed the construction of the sixth generation ultra-deepwater drillship, which accommodates up to 172 people, earlier this year.
ONGC is not the only game in town. Reliance Industries is paying up for rig capacity as well. The operator has a contract for Transocean's Deepwater Expedition drillship at $375,000/day. The drillship has been under contract since July 9, 2008 and will continue until Sept. 30, 2010.
Not far behind is Gujarat State Petroleum with a contract for $342,000/day. The operator has the Essar Wildcat semisubmersible under contract until May 2, 2010.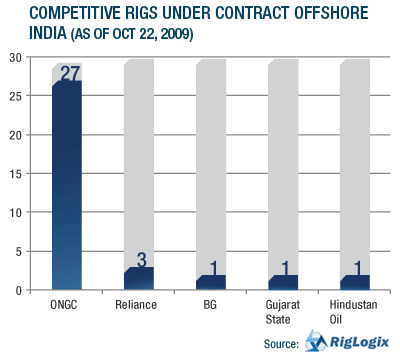 Looking ahead to the next couple years, ONGC's biggest contract is for Vantage Energy Services' Platinum Explorer drillship. The five-year contract is expected to start Dec. 1, 2010, after construction of the rig is completed, at a rate of $585,000/day.
The Platinum Explorer is an ultra-deepwater DP3 drillship capable of working in up to 12,000 ft of water and drilling down to 40,000 ft. The drillship is owned 45% by Vantage and 55% by an affiliate of TMT, Inc.
The Platinum Explorer is being constructed by DSME in South Korea.
Due to come off contract in about a week is the Deepsea Matdrill, a 250 ft MS jackup. The Jagson-owned jackup has been working off India for $41,440 since June 1, 2006. The contract ends October 29. The Pride Pennsylvania, a 300 ft IC jackup, contract terminates the following day. The jackup has been working off India since Aug. 5, 2006, at a rate of $115,000/day. The Noble Ed Holt, another 300 ft IC, will complete its 34-month contract at $82,500/day on November 13. And coming off contract on December 31 is Great Offshore's Kedarnath jackup. The Kedarnath, a 300 ft IS, has been working off India since May 2007 at a rate of $44,000/day.
Future
ONGC won big at the recent NELP-VIII bidding round. The company submitted bids for 25 blocks and won 17 of them.
Specifically, ONGC submitted seven bids for deepwater blocks and won all of them. One winning block is in KG and the remaining six are in Andaman. ONGC will operate six of the blocks, and jointly operate one of the six with Oil India Ltd. The company will also serve as a consortium partner in the KG-Offshore block with BG who will operate the block.
Likewise, ONGC submitted seven bids in shallow waters and won six of them. The blocks fall in the Kutch, Cauvery, and Krishna-Godavari areas. ONGC will operate five blocks. M/s OIL will operate the Cauvery block.
ONGC also submitted bids for 11 onland blocks and won four blocks. The company will serve as operator for three of the four blocks.
The overall response to the bid round was what Sharma expected. He points to lack of investor interest for exploration across the world as the reason for lower number of bids. He also thinks the lack of clarity on the likely gas price implementation and the taxation regime could have contributed to the below par response to the bidding round.
However, Sharma was absolutely satisfied with ONGC's winning bids. "Strategically, we had targeted to win high risk- high return blocks and also the virgin areas in the exploration frontiers, especially in the deepwaters," Sharma said. "The results are in absolute conformity with our bidding strategy."
In the past seven rounds, ONGC has won almost 50% of the awarded blocks.
Follow ONGC and its projects off India by visiting SubseaIQ, or follow the developments, contracts and initiatives of the rigs working in these waters through RigLogix.
RELATED COMPANIES