Analysis: Angola Rises As West Africa's Production Leader
Rigzone Staff
|
Friday, October 16, 2009
The strength of West Africa's offshore developments, particularly in Nigeria and Angola, is propelling the region to grow faster than any other in the energy industry. Industry experts predict annual project spending will hit $13 billion by next year.
This is remarkable considering Nigeria's production has dropped off by 20% since 2006. The Movement for the Emancipation of the Niger Delta (MEND) has attacked and kidnapped major industry employees, which has led to the production decrease. Nigeria currently produces about 1.7 MMb/d of oil, down from about 2.6 MMb/d in 2005. The country's natural gas production comes in around 185 tcf.
Nigeria's struggles coupled with Angola's strong recovery from a civil war fought from 1975-2002, has allowed Angola to surpass Nigeria as Africa's top energy producer. Angola's gross domestic product has expanded by more than 10% annually since 2004. Production in Q1 2009 was about 1.8 MMb/d and growing.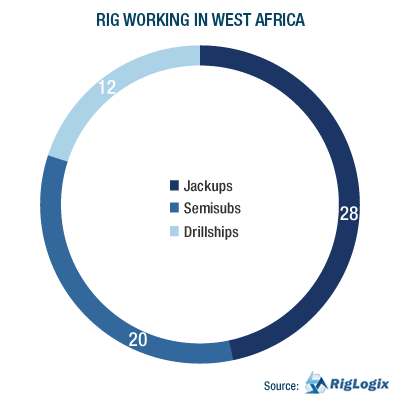 Currently there are 60 rigs working off West Africa compared to 46 in October 2004. These include 12 drillships, 20 semisubmersibles, and 28 jackups. Angola leads the West African countries with 19 rigs, followed by Nigeria with 15 rigs. The numbers drop off significantly with Gabon, Cameroon, and Congo each with six rigs, Ghana with three, Cote d'Ivoire with two, and Equatorial Guinea, Sao Tome and Principe, and Spain with one each. Transocean owns the most rigs with 13 jackups and 12 semisubmersibles working off the West African coast.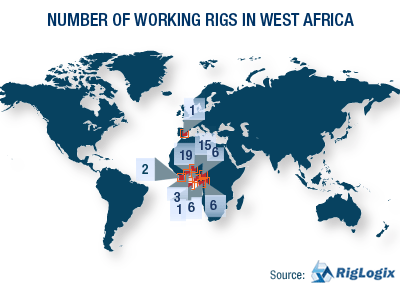 Rigs working off West Africa were earning an average of only $88,000/day in October 2004, compared with the current average of $338,000/day. That's a 284% increase. However, October 2004 boasted an 85% utilization rate, whereas today's utilization is 70.5%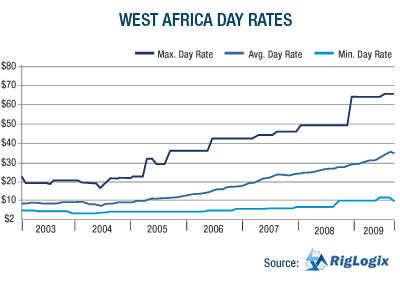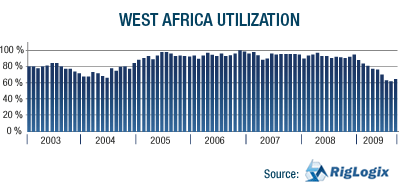 Eirik Raude at the Jubilee Field
The Eirik Raude semisubmersible is the rig making the most money off the West African coast. Eirik Raude, owned by Ocean Rig, signed a three-year contract with Tullow oil at $637,000. The contract ends in October 2011; however, Tullow has another two contracts for the rig through the end of October 2013 for undisclosed projects.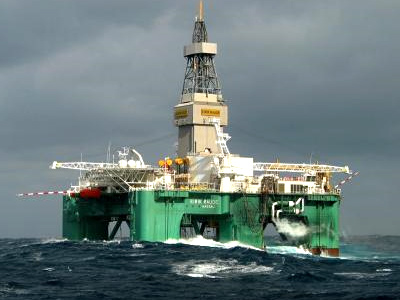 Eirik Raude
Discovered in 2007, the Jubilee field is one of West Africa's biggest oil finds in recent years. The field is estimated to contain recoverable reserves around 1.2 Bboe.
Several wells containing large amounts of oil have been discovered in the area. The partners will develop the Jubilee field in several phases. Phase 1 is the core area of the field with 17 subsea wells, of which nine are oil producers, five are water injection wells, and three are gas injection wells. The wells will tieback to the Kwame Nkrumah MV21 FPSO. Produced gas will either be exported to shore or re-injected into the reservoir, eliminating gas flaring.
Phase 1 will start production in 2010. Meanwhile, four rigs, including Eirik Raude, will finish developing the remaining field areas. Phase 1 is expected to produce 300 MMbbl.
Deepwater Pathfinder at the Kina Prospect
Transocean's Deepwater Pathfinder is the highest paid drillship working off of West Africa. Currently it is under contract with Addax Petroleum for $600,000/day. Earlier this year the drillship drilled four exploratory wells for Addax.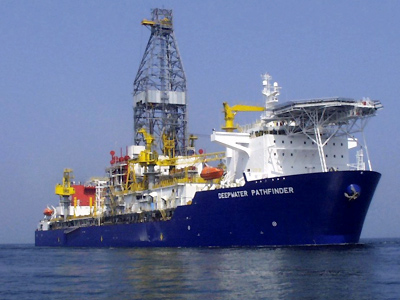 Deepwater Pathfinder
The Kina prospect is on Block 4 in the Gulf of Guinea on the Nigeria Sao Tome and Principe Joint Development Zone (JDZ). Kina was the first location drilled in Block 4 of the JDZ, which covers 857 sq km in about 2,000 m of water. It is estimated to contain 458 MMbbl.
The Deepwater Pathfinder's contract terminates at the end of November. Lukoil has the following contract for the drillship at $630,000/day commencing Dec. 1, 2009 and ending Jan. 20, 2010. The drillship will earn even more starting in February 2010. ENI has contracted the drillship for $650,000/day through Jan. 2015.
Rowan Gorilla off Angola
The Rowan Gorilla jackup is the highest paid jackup working in the region. Under contract with Chevron since April 2008, the jackup is earning $330,000/day drilling off of Angola.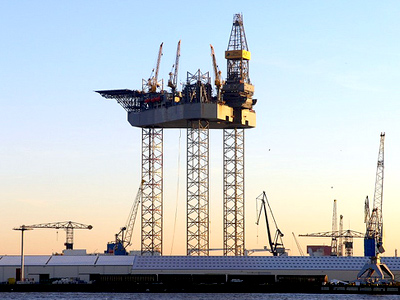 Rowan Gorilla
In March 2009, the Rowan Gorilla VII drilled the 79-3XST1 discovery well in Block 0 in 397 ft of water to 13,000 ft TVD. The well encountered 225 ft of hydrocarbon pay in the Upper Pinda formation and tested at 11.6 MMcf and 2,550 b/d.
A number of undeveloped natural gas condensate and crude oil discoveries have been made in the Greater Vanza Longui area. These discoveries are undergoing appraisal.
West Africa is known for its major oil and gas projects, particularly off Nigeria and Angola. As new equipment and technology evolve and are developed rich fields are sure to be discovered throughout the region.
Find out more about offshore projects off West Africa by visiting SubseaIQ, or follow the developments, contracts and initiatives of the rigs working in these waters through RigLogix.
RELATED COMPANIES