Analysis: Total Commitment to Global E&P
Rigzone Staff
|
Friday, October 02, 2009
The fifth largest publicly traded oil and gas company in the world, French super major Total has been producing hydrocarbons since the 1920s. After a number of mergers that combined Elf, PetroFina and Total, the resulting company employs some 97,000 in 150 different countries on five continents.
This global perspective has helped to solidify Total as a world leader in exploration and development. As a part of its corporate strategy, Total has pinpointed specific upstream regions for expansion and determined its core areas for continued successes. With a sustained focus on West Africa and the North Sea, Total has strengthened its position in the US Gulf of Mexico through a strategic partnership with Cobalt International, giving Total 40% interest in 255 more offshore blocks in the region. Additionally, Total is striving to build partnerships to access new exploration areas, such as Venezuela and Libya.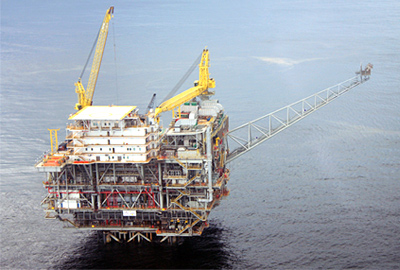 Tombua Landana Compliant Tower Offshore Angola
Showing its global dominance, Total has interest in a number of major projects starting up in 2009, including Akpo in Nigeria and Tahiti in the US GOM and Tombua Landana in Angola, as well as Qatargas II and Yemen LNG.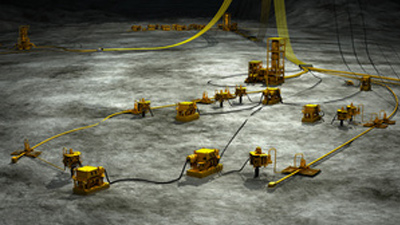 Pazflor Subsea Development Offshore Angola
Additionally, the company is involved with four major projects currently in development stages, including Pazflor in Angola and Usan in Nigeria, as well as Angola LNG and Kashagan in Kazakhstan.
Moving forward, Total is basing its exploration and development decisions on an $80 per barrel base case scenario, with a test at the bottom of $60 and at the top of $100 per barrel. According to the company's 2009 mid-year report, Total currently holds some 3.5 billion barrels of oil equivalent in exploration potential with an estimated discovery cost of $2 to $3 a barrel.
Total Drilling Worldwide
Total currently has 17 rigs contracted and drilling for the company worldwide. With seven jackups, six semisubs and four drillships, Total currently has three rigs that are capable of drilling in mid-water levels and seven that are rated for deepwater drilling.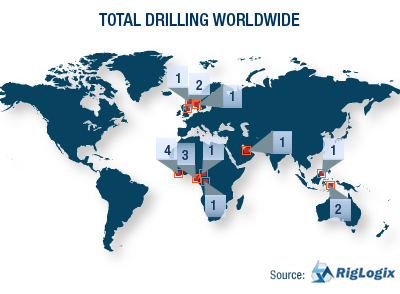 In-line with the company's global strategy, Total has rigs working in a wide range of locations. With rigs operating in 10 different countries, Total presently has nine rigs in West Africa, four in the North Sea, three in Asia Pacific and one in the Middle East.
Additionally, the company is planning on moving one of its rigs to the US GOM shortly. The Rowan Gorilla V, which is currently located in the UK North Sea, will be transported to the Gulf for work through mid-2010. Furthermore, although it is not a project on which Total serves as operator, Total is currently involved with Cobalt International in the drilling of the Ligurian prospect by the GSF Development Driller I semisub in the GOM.
Strategic Utilization
While the company has 17 rigs currently employed, two will roll off of contract very soon. Scheduled to conclude its contract with Total at the end of September, the Sedco 700 semisub has been drilling in Nigeria for $410,000 a day. Also, the Noble Al White jackup is scheduled to roll off of contract in early October, after drilling for Total at the K5 field in the Netherlands. One other rig, the Soehanah jackup, is scheduled to finish its contract with Total by the close of 2009.
Being added to the line-up in early 2010, Total has contracted the Saipem 12000 drillship for work offshore Angola at Plazflor. Scheduled to leave the Samsung shipyard in South Korea by March 2010, Total signed a 5 year contract for the ultra-deepwater Saipem 12000 in 2007 and has an additional 2 year option on the rig.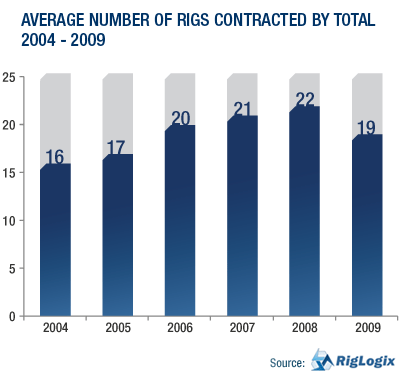 Portraying a budgetary constriction, the number of rigs that the French company has contracted is less than in previous years. Five years ago, the company had an average of 16 rigs working for it, and that number routinely increased over the years, only diminishing in 2009.
Drilling Ahead
Despite the decrease in rigs, Total remains a huge offshore player internationally. Like most operators, the dramatic drop in the price of crude has diminished profits for Total, but the company foresaw the volatility and made strategic moves in 2008 to ensure stability. By reducing its debt when the price of oil was extremely high, Total was able to strengthen its balance sheet before commodities plummeted. By reducing its costs during a volatile period, the company hopes to weather the storm and emerge with substantial production levels to be able to meet escalating mid- and long-term demand levels.
Looking ahead, Total also has a number of projects that are pending final investment decisions in 2010, including CLOV in Angola, Shtokman in Russia and Ichthys in Australia. Should these developments receive approval, Total will most likely need to contract more rigs to bring the projects into production.

RELATED COMPANIES