Musings: Iran Political Tensions Revive Strait of Hormuz Focus
by G. Allen Brooks
|
Wednesday, September 30, 2009
During last Friday's G-20 press conference where the U.S., France and the U.K. announced previously undisclosed information they had presented to the International Atomic Energy Agency (IAEA) showing Iran building a second nuclear enrichment facility, we were reminded of events in the late 1970s when the Iranian revolution began. At that time, every energy analyst had to become an instant expert on Middle East countries, religions, societies, politics and geography. One aspect was to understand the importance of the Strait of Hormuz connecting the Persian Gulf with the Gulf of Oman. It remains one of the world's choke points for crude oil and other petroleum resource movements.
According to the Energy Information Administration (EIA), an average of about 15 tankers a day move through the strait carrying 16.5-17.0 million barrels of oil. The crude oil moving out of the Persian Gulf accounts for about 40% of waterborne oil trade and 20% of world oil movements. There are some alternative routes for oil to exit the region, but they are more limited than the volume of oil moving now on ships, and would increase the length of time needed for oil to reach consumers. (It shows the potential value of the U.S. strategic oil storage reserve.)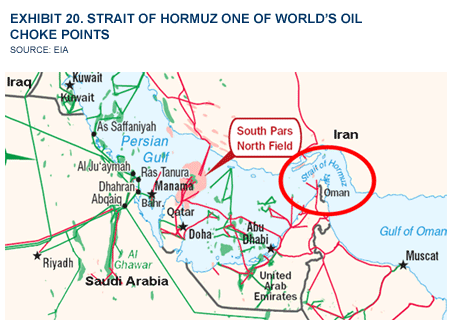 The Strait of Hormuz is about 21 miles wide at its narrowest point and contains channels for in and out movement of ships, each two miles wide with two-mile wide buffer zones on each side. The fear of the petroleum and shipping industries is that in a war or political confrontation, Iran would mine the strait or worse, sink ships to block the route. Mines have been deployed before but they were removed
by navies before creating problems. We are not suggesting this scenario will play out, but it is important to be aware of its potential. The fact that crude oil prices did not spike higher on Friday after the disclosure suggests the oil market does not expect any military action in the immediate future.
Generated by readers, the comments included herein do not reflect the views and opinions of Rigzone. All comments are subject to editorial review. Off-topic, inappropriate or insulting comments will be removed.