Analysis: COSL Aims to Go Global
Rigzone Staff
|
Monday, September 28, 2009
China Oilfield Services Limited was once constrained to the waters offshore China. While the area proved profitable for the company, COSL wanted more; and with its 2008 purchase of Awilco Offshore, the company started a long journey toward becoming a leading worldwide offshore rig provider.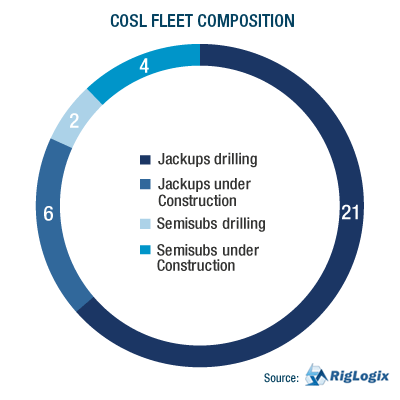 Combining both operating rigs and newbuilds currently under construction, COSL currently manages 33 rigs, of which 27 are jackups and six are semisubs. Portraying an extremely strong utilization rate, all 23 of the COSL rigs that are capable of drilling are contracted and doing so, except for one, which is undergoing modification.
In addition to offshore drilling rigs, the Chinese company offers accommodation, module and land rigs, as well as oilfield services, seismic vessels, tankers and support vessels. With its sights set on becoming a leading worldwide offshore provider by the year 2020, COSL is engaged in a massive growth effort, which is evidenced in its recent aggressive rig acquisitions.
COSL More Than Doubles Fleet Size
Completed on Sept. 22, 2008, the Chinese acquisition of Awilco converted COSL into the eighth-largest rig fleet in the world. Before the purchase of Awilco, COSL had 15 drilling rigs, 11 of which were jackups and three were semisubs. The Norwegian Awilco owned five jackups and had three jackups and three semisubs under construction, as well as options to build two more semisubs. To say the least, the $2.5 billion acquisition expanded the Chinese company substantially, in addition to gaining COSL access to mid-water floaters.
Furthermore, COSL currently has 10 rigs under construction. Six of them are jackups, rated for waters measuring from 200 feet deep to 350 feet deep. Two of the six newbuild jackups are scheduled for completion by the close of 2009, and the four others are slated to finish construction in 2010.
Four of the rigs under construction are semisubs, which will help to expand the deepwater reach of COSL's fleet. All four of the newbuild semis have contracts for work when they are completed -- two in 2010 and the other two in 2011.
Presently, COSL manages two working mid-water floaters that are capable of drilling in waters up to 1,500 feet maximum.
Three of the new semis, the COSLInnovator, the COSLPromoter and the COSLPioneer, are capable of drilling in waters measuring up to 2,500 feet deep. Moreover, a yet unnamed semisub will be rated for waters up to 10,000 feet deep, marking the company's first foray into ultra-deepwaters.
International Expansion
COSL started drilling in the waters offshore China in 1967, and over the last four decades the company has built a strong reputation in the Far East. As a part of its growth strategy, the company has set its sights on expanding internationally, and COSL drilling efforts have picked up beyond China and even Asia.
Until recently, the company only really drilled in China, with a few nearby exceptions. In 2005, before the acquisition of Awilco and the recent newbuild construction program, COSL only had two rigs working abroad. The Nanhai II semisub was contracted in Myanmar and Indonesia, and the Bohai IV jackup worked in Indonesia.
While COSL continues to have a very strong Chinese presence, the company is gaining international work. With 18 rigs working in Chinese waters, the majority of its rigs are still drilling domestically, but there are another four rigs that are contracted and working internationally.
With two in the Middle East, one rig is drilling offshore Saudi Arabia and another is drilling in Iran. Another rig is working in the Mediterranean waters offshore Tunisia, and one rig is working offshore Indonesia. Additionally, with six of its jackups that are currently under construction not yet signed to contracts, there is a possibility that the company may land more international work.
Furthermore, while the majority of the companies that have contracted COSL rigs are Chinese, the company is working with a number of international companies, as well. American Anadarko has two rigs contracted through COSL, and British BG Group has one COSL jackup contracted. Arabian Oil Company and National Iranian Oil Company both have COSL jackups contracted. American super-major Conoco Phillips has one COSL jackup contracted and drilling offshore China, as well.
Also, three of the four contracts on the semisubs under construction are for international players. Two are contracted to Norwegian StatoilHydro, and one is contracted to British major BP.
Moving Forward
In the company's most-recent interim financial report, COSL revealed that revenues increased 53% year-over-year for the first half of 2009. A major contributing factor for the growth was the company's recent aggressive rig acquisitions, which increased the company's drilling capacity.
Despite a downturn in oil prices that represented a 48% decrease from the average price of oil in the first half of 2008, COSL showed strong numbers. Additionally, the company's international revenues increased more than 45% year-over-year. Furthermore, as more of COSL newbuild rigs come off the production line, the company has a great opportunity to expand further.

RELATED COMPANIES