Analysis: Drilling Picks Up in the Mediterranean and Black Seas
Rigzone Staff
|
Friday, September 18, 2009
While the Mediterranean and Black Seas have not always been global hot spots for offshore oil and gas exploration, drilling in these two areas has increased substantially. With multiple projects upcoming and prolific production existing, both the Mediterranean and the Black Sea are logging more rig time every year.
A unique offshore region, the Mediterranean is bordered by countries in both the European Union and Northern Africa. While drilling offshore France and Italy may be something quite novel, mega-producing countries like Libya and Egypt both border the waters of the Mediterranean, as well.
Just northeast of the Mediterranean, the Black Sea borders six Eastern European and Asian countries, including Bulgaria, Georgia, Romania, Turkey and the Ukraine, as well as one the biggest producers in the world: Russia. This juxtaposition created by little explored countries alongside major producers has helped to spur more exploration in the region.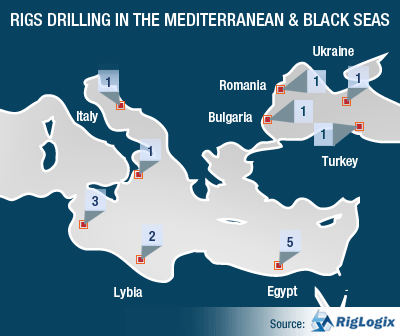 Right now, there are 16 offshore rigs working in the waters of both the Mediterranean and the Black Sea. While most of these rigs are drilling in the waters offshore North Africa, there are also rigs drilling in Italy and Croatia, in the Mediterranean, as well as Romania, Bulgaria, Turkey and the Ukraine in the Black Sea.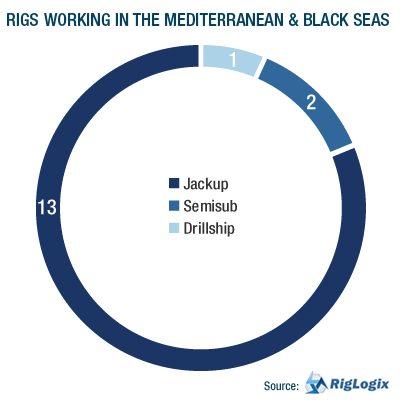 Furthermore, the drilling in these regions is not restricted to shallow waters. While there are 13 jackups drilling in the Mediterranean and Black Sea, there are also two mid-water rigs, a drillship and a semisub, as well as a semisub rated for ultra-deepwaters. Two of the deeper water rigs are working in Libya, and one is working in the Mediterranean waters offshore Egypt.
Egyptian Focus
Bordering both the waters of the Mediterranean and the Red Sea, there are currently 14 offshore rigs working in the waters of Egypt. While nine of those rigs are drilling in the Red Sea, which has been producing oil and gas for decades, there remain five rigs working in Egypt's Mediterranean waters.
In August, Eni and partners commenced production from the North Bardawil gas field located in the Mediterranean north of the Nile Delta. The nearly 1,800-foot-rated Scarabeo 4 semisub completed the two development wells that were tied to the existing Barboni platform to commence production. Expected to stay in the Mediterranean offshore Egypt, the semisub is contracted to Eni for 28 months, through mid-2011 at a dayrate of $164,000.
Also offshore Egypt, RWE-Dea is currently employing the Atwood Aurora jackup for work on the North Idku gas field. The contract involves drilling the four development wells on North Idku that will tie into the two unmanned production platforms that are currently being fabricated for the development. Drilling is expected to be completed in this first phase of development by the close of 2009, and first production is expected in 2010. Earning a dayrate of $131,500, the Atwood Aurora contract spans through April 2011, and there is an option for a one-year extension.
Libyan Effort
There are currently two offshore rigs working in the Mediterranean waters of Libya. While Libya has a state-owned oil company, the rigs that are working here are employed by two separate foreign firms.
Currently, Brazilian major Petrobras is completing a four-well contract on the Caliph prospect offshore Libya with the Songa Saturn drillship. The first exploration well, A1-18/01, was spud in May, and sidetracked. While a discovery has not yet been announced, the area has undergone seismic work and the prospect is considered both high risk and high reward with potential reserves estimated at more than 1 billion barrels of oil equivalent.
Furthermore, super-major ExxonMobil spud Libya's first-ever deepwater exploration well in July with the Noble Homer Ferrington semisub. Still undergoing drilling operations, exploration well A1-20/3 is located in Contract Area 20 in the Sirte Basin, for which the Exploration Production Sharing agreement was signed in 2007. The Noble Homer Ferrington is contracted to ExxonMobil through 2012, but work will be performed in both Libya and the West African country of Nigeria. The dayrate for the semisub in Libya is $537,500.
As evidenced by the rigs currently working offshore Libya, the North African country has been trying to increase the amount of foreign investment in the petroleum sector there. Helping to encourage foreign investment, the UN and US both lifted sanctions on the country in 2003 and 2004, respectively. Also, the US withdrew its designation of Libya as a state sponsor of terrorism in 2006.
The largest oil producer in Africa, Libya is a member of OPEC. In addition to attempting to ramp up oil production that has been dwindling since the 1960s, Libya has made concerted efforts toward increasing natural gas production in the country, as well. In fact, this week Libya's National Oil Company announced a plan to invest nearly $10 billion into development and upgrading projects on at least 24 fields in the country, as well as the possibility of adding another 13 fields to the list.
Increased Drilling in the Black Sea
Currently there are four offshore rigs drilling in the waters of the Black Sea. A relatively unexplored area, the Black Sea has become more of a reality in the last decade. In fact, in 2000 there was only one rig drilling in the region, making the current number of rigs a huge increase that has helped to boost production from the region.
In an announcement this week, Petrom achieved first oil from two oil wells offshore Romania. Located in the Histria XVIII block in the Black Sea, both wells used horizontal drilling technology to tap oil reserves using the Jupiter jackup. The two wells are located on the Delta and Lebada Vest fields and are expected to add more than 4,500 barrels of oil equivalent per day to Romania's production, which only started in the country in 1987.
With a concerted focus on exploration and production in the Black Sea, Melrose Resources currently employs the Prometeu jackup in the waters offshore Bulgaria. In 2004, Melrose successfully brought on-stream the first offshore gas development in Bulgaria, the Galata field. In 2008, the company made two nearby discoveries, the Kaliakra and the Kavara fields, which will be developed as subsea tie-backs to the Galata infrastructure in 2010. Exploratory drilling continues on the block. Contracted for one well, the Prometeu contract only spans two months.
More Rigs Moving In
While some rigs will be falling off of contract in the region, there are a number of rigs entering the Mediterranean and the Black Sea in the near future. In fact, just in the last month, two rigs commenced contracts in the region, including the Prometeu and the Saturn jackups both in the Black Sea.
While the Hakuryu-10 jackup has been working in Tunisia for Eni, the contract is slated to end this month, and the rig will be picked up by UTE ACS Cobra Castor for work offshore Spain.
On the first of October, the Leiv Eiriksson semisub will commence a three-year contract with Petrobras offshore Turkey, and the GSF Key Manhattan jackup is scheduled to start drilling for Eni offshore Italy in a three-year contract that will start in February 2010. Also, Russian national oil company Gazprom has contracted the deepwater M G Hulme Jr. semisub for one year of work offshore Libya that will commence in August 2010. Commencing its contract in September 2010, the Sedco Express ultra-deepwater semisub has been contracted by Noble for work offshore Israel.
RELATED COMPANIES
Company: Exxon Mobil Corporation
more info
Operates 16 Offshore Rigs
- Exxon, Petrobras Form Alliance To Develop Oil, Gas Projects (Dec 14)
- ExxonMobil to Lead Construction, Ops of Mozambique LNG Facilities (Dec 13)
- ExxonMobil Jumping in to Mexico Fuel Market With First US Cargo (Dec 06)
Company: Petrobras
more info
Operates 35 Offshore Rigs
Manages 13 Offshore Rigs
- Exxon, Petrobras Form Alliance To Develop Oil, Gas Projects (Dec 14)
- Natural Gas In Petrobras Pipelines Up About 23% In 2017 (Dec 05)
- Petrobras CEO Says To Discuss Refining Partnership With CNPC CEO (Nov 15)
Company: Atwood Oceanics
more info
- Ensco Acquires Atwood Oceanics, Lays Off Staff (Oct 10)
- Atwood Oceanics Offshore Employees in Australia Agree to New EBA (Aug 23)
- Transocean, Atwood Oceanics Lay Off 200 Offshore Workers in Texas (Feb 06)
Company: ENI
more info
Operates 11 Offshore Rigs
- Italy Prosecutors Probe Eni For Tax Evasion At Refineries (Nov 22)
- Officials: BP, Eni Interested In Developing Iraq's Majnoon Oilfield (Nov 20)
- Eni's Giant Gas Field Prompts Egypt to End Imports in 2018 (Nov 15)
Company: Melrose Resources
more info
- Beach Expects Regulatory Nod for Farm-In Offshore Romania by Mid-Oct (Sep 13)
- Melrose and Petroceltic Plan to Merge (Aug 17)
- Exxon, Total Bid for Gas Drilling in The Black Sea (Jun 21)
Company: Noble Corporation
more info
Manages 28 Offshore Rigs
- Sembcorp Marine Delivers World's Largest Jackup Noble Lloyd Noble (Jul 18)
- Oil Industry Maintains Country Club Culture During Downturn (May 23)
- Freeport to Pay Noble $540 Million to Not Use 2 Oil Rigs (May 10)
Company: Saipem
more info
Manages 12 Offshore Rigs
- Ifax: Saipem To Conduct Feasibility Study On Rosneft Chemical Plant (Sep 15)
- Saipem to Build Pipelines for Kuwait Refinery Project (Aug 16)
- Saipem Warns On Profits After Falling To 2Q Loss (Jul 25)
Company: Petrom SA
more info
Operates 1 Offshore Rigs
- Gas Pipeline Through Central Europe to Go Ahead As Planned -Romania (Sep 28)
- Romania Does Not Have Shale Gas, PM Ponta Says (Nov 10)
- Mediafax: OMV Petrom to Invest in Suplacu Redevelopment by 2015 (Mar 29)
Company: Libyan National Oil Corporation (NOC)
more info
- Engineer: Libya's Sharara Oilfield Still Shut Due To Action By Armed Brigad (Oct 03)
- Libya Oil Output Drops to 5-Month Low on Biggest Field Halt (Oct 02)
- Source: Libya's Sharara Oil Field Reopens After Pipeline Blockade (Sep 05)
Company: Grup Servicii Petroliere S.A. (GSP)
more info
- Cooper Secures Drilling Rig For Hammamet West-3 Well Offshore Tunisia (Jul 16)
- TPAO Lines Up GSP Jackup for Turkey Drilling (Apr 26)
- GSP Wins First Drilling Contract in N. Sea (Mar 09)
Company: Songa Offshore ASA
more info
- Transocean To Buy Norwegian Rig Firm Songa Offshore For $1.1B (Aug 15)
- Songa Offshore to Cut 430 Jobs Due to Ongoing Norway Oil, Gas Strikes (Sep 30)
- Songa Encourage Rig Commences 8-Year Statoil Drilling Contract (Apr 12)
For More Information on the Offshore Rig Fleet:
RigLogix can provide the information that you need about the offshore rig fleet, whether you need utilization and industry trends or detailed reports on future rig contracts. Subscribing to RigLogix will allow you to access dozens of prebuilt reports and build your own custom reports using hundreds of available data columns. For more information about a RigLogix subscription, visit
www.riglogix.com
.