Analysis: Pemex Strives to Increase Production through Offshore Drilling
Rigzone Staff
|
Friday, September 11, 2009
The petroleum industry in Mexico is in a race to catch up. Although a major non-OPEC country and the seventh-largest oil producer in the world, production in the Latin American country is on the decline.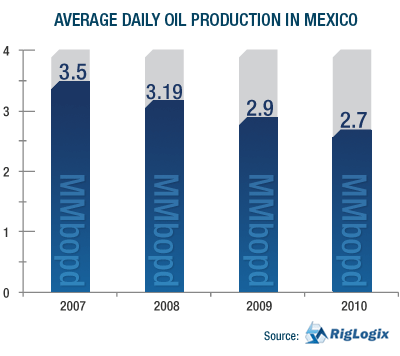 In fact, the EIA reports that the country's production has fallen from 3.5 million barrels of oil a day in 2007 to 3.19 million barrels of oil a day in 2008. Furthermore, according to the agency's Short-Term Energy Report published in March 2009, production is expected to slip even further. In 2009, production in Mexico is expected to average 2.9 million barrels of oil a day, and then in 2010, production is predicted to fall to 2.7 million barrels of oil a day.
Existing Offshore Production
Much of the decline in production is due to a decline at the country's largest offshore oil field, Cantarell. Brought into production in 1979, the Cantarell field has twice undergone EOR efforts to boost production, the most recent attempt in 2004. While these efforts were successful, increased recovery has not been long-term, and production quickly wanes again. In fact, since peaking in 2004, production has declined by 50% at Cantarell.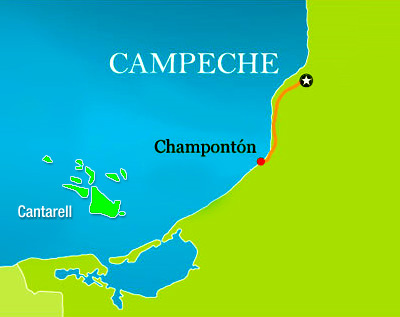 Located in the Gulf of Campeche, Cantarell is nearby a more recent find, Ku-Maloob-Zaap. KMZ has become the country's largest producer since the decline at Cantarell, pumping an average of 740,000 bopd in 2008. The fields located in the Gulf of Campeche currently account for approximately 80% of Mexico's production.
Legislative Restrictions
Production in Mexico has declined largely because of legislation that prohibits outside companies from producing in the region, hampering the ability of Pemex to keep up with technologies and establish a strong knowledge base in both new EOR techniques and deepwater drilling and development.
In 1938, oil production was nationalized in Mexico as part of the country's constitution, making the state-owned Petroleos Mexicanos, or Pemex, the only lawful owner of hydrocarbon resources. Because outside companies cannot explore, develop or produce oil in Mexico and because Pemex is not involved in oil and gas projects outside of the country, Mexico has not been able to tap new technologies and developments that have ramped up production and allowed development of ultra-deepwater projects in other parts of the world.
In other words, Mexico is not able to effectively produce its own oil, and outside companies are not inclined to help the country. In an effort to overcome this obstacle, new legislation was enacted in 2008 that provided for incentive-based service contracts with private companies, as well as granting greater autonomy to Pemex.
Enacting Change
Citing the recent massive BP discovery of the Tiber field in the deepwaters of the US GOM, Mexican President Felipe Calderon reiterated his desire to reform legislation to enable Pemex to find and develop similar resources.
"I hope this sign from the Gulf of Mexico tells us something," Calderon said in a recent radio interview.
"It's very likely we have similar [oil] wealth, but we don't have, whether or not you want to admit it, the technology or the organizational and operational capacity to do it by ourselves."
On Tuesday, President Calderon replaced the existing CEO of Pemex, Jesus Reyes Heroles, with Juan Jose Suarez Coppel, an economist. Portraying a disappointment with declining production, this executive change is being viewed as an effort to more effectively run Pemex. Suarez Coppel has already vowed to quickly enact aspects of the 2008 energy reform act.
Furthermore, in August, Mexico expressed an aspiration to create an alliance with South American oil-producing powerhouse Brazil. Hoping to learn from Brazil's extensive knowledge of exploration and production in ultra-deepwaters, Mexican President Calderon pointed to Petrobras' record production increase in the last six years. While Petrobras is drilling in the ultra-deepwaters of the US GOM thousands of miles from the shores of Brazil, Pemex has not yet found extensive successes in its own deepwaters.
Mexico Focuses on Offshore Drilling
Currently, Mexico has 39 offshore rigs contracted for work in the waters of the Mexican GOM. Thirty-five of these rigs are jackups, rated for more shallow-water operations, and four of Pemex's current fleet are semisubmersibles with water-depth ratings ranging from mid-water to deepwater.
While two of the jackups are known to be working on Cantarell, it is suspected that most of the jackups are working in the shallow waters of the Gulf of Campeche. Here, wells are being drilled to ramp up production from the existing Cantarell and Ku-Maloob-Zapp, and any new finds can be linked to existing infrastructure for a relatively quick production start-up.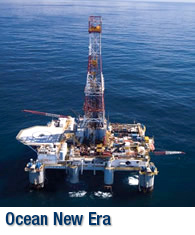 Moreover, Pemex is pushing its deepwater exploration portfolio, having drilled 10 wells in waters deeper than 1,640 feet since 2004, according to a report from Dow Jones. The Pemex exploration and production chief Carlos Morales reported that four of these wells hit natural gas and two discovered oil, with the other four coming up dry.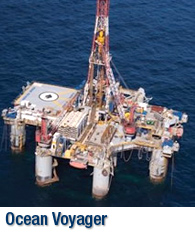 Three of the four semisubs are rated for mid-water depths. Diamond Offshore manages two of these rigs. Rated for waters measuring 1,500 feet deep, the Ocean New Era began its contract with Pemex in October 2007, and at a rate of $265,000 a day the semisub is contracted through February 2010. Spanning the same time period, the contract on the Ocean Voyager semisub provides for a dayrate of $335,000 for the semi rated for 3,200 feet of water.
Also drilling for Pemex, the Petrolia semisub managed by Larsen O&G is rated for 1,200 feet of water. Contracted from February 2008 through August 2010, the Petrolia is earning a rate of $280,000 a day.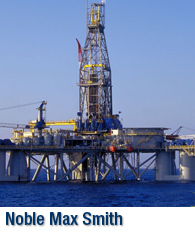 Rated for the deepest waters, Noble Drilling's Noble Max Smith semisub is capable of drilling in waters measuring 7,000 feet deep. Contracted from August 2008 through July 2011, the Noble Max Smith is earning a rate of $484,000 a day.
Increasing Drilling Efforts
Despite plummeting oil prices from mid-2008 through the start of 2009, Pemex has pledged to continue investing in its exploration and development activities in an effort to increase production. The country depends heavily on oil and gas earnings, with petroleum profits providing for 40% of Mexico's revenues.
In 2008, Mexico spent $18 billion in capital expenditures for oil and gas ventures, and the country has pledged an annual investment of $20 billion in petroleum for 2009.
These efforts are showing signs of success. While proven oil reserves dropped 5.2% in 2007, they only fell 2.7% in 2008, according to a report from Dow Jones. Furthermore, Morales, Pemex's exploration and production head, reported that Mexico should replace 100% of its reserves by 2012.
Because the country relied so heavily on Cantarell's production, which is naturally waning, Mexico has had to make a much more concerted effort to step up production through reserve replacement, or new discoveries.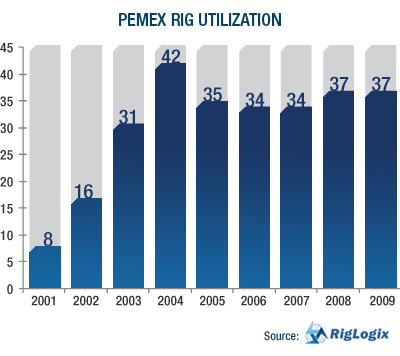 Looking back to 2001, Pemex contracted an average of only eight offshore rigs. That number has steadily grown over the years, reaching a peak of 42 in 2004. While the number of rigs fell in 2005, 2006 and 2007, the average number of rigs contracted in 2008 and 2009 has increased slightly.
Newbuild Semis Contracted
Further stepping up its deepwater game, Pemex has contracted three newbuild semisubs, which are expected to start long-term contracts in the near future.
First to start drilling for Pemex, the Larsen O&G-managed PetroRig III semisub is currently under construction at Jurong Shipyard in Singapore. Expected to be completed by the end of January 2010, the semisub will be rated for 10,000 feet of water. Locked into a five-year contract that is scheduled to start in March 2010, PetroRig III will be earning a dayrate of $516,000.
Being built in South Korea's Daewood Shipyard, the La Muralla III should complete fabrication by August 2010. Managed by Industrial Perforadora de Campeche, the La Muralla III semisub will begin a five-year contract with Pemex in December 2010. Earning a rate of $530,000 a day, the semisub will be rated to work in waters up to 7,874 feet deep.
Also contracted to Pemex for deepwater drilling efforts, the Oban B semisub is currently under construction at Jurong Shipyard in Singapore. Managed by Vantage Energy Services, the semisub is expected to finish construction by the close of 2010. Scheduled to start a five-year contract in March 2011, the Oban B will earn a dayrate of $500,000.