Why $200 Oil Is Just Around the Corner
Rigzone Staff
|
Friday, September 04, 2009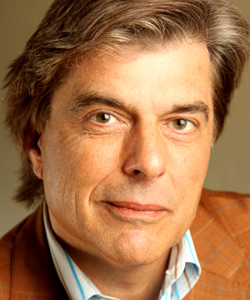 Jeff Rubin
Jeff Rubin believes that oil prices are going to escalate much higher. In his book Why Your World is About to Get a Whole Lot Smaller, Rubin foretells $200 oil and a vastly transformed global economic picture coming into focus very soon.
The premise of Rubin's book is that oil is a finite resource and so-called "easy" oil is waning. Inevitably production will be unable to keep up with the growing demand worldwide, and the price of oil will skyrocket.
The chief economist at CIBC World Markets in Canada for 20 years, Rubin correctly predicted the price of oil reaching $50 in 2005 and $100 in 2007. No one believed him then, either.
"There continues to be widespread skepticism regarding my oil price forecast," Rubin told Rigzone. "As I noted in the book, few people have ever changed their minds during the entire history of the peak oil debate, at least insofar as 'experts' are concerned."
Peak Oil Pushes New Frontiers
Pointing out that 1966 was the peak in the discovery of new oil fields, Rubin also states that production declines every year by about 4 million barrels per day because of depletion. In order to replace what is currently being pumped, the industry must in the next five years discover reserves that will top 20 million barrels of oil a day.
In an effort to replace production, exploration and development have been pushed to much harder to produce ultra-deepwaters and equally difficult to refine oil sands. While new developments have been made to enable production from the ulta-deepwaters of the Gulf of Mexico and the oil sands of Canada and Venezuela, these resources come at a price.
In addition to the industry striving to generate emerging (and costly) technologies to overcome the rigors of working in waters that are more than a mile deep, Hurricanes Katrina, Rita, Ike and more have proven the Gulf of Mexico a volatile investment, with mega-projects, miles and miles of pipelines, and refineries delayed and even destroyed due to these storms.
Additionally, while Rubin expects Canadian oil sand production to increase to 4 million barrels a day, the heavy oil "must be processed extensively to become a usable motor fuel … done through an extensive cracking process that is much more costly and energy intensive than cracking light sweet crude."
According to Rubin, the cost of developing and producing a new oil sands project in Canada can reach up to $90 a barrel. While interest in heavy oils was peaked with the 2008 peak in oil prices, the subsequent plummet of oil prices reduced investments in the product.
"When prices plunged during the recession, over $50 billion of scheduled investment in the oil sands were suddenly cancelled," Rubin told Rigzone.
Nonetheless, as the prices rise again, interest in oil sands has been increasing as of late. Althabasca Oil Sands Corp. announced this week that PetroChina paid $1.9 billion to acquire a 60% stake in its MacKay River and Dover Canadian oil sands projects. Furthermore, the US State Department approved a multi-billion-dollar oil pipeline from Canadian oil sands to US refineries earlier in August.
"Synthetic oil from bitumen is likely to be the single largest source of new supply over the next two decades, principally from Alberta and the Orinoco in Venezuela," Rubin said. "But we need to see a world of triple-digit oil prices to raise that kind of production from tar sands."
Additionally, interest in arctic drilling and production has increased worldwide, from the Chukchi Sea in Alaska to the waters offshore Greenland. Rubin argues that these new sources of oil are not necessarily new, but their commerciality just becomes viable with an increase in the price of oil.
Increasing Demand
While Rubin contends that the global economic recession was caused by the peak in oil prices, he also believes that the price of oil is destined to rise again. Increasing demand for a depleting supply is certain to push the price of oil higher.
While the US and European Union were crippled by the high price of gasoline in 2008, many oil-rich countries subsidized the price of gasoline for their citizens, states Rubin. While most economists look for demand to wane when prices soar, this price fix helps to push demand for oil despite high prices.
"So great is the popular demand for fuel subsidies that in many OPEC countries higher world oil prices actually raise oil consumption, in total defiance of conventional economic logic," states Rubin's book.
Rubin points to Ski Dubai in the middle of the Middle East as an example of this crude use of oil. Here, Ski Dubai offers indoor snow skiing, attracting some 3,000 visitors every day. It takes an equivalent of 3,500 barrels of oil per day to run Ski Dubai and the massive indoor mall in which is it located.
Moreover, many countries like Saudi Arabia and Kuwait are running out of water. While they may have enough oil to fuel their cars, these countries' water supplies are dire. The most likely solution to the problem is the desalination, reports Rubin. Requiring massive amounts of energy, desalination will effectively turn oil into water.
Oil Prices Destined to Rise
These two factors -- limited supply and climbing demand -- will work together to push the price of oil higher. In his book, Rubin argues that oil price peaks have caused four of the last five global recessions.
"The over 500% explosion in oil prices from 2002 to the summer of 2008 is almost double the increase that occurred during either OPEC oil shock... No wonder the US economy and the rest of the OECD are in recession."
While he states that high oil prices do cause the demise of demand, he sees the subsequent recession as a temporary setback for oil's race to higher prices. In fact, Rubin predicts that the price of oil will surpass the $100 mark and head to $200 per barrel within the next few years.
"We will see triple digit oil prices very early into an economic recovery," Rubin told Rigzone. "I expect we will be there within 12 months."
While he does contend that the escalating price of oil will cause another recession, Rubin believes that recovery will spell higher prices once again. The economist predicts $200 oil just around the corner.
"By 2012, we will either be in a world of $200 per barrel oil or we will be back in another oil-induced recession," he added.
While the price of oil on the NYMEX has been buoyed beyond supply and demand fundamentals, investors' belief that the economy will rebound and energy demand will increase has helped to nearly double the price of oil through 2009.
"The biggest signpost of change is today's oil prices," Rubin told Rigzone. "West Texas Intermediate (the North American benchmark crude) is trading over $70 per barrel in the shadow of the American economy's deepest post-war recession when there is little evidence yet of a concrete economic recovery; yet only two and a half years ago, today's post-recession oil price was an all-time record high."
Ultimately, Rubin contends that the world economy will be forced to change because transportation and shipping will be thwarted because of the high cost of fuel. Rubin's world foresees a continued demand for oil, but a demand that has changed and a world that has de-globalized.
Generated by readers, the comments included herein do not reflect the views and opinions of Rigzone. All comments are subject to editorial review. Off-topic, inappropriate or insulting comments will be removed.