Analysis: Hercules Offshore Flexes Muscles in Spite of GOM Weakness
Rigzone Staff
|
Thursday, September 03, 2009
Offering offshore drilling rigs, heavy liftboats and inland barges, Hercules Offshore has made certain strategic moves to grow its drilling capabilities in the last couple of years. In fact, in three years, through acquisitions, Hercules has been able to catapult to become a market leader with the fourth largest jackup fleet in the world and the largest shallow-water drilling fleet in the Gulf of Mexico.
Purchasing offshore drilling company TODCO in 2007 for $2.3 billion, Hercules expanded its position in the GOM shallow-water market with a splash. Since then, the company has continued to make strategic divestitures and acquisitions, including buying a number of existing jackups, in an effort to step up its fleet.
Also in 2007, Hercules divested its nine land rigs located in South America and the US for $107 million, further narrowing its focus offshore. Additionally, Hercules has agreed to manage two newbuild jackups under construction by Mosvold and is expecting delivery of both within the next year.
Currently, the company owns 30 jackup rigs, as well as 17 drill barges, three submersible rigs and one platform rig, in addition to the world's largest fleet of offshore lift boats at 65 vessels.
Like many companies within the energy industry, Hercules' profits have been hit hard by diminished dayrates and utilization. After the price of crude oil fell from its high in the summer of 2008 and as natural gas prices have reached seven-year lows, the company's profits have dwindled.
In comparison to an income of $37.4 million in the fourth quarter of 2008, the company has posted marginal losses for the first two quarters of 2009. The first quarter saw a loss of $4.5 million, while losses for the second quarter reached $7.6 million. Furthermore, Hercules' stock has fallen from a high of $38.75 on Jul. 1, 2008 to $4.41 on Sept. 1, 2009.
Commenting on the company's performance, John T. Rynd, the CEO and president of Hercules pointed out that the company amended its senior secured credit facility, as well as reduced costs across the board.
"While nearly every facet of our business has been impacted by the cyclical downturn in our industry, we have acted quickly and broadly to mitigate its effects," Rynd said. "Since late 2008, we have taken numerous actions to dramatically reduce our cost structure and improve our cash flow, including cold stacking idle rigs and reducing capital spending."
GOM Weakness
With a keen focus on the shallow waters of the Gulf of Mexico, Hercules currently has more than 70% of its fleet located in the US and Mexican GOM with 26 rigs. Of those, 12 are cold stacked, six are ready stacked and nine are drilling. One of the ready-stacked rigs, the Hercules 201 is slated to commence a three-well contract with Stone Energy in the US GOM soon.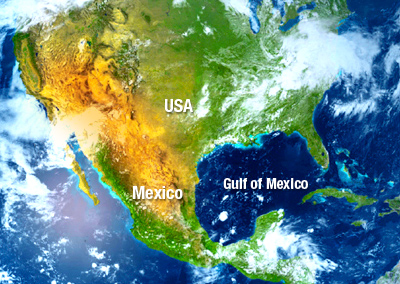 With the downward shift in commodities prices, operators worldwide have slashed drilling budgets, and many times, shallow-water endeavors were the first to be cut. Because deeper water rigs demand such a long lead time for contracts to be signed and because larger finds tend to be farther offshore, the jackup drilling segment as a whole has seen sharp declines in utilization. Nonetheless, Hercules remains secure that the long-term demand in the shallow-water GOM market will strengthen.
"We remain confident in the industry's positive long-term fundamentals; however, we do not anticipate a meaningful upswing in the near-term," Rynd said. "Jackup demand in the US Gulf of Mexico is weak, with current demand running at approximately half that of previous historical lows."
International Strength
With only eight of its marketed rigs located in international waters beyond the GOM, Hercules boasts a pretty strong utilization for this segment of its fleet. Six of these rigs are currently contracted and drilling, and two are ready-stacked, with one in Gabon and one in Bahrain.
In fact, the majority of the jackups that are working in international waters hold long-term contracts extending into 2011 and beyond.
Contracted to Angola Drilling Co., the Hercules 185 jackup is currently earning $150,000 a day through the start of 2011 for work offshore Angola.
In Asia Pacific, the Hercules 208 jackup is working for Murphy Oil at a rate of $110,000 a day. Contracted through the close of August 2011, the rig is stationed offshore Malaysia and has a two-year option that would extend the contract through 2013.
In Southern Asia, Hercules has two jackups working for the Indian national oil company ONGC. The Hercules 260 jackup is contracted through March 2011 at a rate of $143,000 a day, and the Hercules 258 is contracted through June 2011 at a dayrate of $110,000.
Saudi Aramco has also contracted two jackups from Hercules for work in the waters offshore Saudi Arabia. The Hercules 261 is earning $137,900 a day, and the Hercules 262 is earning a dayrate of $127,800. Contracted from the start of 2009 through September 2011, the jackups both have one-year options to extend the contract through 2012.
While domestically, natural gas prices have contributed to depress jackup drilling efforts in the GOM, Hercules has been able to leverage its strong international backlog.
Beyond Utilization
There are a number of positive aspects to the Hercules strategy. First of all, the company is diverse in its offerings. While Hercules has a concerted focus on shallow-water drilling through its jackup fleet, it also offers lift boat services and inland barges.
Furthermore, Hercules has had a pretty steady rate of contract in the last few years. While the company's 15 rigs that are currently contracted and drilling represents less than 40% of its fleet, those jackups have been able to land new contracts in a less-then-stellar signing environment. While four of the working contracts were signed in 2007, five were signed in 2008. Despite depressed oil and gas prices, Hercules has been able to sign three new drilling contracts -- all for GOM work -- in 2009.
Also, the company boasts somewhat competitive dayrates. With an average dayrate for its jackups of $93,683, Hercules falls in the center in comparison to other similar rig managers. Rowan, with 22 working jackups and six newbuilds on the way, presently boasts an average dayrate of $187,231; while Seahawk Drilling, the jackup drilling company with a GOM focus recently spun from Pride International, has an average dayrate of $83,500 for its 20 jackups.
Moreover, the company is actively expanding to offer newer rigs with deeper water capabilities. With delivery expected within the next nine months, Hercules has two newbuild jackups currently under construction. Both independent-leg cantilever designs, the MEJU rigs have not yet been named. Rated for waters measuring up to 300 feet deep and for drilling operations reaching 30,000 feet deep, the newbuilds are being fabricated on spec.