Musings: Choking on Natural Gas, But Is It About to End?
by G. Allen Brooks
|
Parks Paton Hoepfl & Brown
|
Tuesday, September 01, 2009
The September 2009 natural gas futures contract expired last Thursday night with the price setting another 7-month low of $2.843 per Mcf. The October 2009 contract that became the new frontmonth contract was off 14.4 cents in early trading Friday morning, but still held above $3 per Mcf. It closed the trading day still slightly above $3. Whether the new front-month gas contract can sustain a price north of $3 per Mcf for any extended period of time, given the swelling supplies of natural gas in inventory, remains a huge question mark.
Estimates are that total natural gas storage capacity in the U.S. ranges somewhere between 3.6 Trillion cubic feet (Tcf) to 3.9 Tcf. Reports are that the U.S. Energy Information Administration (EIA) will be releasing an updated study on gas storage in this country either this week or next, and it reportedly will show about a 100 Bcf increase in domestic capacity. As of last week, the EIA said in its weekly gas storage report that the volume of working gas in storage, meaning gas available for consumption this winter, had reached 3.258 Tcf or anywhere from 83.5% to 90.5% of estimated industry storage capacity. That volume of working gas in storage would satisfy 54 days of average U.S. gas consumption, but only a small portion of gas storage volumes is used each winter day as there remains a huge supply of flowing gas to help meet the daily demand.
The problem for the natural gas market has been that gas production continues to remain strong due to the continued development of new producing wells from the highly prolific gasshale plays sprouting up around the country. The increase in gas production volumes was thought to have been arrested by now as a result of the nearly 50% cutback in gas-oriented drilling since last fall. Unfortunately, E&P companies continue to drill highly prolific wells in the gas-shale basins due to their estimated lower finding and development cost allowing them to generate profits in a lowprice environment and in order to retain expensive mineral leases signed in recent years. The impact of these new prolific wells, coupled with the decline in domestic gas demand due to the weak economy, has been greater than expected weekly gas storage injections. As shown in the accompanying chart, the weekly storage injections (in red) for 2009 so far have almost always exceeded the five-year average weekly injection figure (in blue). Injection volumes for the past two weeks have been below the five-year average, but still above Wall Street's expectations.
As the chart shows, if gas injections continue to average in the 50- 55 Bcf range until the winter heating season arrives and when gas begins being withdrawn, storage capacity will reach full capacity. There are essentially 10 more weeks of injection season and at the current injection rate, the industry will be trying to stuff another roughly 550 Bcf of gas into the already jam-packed facilities around the country. The real problem as we approach full capacity is that storage availability in broad geographic regions and even in local areas can reach full capacity well before the entire system, causing supply system discontinuities and pricing anomalies.
The recent announcement by Newfield Exploration Co. (NFX-NYSE) that it was shutting in about 2.5 Bcf of third quarter gas production is a sign of the stress producers are under to avoid selling gas below finding and development costs while still trying to satisfy Wall Street and investors for growing corporate production metrics. As we have written about before, other producers such as Chesapeake Energy (CHK-NYES) have said they do not plan to curtail production and bear the financial brunt of reduced revenues while other producers benefit. Chesapeake expects production cutbacks to occur at some point, driven by industry-wide factors, and to be spread broadly across the E&P industry.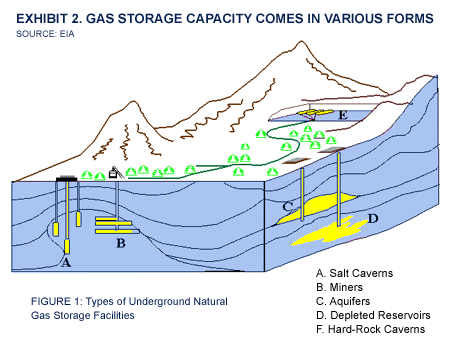 The natural gas storage business is a challenging one in this country. The cost to build new facilities is not cheap. Additionally, it often takes a long time to construct new facilities. This means storage facilities may be constructed in response to a volatile pricing period and planned to capture some of that volatility, only to find that the market is changed by the time the facility is ready for operation.
There are five types of storage facilities as shown in the above exhibit and these facilities are spread across the country although there tends to be a greater concentration in gas-consuming regions since the facilities are planned to help gas pipeline and local distribution companies deal with winter demand surges.
What can straighten out the natural gas market? Short of a surge in economic activity that brings back industrial demand previously destroyed by high and volatile gas prices, it is going to take greater capital discipline on the part of E&P executives. Yes, an early cold winter could also help, but that will merely create a short-term blip in gas prices as weather has a tendency to change rapidly. Additionally, it is difficult to envision Wall Street becoming enamored of an investment sector where E&P executives become weather forecasters. However, as the E&P industry draws closer to the expiration of gas futures hedges put in place when natural gas prices were $8 and above, which protected producer cash flows in this low wellhead price period, E&P producers may be forced to reexamine their future spending plans. Unless gas production falls quickly helping to boost gas prices, we expect to see another downturn in the rig count, or at least for those rigs drilling for natural gas.
The recovery we are witnessing in today's rig count is eerily similar to the pattern that occurred in late 1982
We will not attempt to describe how the E&P industry came unglued from its frothy environment of pre-September 2008, but a picture is worth a 1,000 words. We have superimposed the 2008-2009 Baker Hughes active rig count on the rig count experienced in 1981-1987. Clearly today's rig count is but a fraction of what it was at the end of the industry boom of the late 1970s, but that reflects the greater drilling productivity the industry has achieved from drilling rigs today versus those in the past. There is also a substantial difference in the number of E&P producers and drilling rig companies operating in the two periods. But the recovery we are witnessing in today's rig count is eerily similar to the pattern that occurred in late 1982.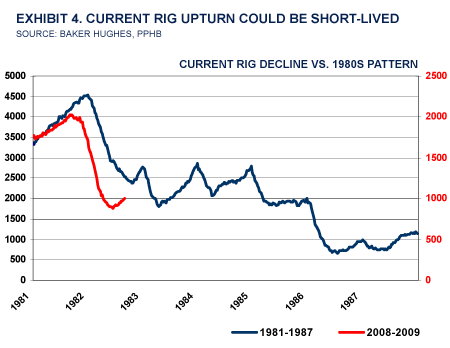 The late 1982 rig activity recovery was followed in 1983-1985 by periods of both rig recoveries and downturns as oil prices steadily slipped out from under OPEC's control and U.S. natural gas remained under price regulations. The industry then seemed to find stability in drilling until the oil market entered a freefall in early 1986 as Saudi Arabia elected to not only stop supporting the OPEC posted price at the time but the Kingdom elected to open up its wells to teach "cheating" fellow OPEC members a lesson.
Talk about a "teachable moment" in history! It took the global energy industry more than a decade to recover from that moment and Houston was particularly hard hit by its fallout. We certainly are not suggesting we are headed for a repeat of that era, but the current rig upturn could prove to be short-lived and followed by another downturn if natural gas prices continue to fall. We present this scenario merely as food for thought, but it is enough to keep us awake at night.
Generated by readers, the comments included herein do not reflect the views and opinions of Rigzone. All comments are subject to editorial review. Off-topic, inappropriate or insulting comments will be removed.