Analysis: Drilling Picks Up in The Far East
Rigzone Staff
|
Friday, August 28, 2009
With a burgeoning and industrializing population, China is a major factor in the price of oil. When Chinese imports pick up, the price of oil follows, and Chinese imports of crude oil have been on the rise lately.
The third-largest importer of oil according to the EIA, China has been on a mission to diversify its crude supply. While drilling offshore the Far Eastern country has proved successful, and China has made great strides to explore and develop worldwide.
The country has been on a recent buying frenzy, purchasing stakes in exploration and development opportunities around the world. Just recently, Chinese major Sinopec completed the acquisition of Addax Petroleum, gaining stakes in fields in Gabon, Nigeria and the Kurdistan region of Iraq. And earlier this month, CNOOC and CNPC offered Repsol $17 billion for its Argentine properties in China's biggest overseas investment proposal thus far.
Furthermore, an official with the National Energy Administration in Beijing reported last week that China had teamed with 40 countries or regions for the purpose of energy cooperation and joined 22 new international energy organizations in an effort to expand its energy supply.
Concentrated Focus at Home
In addition to a push to increase production internationally, China has increased its efforts in its own backyard. Currently there are 30 offshore rigs drilling in the waters of the Far East. Consisting of 25 jackups and five semisubmersibles, the fleet is highly concentrated offshore China, with only two rigs drilling offshore Russia.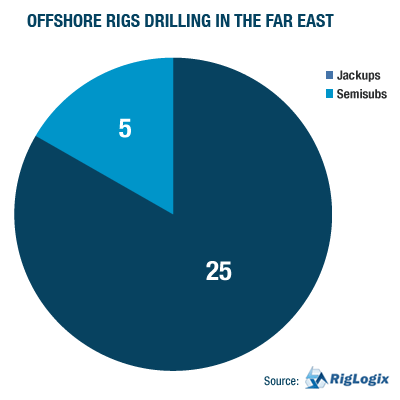 This is a marked increase in rigs in the region over the last seven years. The average number of rigs working in the Far East in 2002 and 2003 was only 15. That number climbed to 19 the next four years. Then 2008, the average number of rigs working in the Far East jumped again to 21. An even larger increase in drilling rigs can be seen in 2009, with an average of 28 rigs working in the Far East this year.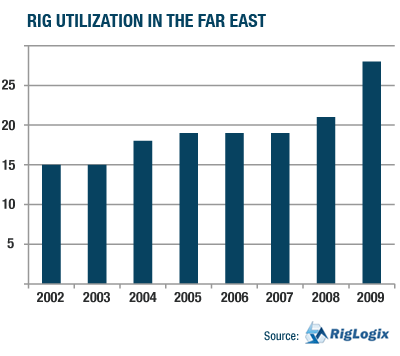 The majority of the rigs contracted for drilling operations in the Far East are working for national oil companies. In fact, more than 2/3 of the rigs working offshore China are employed by either CNOOC (with 16) or CNPC (with four).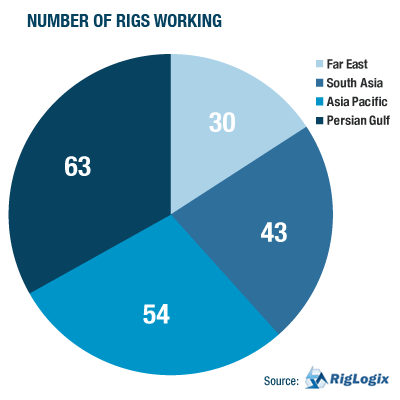 While the rigs drilling in the Far East only numbers 30, the region is competitive with other areas worldwide. South Asia, which consists of drilling operations offshore India, currently has 43 rigs drilling in its waters, and the Asia Pacific region, which includes Southeast Asia, as well as Australia, has 54 rigs currently drilling in it. There are 63 rigs drilling in the waters of the Persian Gulf.
Growing Newbuild Construction
Additionally, the Far East has emerged as the region of choice for building offshore drilling rigs. Currently, there are 70 rigs -- 19 jackups, 16 semisubmersibles and 35 drillships -- in the process of being built in the Far East.
Both South Korea and China are heavily preferred for fabrication of drilling rigs, with 39 being built in South Korea and 31 in China. The majority of the rigs are being built by Samsung, but Daewoo and Yantai are also busy building rigs in the region.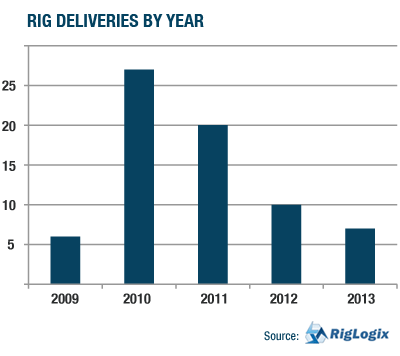 With six rigs still scheduled to be completed in 2009, there are 27 rigs on which construction will be complete in 2010. In 2011, there are 20 rigs on the calendar to finish fabrication, and in 2012 there are another 10 rigs expected to be delivered. Looking forward to 2013, there are seven rigs scheduled to complete construction.
The rig with the highest construction price tag is the Stena DrillMax ICE, which is coming in at a price of $1.15 billion. Being built by Samsung in South Korea for Stena Drilling, the drillship is going to be "ice classed" with an extra hull layer for Arctic conditions. The first of its kind, the Stena DrillMax ICE will be able to drill in waters up to 10,000 feet deep and should be completed by the end of 2011.
The next most expensive rig being built is the second Petrobras drillship, which still has to be named. With fabrication by Samsung scheduled to be complete by June 2010, construction is coming in at $830 million for rig manager Schahin. The drillship will be able to drillin waters up to 10,000 feet deep and is contracted to Petrobras for a firm 10-year contract starting in July 2010.
Truly an emerging region for exploration and development, the Far East has proven challenging not only because of its arctic environment, but also because the two largest players, China and Russia, have both been closed to outside companies producing in their waters. Now, China boasts six outside companies drilling in its waters.
RELATED COMPANIES