Analysis: Transocean Maintains Strength In Numbers
Rigzone Staff
|
Monday, August 24, 2009
The world's largest offshore drilling contractor with 141 jackups, semisubmersibles and drillships, Transocean has been able to maintain its strength through offshore innovation and acquisitions. Merging with Global Santa Fe in 2007 to cement its place as the world's largest offshore drilling fleet, Transocean has consistently set its sights on pushing the boundaries of technology.
In fact, Transocean owned and operated the world's first-ever jackup rig in 1954. Through the decades, the company has continued to achieve a number of industry firsts, and that spirit of innovation has helped to turn Transocean into an industry leader. Furthermore, through aggressive deepwater rig building campaigns during the past decade, the company has amassed the world's largest ultra-deepwater drilling fleet, giving it the lead in this growing, high-demand segment.
Ultra-Deepwater Focus
With a total of 141 offshore rigs, Transocean owns 65 jackups, 53 semisubs and 23 drillships. The company's floating rig fleet consists of 46 high-specification floaters that are rated for 4,000'+ water depths and 30 mid-water floaters, including five dynamically positioned ultra-deepwater drillships currently under construction. The jackup fleet contains 51 high-spec jackups capable of drilling in 300 feet of water or more and a further 14 shallower ILC jackups.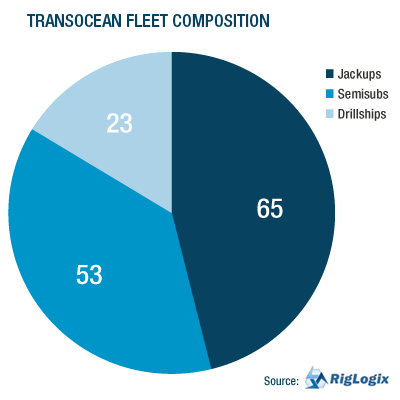 While the largest segment of its fleet consists of jackups, the company is making a concerted effort to fortify its fleet with ultra-deepwater floaters. This deepwater focus is evident by the company's achievements. In fact, Transocean holds 19 of the past 23 world records for deepwater drilling, including the world's deepest water drill to date, performed in 2003 by the Discoverer Deep Seas drillship in 10,011 feet of water.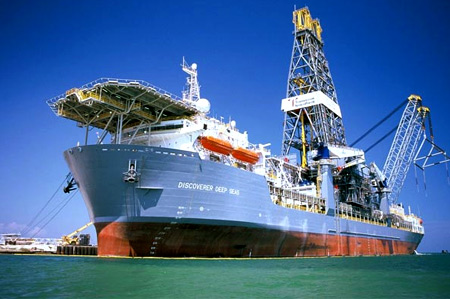 Discoverer Deep Seas
Transocean currently boasts the largest deepwater rig fleet in the world. All 23 of Transocean's drillships are rated for at least 4,000 feet of water, and 23 of its semisubs are capable of drilling in at least 4,000 feet of water. Also, the company has recently completed construction on four ultra-deepwater rigs and has six more under construction -- and all of those rigs have current contracts on them.
Completed in February 2009, the GSF Development Driller III semisub is capable of drilling in waters measuring 7,500 feet deep. Contracted to BP from September 2009 through 2016 at a dayrate of $382,000, the semisub is currently undergoing inspection.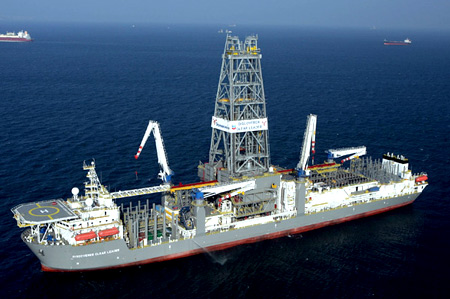 Discoverer Clear Leader
With construction completed in March 2009, the Discoverer Clear Leader drillship is capable of drilling in 12,000 feet of water and is currently drilling in the US Gulf of Mexico for Chevron. The Chevron contract is based upon the price of oil and may vary, but currently the rate is $469,000 a day through mid-2012 and $450,000 a day from mid-2012 to mid-2014. The operator also has a two-year option to extend the contract for a mutually agreed upon rate.
Completed in April of this year, the Dhirubhai Deepwater KG1 drillship is capable of drilling in waters measuring 10,000 feet deep and is contracted to Reliance Industries through the end of the year at a rate of $495,000 a day and then from the start of 2010 to 2014 at a rate of $510,000 a day. Another Indian major, ONGC farmed out that contract through 2013.
Having just been delivered, the Discoverer Americas drillship is currently en route to the US GOM for a contract with StatoilHydro that starts in October 2009. At a dayrate of $475,000, the contract lasts until 2013.
Currently undergoing inspection, the Petrobras 1000 drillship is capable of working in waters up to 12,000 feet deep. The rig is firmly contracted to Petrobras starting this September through May of 2019 at a rate of $410,000 a day, with a 10-year optional extension at a dayrate to be agreed upon in the future.
Scheduled to be completed in October 2009, the Discoverer Inspiration drillship will also be able to drill in 12,000 feet of water and is contracted to Chevron for five years starting in March 2010.
Also newbuilds, the Deepwater Champion, Dhirubhai Deepwater KG2, Discoverer India and the Discoverer Luanda are all scheduled to complete construction some time in 2010. The Deepwater Champion is contracted to ExxonMobil through 2015; the Dhirubhai Deepwater KG2 and the Discoverer India are contracted to Reliance through 2015; and the Discoverer Luanda is contracted to BP through 2017.
Geographic Diversity
Transocean has a wide scope of work, with rigs working in 26 different countries. Focusing on the fleet as a whole, the majority of the rigs are working in the North Sea, South America and West Africa. The next biggest hot spots include Asia Pacific and the US Gulf of Mexico. Also represented are South Asia, the Middle East, North Africa/the Mediterranean, the Caspian, Canada and South Africa.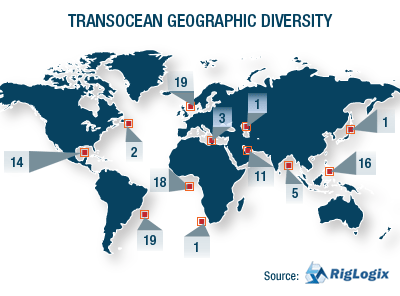 The majority of the deepwater drillships are working in the US GOM and India, with a group in Brazil, also. Looking at Transocean's semisubs, the most are working in the UK and Norway, with Brazil and the US GOM strongly represented, as well. The largest groups of jackups are working in Egypt and India, with Malaysia, Vietnam and Saudi Arabia not far behind.
Dayrates Drive Strong Earnings
Despite depressed earnings due to a recessionary economy, Transocean managed to rake in $806 million in the second quarter of 2009. Successful drilling contractors in their own right, both Noble Drilling and Pride International earned substantially less than Transocean, at $392 million and $121.8 million, respectfully.
Taking the second quarter earnings numbers from these three companies and dividing by each company's total fleet, you are able to see the overall revenue per rig each company earned. With 61 rigs, Noble garnered $6.4 million per rig. Transocean earned $5.8 million for each of its 138 rigs, and Pride, with a fleet of 46 rigs, earned $2.9 million per rig.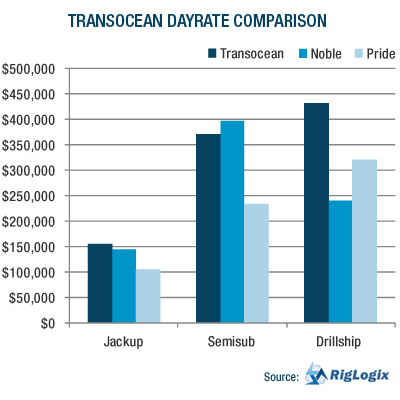 This earning superiority is evident in the company's dayrates, as well. The average dayrate for a Transocean drillship is more than $432,000, while the average drillship dayrate for Noble is approximately $242,000 and nearly $321,000 for Pride. Again, in the jackup category, Transocean comes out on top with an average dayrate of $157,000, while Noble earns an average of $146,000 and Pride garners an average of $105,000.
But in semisubs, Noble earns more than Transocean, averaging a dayrate of $398,000 to Transocean's nearly $373,000 and Pride's $235,000. The largest contributing factor for this, 12 of Noble's 13 semis, or 92%, are rated for at least 4,000 feet of water, and half of those are rated for 8,000 feet of water or more. In comparison, Transocean only has 43% of its semi fleet, or 23 of 53 rigs, that are capable of working in waters measuring 4,000 feet of water or more.
Focusing on its utilization, all of the Transocean's drillships are contracted. Only five of the company's semisubs are not contracted, and all of those are in the mid-water drilling category. Of the company's 55 jackups, 20 are cold- or ready stacked, but one of those (the GSF Adriatic IX) has a contract that commences in September. The company has 10 jackups and six mid-water semisubs currently scheduled to roll off of contract by the close of 2009, which only represents 11% of the fleet.
Looking at the date that the contracts were signed, only six new contracts have been signed in 2009. This is in comparison to 43 current contracts signed in 2007 and 2008, and 48 contracts signed in 2005 and 2006. This should come as no surprise given the substantially different market conditions that held sway during the previous four years as compared with the lower prices and uncertainty seen in 2009.
"The good news is the continuing strength of the ultra-deepwater market," said the Transocean CEO Robert Long recently, following the second quarter earnings announcement. "We remain very optimistic about both the near-term and long-term outlook for this market."
"We have eight other ultra-deepwater rigs coming available between now and the first quarter of 2012, and we are already in discussions with customers on opportunities for most of these rigs," he added.