Musings: Crude Oil Market Disconnect: A Problem Emerging
by G. Allen Brooks
|
Parks Paton Hoepfl & Brown
|
Wednesday, August 19, 2009
Last week crude oil prices bounced back above $70 a barrel before closing at $67.51, down $3.01 on Friday. As the chart of oil prices for the past six months shows, there has been a strong recovery this year, especially following the correction in July. Last week, oil prices closed above $70 on three of the five days, and on Friday the week before, they nearly reached $73 a barrel. This price action came in the face of continued government reports of crude oil inventories building and Frontline (FRO-NYSE), a large oil tanker operator, saying that the volume of crude oil in ships being used as storage had increased from 80 million to 100 million barrels.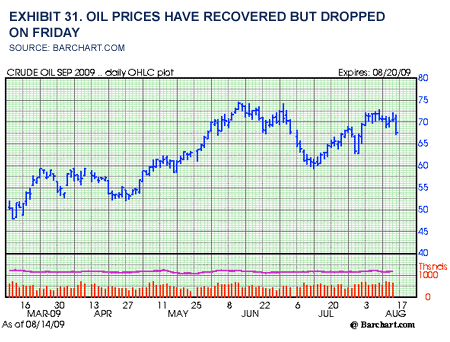 During the week, the International Energy Agency (IEA) released its monthly oil report in which it boosted its forecast for oil demand by 150,000 barrels per day (b/d) for 2009 and 90,000 b/d for 2010. The IEA is now projecting global oil demand this year should average 83.94 million b/d. That estimate is close to the one recently issued by the U.S. Energy Information Administration (EIA) of 83.76 million b/d. The EIA's recent estimate was reduced from its prior projection that was even closer to the latest IEA.
U.S. oil demand is estimated at about 18.7 million b/d currently, or more than 22% of total world consumption. Despite near record oil storage volumes, a sharp economic recovery boosting oil consumption or a faster decline in U.S. oil production could put further upward pressure on oil prices. Estimates are that U.S. oil production is declining at about 4% a year, despite the recent rise in oil drilling. That decline rate is below the IEA's recent study of global oil fields showing the world's annual oil production decline is 6.7% a year, up from its prior estimate of about 3.7%.
The U.S. faces several challenges with its oil production. Without new discoveries, the production decline rate insures that America will not be able to satisfy more than 25% of its consumption needs by 2012 based on current consumption rates. In addition, the U.S. relies heavily on Mexico for oil supply and that country's production is collapsing at an alarming rate. These two trends will, without a significant change in consumption, force a greater dependency on other foreign oil supply sources. The recent news about a potentially huge new oil resource located in the Bakken formation of North Dakota, along with the recent discovery of significant oil deposits in 103 wells drilled into the Three Forks-Sanish formation below the Bakken, suggest the country may get some help from new oil exploration and development efforts spurred by high prices. Whether these new oil plays can boost the country's reserves by 10- times as suggested by some studies remains to be seen, but the discovery and development of these resources is a welcome event.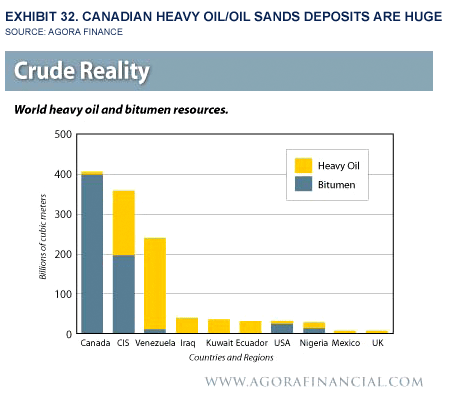 The evolving oil supply situation in the United States is good news for the Canadian oil sands development. This tar-like resource requires extensive energy to develop and convert into oil that can be refined by conventional refiners, but technology is working to reduce these costs. A new pipeline from the northern Alberta deposits to the heart of the U.S. refining industry is awaiting approval. Should it be given the green light, the U.S. could be looking at a much more secure oil supply future. The heavy oil and oil sands deposits in Canada, once developed to refinery-grade oil, are equal to seven times the reserves of Saudi Arabia on a barrel of energy equivalent basis. The only possible fly in the ointment is the Obama administration's Buy American plan that has upset our trade relations with Canada.